/
7 BEGINNER MINIMALISM LIFE TIPS
Are you tired of clutter, tripping over stuff, having stuff constantly break, and needing to repair STUFF? Yeah, I was too! That's exactly the fuel needed to kick our butt into gear and make a switch to minimalism. So I've started with these 7 beginner minimalism life tips.
After having a storage unit, two large rooms, and an SUV full of STUFF I decided it was too much. I was getting overwhelmed by all the STUFF and how much energy it took to maintain, clean, or just keep up with. Are you in the same situation or a similar one? Whelp after years of living a minimalistic lifestyle, I've got so much to share with you! Let's get into it.
Some links in this post may be affiliate links or this article may contain sponsored content, which means if you make a purchase, we receive a small compensation at no added cost to you. As an Amazon Associate I earn from qualifying purchases. Any purchases you make helps to keep this blog going and keeps our content free. I truly appreciate your support! Visit my Privacy Policy & Disclosure Policy for more info!
1. CHANGE THE WAY WE THINK TOWARDS A MINIMALISM LIFE
Often times we think about all the things we are missing or lacking; this kind of mindset sets us up to seek out more subconsciously. When we convince ourselves that, we tend to hoard what we have and seek out more.
Hoarding- A persistent difficulty discarding or parting with possessions because of a perceived need to save them.
This isn't a lesson on hoarding, but more so enlightenment to the ways of thinking. It's better you're seeing this now than later. I know what you're thinking, "I'm not as bad as the hoarders on TV." You're probably right but heck sometimes those shows are motivating in showing us what the extremes can be. Let's end it now before it begins!
This is simply mindset and perspective. Let's psychologically start to think that we have enough, or even that we have more than enough and that we live abundantly. This will not only release our grips on this stuff, but it will also soften our ideas of living in lack.
2. RESPECT & GRATITUDE 
Gratitude is another really great mind shift, even for this! A great example is Maire Kondo, a famous woman who uses this way of thinking and teaches it to others. She respects and gives thanks to the items before rehoming them. 
The reason why gratitude can be a powerful tool is that once we gain gratitude and respect for something, we are less likely to want to replace it. This shift will also open our minds to wanting to repair it, and even care for it better. 
If we care for it better, repair it, and aren't wanting to replace it then we are often buying less! Then this item that needs to be repaired or cared for won't end up in a junk drawer or in some dark corner of the garage or even the landfill. Slight eco-win there too!
3. DOUBLE TROUBLE
 I know, I just had to say it though! Alright if you have double of something, is it necessary? Chances are that's going to be a no. 
Let me give you an example; buying 2-6 deodorants when we only need 1 for a month can crowd a physical space and mental space. 
With our society and everything is so easily accessible, we have the ability to wait to buy something until we NEED it. Waiting not only allows us to make sure that what we have gets completely used up, then we won't have small remnants lying around.YAY!!! 
Another great positive about waiting to buy things until we need them is that things stay fresh! 
Okay, you caught me, I was eating while writing this section of the article. This paragraph seems like mostly consumables, you get the point though right? *Continues to each cherries*
4. THINK BEFORE SAYING YES TO MORE
Easy transitions of the mind towards stopping the cycle before it even starts, can begin the moment we look at something we want. Instead of thinking of why we have to buy or get something, instead think of "Do I need this?" "Do I have something similar that I can use instead of this?" "Why do I want this? Where would I put this? Can I give something else up in its place?
A funny memory just popped into my head; When I was young my mother would go shopping she would always gravitate towards specific items. We all do it. My mother would gravitate towards baskets, charcuterie boards, and blankets. As a kid, she hated taking me shopping because I always asked her where we were going to put it or reminded her that she has 10 more at home. Those are the questions we need to ask ourselves though. Why? Where? Is it a necessity?
Once I went to a gifting event for children with my sister and heard this mom say to her children "You have 5 toys at home already, is there one at home you'd want to give away to have this one instead?" A genius concept that could be applied in so many areas of life.
These seemingly little memories can make such a shifting difference and can really help ease into the next tip!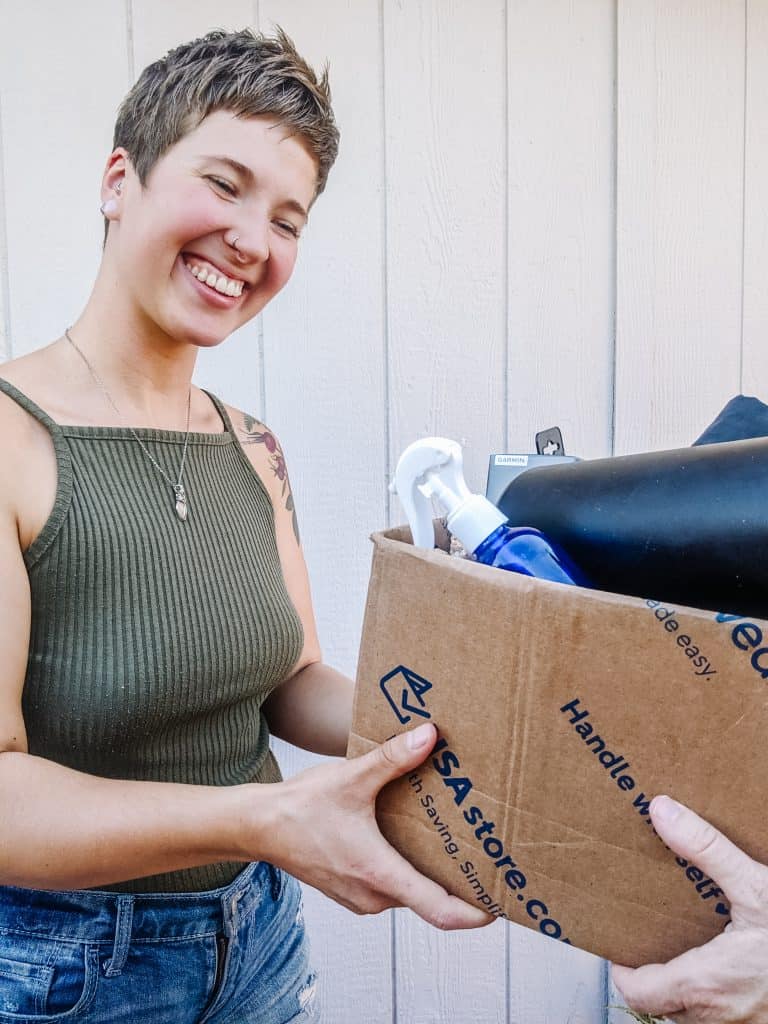 5. GIVE YOURSELF LIMITED SPACIAL RESOURCES
This can mean giving ourselves a smaller space for what we have to be able to occupy. An example of this can be only having 20 – 30 hangers in a closet and limiting ourselves to just those 20- 30 items (other than socks and underwear, etc.) A personal favorite of mine is to actually confine my resources to what fits in my packing cubes for travel and van life.
I use these packing cubes here. Ten tree plants 10 trees for every purchase! YAY!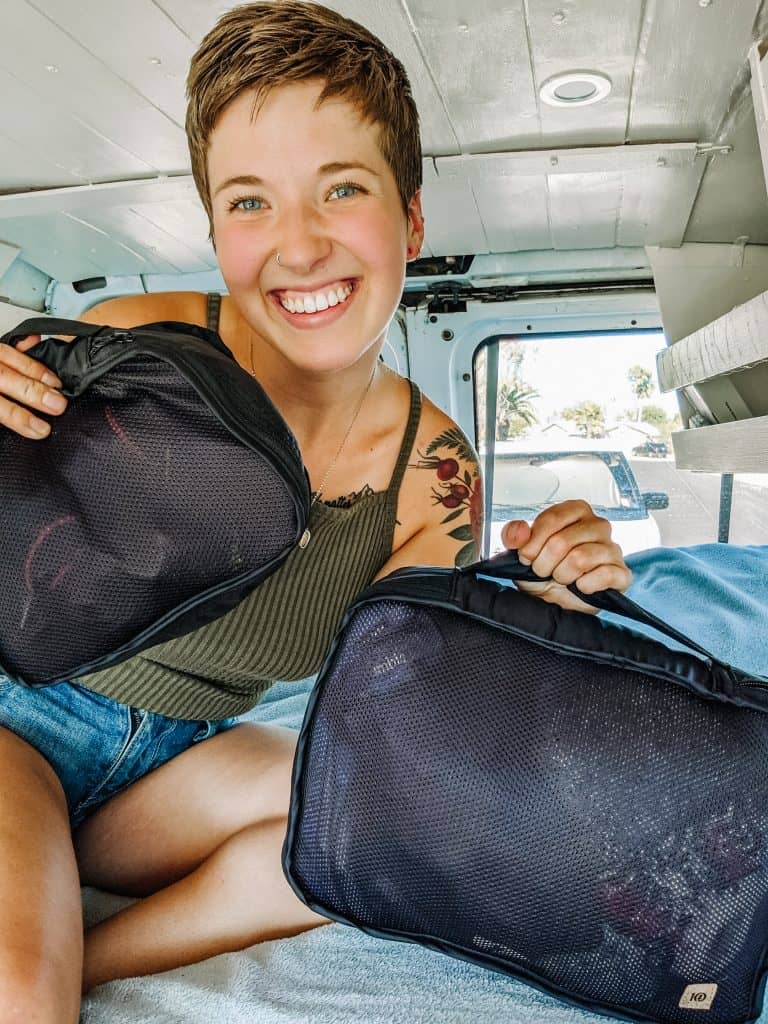 6. REMOVE USELESS OBJECTS
Get rid of knick-knacks – if it's not getting used or hasn't been picked up in 6 months, it's time to get rid of it. Often times if something does not have a purpose, and it collects dust, it is most likely consistently getting in the way of more useful things. 
A great example of this is when people have fake fruit on display. I've never understood this. A better solution is to have fresh fruit on display, not only will it be useful, it won't collect dust, and will even motivate us to eat healthier. Plus it's a sustainable alternative! Eco-win! 
Ohhhh, I've got another good example is artificial plants. Artificial plants collect dust, it is recommended for them to be dusted down once a week with a soft-bristled paintbrush. I personally would rather not have one or put the energy into a useful living plant. Living plants are more useful because they can purify the air, offer bright fun colors, and some can even be harvested from.
7. CHOOSE MULTI-PURPOSE ITEMS
Multi-purpose items can perform multiple functions, eliminating the need for additional items. A multi-tool is one of the most literal examples of this. A multi-tool replaces a bunch of separated tools and has been made into one tool. 
A Leathermen is my favorite tool, click here to check out the one I use!
A more universal example is using a pot for tea instead of a separate teapot. A traditional cooking pot is already used for many other methods of cooking, why not use it for boiling tea as well? Heck while backpacking I use my pot as a bowl as well. Single items can have way more uses than we give them credit for or even think about. Let's get creative and find new uses for everyday items.
This will cut the utensils, appliances, tools, and any other aspects of our lives where we can choose something more useful and dynamic instead of multiple items all over the place.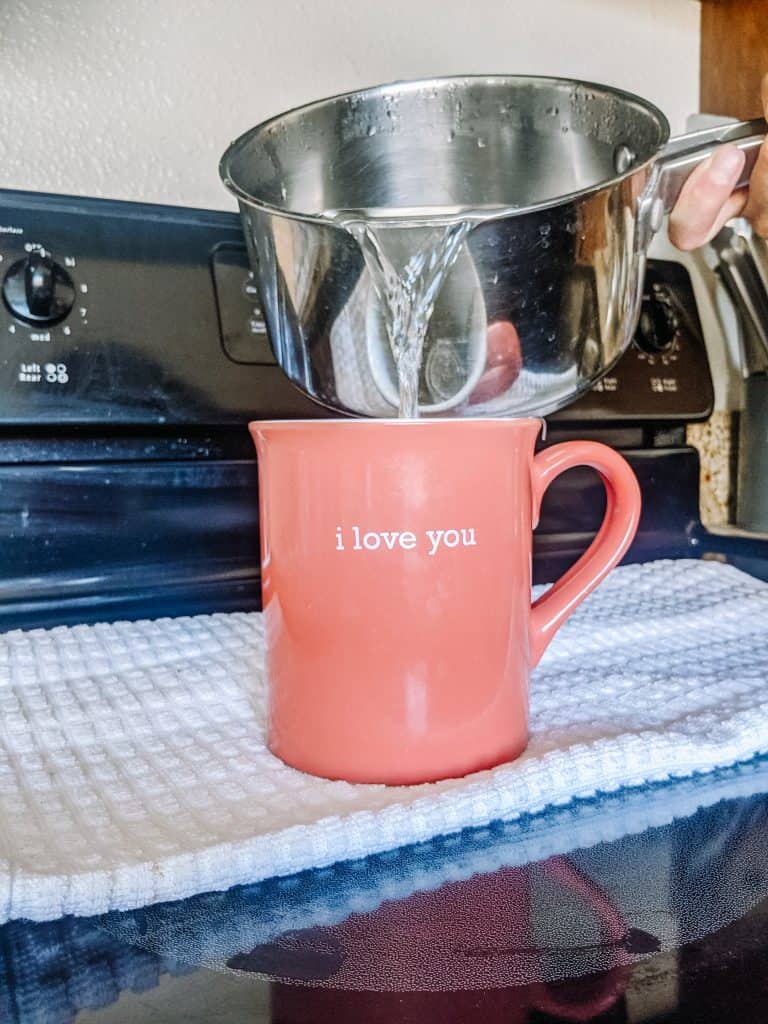 Even though most of this article I refer to "stuff" and "things", please know that most of this can be applicable in a digital venue, mindset, lifestyle, etc. 
"Remember you can go as far as the mind lets you. What you believe, remember, you can achieve."  – Mary Kay Ash
I hope you enjoyed these beginner minimalism life tips, if you ever have questions or run into obstacles with this lifestyle please comment below, because I guarantee that other people have the same questions or want to know as well! Don't be shy, I'm here to help and to inspire.
This is a great time to share this article with someone who would also benefit from this as well!
MORE ARTICLES TO ENJOY: