/
ENJOYING A LOVELY AFTERNOON TEA AT THE DRINK ME! TEA ROOM
This afternoon tea experience is unlike anything I've ever seen so far; from teas changing colors to desserts that look like they should be featured in magazines or on a Queen's plate, you'll never want to leave.
Whether it be a birthday party, a business luncheon, reading a good book while relaxing, or catching up with friends; there is no lack of elegance or fun here. 
Did I forget to mention they use organic teas and are fully plant-based & gluten-free! Need I say more? 
Some links in this post may be affiliate links or this article may contain sponsored content, which means if you make a purchase, we receive a small compensation at no added cost to you. As an Amazon Associate I earn from qualifying purchases. Any purchases you make helps to keep this blog going and keeps our content free. I truly appreciate your support! Visit my Privacy Policy & Disclosure Policy for more info!
RESERVING AFTERNOON TEA
There are a few things you'll want to know before booking.
First, they need at least 48 hours of notice with the booking to make sure that all the delicious goodies are prepared for you, they make them fresh and from scratch! Oh my goodness, now I can't stop thinking about that almond chessboard cake. Yum!
Secondly, the table is reserved for about 90 minutes to 2 hours with each booking, which leaves plenty of time for some elegant sips and some good conversations or a good read. Speaking of reading, there are many whimsical books displayed around the tea room that are for our enjoyment.
Thirdly, Drink Me! Tea Room is very accommodating with most allergies, simply shoot them an email, and they do their best to accommodate. In fact, I had gone with a friend who was celiac and allergic to cherries, they were happy to cater to without a fuss.
Making reservations to book an afternoon tea can be conveniently booked online.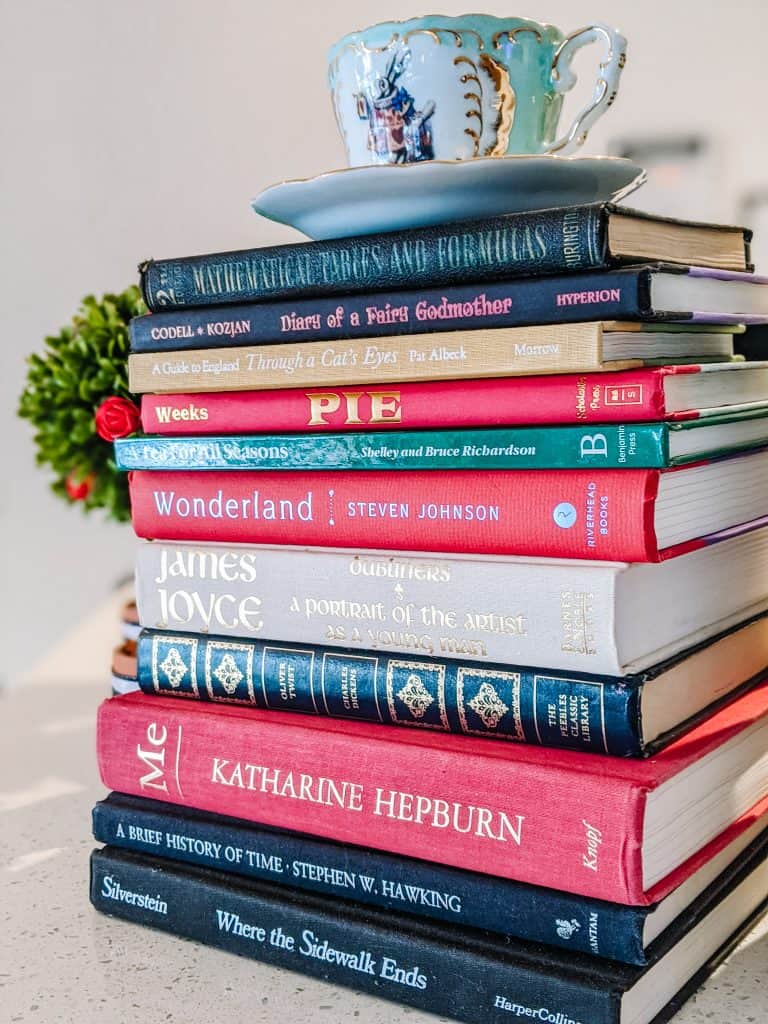 AFTERNOON TEA EXPERIENCES
There are three main afternoon tea experiences to choose from, each offering a varying level of elegance.
I had the opportunity of getting to experience both the Wonderland Tea and the Petite Tea. Both are amazing, but the Wonderland Tea is an experience I would recommend to all. The elegance and intricacy are immaculate, to say the least! 
Wonderland Tea 
$49.50 per person
Enjoy a Full Afternoon Tea service with all the savories, scones, and sweets we can fit on our three-tiered tea trays. A full pot of organic tea is included.
Literary Tea
$33 per person
Literary Tea celebrates Alice in Wonderland with a "shrunk down" version of the Wonderland Full Afternoon Tea service.
Petite Tea 
$17.00 per person
This is a lovely option for scones and tea. It includes two scones, lemon curd, coconut cream, and a shortbread cookie accompanied by a pot of tea.
Double Savory Tea 
$25.00 per person
Two of each of the Wonderland Tea's savory items 
& a pot of tea
Children's Tea (5-11)
 $20.00 per child
PB&J finger sandwich, shortbread cookie, meringue mushrooms, fresh fruit
& herbal tea or lemonade
Drink me! Tea Room adds new afternoon tea experiences every single month, keeping it ever-changing and flavorful. Halloween was a Nightmare Before Christmas theme, and I've also seen a Willy Wonka afternoon tea as well. How fun is that? 
No need to worry about the Wonderland Tea though, it's always available for booking. Watch for the special events on their website, Instagram, and Facebook page. (I'll post their social media at the bottom of the article)
STARTING THE AFTERNOON TEA EXPERIENCE
A warm-hearted welcome and gracefully seated to a table set just for you, and then humbly asked what flavor of tea would best to get started with. An option of a silver tray with the aromatic teas ready to offer that sensory experience. Each tea offers either a pleasantly sweet, earthy, or even slightly spiced smell. 
Only choosing a couple of teas can be difficult when they all smell and taste so good. However, most are available for purchase and can be taken home as well! Yay!
Choices of teas:
Most of the teas are organic unless mentioned otherwise.
Wonderland Teas:
Alice (Non Organic) *This tea changes colors once lemon is added*
Mad Hatter 
Tweedle Twins 
Cheshire Cat 
Queen of Hearts 
White Rabbit 
Black Tea:
Tweedle Twins 
Mad Hatter 
Maple 
Crème Brûlée 
Ginger Orange Peach 
Irish Breakfast 
Pineapple Darjeeling
Apricot Peach 
Earl Grey Cream
Lady Grey 
Autumn Chai 
Monk's Blend *Tea Room Favorite*
English Breakfast 
Green Tea:
Cheshire Cat 
Alice (Non- Organic)
Queen of Hearts
Sapian Hibiscus 
Strawberry Green
Lucky Dragon
Herbal Tea:
Raspberry Lemonade
Bumblefruit
Pumpkin Pie  *My personal favorite*
White Rabbit (Lemon Rooibos)
Spiced Pear Rooibos
Marzipan Rooibos
Raspberry in Paris Rooibos
Once the tea has been chosen, It will be brewed and brought over to the table where it has been perfectly steeped. I personally asked if my tea could be poured for me, to avoid any accidental spills.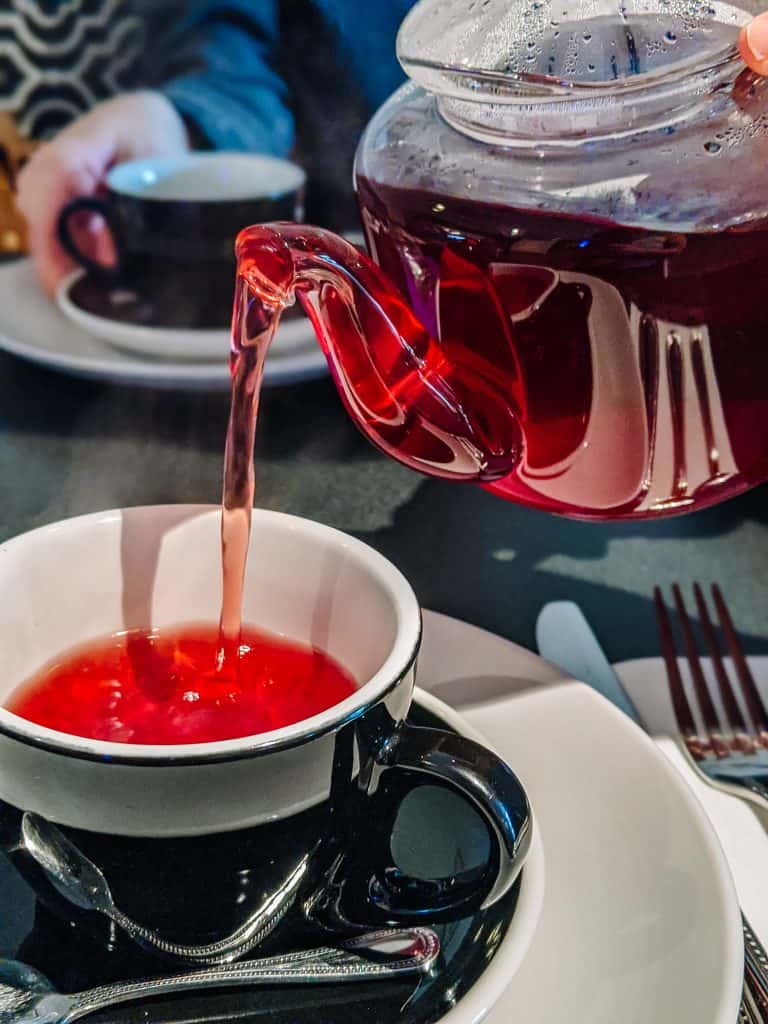 What happens next is entirely up to the chosen experience. I'll share a bit about both the Wonderland Tea and the Petite Tea.
The Wonderland Afternoon Tea (Which is their traditional special)
Savories:
"Egg" Salad Sandwich
Chick-Pea Salad Sandwich
Cucumber & Cashew Cream Crisp
Hummus & Tomato Pesto Pinwheel
Scones
Classic American Scone
Spiced Fruit Rock Cake
Lemon Curd & Coconut Cream
Sweets
Chocolate Cake
*Almond Chess Board Cake
*Key Lime Tart
Vanilla Shortbread
Earl Grey Macaron
Meringue Mushrooms
Teas we had chosen: 
Tweedle Twins – Black tea blend with black currant, huckleberries, and blackberry leaves. High antioxidant level and medium caffeine. Perfect for people who prefer less of a sweet tea.
Pumpkin Pie – Apple + Carrot pieces, Hibiscus, Cinnamon, Pomegranate Peel, Beet pieces, Cardamom, Sea Buck thorn, Pumpkin pieces, Natural flavors. Perfect for those who like lightly sweet tea without sugars or agave.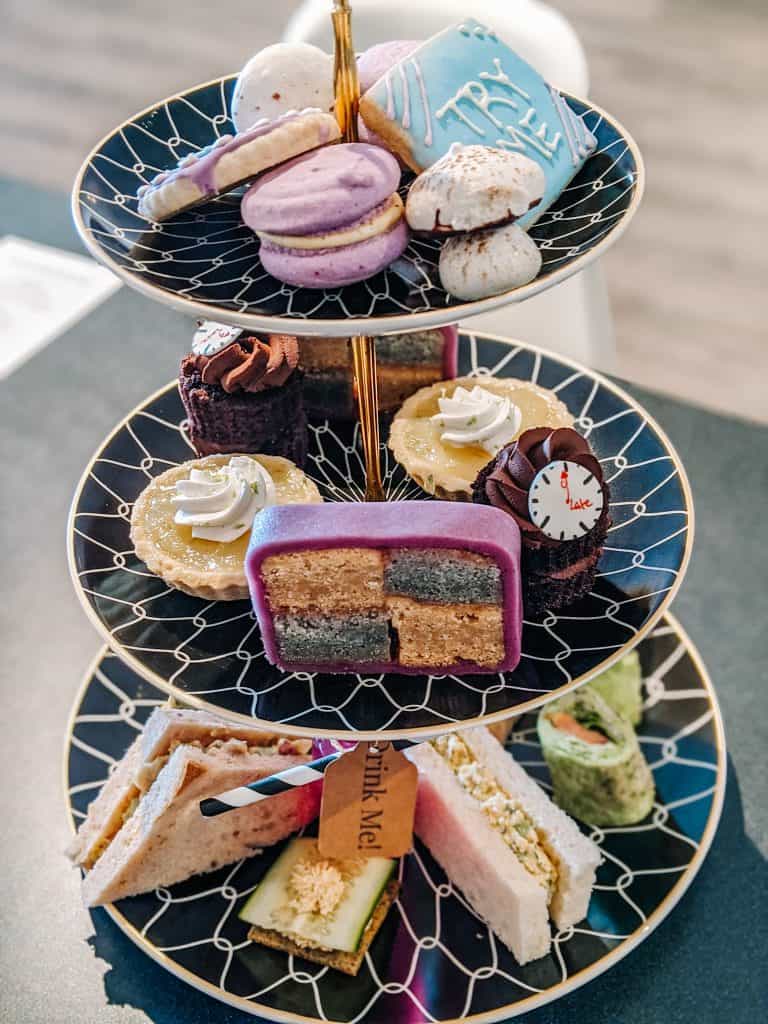 I will be totally honest in saying that I thought I was still going to be hungry afterward (my eyes are bigger than my stomach) but I actually ended up leaving with some desserts to go! I was fully satisfied and the owner Melissa is wonderful, I highly encourage giving this experience a try, you deserve it.
♻ Sustainability Tip(s) or Highlights: 
95% of their ingredients are fully made in house

Most of what they source is as organic as possible

The organic loose leaf teas come in compostable packaging and are shipped in mostly compostable packaging.

Fully compostable to-go containers

They compost their food scraps and paper products!! Whoop! ECO-WIN!

The owner Melissa is always open to ways to be more sustainable and loves being a part of her community

The owner Melissa also supports local as much as possible 
The Petite Tea
It includes two scones, lemon curd, coconut cream, and a shortbread cookie paired with a pot of tea.
The pot of tea choice:
Mad Hatter – Organic black tea with safflowers, marigold, cornflower, and blue mallow flowers and passion fruit flavor. The tea has a medium caffeine level and the flavor is sweet at first with a bit of a bitter after taste, perfectly complemented by the colorful sugar cubes.
DRINK ME! TEA ROOM LOCATION & HOURS
Looking for a tea parlor / tea room near you? Whelp if you're located in Arizona or plan to visit Arizona anytime soon, this is a must stop!
Drink me! Tea Room is located in south Tempe, on Warner Road. Their address is 1730 E Warner Rd #5, Tempe, AZ 85284.
Drink me! Tea Room is open Wednesday through Sunday, around 11am – 5pm but Closed Mondays & Tuesdays. Conveniently open on the weekends! That's almost unheard of to be open on both Saturday and Sunday! YAY!!
DRINK ME! TEA ROOM THEME & INSPIRATION
The owner Melissa was stuck at her job without inspiration, unsure of where to turn to next. One day she decided to take a trip to London with her family, where she was enamored by the high tea. So she decided to bring the tea with her back to her home in Arizona. She said she had written her business plan down while on the airplane home from London. Talk about inspiration!!!
However, she did not want the traditional Victorian style floral pattern that most high teas had, she wanted modern and inviting. 
Melissa's favorite book had always been Alice in Wonderland. Alice in Wonderland already had the mad tea party as a fun concept, she thought it was perfect!
Every time I personally think of the mad tea party, I imagine all the characters singing "A very merry unbirthday to you", whilst pouring tea everywhere. Not to worry though, the Drink Me! Tea Room is quite a bit more proper and less sticky. Ha!
The inspiration and theme were set, next was bringing it to fruition, and now here it is!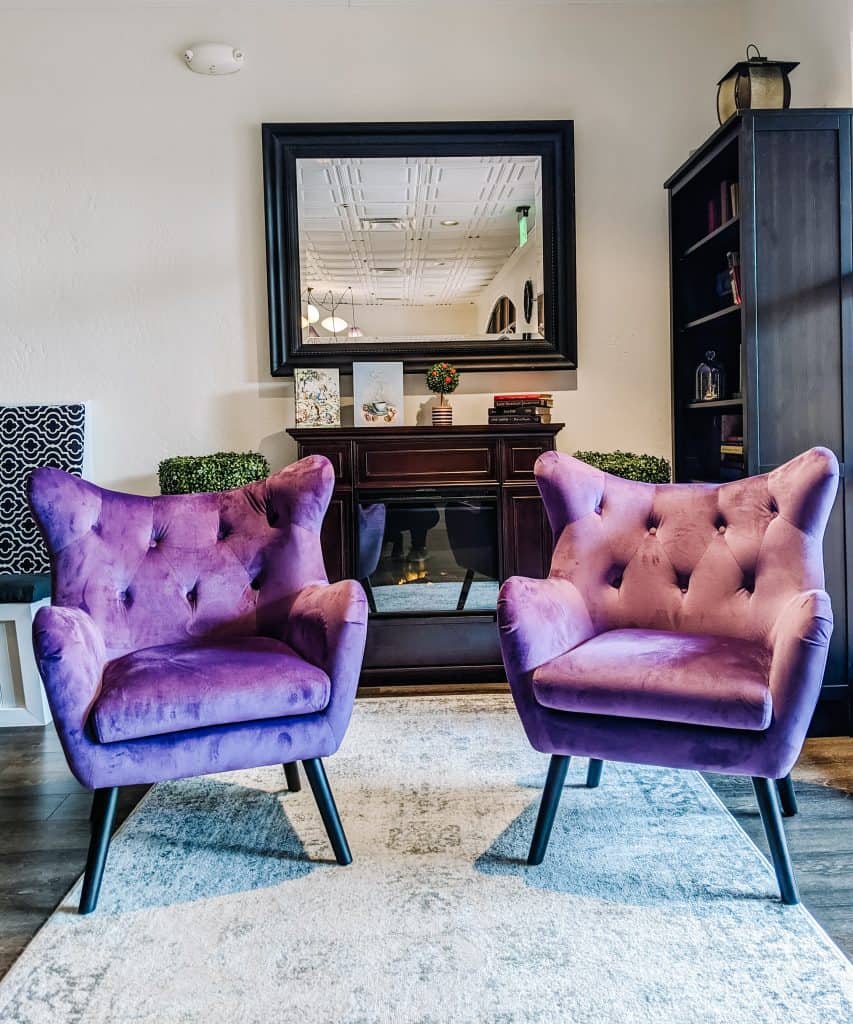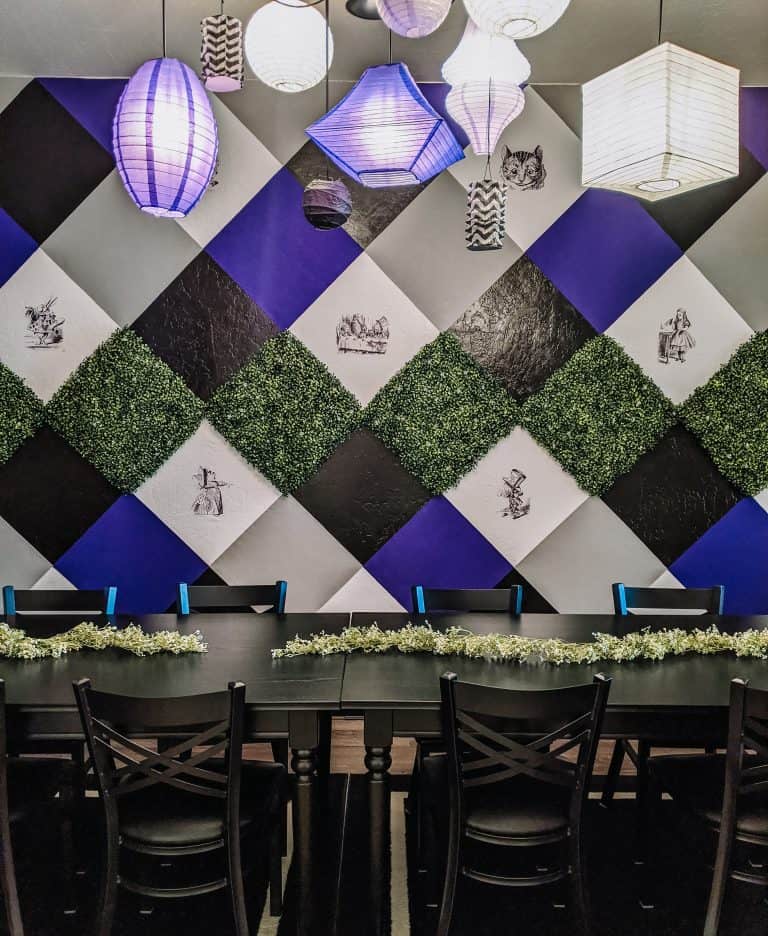 ABOUT THE OWNER
Melissa is hands down one of the sweetest people I have ever met, from her genuinely caring about each and every person's experience to the love she puts into the planet and even her business. Her attention to detail makes every visit a truly special experience.
Melissa is an avid family woman and community supporter, she shops small, local, and connects with other companies for products she cannot make herself.
Although I personally don't imbibe; I noticed they also work with local Tempe distilleries – Wild Hare Distillery and AZ Distilling Company as well as a local Tofu company -AZ Tofu) Her daughter works closely with her in the kitchen and her step-son is the master mixologist creating amazing craft cocktails. Other long family friends work there as well and even created the whimsical artwork we all see throughout Drink Me! Tea Room.
That makes this not only a sustainable, local business but also a family-operated one. WOW! It's truly remarkable.
There are moments when we know someone does something because their heart is in it, we can taste it in the food and feel it when we walk into the door. Drink Me! Tea Room is truly where Melissa's heart is, and it shows. 
Please let us know what your experience is, I'd personally love to know your favorite dessert and tea choice. My personal favorite dessert has been the almond chessboard cake and the pumpkin pie tea. 
I'm getting a sweet tooth just thinking about how delectable everything is.
Drink Me! Tea Room is actively on social media; where they post their events, specials, and goodies!
#drinkmetearoom
Tik Tok: @drinkmetearoom