/
A Guide to Backpacking The Hoh Rainforest in Washington State
The Hoh Rainforest, pronounced "Hoe", yes I know it can be a little uncomfortable to say at first. However, in Native American Cultures "Hoh" is a meaning that stems from "fast-moving water" or "snow water". There is a river that comes from the glacier run-off, so it matches up with the name well! Also, another fun fact; The Hoh Rainforest averages 140 inches of rainfall in the winter, which is why you see so much green lush. So don't forget to prepare for the rain when you go!  Regardless of rain, this was one of the most memorable trips I have ever done in Washington. Backpacking the Hoh Rainforest in Washington is an experience I have everyone add to their bucket list. Coming from someone who lived there for over 20 years. You won't want to miss it!
How to get to the Hoh Rainforest
The Hoh is on the Peninsula of Washington State. So it's tucked away on the very West side of the state. This area of Washington is easiest accessed by a ferry if coming to this part of Washington from the north of the east. For those that are south coming north, the easiest route is just driving straight there.
If coming East; from downtown Seattle, drive onto the Seattle-Bainbridge Island ferry or the Seattle-Bremerton ferry; from the northern suburbs, the Edmonds-Kingston ferry is quickest.
If you're coming from Canada, Black Ball Ferry runs four times daily in summer between Victoria, BC, and Port Angeles. When planning your trip make sure to take into consideration the ferry scheduled time, the boarding time, and unload time.
Getting a Pass and Permit
Please know that this National Forest requires a parking/day pass. You can buy a day pass through the park or the annual National Park pass; called an America the Beautiful Pass (This pass is good for all the states in the U.S.)
A permit is also required for any overnight/backpacking trips, click here for more info on permits. Along with your permits, a bear canister is also required. This is for your safety and others' safety, it's always better to be preventative. However, the bear canister is included with the permits. Having a bear canister ahead of time can really make it easier on yourself to configure the food in there ahead of time, rather than waiting till the last minute and frantically packing it.
Day 1:
Us ladies, stayed overnight our first night at the Olympic National Park campground in loop C 71, July 23rd 2020. This night was a fantastic night for prepping & weighing our packs, double-checking our gear, and assessing what we truly needed! We used this scale to weigh our packs. For tips and tricks on backpacking check out a couple of my other articles here.
Day 2:
The next day the plan was to backpack to Lewis Meadow, which is an average of about 10 miles.
This was a super beautiful and flat hike through meadows and beautiful views of ancient and massive trees! Absolutely amazing! Little streams and small waterfalls filled the silences. This is an amazing time to breathe, unwind and realize you are in one of the most beautiful trails in Washington!
Also, don't forget to keep up on caring for your body! Some people only complete the first 10 miles and that is totally okay!
Lewis Meadows was an amazing camping spot, secluded with only a short distance from the river (for pumping water and soaking our feet!), and the toilets! So do what you can and be grateful for the experience regardless of what you completed!
Day 3:
So now for day three, the plan was to hike from Lewis Meadows to the Blue Glacier Moraine. We decided it would be best to leave super early in the morning, so we aimed for waking up at about four am and leaving by five-ish. This way we could try to avoid as much of the heatwave as possible but not be hiking in the dark for long in the morning, avoid having to hike in the dark later that evening. I don't recommend hiking in the dark because more predators are out, it's harder to gauge where you are on the trail, and you are more likely to get injured because of it.
We ate our breakfast, gathered our lunches and snacks for the day, and headed out. I would have recommended backpacking up to camp out at Elk Lake on either the first or second night. Lewis meadows is around 10-12 miles in, then Elk lake is an additional 7-9 miles more or so! Which would have made for a much shorter hike to the glacier in the morning. (Please refer to the disclaimer at the bottom of the article.) Plus the elevation just started to get intense after Elk Lake, getting to about a 2670 elevation gain
The elevation continued to increase gradually across the day leading up to the Glacier. So we had about 21-24 miles (there and back) to hike this day (this mileage is even harder to gauge because it truly depends on which direction you took to go up to the basin of the glacier!).
So we were actually supposed to backpack all the way up to glacier meadows in our original planning. I am so happy we didn't end up doing that! Taking our heavy packs up and down a landslide with that rickety broken ladder would have been way too intense for me and I would have felt wayyy less safe!
Glacier meadows was about a 4300 elevation gain, so beyond that, the elevation drastically increased. I definitely recommend taking day packs up the rest of the way! In your day pack I suggest bringing anything and everything, you will NEED that day. Which can be wipes, trowel, first aid, filter, food, water, sunscreen, etc.
Also, the rangers had actually told us that beyond Elk Lake they weren't sure if there were going to be water sources available for filtering. So we had brought about 3 liters of water with us and a filter or two for us all to share.
I had gotten to see so many plants and flowers I had never even seen before. I have lived in Washington just about all my life. Completely baffled, I had gotten to see wild lilies in a completely new form, which are my absolute favorite flowers.
The smells of the flowers along the way made for a spectacular aromatic experience. The colors just illuminated the entire way. Hearing the bees buzzing and watching the butterflies fluttering. It was almost as if I were in a botanical garden. It truly stimulated all of your senses and elevated the experience. I think the time of year we decided to go was absolutely perfect! July was perfect!
When getting closer to the Glacier there is the option of doing the lateral or vertical view of the Blue Glacier Moraine. Be aware the Vertical is extremely steep and rocky! The rocks made it slightly unstable.
There were many cairns leading the way; cairns are stone statures many people place around to let you know you are on the right path or going the right direction on your hike. It's so reassuring and beautiful to see.
Just be mindful of how steep it is, what the footing looks like, and what angle you're wanting to view the glacier. Choosing your path will also fluctuate your miles. Regardless of which angle you choose all are beautiful and will be an experience of a lifetime.
Using all of my senses I will do my best to describe it for you, but backpacking the Hoh Rainforest is truly something to experience. Hearing the gusting winds. Feeling the warm breeze off of the basin rocks intermixing with the icy breeze that rolls off the snow from the glacier itself, grazing each side of your body, feeling the shift in temperatures. The sweet and sour taste from the berries still lingering in your mouth, as your jaw drops from disbelief. Eyes gazing back and forth, not sure where to rest, as the sunlight bounces off the white and blue hardened snow, brightly glistening. The scent of the flowers still lingering, not wanting to release that delightfully sweet aroma. Such a state of pure bliss and serenity.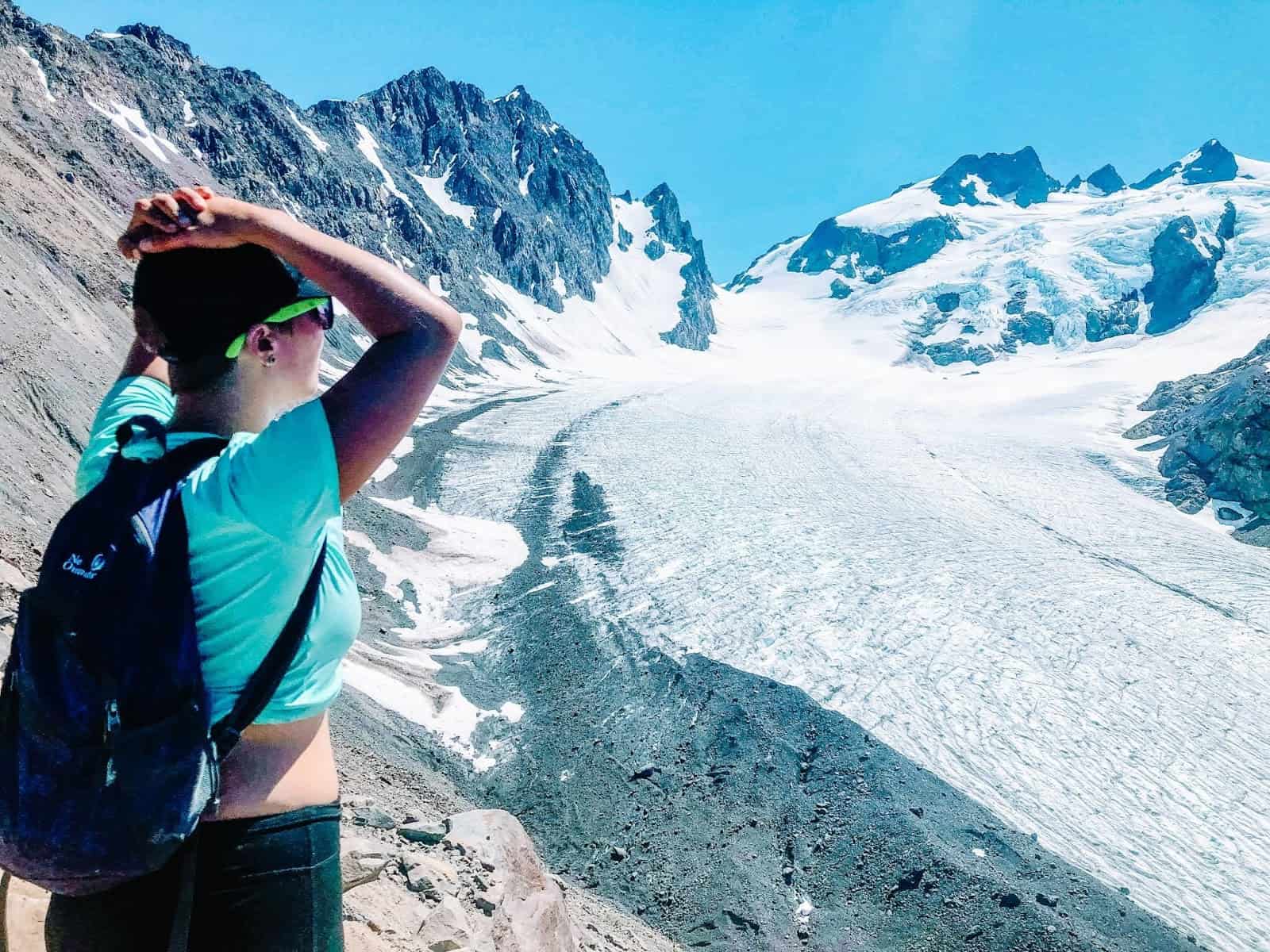 After seeing the basin we trekked back up that ladder, over the slated rock, and back to Lewis Meadow.  
Day 4:
We slept in the fourth day allowing ourselves to load up on calories and recuperate. You can totally hike out this day and head back to the car if you want to. It would be around a 10-mile hike out. It's always better to over-plan time than under plan it, just in case something happens or if you decide to have a rest day! But also take into consideration trek out time, drive time, or ferry schedules.
Day 5:
The morning of the fifth day we ended up camping out at Mt. Tom Creek, around 7-8 miles from Lewis Meadow. Mt. Tom Creek was around 3 miles from the entrance making it so much easier to trek out the next morning!
I hope this helps you to gauge your trip, everyone has different levels of fitness, giving yourself extra breaks and time to repair is essential. Enjoy your trip and be safe!
When you decide to go, tag me letting me know your favorite part of your experience, I look forward to seeing your joy!
Disclaimer to backpacking the Hoh Rainforest: I had put "about" or "on average" for the miles because the rangers and tracking devices have shown that the mileage on the markers/signs are inaccurate. So please try to use the best judgment in understanding there could be a couple of miles added on to each marker give or take (which is what I tried to account for in my article, giving a little mileage fluctuation)! Especially due to the land slides and terrain differences over the years adjusting the trails a bit!