/
Exploring Yellowstone National Park
The original plan was to stay at one of the Yellowstone campgrounds, but I get to the town of Yellowstone and realize it's snowing. I wasn't packed or prepared for snow! I wish I would have been better prepared, but hey now we know right? That how all beautiful things happen in life, when you're least expecting them!
After speaking to the ranger, he had told me that the best times to go were in July, if you wanted the least risk of snow, although they get random unavoidable snow storms. Needless to say, I had canceled my reservation for the 4 nights and decided to enjoy it all in one day, I know I will be back again! It was my first solo road trip & just saw this as a learning experience. I must say though that Yellowstone was truly beautiful in the snow, the white contrasts made everything pop with color!
Here are some pictures of how beautiful the snow was! So beautiful!!
Did you know?
Yellowstone was actually one of the world's very first National Parks
Yellowstone is also one of the most popular National Parks, so traffic will be a bit crowded and slow, no worries though. Just plan to be patient and relaxed when visiting.
Even though each thermal feature may have similar qualities, no two features are identical!
Here is one of the maps to help you navigate and create an itinerary for what you'd like to do most! Click here!
I will list out some of my absolute favorites and some most favored by the park. It's hard to give an itinerary when there are so many entrances to the park itself. Also, entrance to the park starts at $35
$ Frugal Tip: Yellowstone Accepts the American the Beautiful Annual National Park Pass, and it's is only $80, and you get access to all the National Parks across the US.
Here is another map option, It's a little more detailed than the one that the park gives out. It shows a lot of the key features and stops!
Old Faithful and The Upper Geyser Basin
This one of the most famous attractions here at the park. People gathered as the geyser gets ready to burst, many sat and tried to do countdowns to the timing of it. Although they do the scientific measurements of it, the geyser can still be unpredictable itself.
Tip: Tune into 307.344.2751 option 1 for geyser eruption times. (Check the visitor center to make sure the number is still accurate, I heard it changes periodically) The geyser erupts every 35 to 120 minutes.
I highly recommend grabbing a hot tea or cocoa and some lunch, while you enjoy the show! Especially since you'll conveniently be located right next to the Old Faithful Lodge Cafeteria. Did I mention that they have vegan options available as well?! Cafeteria Hours are  11:00 A.M. – 9:00 P.M. I personally enjoyed a Noodle Bowl; Garlic noodles, Sautéed Gardein® Chick'n, Spicy Peanut Sauce, Chopped Peanuts, Crispy Chow Mein Noodles, and Chopped Green Onions. Every bowl also comes with stir-fried veggies.
♻ Sustainable Tip: Their to-go containers and silverware was compostable! Yay! Thank you, Yellowstone for having a composting system in place. There are also scattered water fill-up stations around the park too, eco-win!!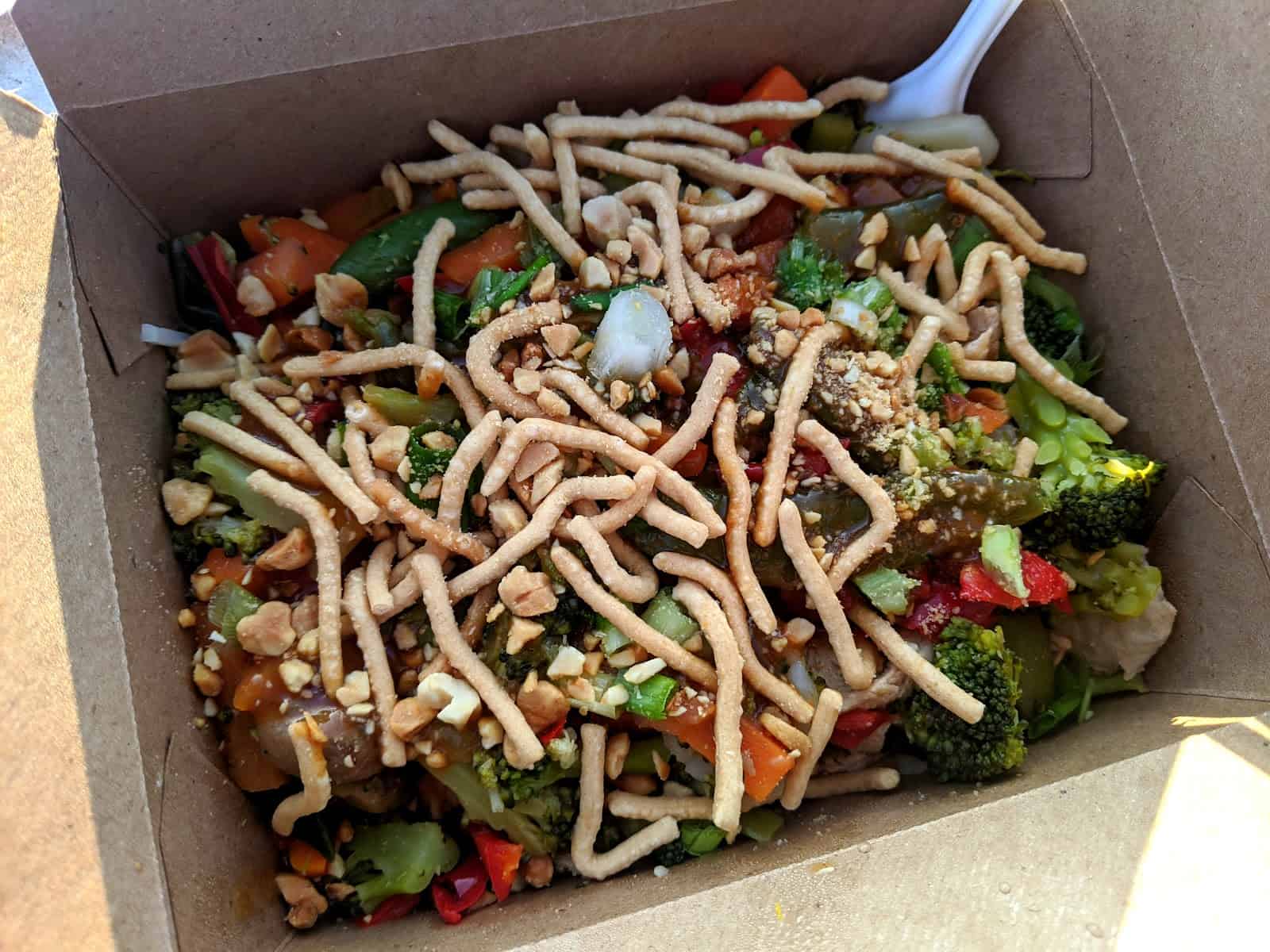 Old Faithful is actually on the Geyser Basin Loop Trail; This loop is absolutely stunning, lots of colors, textures, and even smells. I don't blame you if you decide to plug your nose! Ha! The snow had really made these colors pop! I recommend walking around and seeing all the geysers around the National Park, each one has something a bit different than the last.
The Grand Canyon of Yellowstone
This section of Yellowstone features a massive astonishing waterfall with multiple viewpoints; Upper Falls Point and Artists point are the most popular angles. This area was also where Yellowstone had gotten its name, when the sun hits the canyon just right, the rocks illuminate a golden-yellow tone!
Firehole Falls
Firehole falls is directly located off of the Firehole Canyon Drive. Super easy to view and to get to, barely any walking or hiking to get to. Simply pull off the side of the road and view. Don't be deceived by the pictures though it may look small its 40 ft! It also a swimming spot in the hotter months, however, I didn't dare step foot in it during the 13-degree weather, while I was visiting. Brrrr
Fountain Painting Pots
These were unlike any of the geysers, these looked more like bubbling pots of mud! Quite a sight and sound to experience. I had never seen anything like them before. It reminds me of those empresses taking mud baths, except these aren't the ones you'd want to bathe in, of course! It's said that the biggest difference between these and the geysers is just the lack of water.
Wildlife Viewing
There is so much wildlife in the park; Bears, wolves, bison, coyotes, deer, pronghorn, and many bird species.
Lamar Valley and Hayden Valley are both highly recommended for spotting wildlife. Maybe Lamar Valley a little more so than Hayden Valley. I personally got to see the wildlife just driving around, on my way to the sights! Keep your eyes open, they aren't hard to spot here!
A few places that I was so sad to have missed were the Mammoth Hot springs, The Boiling River Hot Spring, and the Mud Volcano (located past Hayden Valley, on the drive to the Fishing Bridge). Unfortunately, I didn't have time to see them and this was also around the time the wildfires starting to spread East, and it was time for me to head home to safety. So I will explore them again very soon! I recommend exploring those, if you get the chance and let me know what you thought! If you're just exploring, I recommend doing Yellowstone in two days at least. If are doing any hiking or backpacking you may want a few nights. Enjoy!
Tag me on social media showing me your favorite stops in Yellowstone. See any wildlife? I'd love to see them too! ♡
@yellowstonenps #yellowstonepledge