/
FORD CAMPER VAN REMODEL — BEFORE AND AFTER
Finally, this Ford camper van remodel is being revealed! I'm so excited to show you all the hard work that's gone into this masterpiece. 
After moving in with a very unstable housemate and having never lived by myself, I decided to buy a van to have my own space. In all my years of being alive, I had not yet had an official space of my own. So, you can imagine I was very excited!!
This Ford camper van offers so much more space for added comforts, privacy, and extra security.
Initially, I had bought this Ford Eco line 350 Van in March/May 2021, from a fellow traveler. The person before him had done most of the necessity renovations (The solar, fan, roof rack, flooring), I just primarily did an aesthetic renovation, with a few necessities. 
Some links in this post may be affiliate links or this article may contain sponsored content, which means if you make a purchase, we receive a small compensation at no added cost to you. As an Amazon Associate I earn from qualifying purchases. Any purchases you make helps to keep this blog going and keeps our content free. I truly appreciate your support! Visit my Privacy Policy & Disclosure Policy for more info!
#1. CEILING
I started off by securing the ceiling panels, the exposed and bent beams were a bit of a hazard. So, by simply screwing in a few recycled wood beams across the edges, it secured the beams enough for me to seal the cracks.
#1. Secure beams
#2. Seal cracks with wood filler
#3. Sand (once the filler is dry)
#4. Dust
#5. Paint
It truly sounds easy when it's laid out in a few easy steps, but this process took a couple of weeks. 
Another area in the van that needed a good facelift was the blue/green fabric above the driver's seats.
This portion of fabric was not only old and worn out, but it was also very porous, and had a slight old odor.
So, I decided it was in need of a paint job! 
#1. Chalk paint
#2. Fabric wax
Surprisingly it was so easy, but just make sure to lay down a painting tarp, because the paint will follow gravity and fall.
#2 SHELVING & STORAGE
Secondly, taking out the cabinet, located in the main living space, was my next priority. The previous cabinet was barely functional and was tiny.
Making the most out of space and optimizing organization makes a huge difference, especially when living in it.
After taking out the cabinet, I decided to find a lightweight premade piece of furniture to fit in that exact space. Also, buying furniture instead of wood, allowed me to cut costs and save time building. 
I had decided to go with a used Ikea bookshelf just like this one here. After, measuring and securing it to the back panel, I knew it would work out great!
One of the huge positives to this large ford camper van is that there are so many possibilities!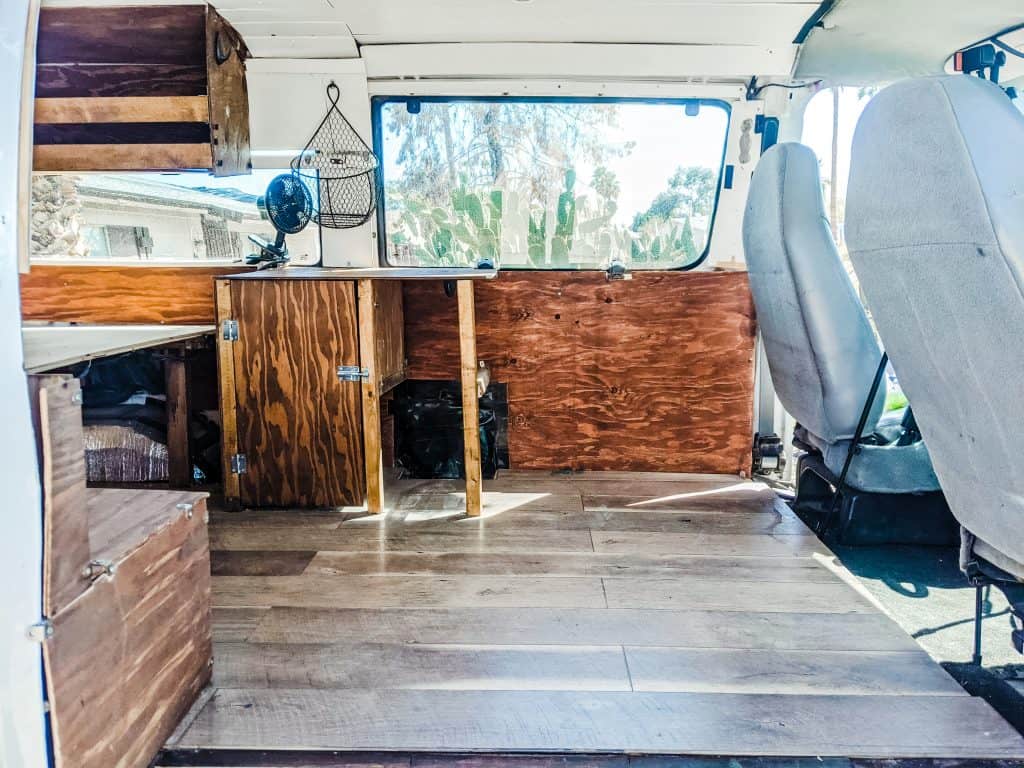 As you can see, there is plenty of storage now and a wide counter top for any food prep needs!
The drawers I had chosen to go with were the polyester recycled one's, similar to these here. These drawers are so incredibly lightweight and offer additional organization.
However, don't estimate the holding capabilities of these drawers, I can fit a wok and a pot in a single cube! Seriously, they are way more spacious than most people think!
Also, I wanted to stay on the lookout for something easy to secure. So, I drilled holes in the sides of the cubes, and placed bungie cord through.
This method of securing allows me to still have easy access to the bins, but keeps everything in place while on the road. So simple, yet so effective!
The very top of this organizer has a unique touch to it, I decided I wanted to customize the counter top. Interested in how I made my countertop?!  Comment below to request an article!
#3 FAUCET & SINK
After thinking on the ford camper van remodel, I decided I didn't want to go through the efforts of putting in a full faucet and sink. 
For one, the height of the van was a huge factor, and for two, I wanted it as lightweight and easy as possible.
Plus, I had read from many other bloggers about their sink leaking or being extremely difficult to fill up because of the weight of the water.
So, I decided to go with this extremely easy setup, a  5 gallon water jug with a rechargeable water pump on the top of it. I place a small hand towel around the neck of it, secure it with a bungie cord.  When I need to wash dishes, I just unfold this traveling sink.
It's convince at its finest! To fill up this water jug, I just pop the water pump top off. 
Not to mention it's easy to pick up and move around, heck, and I'm sure someone could even use this as a shower if they wanted to! 
Also, the charge for the water pump lasts weeks! Simply charge on the solar, and you're good to go!
#4. BEDROOM AREA
For the 'bedroom' portion of the van, I started with repainting the shelving unit to give it a much bigger and cleaner look. 
Then moving on to the bench/battery box by the bed, replacing the original wood with thicker wood. The thinner wood was originally bowing and cracking every time I had sat on it, so switching to a much thicker wood allowed for it to be more of a multi-purpose item. 
The battery box/bench also has hardware on it, allowing it to swing open and closed for easy access. 
On the side of it, you'll notice a small shoe storage. This shoe storage was put together by a cut up rubber mat, corner brackets, and some bungie cord.
Above the shoe storage is a hook, where I hang my backpack, and reusable bags from. 
I think the difference is huge! The white truly brightens up this small space and gives it a face lift.
Check out this video for a full van tour!! 
Which area of the ford camper van was your favorite transformation?
WANT TO READ MORE ABOUT VAN LIFE? CHECK OUT THESE ARTICLES!