About Manifesting Serenity
Manifesting Serenity's about helping liberate and inspire people to know that there's a whole world out there full of beauty & opportunities!
Actually, the foundation of Manifesting Serenity came to me during the pandemic, (of 2019/2020) the thoughts of feeling stuck and thinking, "Is this all there is?". Absolutely NOT! There is an entire world of beautiful people, places that will bring you happy tears, and opportunities everywhere. 
Best of all, they are all waiting for you to unveil them!! But what better way then to have Manifesting Serenity as your resources, inspiration, and 'cheerleader' hub, rooting for you!
But we won't find many hidden beauties until we go wandering. Which these resources help fuel you to be able to do so!
Overall, the blog was created because I believe in spreading the knowledge of everything that leads us to live higher-quality lives, through nature connections, cultural immersion, wholistic health, challenging/shifting limiting beliefs & fears, as well as taking a curious and adventurous approach towards life.
"Manifesting; thinking it, seeing it, saying it and making it happen!" – Serenity Lesley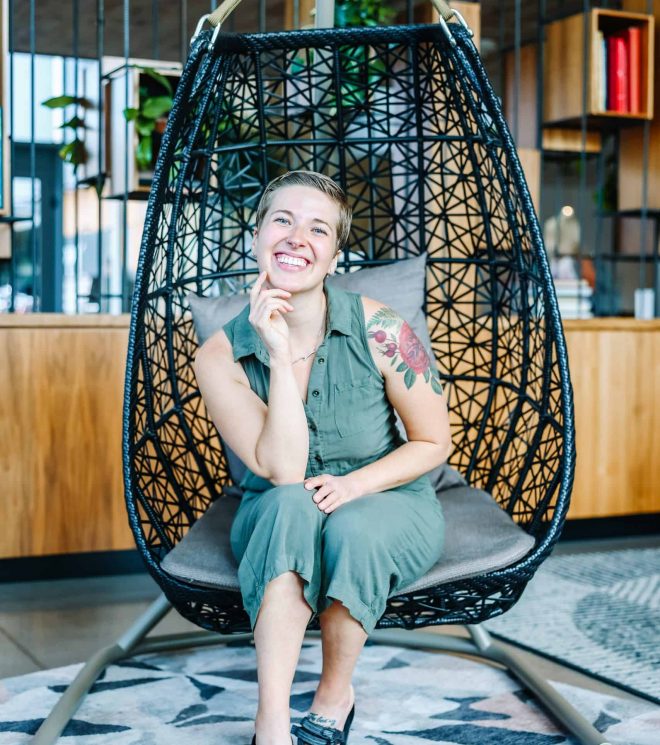 Heya, I'm Serenity,

CEO & FOUNDER of Manifesting Serenity!
Once upon a time ago, I was combatting major anxiety (panic attacks), seasonal depression (also referred to as SAD), and Complex PTSD; I was shaken, and had a bit of a wake-up call.
So, I began to heal, left societal expectations and set off to discover myself and this beautiful world around US!
So far I've found that I'm a whimsical, free spirited, multi-passionate entrepreneur, and fun-loving girl who likes a balance of both playing in the dirt out in the middle of nowhere OR living a luxurious lifestyle doing yoga on the beach in a cabana sipping a fresh smoothie. Well, life's about balance, right?
I just do things a little different here; tattoos, short hair, wearing whatever's comfy (you'll probably never see me in a dress), always snacking, big smiles and compassion.
Often times you'll catch me traveling slowly and sustainably to take everything in and enjoy the journey along the way, because it's only when we slow down, we begin to see what so many overlook.♡
It's time to open our eyes to this beautiful world around us, but remember it doesn't have to be the same way others do, but it doesn't have to be alone. So, let's go together!
So What's My Personal Story?
So let's start with when I was first in my own personal discovery…
My biggest discovery happened while I was in my late teens to early '20s. I was going to high school, college, and worked a part-time job all at the same time! I got my Associates Degree at 18 years old, explored the career and worked in it for about 7 years on and off. I had become obsessed with shopping as soon as I started making money, never really taking the time for travel.
December 2016: My family and I took our first family vacation to Puerto Vallarta. I was completely astonished by the rolling tongues in the language, flavors in food, welcoming people, soft beige sand between my toes, and the acoustic music had me wanting more.
The year after, I had gotten married. Daydreaming about my career, marriage, and traveling. Later, I had encountered a couple tragedies. While discovering I was combatting major anxiety (panic attacks), seasonal depression (also referred to as SAD), and Complex PTSD; I was shaken, and had a bit of a wake-up call.
Needless to say, I've had my fair share of challenges. I began challenging my fears, becoming aware of limiting thoughts, began understanding the true level of resiliency I've been able to build from all of this, and began healing as well as innately trusting in myself and what we are capable of.
I looked forward to our Honeymoon in Hawaii more than ever! Hawaii was full of fresh salty sea air, pure blissful sunshine, juice dripping fruits, pungently sweet flowers, and sea turtles swimming freely. I cried for hours of pure joy and amazement. It was just the beginning for me. I loved it and was hooked. Later I officially decided I wanted to go on all sorts of adventures and travel even more. He however did not.
Needless to say the marriage ended, we decided we wanted different futures and liked doing different things, we had grown apart. Also, the career path I chose lacked growth and was destroying my body. I had to find change in more ways than one.
So, travel was the start of a new direction and a new path!
It was one life shift after another…
Turning inward to do the healing; I came to a few realizations at that time.
A big house, luxurious car, a huge closet of clothes, tons of shoes, and having an excess of that "material" stuff just isn't the life for me, it just brings me anxiety.

While I was working so hard and devoting myself to a relationship, I wasn't doing any exploring, traveling, or going outside much anymore.

I had no idea who I was and had a lacking sense of self.

I associated my identity with my belongings, marriage, trauma, disorder, and job. 

I had never lived on my own.
So here I am; creating myself, getting to know myself and the world around me, all while chasing sunshine!
To compliment this, I created this blog!
"I haven't been everywhere, but it's on my list" -Paulo
Have you ever heard the term "Work hard, play hard", well let me go ahead and say I choose to live it just a little more like "Work hard, but play harder."
---
Let's venture through this world together; confidently, courageously, and consciously. I'm here to help liberate and inspire you to know that there is a whole world out there full of beautiful people, places that fill you with happy tears, and opportunities everywhere. Let's open up to the world around us and come from our hearts instead of our pain and fears. ♡
FAST FORWARD YEARS LATER…
I'm now a multi-passionate entrepreneur, business owner, world traveler, and healer.
Wowzers – there was a part of me that never thought that I could come this far, but now my visions and beliefs have changed! 
In fact, the opportunities have been amazing and I've now:
Moved to another state (all by myself and knew nobody) HELLO ARIZONA – and sunshine!
Liv(ed) in a van and taken numerous road trips traveling to many states. Read about van life here!
Solo backpacked the desert, mountainsides, and through canyons.  Wanting to read more about backpacking? Head over here!
Have flown in private airplanes around Seattle, Mt. Baker, Orcas Islands and Mt.Rainier.
Solo internationally traveled for months at a time.
Won 2nd place in a writing competition and featured across blogs.
Alongside many other crazy amazing adventures; rock climbing, parasailing, snorkeling, zip-lining, backpacking a rainforest to a glacier,  foraging over 80 pounds of mushrooms, attending festivals, flying in private airplanes, swimming in more hot springs than I can count, going jet skiing, and way more than I can think of.  I've now gained more strength, more resilience, more passion, and more courage than ever before.
I have many plans, ideas, and desires for more. But, you get the chance to come with me!!
Essentially; From Complex PTSD & Seasonal Depression - to courageous Independent World Traveler
Not only have I completely shifted and transformed my life from a world of complete pain, but I've completely reinvented myself, everything that I do, and the way that I do it. If I can do it, so can you!
Take my hand; Let us go together!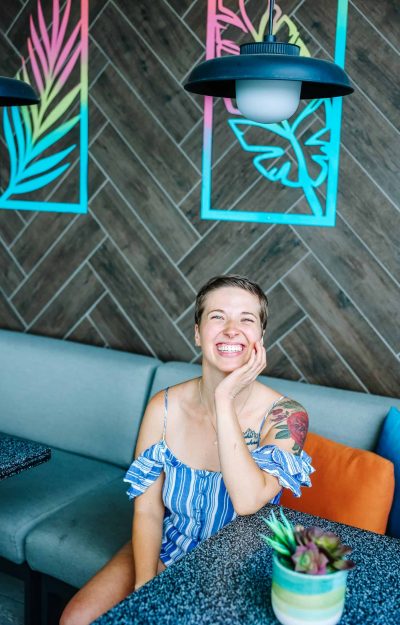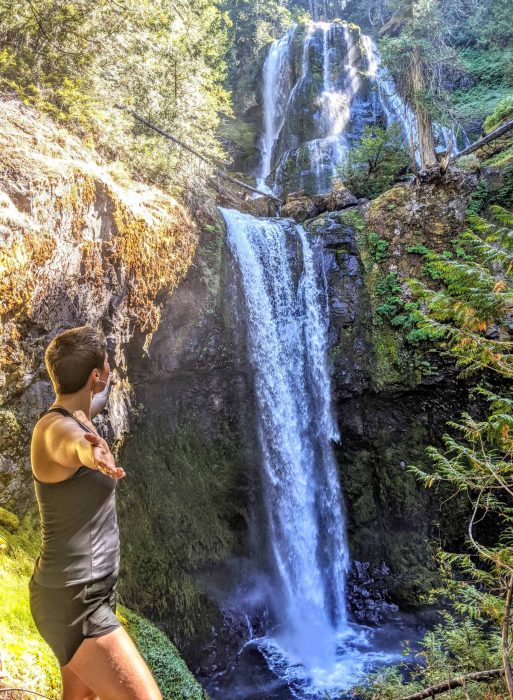 Favorite Travel Spot:  Near any waterfall in the PNW or anywhere in the sunshine.
Can't Live Without:  Definitely Smoothies
Must Have Accessory: A pair of hoops and my handmade wire-wrapped stone necklace
Best Advice:  Don't let anyone hold you back, including yourself, surround yourself with support and inspiration!
Describe yourself in one Word:  Resilient
Secret Talent:  I give long & heartfelt hugs
What About Sustainability?
WHY DOES MANIFESTING SERENITY TALK ABOUT SUSTAINABILITY?
Have you ever watched those environmental documentaries? Whelp, those completely opened Serenity's eyes to what the cycle is like outside of her daily circle.
Throughout those documentaries, she had seen animals suffer, oceans being polluted, drinking water contaminated, villages being dumped on with garbage because they couldn't fend for themselves.
So, she decided to stand up and say that she will do her best to not be a part of the problem, but part of the solution! Especially in a compassionate and heartfelt way! ♡
After, continuing to make efforts on her own to change her diet to vegan, reduce my waste, avoid waste, and to educate others.
After working as a manager at an eco-boutique and specialty recycling center, she had seen just how many people wanted to learn and to do better. It inspired her even more to become a part of a bigger picture and to try to share with even more people!
Although, there are different levels of sustainability, she's chosen the path of doing it imperfectly, but to still make efforts in her daily practice and to help show others that it is achievable!
WHY DOES MANIFESTING SERENITY TALK ABOUT WHOLISTIC HEALTH & WELLNESS?
Although the Founder of Manifesting Serenity has had wellness as a priority since she was 20 years old, it didn't actually become a part of Manifesting Serenity until after she had hit burn out in December 2022. 
Many of her previous business leaders had told her not to choose too many topics to talk about, so she had started with just Travel, and continued to be told to just pick one. Honestly, traveling 100% of the time all the time was just not achievable in a healthy way. As she had noticed through burn out and had decided that wellness was just such a foundational part of everything that it can not go without being acknowledged!
Especially because without health and wellness, we can not achieve much of anything, and it should be just as prized as travel and sustainability!
SUBSCRIBE AND JOIN THE COMMUNITY ♡
You'll also be the first to hear about everything new and juicy, stuff you'll probably want to know about: Website updates, new products, new articles, inspiration, promotions, and even giveaways!! (You don't want to miss out on those!) Giveaways can be products, trips, subscriptions and so much more!
Only those who are signed up for the email list get extra details about the monthly giveaways, the winners will be announced only through email.
By signing up for the mailing list you'll also get a BONUS discount code sent directly to your inbox!
"Take the trip, leave the situation, move, apply, love, enjoy; Do all the things you think you can't because these years fly by and life is short"