/
BEST PLACES FOR HIKING IN PHOENIX AND SURROUNDING AREAS IN ARIZONA- I SPENT YEARS FINDING THESE SPOTS!
Firstly, hiking in Phoenix is unlike any place; not only is it nestled on the lushest desert in the world, but each hike unveils something…
After working as an outdoor adventure guide in Arizona for a while, I've gained the insights, tips, and tricks that came alongside that. Some of those insights even being the best places for hiking in Phoenix.
Alongside some fun facts too! I'll share some of those with you, too, here:
Saguaro Cacti only grow about an inch every year or a foot every decade

Cacti is a plural term for cactus

Arizona sits on the Sonoran Desert, which is the greenest desert in the world; Averaging rainfall of about 3 to 15 inches of rainfall a year

A Saguaro Cactus is only native to the Sonoran Desert
Of course, there are many more fun facts you can find that go along with hiking in Phoenix, but these are just a few to get you started and hopefully gets you to see some major beauty of Phoenix and Arizona overall.
If you absolutely love having sunshine for most of the year, being able to enjoy the outdoors for most of the year, but also just love being cozy and warm, you'll love the desert!
Most importantly, when visiting the desert, there are some important safety things to note, especially that the sun is quite concentrated. I've gone ahead and written an article on traveling in the heat, so be sure to read it here and best prepare yourself!
Some links in this post may be affiliate links or this article may contain sponsored content, which means if you make a purchase, we receive a small compensation at no added cost to you. As an Amazon Associate I earn from qualifying purchases. Any purchases you make helps to keep this blog going and keeps our content free. I truly appreciate your support! Visit my Privacy Policy & Disclosure Policy for more info!
WAVE CAVE TRAIL
One majorly fun and unique hike is the Wave Cave, and I'm sure you can see why! Isn't that so much fun? There are so many ways to pose; you could ride the wave, fall under it, and so many other creative poses.
Not to mention, the sparkling trail, there are so many shiny and glimmering stones or flakes along the trail that illuminate it!
Also, as a heads-up, please note to stay on the main most worn out trail, there is an intersection where you'll see a large boulder or two as well as barbed wire fencing. You'll see orange metal posts and a sign that says "National Forest Wilderness".
Mileage: 3.0 Out and Back Trail
Elevation: 869ft
Rating: Hard
Address: Carney Springs Trailhead, 10901-10947, Forest Service Rd 77, Gold Canyon, AZ 85118
Located: Superstition Wilderness Area
Admission Cost: Arizona State Land Department (ASLD) permit for the hike, you can buy it online prior. The Recreational Permit Form– $15 for an individual or $20 for a family (up to 2 adults, 3 kids I believe) Click here to buy those permits and enjoy this hike!
Open: Best times to visit are September through April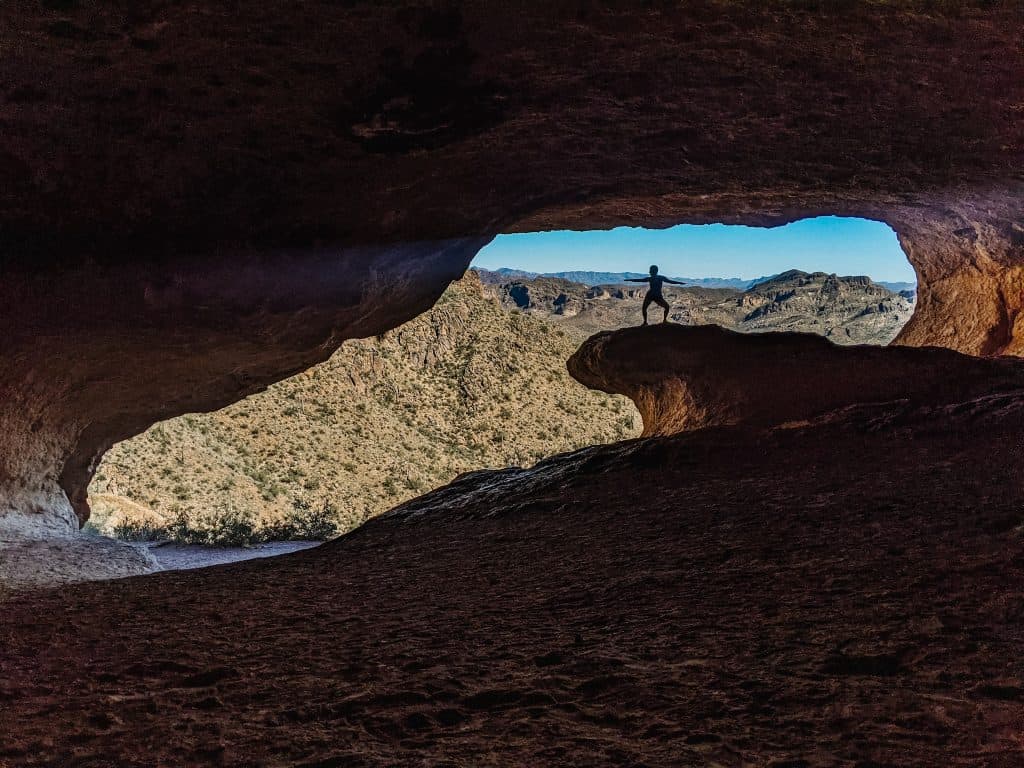 HIEROGLYPHIC TRAIL
Another magnificent and quite unique one you'll want to add to your list for hiking in Phoenix, is the Hieroglyphic Trail.
Never have I ever seen such a wide array of petroglyphs & hieroglyphics, especially in such masses, that are also accessible to the public. They're quite beautiful!
Also, be sure to keep your eyes open for wildlife, there will be plenty of little critters coming near you looking for crumbs or other dropped goodies. We had the opportunity to see lizards, chipmunks, birds, and more!
Additionally, be sure to note that there is a pretty large cave/rock overhang that can supply shade when reaching the petroglyphs & hieroglyphics. So, you'll be able to get a bit of a break from the sun if needed!
Mileage: 2.9-mile out-and-back
Elevation: 564 ft
Rating: Moderate
Address: Hieroglyphic Trail, Gold Canyon, AZ 85118
Located: Superstition Wilderness
Admission Cost: National Forest Pass 
So, most entrance fees start at $30 per entrance, but this pass covers all entrances annually, for only $80! WOW! GET THIS PASS HERE! 
Open: Open Year Round
PAPAGO PARK – HOLE IN THE ROCK
Although this isn't the most advanced or biggest hike, it is an especially great hike for watching the sunset and getting almost a "front seat" to the beautiful colors that set over the city especially. 
After finding a parking spot, you'll see walking trails to walk behind the small mountain. Once behind the mountain, you'll start to see carved-out steps leading towards a wide oval opening that leads up to a view that overlooks the city.
Also, the park has an exercise course, archery range, a golf course, and softball fields, and a lagoon surrounded by palm trees.
Best of all, this is actually a "Point of Pride For Arizona."
Mileage: 2.5 miles
Elevation: 1414ft
Rating: Easy
Address: Hole-in-the-Rock Trail, Phoenix, AZ 85008
Located: Papago Park
Admission Cost: FREE
Open: Year Round
Sustainability Tip(s) or Highlights:
This is a great place to bring a picnic with the ramadas and there is no need for a plastic water bottle with the available water fountains. 
Get this stainless steel water bottle HERE, It's perfect for keeping your water cold in hot conditions! 
Tonto Natural Bridge State Park
Discovering the Geological wonder, the Tonto Natural Bridge State Park is a must-see for anyone visiting Arizona!
Not only is there just one view, but there are views from above, below, and throughout! 
It's believed to be the largest natural travertine bridge in the world. The bridge stands 183 high feet over a 400-foot-long tunnel that measures 150 feet at it's widest point.
This one was one that was worth having it's own article on, be sure to read it here ➟ DISCOVERING TONTO NATURAL BRIDGE STATE PARK – THE LARGEST NATURAL TRAVERTINE BRIDGE IN THE WORLD!
Flat Iron – Siphon Draw Trail
Hiking Flat Iron was pretty difficult, I often heard that most people didn't make it all the way, and it's totally okay if we don't.
As a bit of a heads-up; This hike has multiple different terrains; some scrambling, slippery rocks, and some loose gravel. Don't let it scare you away from the hike, though! Do what you can and have fun! 
Please note: Using gripping shoes on this one is ideal, the trail is incredibly slick and the terrain changes constantly, the best ones I've used so far have been these Salomon Shoes here!
PS: Gortex is to prevent water from coming in the shoe in super wet environments. I'd recommend the non-Gortex for dry environments and foot breathability. 
The sunset here was astonishing, watching the golden gleams of the sun hit the rocks while it lowered, filling the sky with bright pinks and oranges. This was one of the best hikes in and areas to watch the sunset in Arizona I got to experience. 
Overall, the hard work is worth it!
PS: I actually got this hike view as a tattoo, I loved it that much!
Mileage: 5.5 miles
Elevation: 2,641ft
Rating: Hard
Address: 6109 East Apache Trail, Mesa, AZ 85205
Located: Superstition Wilderness
Admission Cost: 
$80 Annual State Park Pass 
OR
 $7 per vehicle during the weekdays 

$10 during the weekends

$3.00 if walking or biking
Open: Best times to visit are September through June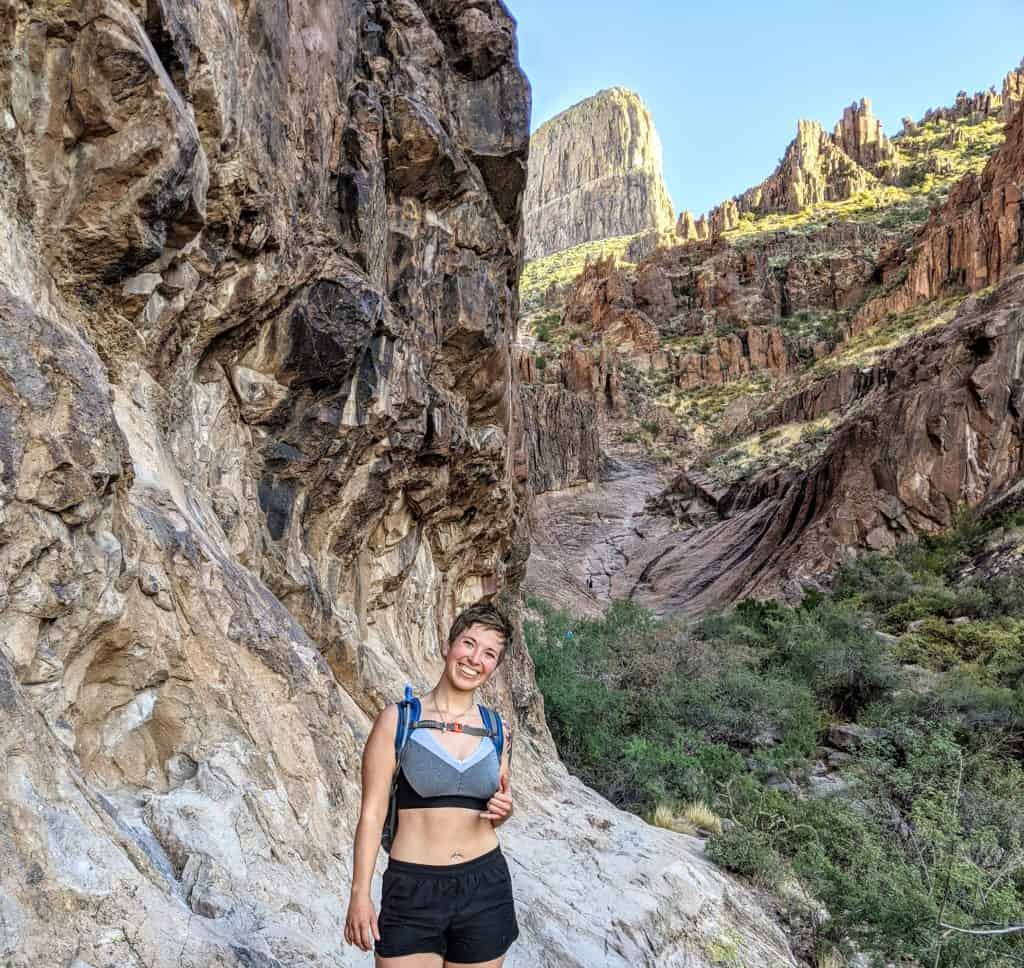 Piestewa Peak – Summit Trail #300
First and foremost, this is definitely a busy trail, but there's a reason it's so busy. Of course, this is one of the most highlighted and best trails to being in the big city. 
However, don't be surprised when I tell you that this hike is pretty much straight-up elevation and a bit of a scramble at times, with multiple points of contact.(Using both legs and hands)
Above all, I highly suggest wearing some great trail running shoes that have quite a bit of grip to them. This makes a world of a difference in safety. It also makes the hike more enjoyable, not having to worry as much about your footing and being able to trust your gear. These 
The view is absolutely gorgeous, 360 views with multiple spots to perch, and even has critters that will join you. 
Best of all, the views are of both the city and rolling mountainsides, great for both preferences!
Mileage:  2.2 miles
Elevation: 1,151ft
Rating: Hard
Address: East Squaw Peak Drive, Phoenix, AZ 
Located: Phoenix Mountain Preserve
Admission Cost: I'm not sure that I saw any?
Open: The best times to visit this trail are October through March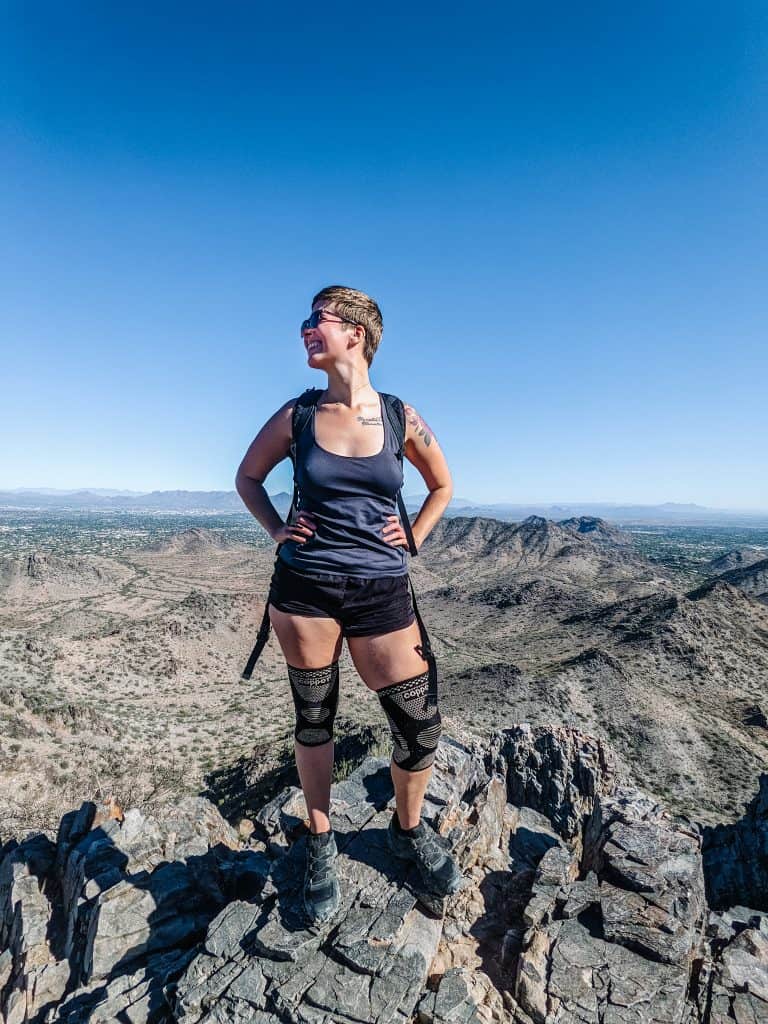 White Tank Mountain Regional Park – Waterfall Trail
Alright, this one can be a bit of a tricky one, this one has a waterfall during the two rainy seasons in Arizona. Although the desert is a bit too dry for most waterfalls throughout the year, this one gives us a reason to enjoy the beauties of the rainfall. The best rainfalls are in the months of January, February, and during monsoon season from June until September.
Not to mention, you'll have the opportunity to spot some petroglyphs scattered along the trail too.
Mileage: 1.8-mile out-and-back trail
Elevation: 229 ft
Rating: Easy
Address: Waterfall Canyon Trail Parking, Waterfall Canyon Trail, Waddell, AZ 85355
Located: Waddell
Admission Cost: White Tank Mountain Regional Park $3.00-$5.00 For more information, click here!
Open: The best times to visit this trail are November through April
CAMELBACK MOUNTAIN – ECHO CANYON TRAIL 
If you're looking for a conveniently located mountain and beautiful views for hiking in, then you've found it! Well, I guess I should also say that it's just popular for rock climbing too, if you look closely and all around, you may just see them! (I was actually learning how to rock climb there!)
Astonishingly enough, there are so many small grottoes along the rocks that it makes the mountain have an interesting shape to it, almost having your mind go wild a bit, thinking that those could have been primal dwellings at some point. 
Speaking of living nearby, while I was living in my first apartment in Central Phoenix, I lived a 10-minute drive from there. The view of Camelback mountain seems like it's right in the "backyard" of most places in the area. Most of the mountain seems to be surrounded by homes, so it's a beautiful 360 degrees of the city. 
It's one of the most talked about and most popular for hiking in Phoenix. I've noticed, most people I came across asked if I had gotten the opportunity of hiking this one, but with a bit of a warning to not stay out too late, as you'll be greeted by rangers on megaphones! So, be sure to go before there's any chance of hitting dusk.
Also, small disclosure: You'll notice this at the very beginning of the trail, that this hike is mostly a thick loose gravel type of rock and thick wide steps. Which can be a bit hard on the knees, try to take breaks and really massage the knees to care for them along the way down. I could really feel my knees shaking after I was done this hike. 
Of course, to best prevent this, I personally use both trekking poles and knee braces. As for trekking poles, they allow for some of the upper body to take some of the weight off of the knees and hips, allowing for a bit more even body distribution and less joint pain.  
BUY THOSE TREKKING POLES HERE!
But for knee braces, these help to stabilize the knee, prevent over extension, as well as to reduce inflammation and swelling. However, please note that knee braces can be a little tight at first, but they are supposed to be snug like a tight pair of socks or leggings. Especially since they are kind of compressing.
Mileage: 2.5 miles
Elevation: 1414ft
Rating: Hard
Address: 4925 E McDonald Dr, Phoenix, AZ 85018
Located:Echo Canyon Recreation Area
Admission Cost: Free
Open: Year round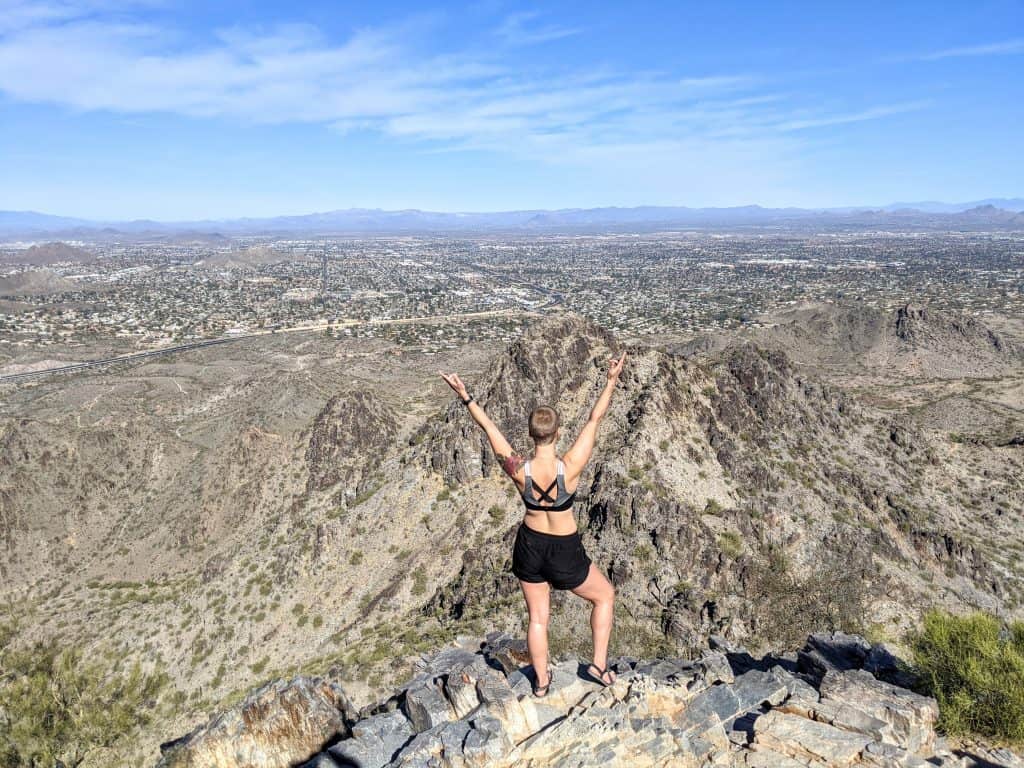 Tom's Thumb Trail
Another gem for hiking in Phoenix is Toms Thumb, and I'm sure that you could probably tell how the rock formation get's it's name. It definitely looks like a bit of a thumb, but the real question is, do you think it looks more like a right thumb or a left one? HA!
It was named 45 yers ago after the first member of the Arizona Mountaineering Club who climbed it – Tom Kreuser. You've guessed it, this is another great rock climbing spot, although these views are of the peaceful desert instead of the bustling city.
As someone who's done this hike a couple of times, I absolutely recommend a beautiful sunset hike here, it's a total thumbs up, see what I did there? Ha!
Mileage: 4.0 mi
Elevation: 1,236 ft
Rating: Hard
Address: 12941-12999 E Paraiso Dr, Scottsdale, AZ 85255
Located: McDowell Sonoran Preserve
Admission Cost: FREE
Open: Year Round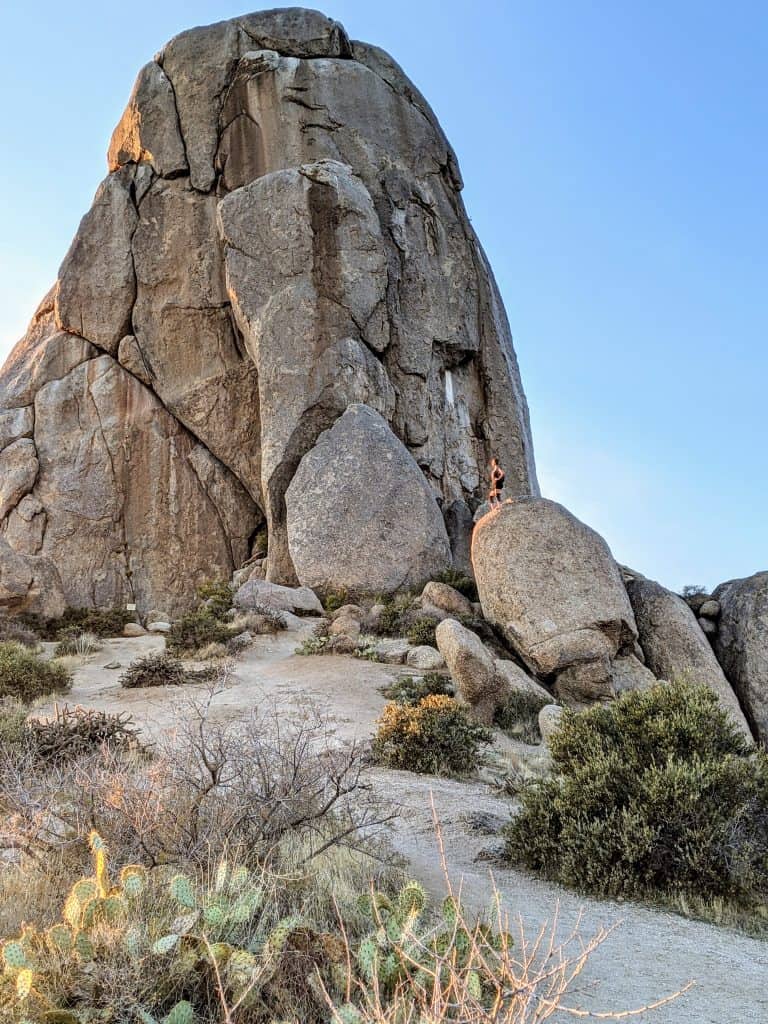 Fremont Saddle via Peralta Canyon Trail 
Starting with views from left to right and all around, with mountainside of completely different textures to the towering landmark itself, Peralta is especially magnificent.
Honestly, the shape is unlike anything I've ever seen before, it stands alone and completely centered, almost as if on display. 
Along the trail, you'll see formations of rocks that look like vertical towers, but you'll also find a commonly textured granite mountainside with some green fungi scattered along it. 
Although the trail is fairly well-marked, many aspects of the trail can be a little hard to follow, be sure to look for piles of rocks left by others to form a slight wall, this wall is an attempt to give a sign that portion of the trail is not the right one. 
Also, please know that there are part of this trail that are extremely slippery, so having the proper hiking shoes is essential!  
CHECK OUT THE BEST HIKING SHOES, HERE!
PS: To the fellow van lifers out there, I had noticed an empty space where a lot of RV's and vans were parked and set up for a bit. This may be a good spot to camp out for a bit. But of course, be sure to do your research first, as it could change. 
Mileage: 4.6 mi
Elevation:1,341 ft
Rating: Moderate
Address: Peralta Trailhead, Peralta Rd, Gold Canyon, AZ 85118
Located: Superstition Wilderness
Admission Cost: FREE
Open: Year Round
BLUE WASH TRAIL 
Firstly, have you ever just hiked a trail because it sounded good, but you had no idea what it looked like? Well, that was this trail. But it ended up being an absolutely beautiful trail with waterfalls, creeks, and wildflowers. 
As a disclosure, those things together is not very common in a desert, so of course it had to make it to the list. Although, I will just share that the waterfall is best seen between the rainy seasons, in winter and summer. Which is a great way to appreciate the rain a bit more!
Disclosure: Please note that some seasons have bees nearby, so this trail may not be est for those who are allergic to bees.
Mileage: 2.8 mi
Elevation: 400 ft
Rating: Moderate
Address: Blue Wash Trailhead, 43168 42800, N Cave Creek Rd, Cave Creek, AZ 85331
Located: Tonto National Forest
Admission Cost: National Park Pass
So, most entrance fees start at $30 per entrance, but this pass covers all entrances annually, for only $80! WOW! GET THIS PASS HERE!
Open: Year Round – But best views are during the "rainy" season
SUNRISE TRAIL SCOTTSDALE
Of course, this Sunrise Trail got it's name because of the immaculate sunrise that hovers above the mountains. Believe me when I say that the sunrise illuminates the mountains with the many shades of oranges, but be sure to get there as soon as the parking lot opens (around 6:30) because the sunrise happens fast!
If you look closely in the distance, at the top, you'll be able to see some white-capped mountains during the wintertime after heavy snowfall in northern Arizona. 
Mileage: 4.9 mi
Elevation: 1,128 ft
Rating: Moderate
Address: Water fountain, N 145th Way, Scottsdale, AZ 85259
Located: Fountain Hills, Arizona
Admission Cost: FREE
Open: Year Round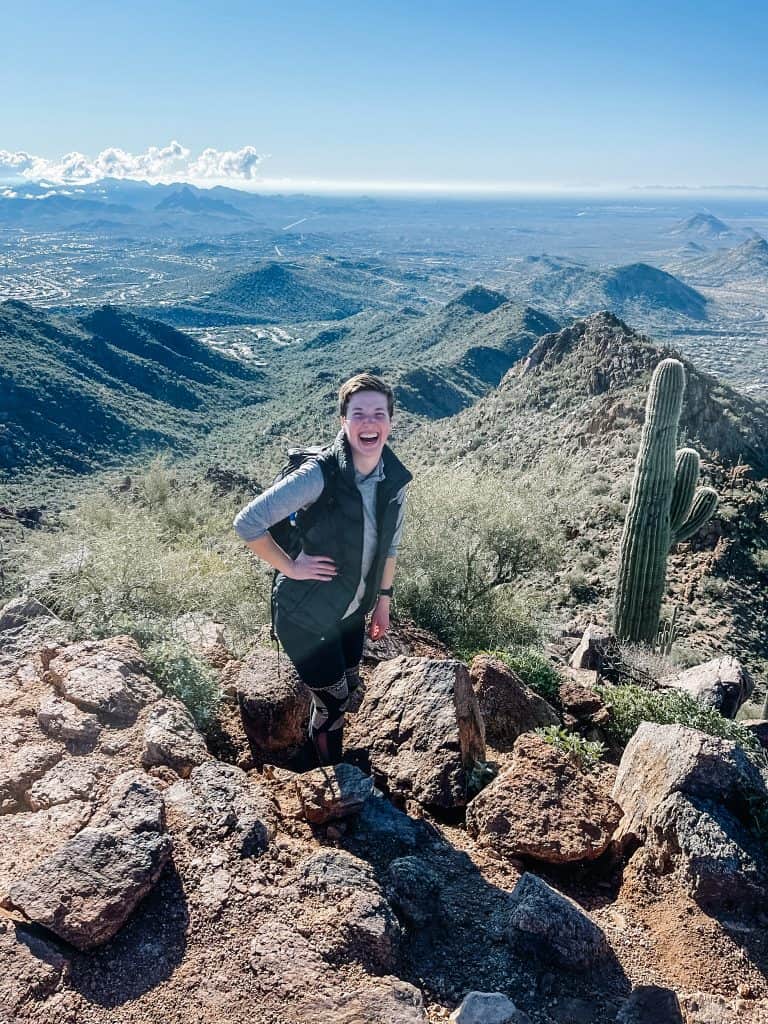 FOSSIL SPRINGS WATERFALL – Currently Closed, but pending construction to open up 2023
Although this trail is currently closed, it's worth mentioning and having on your bucket list or even being sure to pin to your map! Wait, have you ever pinned your bucket list places to your map? CHECK OUT THIS ARTICLE TO SEE WHAT I MEAN ➟ HOW TO PINPOINT ALL THE SPOTS YOU WANT TO VISIT ON YOUR GOOGLEMAPS
Overall, Hiking this trail in the beginning of spring was an absolute treat. I highly recommend spring because of the greens in the leaves compliment the glistening teals in the water, butterflies fluttering between the blossoming wildflowers, displaying a wide array of colors. 
Astonishingly enough, the water revealed bright blues and greens, having your eyes gazing in every direction and leading to the big waterfall. Above the water, dripping little dropplets, were stalactites and stalagmites, revealing a multitude of textures, worth exploring! 
Not only is this a beautiful sight, but it's also a great spot to pull out the hammock and sway by the water. 
This was one of my favorite hikes in Arizona, I'm sure you'll love it too!
Disclosure: The largest waterfall at the end, has a bit of a swift current, there is a sign stating to "swim at your own risk" close to the waterfall. Also, there's a lot of algae, which can make it incredibly slippery, please wear or bring water shoes, if you decide to go in the water. Lastly, the rocks absorb the heat and can get incredibly hot, feet can get burned on the bottoms.
Please note:
It is easy to mix up Fossil Springs Trailhead versus Fossil Creek Waterfall Trail. DO NOT GO to the Fossil Springs Trailhead. This way is dangerous. There are constant falling rocks, it's actually 4 miles down and 4 miles back up with 1,505 ft elevation, there is a closed gate.
Mileage: 2.6 mi
Elevation: 249 ft
Rated: Easy
Address: Fossil Creek Road, Pine, AZ 85544  (Fossil Creek Waterfall Trail Parking)
Admission: A permit is required to hike here from April 1 – October 1. Click here to apply for the permit. Permits are not required October 2–March 31. The cost may change with the new opening.
$Frugal Tip: The best time to hike this waterfall is in March when permits are not required! Which means free entrance!
 ♻ Sustainability Tip(s) or Highlights: 
Hopefully, you can see the beauty of the desert and why it was hard to leave.
Without a doubt, the mountains, textures, sunrises/sunsets, year-round outdoor activities, and sunshine make this destination unlike any other. Cheers to all the other sunshine chasers out there!
If you found value in this, be sure to share it with our friends and family! (The share buttons are to the left!)
LOOKING TO JOIN IN ON THE NEXT ADVENTURE? BE SURE TO BOOK YOUR NEXT ADVENTURE ➟ Travel With Me
Photo credit:Photo by Element5 Digital