/
A Guide to Backpacking & Hiking Ringbolt – Arizona Hot Spring
Nestled in a canyon, trekking through twists and turns with glorious views of cliffsides that glow purple from casting shadows; lies the Ringbolt Arizona Hot Spring. 
These Ringbolt – Arizona Hot Spring, also known as simply Ringbolt Hot Spring or Arizona Hot Spring, is a group of three light blue geothermal springs located near Hoover Dam, Arizona. 
The water then flows over a 25-foot waterfall where it is cooled to 95 °F and collects in a three gravel-bottomed rock soaking pools that have been stabilized with sandbags and rocks.
These pools can rage greatly in temperature depending upon the time of year, water levels, and how often they are being used (people moving between them shifts the temperature), but can still be enjoyed by all and simply moved through to find that perfect spot!
Some links in this post may be affiliate links or this article may contain sponsored content, which means if you make a purchase, we receive a small compensation at no added cost to you. As an Amazon Associate I earn from qualifying purchases. Any purchases you make helps to keep this blog going and keeps our content free. I truly appreciate your support! Visit my Privacy Policy & Disclosure Policy for more info!
BEST TIME TO VISIT RINGBOLT – ARIZONA HOT SPRING:
The best time to visit the hot spring is during the cooler months in Arizona, which is typically the fall, spring, and winter. 
I had personally visited the hot springs in March and thought it was the perfect temperature! Also, keep an eye out for lush mesquite trees and wildflowers in the spring that can add some bright and beautiful yellows that illuminate the desert. 
Overall, summertime is best to be avoided as some people have gotten heat stroke from being exposed to the sun and then going into the hot springs right afterwards, and because of this they have the hot springs closed most of the summertime. 
Especially since temperatures can get well into the hundreds and even get up to 110 degrees. 
Trip Overview 
Miles: 5.8 miles 
Elevation: 1,223 – 1,545ft
Temperature: 95°F to 110°F – sometimes upwards of 120 degrees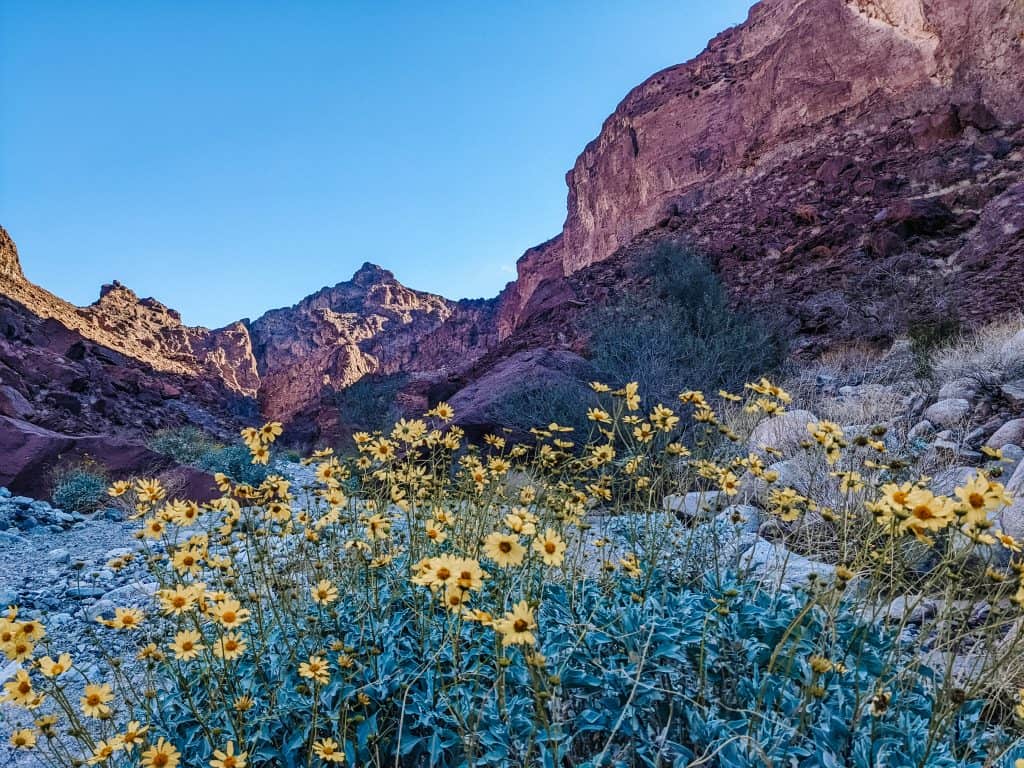 SAFETY PRECAUTIONS: 
There is no cell phone service – Please try downloading the map in advance off AllTrails 

There is a slight danger in the hot spring from the Naegleria Fowleri amoeba. Since the amoeba can enter the body through the nose, avoid infection by keeping your head above water and to avoid splashing. 

No Glass – This is to avoid any shattered glass remnants that could end up splintering and becoming dangerous. 

This area can have flash floods, and it's best to check the weather often before your trip and to seek higher grounds if there ever was one.

Due to extreme heat and people who have gotten heat stroke here, the Arizona Hot Spring trail's closed from mid-May through September each year.

Watch your head when winding through the canyons, especially when initially getting in and out of the hot springs 

When going up or down the ladder, turn your face away from it to prevent the water from getting on your face – don't have your mouth open.

Also, as a safety precaution, avoid touching things that go in your nose or mouth until your hands are sanitized.
PERMITS & FEES
Thankfully there are no parking or permit fees required for hiking, kayaking, or even camping! Yay!
HOW TO VISIT THE RINGBOLT ARIZONA HOT SPRINGS: 
Hiking: 
There are two trails that lead to the Arizona Hot Springs; the Arizona (Ringbolt) Hot Spring Trail and the White Rock Canyon Trail. These two trails connect to make a 5.8-mile loop (which is considered the "Arizona Hot Spring Loop Trail Loop"). 
Please note that in order to do the loop, the only way to do it is to trek through the hot springs and cross through. So be prepared to carry your backpack overhead to avoid it getting soaked. 
Options for preventing your bag from getting wet:
Distance: 3.2 miles one way (via White Rock Canyon Trail); 2.6 miles one way (via Arizona Spring Trail); 5.8 miles (via loop trail); 
Elevation change: 750 – 1223 feet
Difficulty: moderate to difficult
Season: closed May 15 – September 20. Best enjoyed during the cooler seasons (fall, winter, spring)
Permits/Fees: No
Trail highlights: hot springs, waterfall, slot canyons, river access
Also, take note of the spray-painted trail markers on the rocks as you scramble down into the wash along the Arizona Hot Spring Trail. 
Although, they can be easily missed, but you'll need these markers to make sure you're going the right way as you hike back out. It's better to be safe than sorry! 
Backpacking:
Similarly, the directions for hiking the hot springs also applies to backpacking, but backpacking just requires a little bit more insight. 
Fortunately, camping/backpacking near the Ringbolt Arizona Hot Spring requires no overnight permits!! Woo-hoo!
If you're lucky, you may be able to get some spots right by the river! 
Although each trail will bring you to a different side of the hot spring, it's best to find the already established camp spots to follow the Leave No Trace Principals. 
There are camping spots closest to the river along the trail, the White Rock Canyon Trail about a half-mile away from the hot springs.  I personally didn't see any established camping spots on the Arizona Hot Springs Trail, and it seemed more difficult to camp because of the narrow canyons. 
Also, please note that in order to do the loop, the only way to do it is to trek through the hot springs and cross through. 
So be prepared to carry your backpack overhead to avoid it getting soaked. Another option is to invest in a fully waterproof pack cover and to float it alongside you. 
Lastly, you'll also want to consider that there is a 50-foot ladder that will need to be backpacked down – so this and the trekking through water are the most difficult parts of Backpacking this loop. 
However, if deciding not to do the loop, then you wouldn't need to worry about either of those difficulties. 
Also, kayaking and canoeing both seem to be options as well, although I personally have not tried it – YET!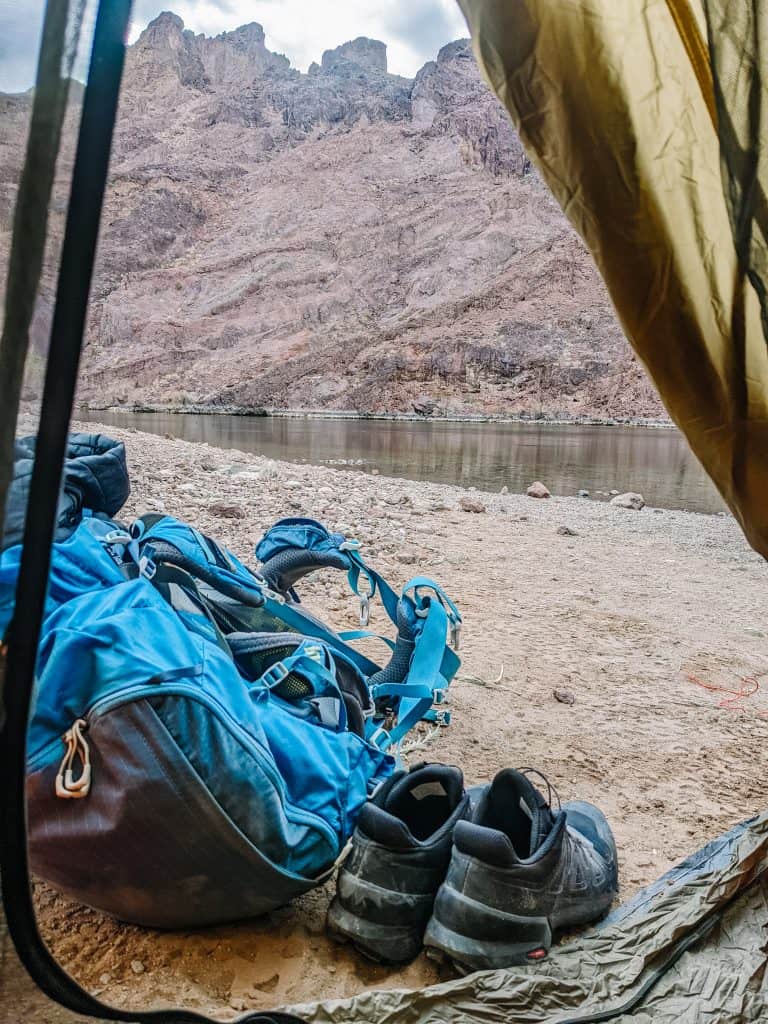 RINGBOLT ARIZONA HOT SPRINGS LOCATION: 
If you're looking for a unique day trip from Las Vegas, this outdoor adventure is only 40-minutes away from the famous Las Vegas Strip.
As well as about 4 hours northwest of central Phoenix.
HOW TO GET TO THE PARKING LOT:
The parking lot to the trailheads located along US Highway 93, bordering Vegas and Arizona.
Also, if you're having difficulties finding the parking lot, try setting your destination as "White Rock Canyon Trailhead" in Google Maps.
If you're driving from the direction of the Lake Mead Visitor Center, there will be a left-hand cutoff to the parking lot, roughly 8.4 miles from the visitor center (you'll see a brown sign for the White Canyon Trail right before the cutoff).
If you're driving US Hwy 93 from the Kingman, AZ direction, you'll find the parking lot around mile marker 4.
This is a medium-sized parking lot that can park about 50-60 cars, so be sure to get there early to ensure a parking spot!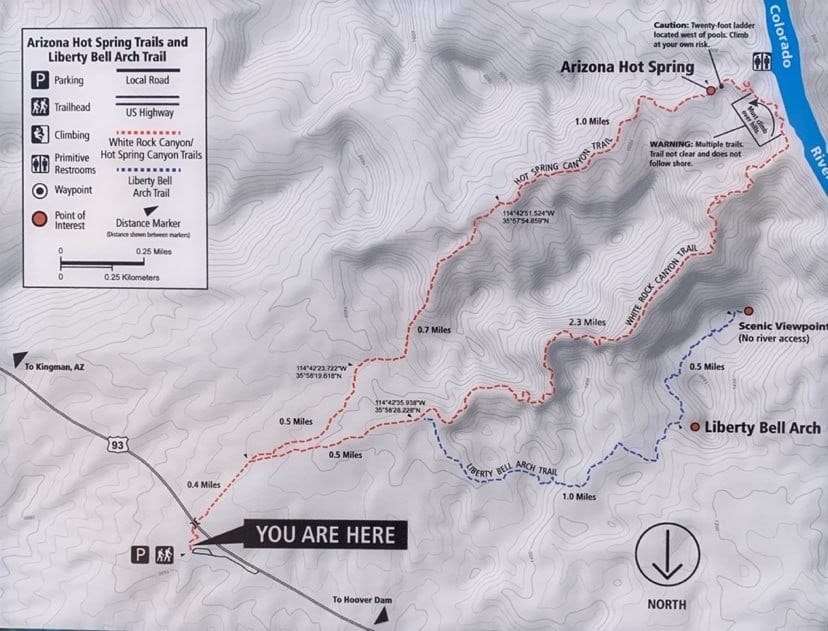 ACCESSIBILITY FOR PERSONAL NEEDS
Unfortunately, there are no restrooms near the parking lot or anywhere along the first part of the trail. 
If you've really got to go, try stopping at a gas station or public restroom beforehand. 
As there are no restrooms until reaching the hot springs.
Luckily, there are restrooms! However, if coming from the White Rock Canyon Trailhead side, the restrooms will be located right before reaching the hot springs. 
But if coming from the Arizona Hot Springs Trail, the only way to get to the restrooms is going through all the hot springs, climbing down the metal ladder, and then hiking about a half-mile.
For the best comfort, try to go before visiting!  
Lastly, the restrooms are supplied with just toilet paper, so be prepared to bring sanitizer and anything else you may need. 
Well I hope you're excited, ready to trek, and soak up those glorious hot springs! They're ready for you!
Soon, there will be adventures to join in on – You're invited to join! Subscribe to the email list to be the first to hear about it!! – scroll to the very bottom of the homepage to sign up!
MORE ARTICLES YOU'LL ENJOY:
Also, a special thanks goes out to a new friend who helped me carry my pack across the hot springs and all those new beautiful connections from this trip! You helped make this trip amazing. ♡