/
10 ESSENTIALS FOR BACKPACKING BEGINNERS
Here are the 10 essentials for backpacking beginners, some of them I wished I had known before backpacking. However, now I have the opportunity to share with you this insight.
Some links in this post may be affiliate links or this article may contain sponsored content, which means if you make a purchase, we receive a small compensation at no added cost to you. As an Amazon Associate I earn from qualifying purchases. Any purchases you make helps to keep this blog going and keeps our content free. I truly appreciate your support! Visit my Privacy Policy & Disclosure Policy for more info!
1. THE WEIGHT OF YOUR BACKPACK IS CRUCIAL
The first of the 10 essentials for backpacking is, the lighter the pack, the easier it is on your body. The pack may feel light at the beginning, but after a while, you'll really be feeling the weight.
The general rule of thumb is to have your pack be no more than 20% of your body weight. Example: I weigh about 135, so 20% of that is 27lbs. If the overall weight is higher than 20%, it will start to weigh heavy on your joints, especially the knees and hips.
There are two great ways to test the weight of your backpack. The first way is to simply get on the scale without the backpack (Note the weight) then get back onto the scale with the pack on (Note the weight). Then take the weight with the backpack on and subtract the weight without the backpack on. This will show you the overall weight of your backpack.
The other and easier way to weigh your backpack is with a luggage scale, like this one here!
It's ideal to get items that weigh the least without compromising quality. The best way to achieve this is by aiming for ultralight gear as much as possible. 
Do you want me to write an article on what I pack to go backpacking?! Comment below, and I will happily get one out for you!
2. YOU HAVE TO BURY OR CARRY YOUR POOP
That's right, folks, the second of the 10 essentials for backpacking, is that you have to dig a hole and cover your fecal matter or carry it out with you. The aftercare for our waste truly depends on the climate and permits. 
So, out in Paria Canyon and the Canyon lands, in the desert, I had to bag my waste and bring it out with me. However, when I backpacked the Hoh Rainforest, in Washington State, I just had to dig a hole and bury it. 
Although it can't just be any hole, there are specifics to it!
The area must be 200 feet (about 70 steps) away from waterways — so the water doesn't get contaminated.
A 6-8 inches deep hole must be dug. This is the one I use here, but make sure the hole is deep enough by sticking the entire trowel in there. The length of the trowel always makes a great size reference for the depth of the hole.
3. BALANCE SHIFTS
Next and the third of the 10 essentials for backpacking, is that the balance of the backpack can shift over time, this is important to be aware of because it also means that the balance of our body will shift. 
Some ways that the pack might shift over time is through us unpacking and repacking over the course of a trip, and packing without distributing weight evenly.
Surprisingly, balance plays a big role in the course of a trekking trip. Whether that be by balancing on a log, bobbing under fallen trees, or even trying to climb something. 
We just have to be aware of packing our bags, checking in with our bodies to make sure we are center, for ultimate safety and preventing soreness.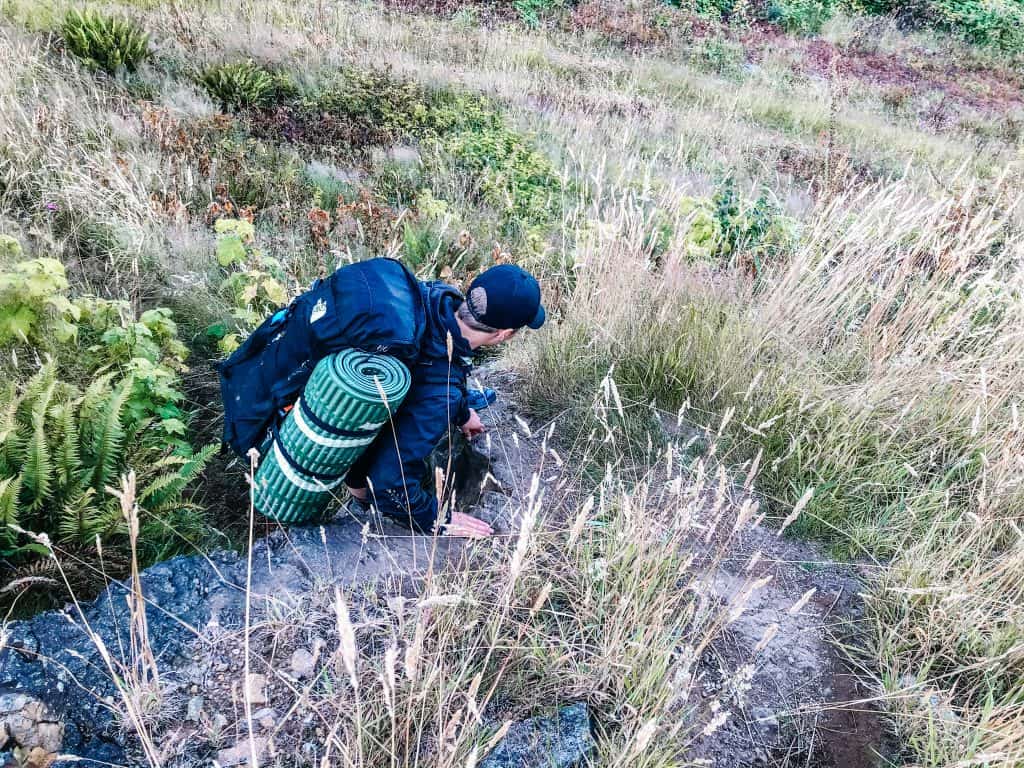 4. BEAR CANISTERS ARE A THING
A lot of National Parks and National Forests require people to use bear canisters while backpacking. This keeps the animals at bay by reducing the scent, and it also protects your food.
The bear canisters are a large container that has been essentially proven to be critter-proof.
If you're looking to rent, bear canisters are available at REI, but if you're looking to borrow WIC (Wilderness Information Centers) has them available with the purchase of your permit. The only catch with borrowing them is that it's first come, first served, and sometimes they run out!
It's most convenient to buy a bear canister. With this in mind, buying a bear canister allows you to pack it up and ensure everything fits into it, and to get the pack pre-arranged for your trip. 
Unfortunately, waiting until the last minute to pack a bear canister in a backpacking bag takes extra time. Plus, the bear canister is only available to pick up during their hours of operation, which is typically eight am.
The centers make renting a bear canister pretty convenient, they just ask for permitting details, awareness of the rules, dates of the trip, and if you know how to use one. 
Actually, using a bear canister is fairly simple; to open/close the bear canister, just use a fingernail or a key and twist the metal pieces. 
All items with a scent must be placed inside the bear canister. Some examples of the items could be:
Toothbrush

Wipes

Food remnants

Cookware

Wrappers and garbage from foods

Supplements

Deodorant (If you bring it!)
"As a general rule, if you put it in your mouth or on your skin, it should probably be stored in a bear canister." -nps.gov
To fit everything smelly and food into the bear canister, I highly recommend the larger one, like this one here. Getting the larger one ensures everything will fit better!
The bear canister must be placed and hidden in the bushes or behind rocks, at least 100 yards from where you're sleeping, before going to sleep. 
Once you're all finished using the bear canister, simply rinse out at their station and drop it off with them or in one of their designated bins. See, it's easy-peasy!
5. MOST BACKPACKING TRIPS NEED PERMITS
Firstly, backpacking permits ensure the protection of the environment, by limiting the number of foot traffic allowed. The positives to limiting foot traffic not only preserves the environment but also allows people to have a purely serene experience.
The best way to find out about permits is by looking at the website of the area you want to visit directly, which typically end up being National Parks and National Forest most often.
There are a mass array of permit types. Some permits require booking atleast 3-6 months in advance, or even walk-up passes with limited entry. Also, there are a rare few that have a lottery-type giveaway.
Nevertheless, permits can be simple once you learn how to do it and if it's needed.
PS: Permits must be kept on the outside of your backpack, and available for rangers.
6. BE PREPARED FOR WILDLIFE
Check into the area you are backpacking, each area has its own set of wildlife. Don't fret, though, just make sure to be preventative and aware. (Just like humans!)
Two of my favorite preventative measures of protection, for animals, are with this bear mace here, and this air horn here. I also always have a pocket knife on me wherever I go, this is a great one here.
Research how to react with animals when they are behaving in certain ways and really pay attention to how the animal is acting to choose your best defense. Typically, National Parks and Forests post videos, and information on how to be prepared for that area.
This is a great article on bear mace here.
7. THE CRAVINGS MIGHT SURPRISE YOU
For my very first backpacking trip, I ended up packing a bunch of protein bars, dried fruits, oatmeal, and a few other random goodies. HUGE MISTAKE!
A lot of backpacking snacks are super sweet and are super sugary and sweet, but more often than not, people crave salty. 
This is because when we sweat, we end up losing our natural salts. So, our cravings tell us what needs to be replenished, which in this case is typically salt/minerals.
Do you want a backpacking meals article?! I'd love to do one, just request below!
Not only that, I craved refried beans for about 3 days after the trip! It felt like I couldn't get enough salty food!!
I'm so interested to know what you crave after your backpacking trips!?! Tell me in the comments!
8. PAY ATTENTION TO  CALORIES & INTAKE
While backpacking, oftentimes we could be burning anywhere between 2,000-5,000 calories a day depending upon different aspects. The major differences can simply be terrain, body mass, mileage, elevation, etc.)
The average backpacker weighing 160lbs trekking a hill for 8 hours will burn about 4,400 calories per day.
I highly recommend having a watch or an app and tracking the calories burned to gain a better perspective on all of your own personal metrics. I currently have a similar Garmin watch to this one here, and It's amazing!
This website provides a hiking/backpacking calculator for those that want to do it manually, click here to check it out.
Also, protein intake is absolutely vital for recovery. Protein is a critical part of fueling your energy and carry oxygen throughout your body in your blood, helping our body repair cells and make new ones.
I personally love this one protein powder here, and this is what I like most about Vivo:
25g protein and 6g BCAA per serving

Added turmeric extract to optimize recovery

Silky smooth texture and delicious taste

100% raw, plant-based ingredients

Fermented protein for optimal digestion
♻ Sustainability Tip/Highlight: Vivo is also actively working on making their bags compostable! (They have been pushing some out and retrying the process to get it right, ECO-WIN!)
9. DON'T FORGET YOUR PASS
An America the Beautiful Pass is an amazing annual pass that allows access to National Parks and National Forests throughout the entire Unties States. 
While a typical entry fee is about $30-40 per entry, this America the Beautiful Pass is only $80 annually for the whole vehicle. That's a crazy difference, right?!
It is an initial investment, but it paid for itself in as little as two National Park entries. I highly recommend it!
Although I do want to disclose that this pass does not cover state passes, those can typically be found at outdoor/recreation stores for purchase in your local area. 
I highly recommend doing some research to find out what passes are for that specific location. 
However, I typically have both because sometimes there's a beautiful lake that may just sound amazing to swim in after a sweaty backpacking trip, and you may just need both. I personally always have both an America the Beautiful Pass and a state park pass.
10. STRETCHING IS IMPORTANT
This one may sound like it could be overly overlooked, but let me just say even the pros stretch!
The best times to stretch are before, during, and after your backpacking trip. Really and truly, after is the best of all, but the rest are still important as well.
Overall, stretching is great for increasing recovery, allows for better blood flow, keeps inflammation down, avoids any muscle tears and cramps.
WHICH OF THESE 10 ESSENTIALS FOR BACKPACKING GAVE YOU THE MOST INSIGHT?
I hope these 10 essentials for backpacking helped and gave you some insight to getting started!
Check out this backpacking adventure articles for more inspiration on getting outside!
A GUIDE TO BACKPACKING THE HOH RAINFOREST IN WASHINGTON STATE
If you enjoyed this, don't forget to share with a friend you'd like to go backpacking with!