/
PROS AND CONS OF LIVING IN A VAN FULL TIME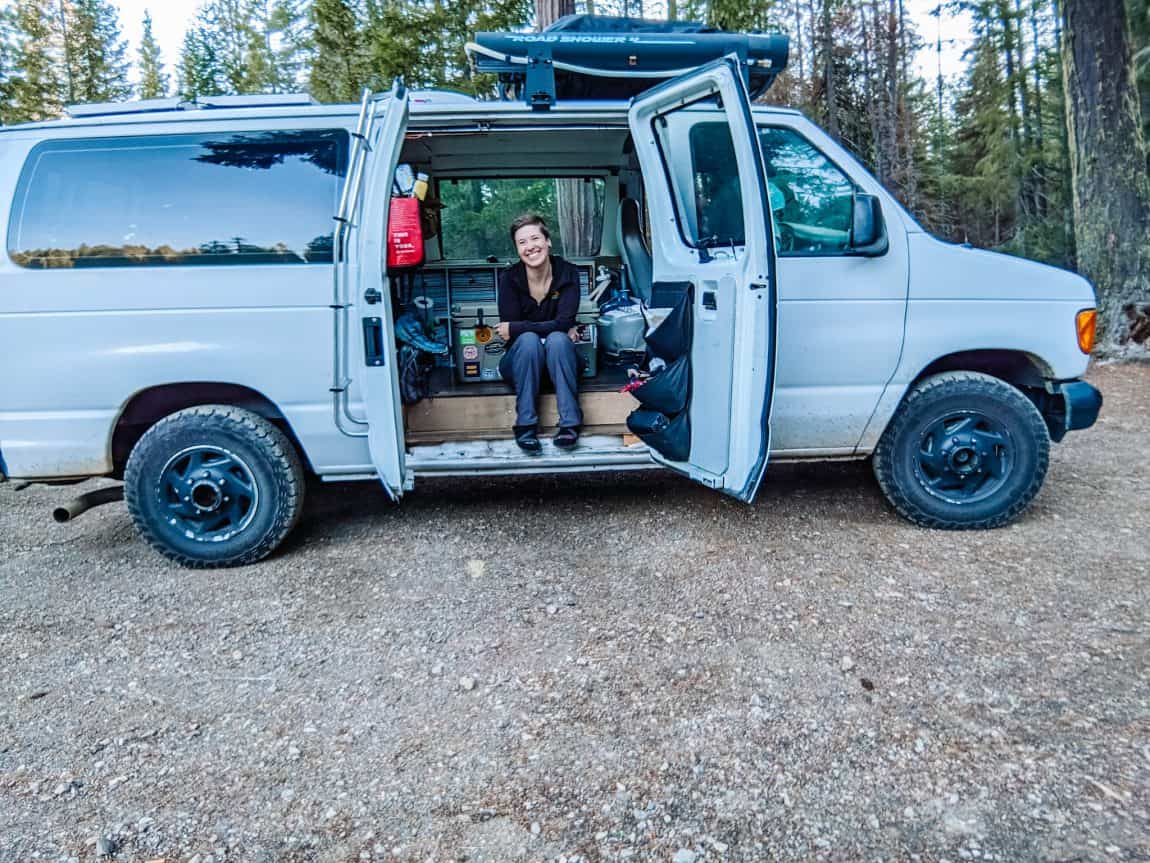 For just about everything in life, there are pros and cons, even for living in a van full time. 
So many people ask me if I absolutely love it and if I'm super excited about it, realistically, it depends on when you ask me.
If you ask me after I get a flat tire, then most likely not super excited. However, if you ask me after I just found an amazing camping spot right by the water with a bathroom, nobody in sight, I can walk around in my birthday suit for days, take pictures, and watch the wildlife endlessly, then I'm going to tell you I absolutely love it. 
After have many ups and downs with van life, my opinion on it shifts often.
I've managed to accumulate a list of a few pros and cons of van life, these are just some of mine so far with the few months I've been staying in the van. I'll also offer some solutions and elaborate to give a better idea of what I mean.
Let's get started with the amazing aspects of van life..
Some links in this post may be affiliate links or this article may contain sponsored content, which means if you make a purchase, we receive a small compensation at no added cost to you. As an Amazon Associate I earn from qualifying purchases. Any purchases you make helps to keep this blog going and keeps our content free. I truly appreciate your support! Visit my Privacy Policy & Disclosure Policy for more info!
HOME GOES WITH
This is great because If I decide to drive to Eastern Washington or even a whole new state, I don't have to think about driving back home before it gets dark because it's already with me. Simply, just find a spot to park and get to sleep! Yay!
LOCKED UP SAFE SPACE
As a woman, I find this especially comforting. There were too many times I would wake up in the middle of the night anxious because I kept thinking someone would try to get into my tent. I'd often try putting a lock on the tent zipper, but realistically someone could just slice through the tent.
However, the van has an alarm on it and will go off with even the slightest vibrations from a motorcycle. It can sound like too much, but let me say it's amazing to have the security to be able to get a great night's sleep!
BETTER THAN TENT CAMPING
Firstly, I absolutely love tent camping with backpacking or up in the mountains, but after a few days it becomes stiffening, and I lose my patience with setting up and taking down the tent. 
However, living in a tent would be extremely limited on space but would be a whole new perspective.
DON'T HAVE TO RELY ON HOTELS
It's no secret the hotel prices when booked at the last minute can be completely different from on their website. There is an automatic shift in their system to increase prices during busy seasons, and when cross-referencing other hotel availability. 
Also, relying on hotel availability can be quite a headache, hotels can book up fast around the busy season
TRAVELERS ARE ALMOST ALWAYS FRIENDLY
Amongst many travelers, most are just happy to be there, taking in the sights and trying new things. 
After visiting, nearly 25% of the United States, I've rarely met unhappy people living a similar lifestyle.
Plus, people can often get a bit lonely on the road themselves, and enjoy some friendly conversation too!
FLEXIBLE AND ABLE TO BE SPONTANEOUS 
Guess what!?! Do you feel like driving to New Mexico just because? Well, you totally can because your home comes with you. 
Seriously, your comfy, warm, blanket and pillowed-filled bed go everywhere with you. What a dream, right?
The best thing about it is that at a moment's notice, if you decide to go somewhere new, then you don't have to drive all the way back to your apartment or house because this is your home. 
SIMPLIFY BELONGINGS
So, it's no secret that having a van means that you're limited on space, but there is a huge positive to it though. It means no excess "stuff", clutter, knick-knacks, etc. 
Better yet, no extra stuff to clean, repair, insurance, trip over, etc. It's just the essentials!
MORE TIME OUTDOORS
First and foremost, I think this is one of the biggest reasons that people want to end up living in a van full time. Oftentimes, I've heard many people call it "escaping the concrete jungle." 
Surely, I'm going to be honest in saying that getting out into nature is extremely healing and realigning, but there is usually limited service, which can be seen as good or bad depending upon your profession.
DISCONNECT FROM THE NEWS AND SOCIAL MEDIA 
So, when it comes to social media, we all know that it can be quite a rabbit hole. 
However, getting the opportunity to lose service can be a blessing in disguise. But if you need it for work, you'll definitely want to research ahead of time.
Luckily, most of the time the camping apps show the service availability, another great option is using the app open signal to check signal as well.
I kept this as a positive, because it's much needed in this society, and I know that I need it!
LIVING ALONE
Initially, the original reason I had wanted to get into van life was to experience what it was like to live alone. 
Luckily, this is a great monthly option, with as low of an initial investment as you choose.
Plus, the introspection and deep inner work is amazing!
Alright, now it's time to move into the Cons area with living in a van full time, allow me to remind you that every single aspect of any decision comes with it's own pros and cons. These are also, just the cons that I saw in my perspective, you may not have the same experience.
HEIGHTENED ALERTS
Consequently, a van does have to choose a place to park, sometimes those areas require an alerted state of mind. 
Although, the van does offer the ability to just move to a new spot if you're feeling too uncomfortable (which is a positive).
Also, some places are quick to give a ticket, California is definitely one of them! 
Oh, and don't forget the HOAs, even if your friend lets you stay in their area, they do have neighborhood rules and regulations, which limits days, and can lead to neighbors complaining. It may have happened to me once or twice, ha!
Overall, you're a bit more dependent on your surroundings, while living in a van full time.
SURVIVAL NEEDS INTENSIFY
Some examples of survival needs could range from typical biological needs, environment safety, and mechanical issues.
Allow me to elaborate more:
Water fill ups and water quality

Emptying waste

Food and availability

Ice fill ups

Leaks

Flat tires

Car breaking down or not starting

Posture

Air quality differs

Exercise availability changes

Seasonal Element changes and storms
And more…
MECHANICAL ISSUES CAN LEAVE YOU WITHOUT A HOME
Unfortunately, when the van breaks down and goes into the shop, we are left without a home. 
What I mean by this is that the mechanic has it, and now we don't, so we are left with whatever hotels or Airbnb are closely available, and their prices.
PS: You're also left without a car to gather supplies too, luckily there are Ubers or taxis, most places!
REGULATING TEMPERATURES IS A PAIN
Apart from a house, and depending upon your van's system, it can be incredibly difficult to regulate the temperature. 
I've noticed an intense amount of sunlight comes in without covers, and because its a small space, it can heat up extremely fast. 
Alongside it heating up fast, it also gets freezing too, insulation or not! Have you ever put a metal spoon into hot or cold water, and notice it quickly takes on whatever temperature it is given? Yes, exactly!!
Fortunately, having the right gear can keep you cozy, and this sleeping bag sure kept me warm, in some of the coldest conditions! Click here to check it out!
GAS PRICES
While housing and apartments have taxes, we don't quite escape taxes, there are still extreme gas prices in every area. Of course, some areas are a lot more affordable, than others, it still adds up quickly.
For example, for about 5 hours of highway driving, it can cost me anywhere from $90 to $140 to fill up my tank! WHOA!
If, we aren't mindful of this, living in a van full time can even quickly outshine rent costs! I remember spending $2,000 on mechanical fees and gas. $2,000 is way more than rent costs for a single bedroom in most places.
The best way to avoid high gas costs is to stay in areas for at least a week or two to avoid adding up costs.
FOOD GOES BAD FASTER
While this one may surprise people, food going bad faster quickly becomes a pesky problem.
Of course, this completely depends on the climate and storage.
As far as using a cooler, open basket of fruit, or even a fridge that cuts in and out on electricity, food can spoil almost as soon as you get it, especially in the heat!
I think in the heat of Arizona, the ice in a cooler lasted me merely a couple of days, not long at all!
This is definitely an added expense most don't consider, I know that I didn't.
However, having a good working fridge can make it a bit easier, like this one here!
OVERPOPULATED SPOTS
So, with the much-loved movement of living in a van, also comes the similar desires of many. This means, that many areas that are well known can quickly become overpopulated with such a movement. 
So, be prepared to have a couple backup spots in mind, just in case, your original spot ends up full or overcrowded. 
THE VAN SHAKES & QUAKES
Initially, it can seem like no big deal, but I've had cabinets and roofing crack and fall apart because the shaking just adds up over time.
Oh, and belongings cling and fly in every direction, all over everywhere because of the shaking and quaking.
Although, keeping belongings as secure as possible with bungee cords, hooks, and fasteners. But still expect a few items to get knocked loose here and there.
VANS GET MESSY QUICKLY
Following shortly after the last, this one is a whole other aspect. 
Firstly, dragging dirt in or dirt coming in through the windows and vents can surprisingly get everywhere and fast! 
Also, with it being a smaller space, there are fewer areas to put garbage, recycling, and compost, so you're faced with them!
Oh, not to mention your own personal biological waste (Yes, your poop, and pee!), so this can make an area feel a bit dirtier if not tended too often.
Despite this, because the van is a small space, it can also be cleaned almost as quickly as it was made dirty! YAY!
Want an article on how I keep my van clean? Just comment below!
HYGIENE LOWERS
Of course, this one is pretty obvious to most, but overtime it can add up.
For example, not showering for a week, wearing the same pants for a few days because you haven't done laundry or even maybe missing to brush teeth because you're just too dang tired from driving.
In other words, without having a routine, hygiene can be pretty easy to overlook.
LONELINESS CAN KICK IN
Above all, this is one of the most highly asked questions. For the first couple of months, I actually enjoyed the solitude, and it was much needed, but after a few months, it started to actually get quite difficult. 
However, there are community events, jobs, and even the ability to make new friends along the way, which can be quite fun, and it can allow us to step outside of our comfort zone and speak with new types of people.
Also, another way to overcome this can be to schedule phone calls with friends, family, and therapy regularly. YES, pro-therapy here!
POSTURE CAN GET RUINED
Okay, I totally understand that at first, this seems dramatic, but after living in a van full time, without the ability to stand up, it wore on my body quickly!
Unfortunately, poor posture can lead to a multitude of other health problems.
Here are a few things I had come to find out:
Limited lung capacity = Poor cognitive function because of the lack of oxygen

Compression of the stomach and digestive system = Difficulty Digesting & Nutritional deficiency

Spinal misalignment & muscle spasms 

Poor circulation

Headaches

Shoulder, back, and neck pain
So, definitely get a van you can stand in, otherwise, these ailments may catch up with you too! Oh, and maybe schedule some chiropractic sessions!
FILL & DUMP STATIONS BECOME A CHORE
Consequently, with our natural bodily functions, waste is created. So with that fun excrement, comes the after process too! YAY, so fun, kidding!
Need I say more?
After having many ask for this article, I've come to realize that with any experience, there are pros and cons to any choice in life. I personally think that overall, it was an amazing experience that should be fairly experienced, because I may see something as being a con, but it may not affect you, with your set up! Everyone has a different set up!
Know someone who is thinking of van life? Maybe you are thinking of doing van life with a partner? Don't forget to share this, so that they have insight too!
OTHER ARTICLES YOU MAY ENJOY: