/
6 CONVERTED VAN LIFE MISTAKES I MADE & WHAT TO DO DIFFERENTLY
With any new adventure comes ups and downs, so after spending 4-5 months in a converted van, I figured I've got down to the core of a few mistakes.
Also, I wanted to mention that this article in no way means that I didn't like van life, it just shows some learning curves as well as trial and errors I had gone through. Hopefully, you can learn from my mistakes and truly get closer to a more comfortable converted van lifestyle.
Some links in this post may be affiliate links or this article may contain sponsored content, which means if you make a purchase, we receive a small compensation at no added cost to you. As an Amazon Associate I earn from qualifying purchases. Any purchases you make helps to keep this blog going and keeps our content free. I truly appreciate your support! Visit my Privacy Policy & Disclosure Policy for more info!
#1.
MAKE SURE THE VAN HAS BOTH A/C & HEAT RESOURCES
Unfortunately, The van didn't have working A/C and had no other A/C resources.
However, imagine the solar shower needing sun to heat it but then the A/C doesn't work, haha. So, the van gets cooked! I found a bit of humor in this setup. 
PS: I bought it this way. 
Another thing was that the heat in the van worked, but after the van turns off, so does the heat. 
I somewhat solved this by using my zero degree sleeping bag, but after getting out of the zero-degree sleeping bag it got freezing at night!
Which you can imagine makes for a difficult time getting out of bed. 
Sometimes typical comforts we don't think about, become necessities in the long run.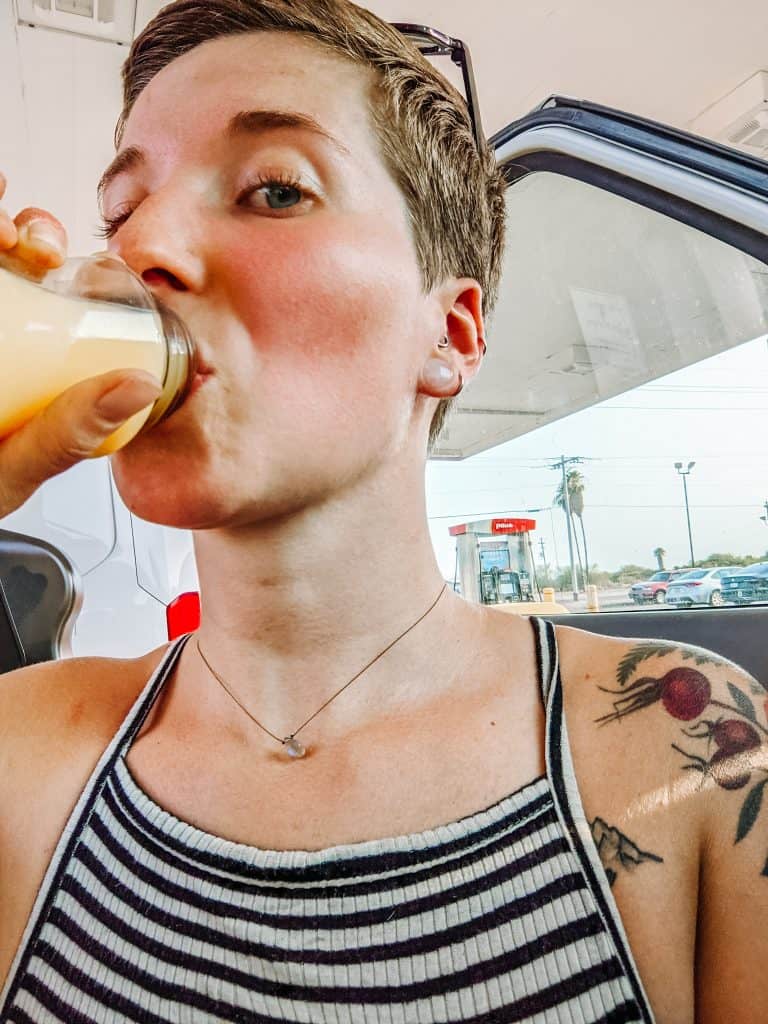 #2.
GET A FRIDGE INSTEAD OF A COOLER
Firstly, having a cooler became quite a chore after the first few weeks. The ice would melt, waterlog my food and the water would become a slop or watery sludge. EW!!!
Anyone up for some sloppy soup? HA
I also noticed I was having to get ice every 3-4 days, even with my Yeti cooler. However, they are great for short trips, but not for living in a van full time!
Plus, a Yeti cooler is $300 but so is a small fridge off of Amazon, like this one here!
#3. 
HAVE A CONVENIENT SHOWER
For one, the solar shower/solar shower bag did just not work for me. For instance, the solar shower was either scalding hot or ridiculously cold. 
Plus, I found it to be too much effort, and time to get it started. So, I showered with it maybe twice. 
If I were to do it again, I'd probably get a shower like this one here instead!
Alternatively, people who like to be in the city just tend to go to gyms to shower, but with van life, I liked being out in nature and in the woods. So, gym showers just didn't cut it for me.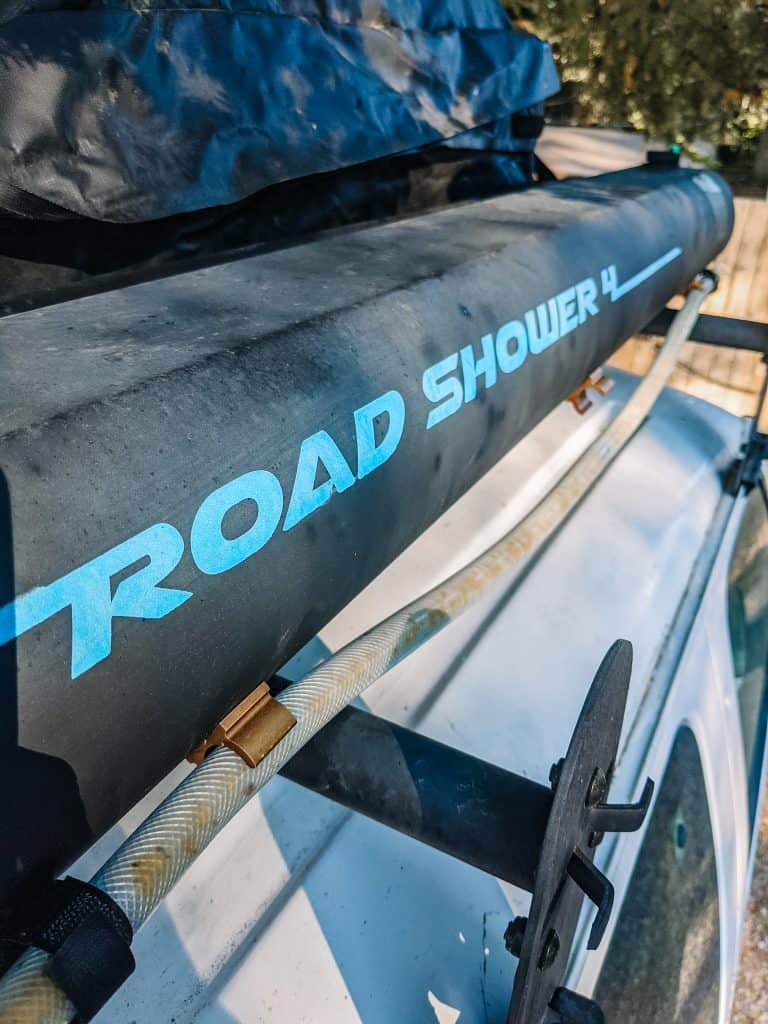 #4. GET A TALL ENOUGH VAN TO STAND-IN
At the very beginning of living in a converted van, I had thought that having a short/small van would be fine and would actually be okay for me since I'm only 5'4, but I was wrong. 
Over time, I noticed my posture was getting progressively worse, the longer I stayed in the van.
After doing some research, I came to find out quite a few negatives that came along with poor posture. 
Here are a few things I had come to find out:
Limited lung capacity = Poor cognitive function because of the lack of oxygen

Compression of the stomach and digestive system = Difficulty Digesting & Nutritional deficiency

Spinal misalignment & muscle spasms 

Poor circulation

Headaches

Shoulder, back, and neck pain
Gradually, these ailments progressed, and they became more difficult to ignore. 
So, definitely get a van you can stand in, otherwise, these ailments may catch up with you too! 
Plus, regularly bumping our heads on the ceiling isn't very fun. 
#
5.
FIND A BETTER Wi-Fi SET UP THAN PHONE DATA
At the very beginning of living in a camper van, I decided to try out a couple of different phone plans and use their unlimited phone plan. 
However, after about one to two weeks I'd max out my service and then be stuck with lagging Internet, and then I'd find myself having to go back into the city to get free Wi-Fi. 
Especially since having the server crash constantly or lag is extremely frustrating and hard to work with, especially for work! 
I highly suggest finding a better source than just the data on a phone plan.
#6.
GET A SPARE KEY  & HAVE ROADSIDE ASSISTANCE
Oftentimes, we don't realize how important something is until the moment we have to pay the price for not having it.
For instance, I locked my keys in my car a ridiculous amount of times. Seriously, I think I locked my keys in my car about 6-7 times. 
Fortunately, one window had a broken handle and would leave a crack, so I was able to push a hanger through and get into it. 
However, that wasn't always the case. I once had to have a locksmith come let me in, which was $80. Also, I had to have a park ranger let me into my van, it was free, but I did get an interrogation along with it. 
So, don't make the same mistake I did, get yourself a spare key and AAA just in case!
Comparably, going to Ace hardware I got a quote of $80, while at Lowes I had gotten spares keys for $3 each. So, make sure to search around!
Other than those few things I absolutely love van life and my setup, this is just how I would go about it differently to have a more comfortable and enjoyable setup. 
Whether that be living in a converted van full-time or part-time, these insights will come in handy!
I hope this helps give you some insight and allows you to learn from my mistakes!
Do you have friends or even a partner you're looking at converted vans with? Don't forget to share this with them, so they can also enjoy it more comfortably and learn from these mistakes!
HERE ARE SOME MORE VAN LIFE ARTICLES YOU MAY ENJOY: