/
VAN LIFE COST: INITIAL PURCHASE PRICE, RENOVATION COSTS, AND REPAIRS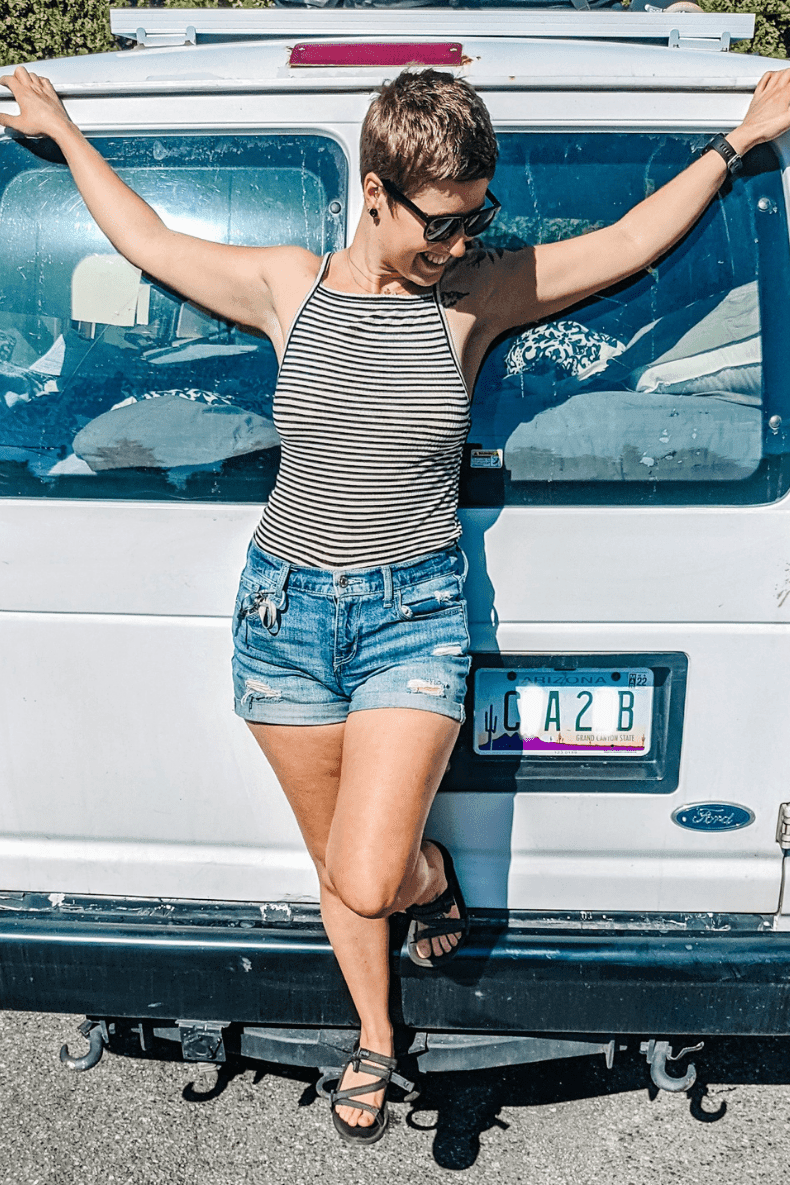 Getting started with van life cost can vary and can be as much or as little as you'd like. Although the more you cut the price tag, the more accommodations will get cut.
So, if you buy a van that's $200, it may turn around and end up being over $5,000- $10,000 in repairs. 
Ultimately, it's your choice for how you want the van life cost to level out.
Some links in this post may be affiliate links or this article may contain sponsored content, which means if you make a purchase, we receive a small compensation at no added cost to you. As an Amazon Associate I earn from qualifying purchases. Any purchases you make helps to keep this blog going and keeps our content free. I truly appreciate your support! Visit my Privacy Policy & Disclosure Policy for more info!
INITIAL PURCHASE
Firstly, I want to say that the best way to see if a van is a safe purchase, make sure to take it to a mechanic first before purchasing. There is nothing worse than buying a car that is a lemon.
A lemon vehicle is a vehicle that turns out to have several manufacturing defects affecting its safety, value, or utility. 
For this reason, I will always ask to take the car to a mechanic of my choice to have the car looked over. I would personally rather pay $100 for a mechanic to look it over and to have some added insurance, than to risk major issues.
In the case of a seller not wanting to have the vehicle brought to the mechanics, it can be a much higher risk to buy it because maybe that buyer isn't wanting something to be found out! 
Alternatively, bringing it to the mechanics can allow for a more trusting purchase, and gives insight into the vehicle. 
Therefore, having a better understanding of what truly needs to be taken care of, what the safety condition of the vehicle is, and what the true initial purchase of the vehicle is.
Initially, I ended up finding the van on Craigslist for $14,000, I bargained and purchased it for around 12,000 with taxes and licensing fees being about $115.84.
VAN REPAIR COSTS
Fortunately, the man I bought the van from was a very wholesome and kind-hearted man. 
Surely, he had allowed me to take the van out driving as long as I wanted and to even bring the van to the mechanics for a couple of days.
Undoubtedly, there were little to no major safety issues with the van during the initial look-over.
Later on, I came to realize some repairs that needed to happen, beyond a basic inspection. They make sure that there are major threats to safety, but sometimes repairs show themselves over time, especially with continual usage.
6/18/2021
Alignment $112.95
Tire Rotation 19.95
Battery Replacement and repairs $179.90
Labor costs 177.85
Misc charges 25.03
Tax 12.48
Total $350.31
Discount tire 6/18/21
Tire replacement $221.68
7/12/21
Oxygen Sensors — 196.86 + part cost of 161.10
Mass Air Flow Sensor — 131.24 + part cost of 271.22
Fuel Pump Control Module — 78.74 + part cost of 156.00
Hazardous Materials cost — 3.50
Total plus tax: $1056.31
9/21/21
Tune up 
Labor $332.50 
Parts (spark plugs & Air filter) 74.44
Accessories 9.65
Tax 37.49
Total $454.08
REPAIRS TOTAL: $2082.38
Consequently, repairs are bound to happen with continual usage of anything. For example, houses need repairs, vehicles, anything mechanical, etc. 
It's a part of life, but caring for things ahead of time allows for a more preventative approach.
Some of the repairs I had chosen to make weren't necessary right away and were not safety hazards, but I chose to keep up with repairs rather than be overwhelmed with them later. 
As a result of also keeping up with repairs, it can lead to better gas mileage, expand the life of the vehicle, and increases the value a bit more.
RENOVATION COSTS
As a result of owning your van, you'll quickly come to realize that hardware stores and outdoor stores have become a regular stop and a necessity. 
At one point, I had even found myself going multiple times a day to try to timely finish a project.
So, van renovation costs quickly added up, and amenities cost more.
As a result of my renovations, I ended up spending around $397.33 on Home Depot parts, products, and supplies.
Additionally, I also ended up spending around $658.31 on Amazon.
Finally, making renovation costs around $1,055.64.
Alternatively, this cost is also able to be adjusted by the quality of products chosen, as well as if you choose to upcycle or reuse pieces. 
For example, I recycled fabrics, wood, shelving, buckets, and any supplies that I could find along the way. 
♻ Sustainability Highlight/Tip: As a result of using recycled products, we are essentially also making the renovation process more eco-friendly and reducing waste from ending up in the landfill as well!
PS: Check out this article on the FORD CAMPER VAN REMODEL — BEFORE AND AFTER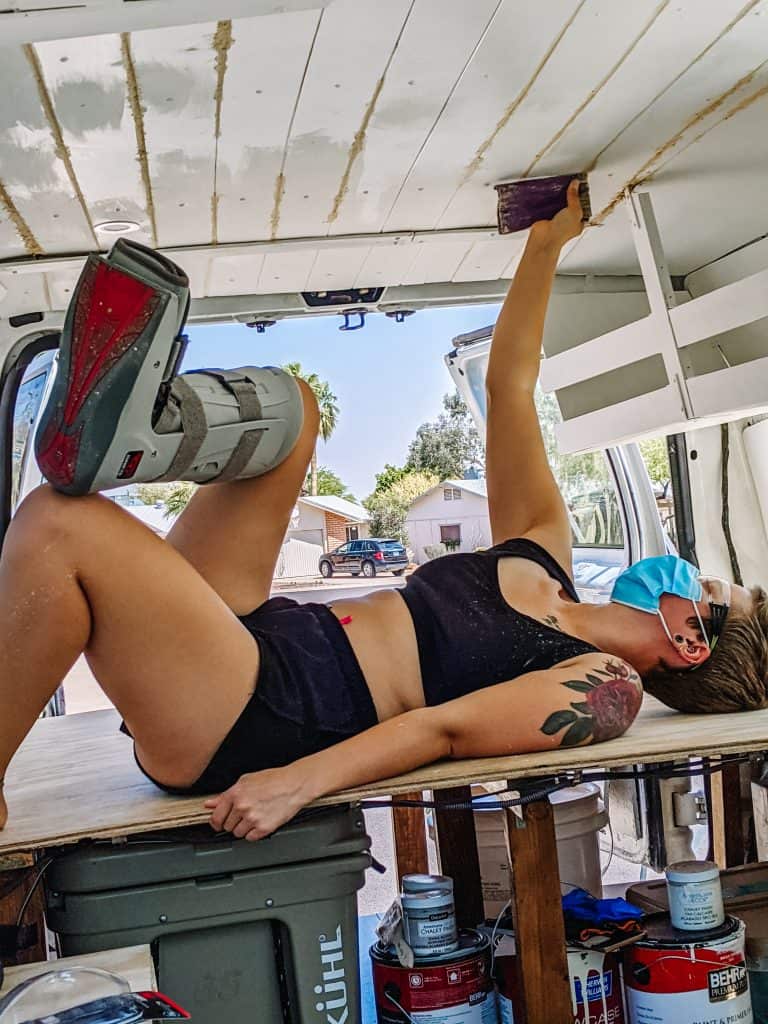 VAN LIFE COST: INITIAL PURCHASE PRICE, RENOVATION COST, AND REPAIR SUMMARY
Nonetheless, buying a van can be as expensive or as budgeted as you'd like, it just depends on strategy, convenience, and accommodations.
Overall, this is the total costs for everything (not including monthly van costs)
Initial cost: 12,000
Title & Registration $115.84
Repairs Total:  $2082.38
Renovations Total:  $1,055.64
TOTAL OVERALL VAN COSTS
=$15,253.86
To check out monthly expenses, check out this article here MONTHLY CAMPER VAN COST BREAKDOWN