/
MONTHLY CAMPER VAN COST BREAKDOWN
Let me just start out by saying that the initial camper van cost is an investment, but after that, it can be as much or as little as you like. 
Initially, the cost of buying a fully converted van can be around $20,000 — $40,000, but a self-done conversion camper van cost can be around $10,000 to $20,000. However, don't forget to factor in the time that it takes to do the van conversion yourself, remember that saying "Time is money", essentially the additional cost is convenience. 
The monthly cost of van life differs per person, mostly based upon how many miles driven, how much is put towards takeout, where the vans parked, how well the vans maintained, as well as the cost of entertainment. Some van lifers spend anywhere from $700 to $3,000 a month.
Some links in this post may be affiliate links or this article may contain sponsored content, which means if you make a purchase, we receive a small compensation at no added cost to you. As an Amazon Associate I earn from qualifying purchases. Any purchases you make helps to keep this blog going and keeps our content free. I truly appreciate your support! Visit my Privacy Policy & Disclosure Policy for more info!
Van Life

USD

Gas (An estimated $145 @ $4.00 a gallon for 5hrs of driving freeway) 

14 MPG City

17 MPG Highway

$200-$600 depending upon travel trips and how much gas I choose to use

Insurance

$146.54

Ice For Cooler — Keeping Food Cold

$20

Propane – For Cooking

$20-$40

Groceries (All Organic & Plant based)

$350-$500

Eating Out/Dining

$150-$300

Oil Changes

$50

Mechanical Fees & Auto Parts

$200

Ferries & Tolls

$150

Water Cost — $1.50 per gallon (I have a 5 gallon jug and a 7 gallon jug)

$5-10

Laundry

$4.00-$5.00 per load for washer

.25 per 3 minutes for dryer

DROPPS Laundry detergent .19 cents

$20





Shower & Self-care (Monthly Gym/Yoga Studio Cost)

$50-$100

Entertainment

$200-$500

Phone Plan (For unlimited Wifi)

$40-80 Trying out multiple plans

TOTAL COSTS

$1541.54 — $2,646
Some of these monthly camper van cost choices can be avoided or broken down to be quite a bit less. Let me just say that the costs per month are a bit different depending upon the area, the availability of resources, as well as how many conveniences are chosen. 
An amazing perspective I've stumbled upon is that convenience is the extra cost.
Here are some differences in camper van cost choices, that I'm referring to.
PREVIOUSLY CONVERTED VS. SELF DONE CONVERSION
Initially, the cost of buying a fully converted van can be around $20,000 — $40,000, but a self-done conversion can cost around $10,000 to $20,000. 
So, building a van creates a deeper connection with the van and can make the van fit your specific needs exactly. 
Additionally, almost every single person changes their desires pf what works best for them, many times over with van life. 
I tried at least four ladders, two sink set-ups, and four cabinet styles before fully deciding on the one I wanted. 
However, there are some things I think are best left to the professionals. I will not even dive into the realm of electrical or plumbing, I respect those skills, but I don't possess them myself. Please, don't put pressure on yourself to know everything, and allow yourself to pay for some things that can become a headache. 
Let's have fun, not resent our vans. This is hardly ever talked about and should be emphasized!! 
Check out this article on FORD CAMPER VAN REMODEL — BEFORE AND AFTER.
Overall, my initial van cost was 12,000 with taxes and fees. 
Then the conversions and additional costs after that were
COOKING VS. EATING OUT
This is a pretty obvious budget when living in a van or not. When eating out, take into consideration the cost of tax, tip, and then added profit for the meal for the restaurant. It adds up quickly!
I love supporting small, local, and plant-based aimed businesses, but I generally limit it to 1-2 times a week on average. Also, paying attention to portions helps! 
Lastly, having a quick breakfast, like a protein shake, gives that added convenience and cuts costs. 
Check out VIVO Protein Powders, they are heavy metal tested, fully plant based, has added vitamins and added greens. Oh wait, I almost forgot to mention that the company is also working hard to make to packaging fully compostable at home! WHAT A MISSION!
If you click here and decide to try some, you'll get 10% off your order. YAY, who doesn't love savings!
PS: The caramel flavor is absolutely amazing, I never get tired of it. I simply add a banana and some greens with the recommended serving, yum!
Groceries only cost me about $350-$500 a month, and eating out a couple of times comes to $150-$300.
However, if I ate out multiple times a day for a meal it would be $15 a meal x 2 times a day x7 days a week x4 weeks in a month = $840 Plus costs of protein shakes and snacks. Things can add up quickly! This is just an idea, and not what I actually prefer.
However, these measurements for eating out can be cut down by choosing to meal prep ourselves, just find your happy balance.
PAID PARKING VS. FREE PARKING
Typically, paid parking spots, especially camping spots, are more maintained and usually come with restrooms and/or showers. 
However, free campsites are less cared for and generally don't have any accommodations available. Also, free campsites can be overgrown and further away from the town conveniences. 
Choosing a well-maintained campsite can quickly add up, but it may save on shower costs and gas costs to the town.  
Some parking spaces are anywhere between $5 — $25 a night, depending upon where you're searching.
Also, there is the option of finding free camping!
Check out this article I wrote on FINDING FREE CAMPSITES WHILE VAN TRAVELING.
STAYING PUT VS. TRAVELING CONSISTENTLY
Surprisingly, this one's not often thought about as being a choice, this is especially because social media portrays a constant moving journey.
Let me go ahead and remove the smoke and mirrors and say that this one was the biggest cost I had noticed, aside from the initial purchase.
Unfortunately, the time I decided to get going with the van was also the time the gas prices doubled. EEKK! Too late though, I already committed!
Staying and enjoying an area can not only save on costs, but it also allows us to enjoy the area fully as well.
I had once read a blogger use the quality or quantity in reference to travel, and I couldn't agree more! Maybe, try getting to know the area, jumping from state to state is a big investment.
I personally choose to jump states when the seasons change, but I like to stay in an area for a few months, truthfully. 
So, driving from Arizona to Washington cost me $587.67 alone, so be wary of this cost ahead of time.
However, one of my favorite apps I use to save on gas costs when I can is called GetUpside. This app shows discounts available on gas nearby, .10 — .15 cents off /gallon + cashback!!
I've managed to get over $15 in cash back on gas I was already going to buy otherwise.
Use the code SERENITY3989 for .15 cents off your first fill-up!
Plus, the more miles drive the more mechanical fees and oil changes, just try being mindful.
LAUNDRY MAT VS HANDWASHING 
After doing some research, I quickly found out that the laundry mat prices add up quickly. Starting off with $4-5 a load for washing, I realized that cost was going to just be used for bedding, and large items. 
Otherwise, I personally handwash my clothes, towels, rags, etc. The smaller stuff is a lot easier to handwash. 
♻ Sustainability Tip/Highlight: Handwashing clothes saves an incredible amount of water and is one of the most eco-friendly friendly aspects of living in a van. Check out this article on 8 WAYS THE WATER USAGE PER PERSON CAN BE REDUCED.
Typically, I handwash my clothes in a sink, in the shower, or in a waterproof bag/wash bag.
When I refer to a waterproof bag, I mean this one here or even this wash bag here (Which is made for laundry. Both of these work well!
The idea of a washing machine is that it swishes and spins the clothes, so I do something similar with massaging the clothes and ringing them out. It's fairly simple and saves so much water, about 15 to 45 gallons, actually. This amount of water is per load and depends on the age of the washer and if it's energy-efficient.
DRYER VS. HANG DRY
While comparing the costs of how much washing a load was, I was also curious to find out that the dryer was .25 cents for every 3 minutes. Which blankets can take an hour to three hours to dry, depending upon the age of dryer. 
So, 60 minutes divided by 3 minutes = 20 x.25 cents =$5.00 per hour, so a blanket can be $5 to $15 an hour to dry. 
Also, drying is such a cost saver, try hanging a string from one tree to another, or even placing your clothes on your dashboard to dry. 
Using the resources around us helps so much! When I lived in Arizona, it only took 10-20 minutes for something to dry, it was amazing. It also made me wonder why people use dryers there, HA!
♻ Sustainability Tip/Highlight: It's said that a dryer emits more than a ton of carbon dioxide per year, not only that, but it shrinks and wears the fabric down faster. So let's opt to dry our clothes instead!
Not only is it sustainable, but it's also budget-friendly! ECO-WIN!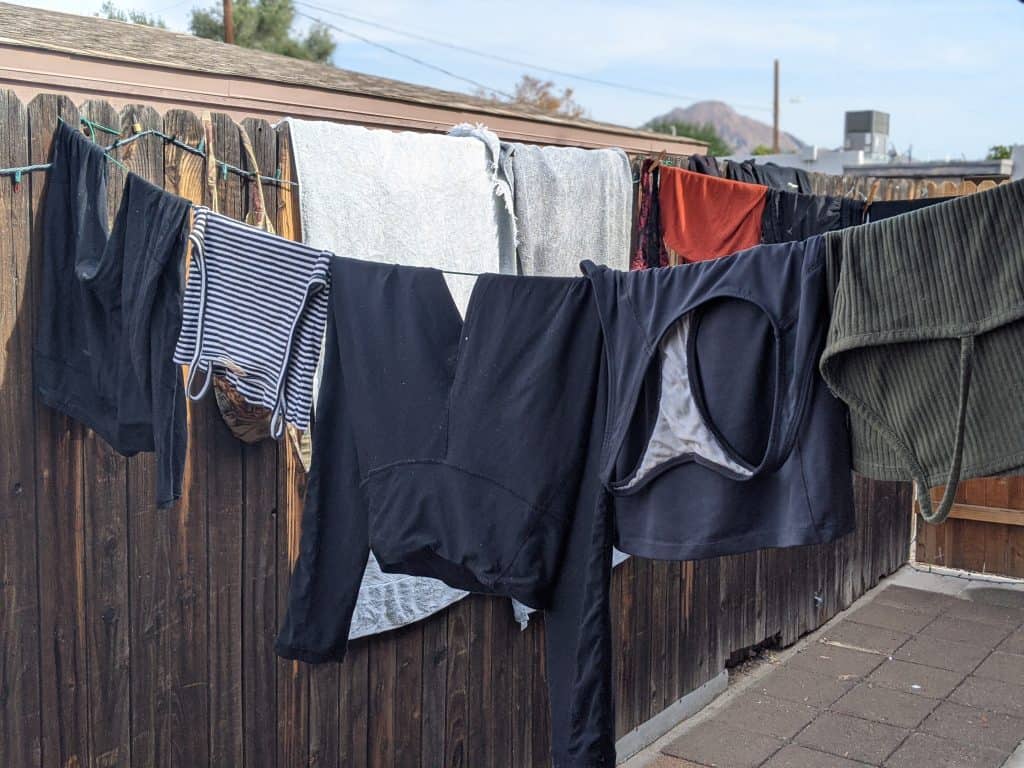 I hope you've enjoyed the options I've shared here on the cost breakdown, along with some other options. Are you living in a van and having different monthly costs, please share!
Would you be interested in an article on the cost of renting a converted van? I'd love to know!