/
FINDING FREE CAMPSITES WHILE VAN TRAVELING
Oftentimes, while van traveling, free campsites are a little less developed and allow for a deeper connection with nature. They also help us ease our overall expenses as well, yay!
As someone who has been camping ever since I was little, I know the many joys that come along with it,  so I've decided to share the tips I've accrued over time.
Let's get out there and explore!
Some links in this post may be affiliate links or this article may contain sponsored content, which means if you make a purchase, we receive a small compensation at no added cost to you. As an Amazon Associate I earn from qualifying purchases. Any purchases you make helps to keep this blog going and keeps our content free. I truly appreciate your support! Visit my Privacy Policy & Disclosure Policy for more info!
FINDING CAMPSITES
Apps
National Park Trail guide –

This app also shows 'dispersed' camping
Free Campsites.net
The website freecampsites.net has been around for many years, so there is a wide variety of sites. Typically, people of the community add these spots and share the details they find.  
This information shared usually varies, but most often times the listings have:
GPS cor-ordinates 

Type of management (BLM, Public Forest Service, urban overnight parking, etc.)

Pictures

Reviews

Cellular service information

Weather forecast
I want to just go ahead and clarify again that each posting is completely volunteer-based and will have different information.
Let's extend our gratitude to our fellow van travelers that share these sights, and keep it rolling with our own add ons too!
BLM (Bureau of Land Management) and USFS (Forest Service Land)
Look for "dispersed camping", dispersed camping is usually a little less developed which means there will most likely not be any type of facilities there, like toilets, trash, water, etc. 
Also, make sure to have plenty of water, food packed in your cooler (with ice), check the fire ban, know how to go to the bathroom in the wild, and pack out what you brought in. 
Not only that, but these sights can be found by visiting their websites or even using the handy dandy National Park Trail Guide App, I mentioned above. The app also shows hikes, photos, family-friendly things to do, and you can personally go in and create a to-do list for the area. I almost forgot to mention that the app also shares the weather and precipitation, so convenient!!
Urban Overnight Parking
Urban overnight parking means staying within city limits. Although urban overnight parking is not photo-perfect, these spots really come in handy when in a pinch or when starting to get tired while driving. Please do not drive tired- it's just as much of a risk as driving drunk! 
Some examples of urban overnight parking can be places like:
Walmart

Cabelas

Camping World

Cracker Barrel

Casinos

Rest Stops

Churches

24-Hour Gyms

24 – Hour Boat Ramps
Tips to urban camping:
Ask permission from the location you're looking at staying – not all locations in all states allow overnight parking.

Some locations are a little wary of late-night robberies, introducing yourself eases that discomfort.

Have window shades for privacy and to block out the street lighting

Wear earplugs to combat the noise

Have an alarm on your van and anything accessible on the outside 
Some truck stops even offer laundry services and coin-operated showers. Make sure to check with management if you are unsure or have any questions
CHOOSING A CAMPSITE
Try searching for campsites in daylight, it can be quite a bit easier and less stressful. So settling before it gets dark is ideal!
Things to consider:
Having a fire can sure be fun, but sometimes there is truly a time and place for it. Checking fire bans in the area before committing to a fire is one step ahead of preventing wild fires. Most of the time, when a fire ban is in place, that can mean that a specific area is more dry and at a higher risk of a forest fire.
Road conditions & Knowing vehicle limits
As soon as I bought my van I was told not to take it out into the sand because it will get stuck, I took the advice and haven't done so! I currently own a Ford E-350, with rear-wheel drive. This also translates to knowing the vehicle's limits and staying out of situations where it may not be able to get out!
Let's face it, finding food is going to have to happen sooner or later, so being ahead of your needs really helps things run smoothly. 
Waste Drop

Water Access

Showers

Fire pit

Benches
As far as cell service goes, it can be important if you need to call for help or if you need service to be able to work.
Most of the time, the free campsites are not completely developed. Often times, the extent of the bathroom is a toilet and that's about it. However, if you're used to it or are a backpacker, then you already know that it's not much of an issue.
I highly recommend being stocked up on food, water, and having the means for a shower already in place before settling into a campsite long. You'll quickly find this out while being a van traveling.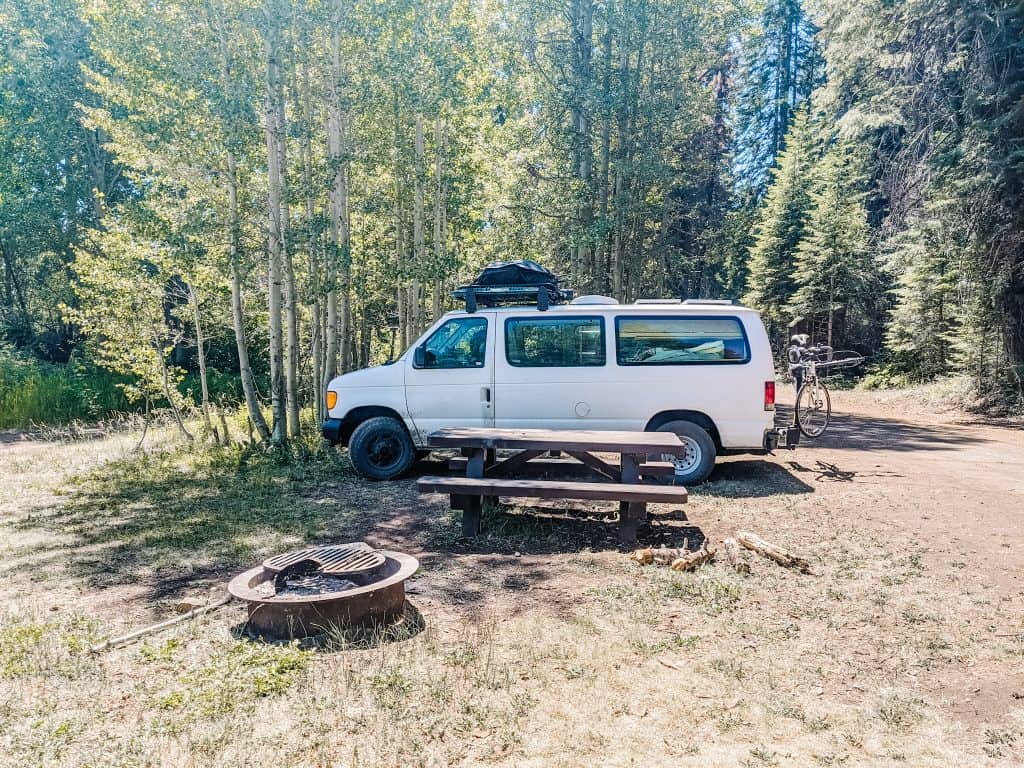 RESPECTFUL CAMPING WHILE VAN TRAVELING
This is a very crucial step to any camping, I really want to take a moment to go over camp etiquette. 
Follow principles of LEAVE NO TRACE – OUTDOOR ETHICS
Leave No Trace has 7 basic principles that apply for any outdoor activities, like camping, backpacking, hiking, etc.
Plan ahead and prepare

Travel and camp on durable surfaces

Dispose of waste properly

Leave what you find

Minimize campfire impacts

Respect Wildlife

Be considerate of other visitors
I mention this because there have many campsites I have been to that have been full of trash, human waste, or have been around people blasting music. 
Please allow others to enjoy as well!
Enjoy, and I hope you have lots of safe and wonderful adventures! Please tag me on social media, I'd love to see how much fun you're having! @manifesting_serenity
If you haven't already, don't forget to check out this article I wrote on 6 THINGS TO CONSIDER BEFORE BECOMING A VAN LIFE TRAVELER.
Have you ever camped free? What were your favorite ways of finding free camping? Post below!