/
CELEBRATING THE DAY OF THE DEAD MEXICO FESTIVAL (Día de Muertos) IN OAXACA
In this article, everything you need to be able to enjoy The Day of The Dead Mexico Festival, and have the experience of a lifetime is here!
An often fantasied celebration worth experiencing, the Day of the Dead Mexico Festival, full of ofrendas, parades and sugar skulls aglow!
Some links in this post may be affiliate links or this article may contain sponsored content, which means if you make a purchase, we receive a small compensation at no added cost to you. As an Amazon Associate I earn from qualifying purchases. Any purchases you make helps to keep this blog going and keeps our content free. I truly appreciate your support! Visit my Privacy Policy & Disclosure Policy for more info!
WHAT IS THE DAY OF THE DEAD MEXICO OR DIA DE LOS MUERTOS?
Well, Day of the Dead in Mexico or Dia de los Muertos has developed over the years, traditionally stemming from Pre-Hispanic cultural traditions and an Aztec death festival combined. But later than being influenced by Christianity and Catholic celebrations.
This day is all about celebrating and remembering those that have passed, over multiple days, in full excitement and love. Typically, filled with an array of colors, flowers, sugar skulls, flags, and more! (I'll share more about it in the ofrenda section.)
Throughout all three days of the festival from October 31st until November 2nd, each day is for celebrating a different set of souls.
Day 1: (October 31st) The first night is for honoring and remembering the children that have passed.
Although this day is mostly for the children that have passed, it's also:
The main cemetery day

The biggest evening celebration of all

The main night that children will go out to trick or treat – Although some often go out each and every night.
Day 2: (November 1st) Secondly, this day and night is for honoring and remembering adults and elders.
Day 3: (November 2nd) Lastly, this day is for honoring the lost souls, those who did not have proper burials, died in accidents, or were not found.
Each day, the altars change to honor those that have passed, adjusting the little details to each set of souls that are honored, so visiting the altars and cemeteries will be worth seeing the new designs.
Although, pets aren't a part of each/every family's ofrenda, they can still be honored and added as well. 
During these days, locals believe that the veil between the world of the spirits and the living is lifted, so their deceased loved ones can travel back for a visit.
CHOOSING THE LOCATION TO CELEBRATE
Although there are many cities to celebrate The Day of the Dead Mexico, these are the cities that are known for their celebrations above all.
#1. Centro Oaxaca 
First, Centro Oaxaca is absolutely beautiful, it's a bit on the smaller size in comparison to Mexico City, but that could also mean that it's more of an intimate experience. 
The Centro of Oaxaca, is also known as the center of Oaxaca, it's the center of the entire city and celebration. But it's also the safest in the city and the most well-preserved, too.
So, with it being well-preserved, you'll be able to see the magnificent details within the European colonial design throughout the city.
Plus, each city has it's own unique Dia de los Muertos traditions and most of this article is specifically referencing this city, because this is where I had chosen to celebrate, but the other cities do have similar overlapping celebrations.
#2. Mexico City
Secondly, Mexico City is quite a bit bigger in their celebrations and in their population. Most, have described Mexico City as being like New York/San Francisco or similar big cities. But with it being a bigger city and a larger population, that also means that the celebration is bigger too!
#3  Isla Janitzio, Michoacán
Although this one is a trickier to get to and a bit smaller, it's almost an entire island filled of celebration.
Although I've only lightly heard about this Island, I figure it's still worth mentioning for those that want to mix up their experiences.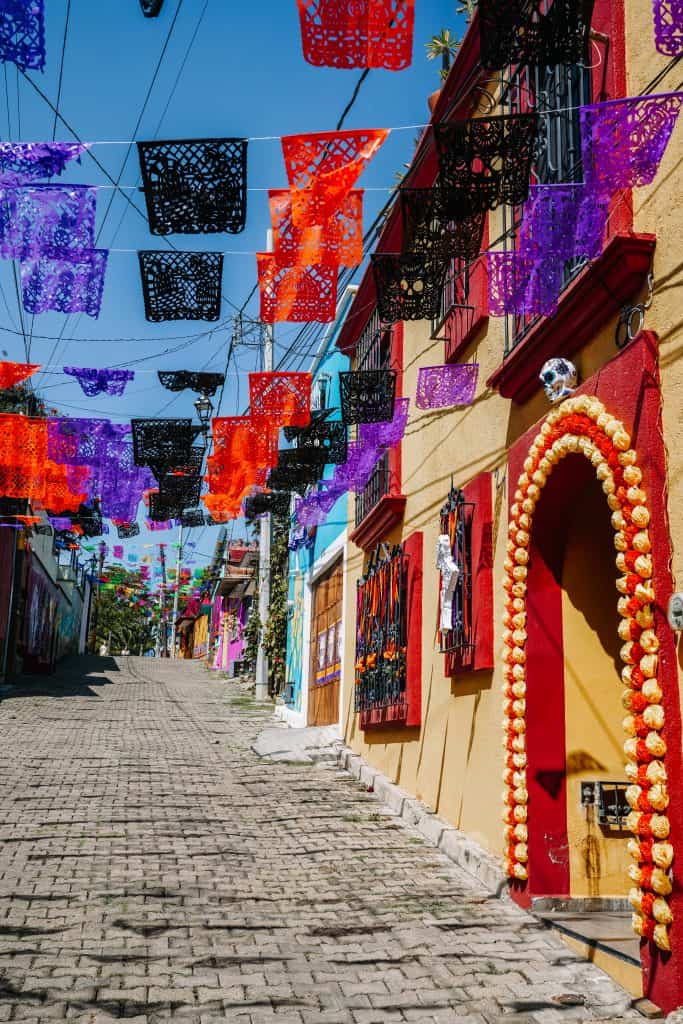 FAMILIAR & FUN INSPIRATIONS
So, are you familiar with the movie Coco? Well, that movie is completely inspired by The Day of the Dead Mexico!
Throughout the movie, you'll notice so many similarities, and in fact locals in the city are quite proud of the fun representation of the movie too. Funny enough, I had heard some of the locals blasting the soundtrack while they were face painting. 
The story follows a 12-year-old boy named Miguel who is accidentally transported to the Land of the Dead, where he seeks the help of his deceased musician great-great-grandfather to return him to his family among the living and to reverse his family's ban on music.
The film was praised for its animation, voice acting, music, visuals, emotional story, and respect for Mexican culture.
DAY OF THE DEAD MEXICO TO DO:
SET UP AN OFRENDA
Of course, this is an absolute must when visiting. The ofrenda's are also similarly known as altars, and are essential in helping guide those that have passed, are in the spirit world, back to this realm to be able to visit family that's still alive.
A typical alter has many traditional items and personalized items alike for those loved ones that have passed:
Flowers & Petals:

Marigolds, 

Pictures of those loved ones that have passed

Foods:

Yuma/yolk bread, hot cocoa, corn, sugar cane, tamales, fruits, black mole sauce (Savory sauce with a local cocoa base), veggies, tacos, and more! (Typically the food chosen is the loved one's favorites and some general for lost souls)

Candles

Sand tapestries

Crosses & Beads

Sugar skulls

Colorful table cloths

Decorated arches

Garlands
Although these are typical items used in making the altars for the Day of the Dead Mexico, they can still differ greatly in other areas as well as with what's seasonally available, and even that family's specific heritage.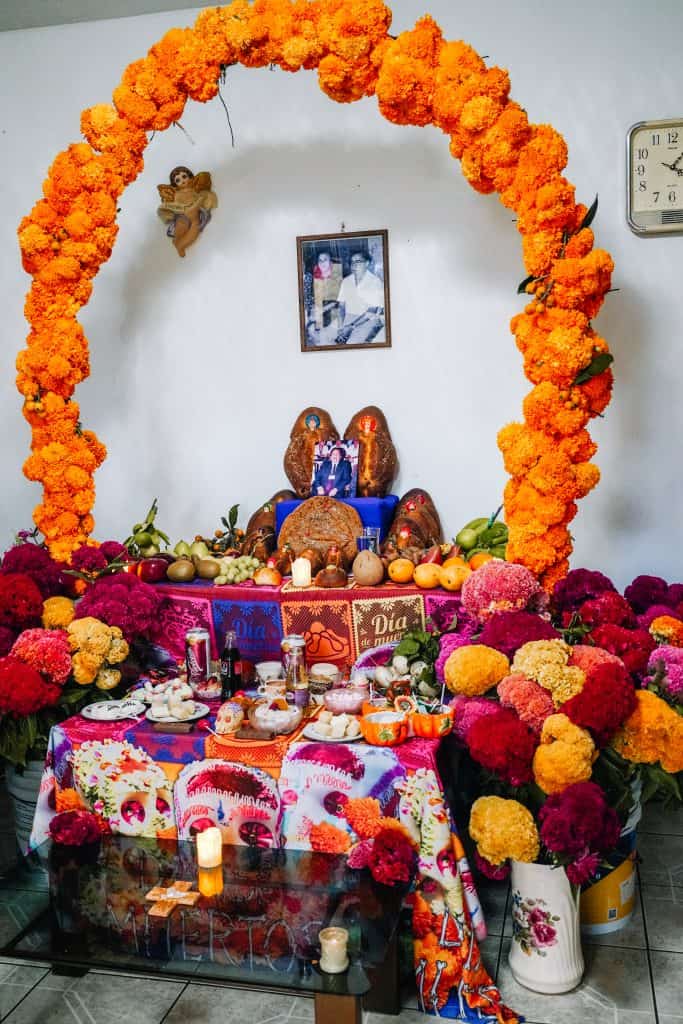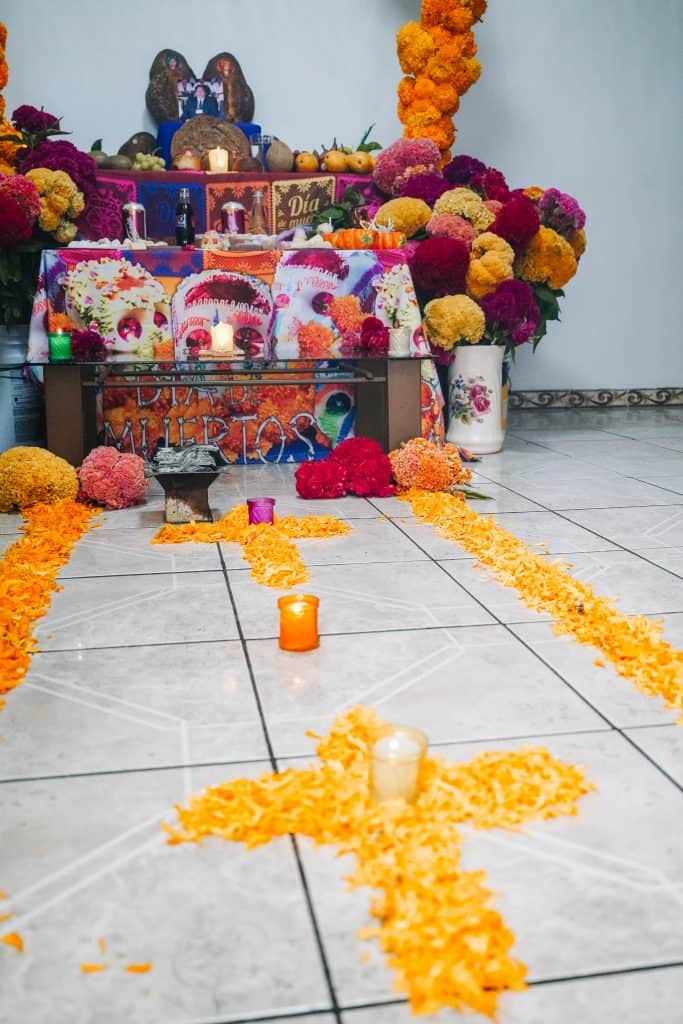 If you're not able to make one, that's okay, there are many alters/ofrendas around town, like these ones below!
STORY TIME
First, I had spontaneously planned coming to Oaxaca to celebrate the Day of the Dead Mexico, although I had always wanted to do it, I hadn't made plans yet.
So, I booked an Airbnb private room with a traditional Hispanic family in Oaxaca for one night, little did I know that they would turn out to be absolutely amazing, welcoming, and want to include me in their family celebrations! 
It quickly developed into more. Before I knew it, I was guided to a tiny shop within a 2-minute walk with one of the daughters. Then I was honored to join in setting up the family's alter/Ofrenda for The Day of the Dead. 
We cut flowers to prep for the altar, went to the market to buy food for the offerings, and often gathered to talk about the traditions and Oaxaca. 
This family was so incredibly welcoming and went beyond in ensuring my comforts and that I was always cared for.
Thank you so much, from the bottom of my heart, to this family!
PS: To get the most immersive experience, I highly recommend staying with a family and sharing the traditions together.
If you'd like an even more immersive experience, you can book a stay with them, CLICK HERE, to view their Airbnb rooms.
GAZE UPON THE SAND & FOOD TAPESTRIES
Another traditional part of some altars can be sand tapestries, which is made up of sand/dirt that it carefully shaped with some colorful powders and glitter to make the display POP!
Another variety is also food tapestries, with a similar concept, but using beans, corn, and seeds.
Sometimes, they can also be decorated a bit more by candles and flowers too, making it even more beautiful.
These can typically be found in shops, markets, public buildings, in front of altars, or even along the streets where they may be having a fun little competition.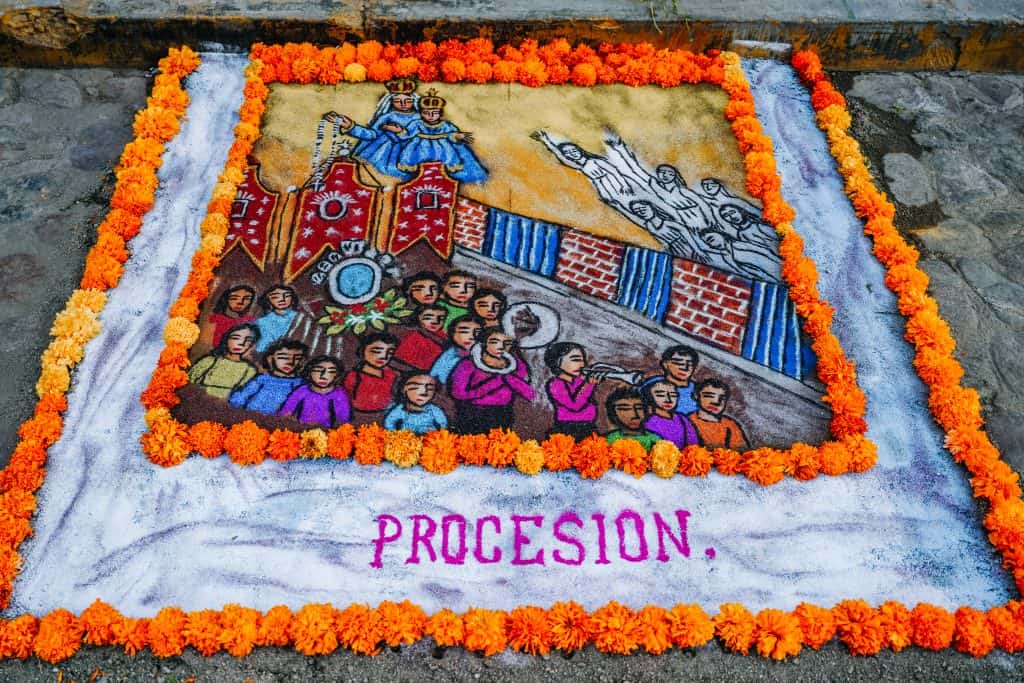 SAVOR THE FLAVORS OF THE AUTHENTIC BLACK MOLE SAUCE
In Mexican traditions, black mole sauce is typically enjoyed only when babies are born, people die or during the Day of the Dead Mexico. 
Traditionally it contains bits and pieces of animal products, each variation continuing something different, but I found the only vegan/vegetarian option in all of Oaxaca….and guess what?!
It's absolutely astonishingly delicious!!! But not only is it delicious, it was made with such precision and care, specifically 18 hours of loving cook time! Wowzer, that's true dedication!!
The goal of the restaurant from the head chef is to be able to share the original and authentic dishes, but in a vegan way. So that all can enjoy it!
Not only is every meal made with such care and precision, but the ingredients are bought from local merchant markets to keep it a fully sustainable and closed loop system. This type of restaurant is truly rare. 
I highly recommend this restaurant as there's nothing like it in Mexico, that truly tried to share the authentic flavors with all, tries to be sustainable in their practices, and offers experiences with all. But this isn't just a one time experience or flavor, they switch up the menu every 6 months to offer diversity and keep us drooling, I swear.
Why not know how the food is made and take a completely immersive cooking class too or even a chocolate making class? Not only, will you gain the knowledge, but you'll make the food, and then savor the flavors of it all. Mmmm..
Book A Vegetarian/Vegan Cooking Class On How To Make Black Mole Sauce Here!
OR Etnofood has even more immersive experiences on their website too!
VISIT A CEMETERY & MAUSOLEUM
Another essential part of the celebration is visiting the stones and cemetery of those that have passed. Similar to altars or ofrendas, people gather to celebrate and honor those that have passed. 
During this time, the cemetery becomes a bit more of a welcoming and warmer place. Especially, full of colors, candles, flowers, music, and family.
Some say that normally in their own country, they wouldn't traditionally go to a cemetery, but during this holiday, the cemetery becomes a bit more lively and people gain a different perspective of the cemetery's rep.
One of the main cemeteries to visit is the Panteon General (the Oaxaca General Cemetery), also known as the Panteon San Miguel. This cemetery is a bit smaller and gives a truly intimate experience.
Another popular cemetery, in the village of Xoxocotlan, commonly called Xoxo (pronounced "ho-ho"), is a good place to visit on the night of October 31st, as it is the most celebrated night. Although, be sure to note that this cemetery is the biggest celebrated cemetery and is even a bit known to have a small carnival atmosphere outside the cemetery. 
Also, there are two cemeteries, here, the Panteon Viejo (old cemetery) and the Panteon Nuevo (new cemetery). Both great, but both offering different perspectives. If you decided to go to both, they are merely about 5-10 minutes apart from each other.
Please Note: Ensure that you have a ride set up there and back, as people have been known to be dropped off and then left by the taxis, then only given a ride for 900 pesos back, because the cemetery is further outside the city and much hard to get a ride. Maybe try securing an honest ride, renting a car, or join a local when going.
MARVEL A HISTORICAL PANTHEON / CATHEDRAL
A Pantheon is also similar to a Cathedral, and there are many of them in town, but varying shapes, colors, and styles. Some with winding golden pillars and others with an intimate visit. 
Although the term Pantheon is a reference from Europe, it actually fits the city's small colonial style, similar to European design.
Historically, Pantheons were for celebrating death and death alike, from weddings to funerals. It's said that their weddings would start at noon and then continue on, one after another, for the entire rest of the day.
It's said that many years ago, people would spend most of their days in the Pantheons, trying to pray as much as possible because they thought that it would bring them to heaven faster!
Also, please note that it's a requirement to still wear masks and sanitize your hands when going into the Pantheons/Cathedrals. Typical, visiting these are also free and for all to enjoy, just be sure to be respectful and quiet as others often go to pray and marvel as well.
One that I particularly loved, was the Temple de Santo Domingo de Guzman!
Fun fact: The construction of it started on the ex-convent of Santo Domingo in 1552 and took around a century to build, and was occasionally used by troops during the unsettled period surrounding Mexico´s independence, offering many a sanctuary.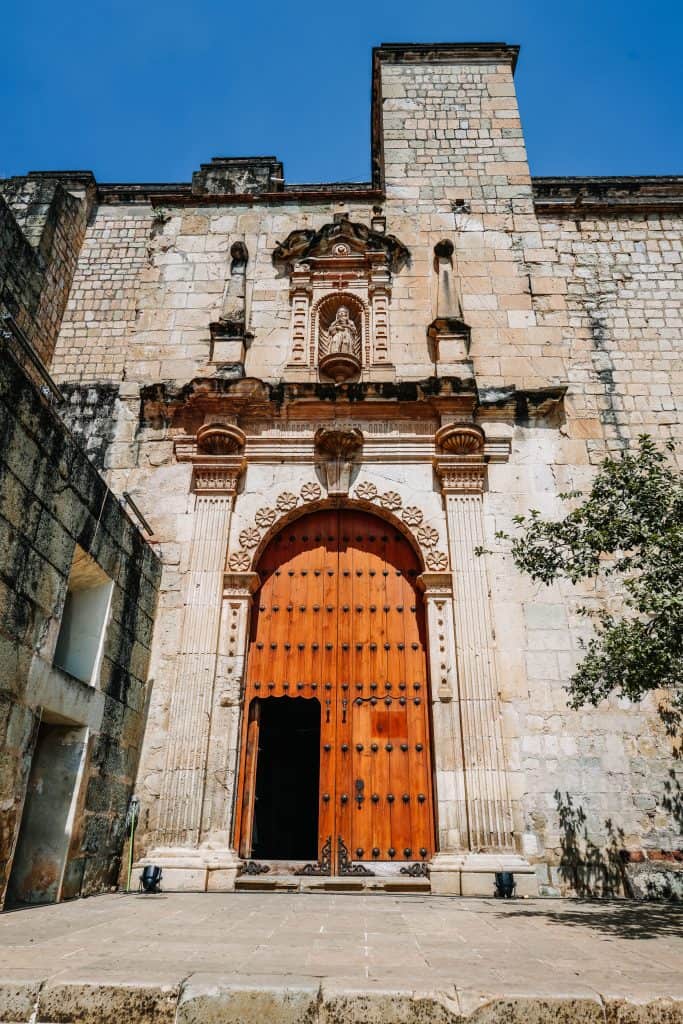 GET A SUGAR SKULL FACE PAINTING
Nearly every street has booths set up in Centro, for people to be able to get their face's painted in pure celebration.
No matter, what variation you're looking for, you can always make special requests as well. For example, some people got only half a face done, whether that be the lower half, upper half, and even just one of the side's of their face done. In comparison to the popular full face of makeup, which is the classical style.
I'd highly suggest looking at what the person is actually able to do versus what their photos show, because oftentimes the photos they have they just got it offline and use it to reference, instead of it being their portfolio.
Typically, the cost of getting a full face painting is around 200-300 pesos depending upon the timing, detail, and quality. Plus, it may be more if you decide to a headband, face jewels, eyelashes and another accessories.
Experiencing The Day of The Dead Mexico, was the experience of a lifetime, I'm so thankful to have gotten to do it, I hope that you are liberated and now have the resources to be able to get out there to enjoy it as well!
I'll also be hosting group trips to different locations across the world as well and would love to have you join too!
NOW IT'S YOUR TURN TO HAVE SOME FUN & ADVENTURES!
Are you a solo traveler who wants to find more like-minded people and go on amazing adventures like this? Well, not to worry, we actually have group travel trips that you can join in on too!
LOOKING TO JOIN IN ON THE NEXT ADVENTURE? BE SURE TO BOOK YOUR NEXT ADVENTURE  ➟ Travel With Me