/
EXPLORING THE TULUM ARCHAEOLOGICAL ZONE – THE HISTORICAL PRE-COLUMBIAN WALLED CITY
Exploring the Tulum Archaeological Zone was filled with historical wonder, towering views and even nestled on the side of a turquoise beach.
Not only that, but you're sure to find friendly iguanas roaming the through the 500 plus varieties of plants that make up this small part of the jungle.
Some links in this post may be affiliate links or this article may contain sponsored content, which means if you make a purchase, we receive a small compensation at no added cost to you. As an Amazon Associate I earn from qualifying purchases. Any purchases you make helps to keep this blog going and keeps our content free. I truly appreciate your support! Visit my Privacy Policy & Disclosure Policy for more info!
TULUM ARCHAEOLOGICAL ZONE LOCATION
Thankfully, the main downtown area of Tulum is located incredibly close to the Tulum Archaeological Zone. In fact, from downtown, it's about 15-20 minutes by bicycle or 20-30 minutes by car. 
Thankfully, most of the bike ride there is fully paved, with quite a bit of palm trees framing the path, making it a beautiful bike ride. 
It's nestled in the "Tulum National Park", or so I've been told. The area seems to still be developing, so it's still in the process of becoming more well known!
Options for getting there:
Taxi (20-30 minutes)

Bike (15-20 minutes)

Scooter (20-30 minutes)

Walking (50-60 minutes)
BEST TIMES TO GO 
Of course, the best time to go is in the morning, when the sun isn't as direct, and before most people wake up. Especially because there aren't many shaded spots around, so there's quite a bit of direct sun.
So, the gates officially open at 8am and the grounds are open until about 5pm, which also gives another option of going a bit later in the evening when the sun starts to go down a bit. 
In most places, the sun is going to be most direct from 11am till about 2/3pm, so going before or even after is going to be your best options.
If you do decide to go during the times of direct sunlight, be sure to prepare for the sun!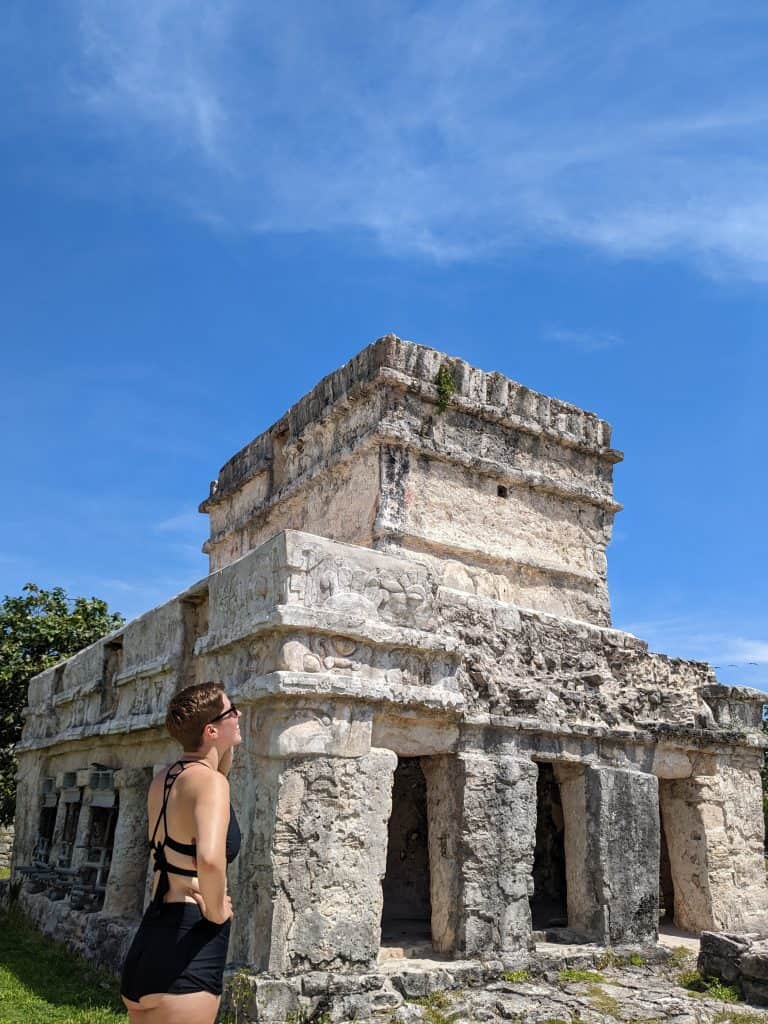 ENTRANCE FEES & ACCOMMODATIONS
As, you walk towards the gates to get through to the Tulum Archaeological Zone ruins, you'll get many, and I mean many, people trying to sell you a tour, having a private tour is totally optional. 
So, with that being said, if you don't want to participate in a tour, just say "No, thank you" or even "No, gracias".  Then simply keep walking and do a self-guided tour.
 Although, I must say the self-guided is good and there are plenty of signs to read, but a local may know quite a bit more facts and history to share with you.
For a simple entrance fee in 2022 to the Tulum Archaeological Zone, it's only a mere 85 pesos or roughly around $4-5ish USD! WOW!
Also, for Hispanics and Mexicans, the entrance is free on Sundays! It's amazing that they are supporting their community/culture.
5 FUN FACTS ABOUT THE TULUM ARCHAEOLOGICAL ZONE
It was a seaport, trading mainly in turquoise and jade

Due to the numerous records in murals and other works found in the buildings of the city, it is considered that Tulum was an important center of worship for the so-called "descending god".

The Mayan navigators to arrive in Tulum, were driven by open sea parallel to the coral reef (second-largest coral reef in the world), when they visualized "El Castillo".  Which fulfilled the function of lighthouse, since it indicated the moment to take the channel that divided the reef.  This was achieved through the help of two windows of the facade of this building. Which when illuminated by natural light or torches at night, indicated the precise moment to turn the boats, thus avoiding colliding with the reef safeguarding the goods they transported. 

In the Tulum National Park inhabit more than 545 species of plants and animals

In front of the Castillo is the Temple of the Frescoes, one of the better preserved buildings. Peer inside the temple to see a mural painted in three sections. The first level represents the Mayan world of the dead, the middle is that of the living, and the final, highest piece, is of the creator and rain gods.
From Wiki &  tulumruins.net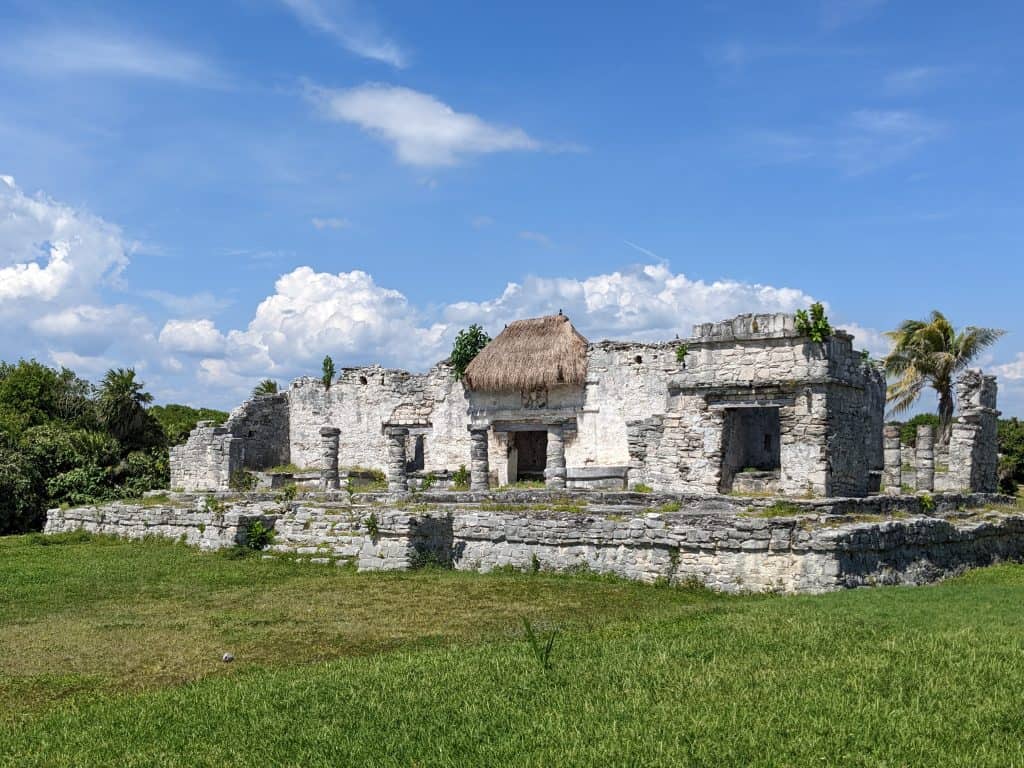 WHAT TO BRING
When packing for this excursion, be sure to bring lots of protection from the sun, supplies to stay hydrated, and breathable materials for the humidity.
Overall, these essentials are great to help you prepare for the heat, the weather, sun, and waves.
RAW ELEMENTS SUNSCREEN
Prevention is always the way to go! I recommend this sunscreen here. Raw Elements sunscreen is lightweight and safe with TSA, so it's backpacking, hiking, and travel friendly too.
The consistency is a thick white paste and is best applied with a light lotion underneath it to help the sunscreen spread.
Raw Elements is toxin free, all natural, and comes in a metal container making it more eco-friendly. (I was actually recommended this product by the flight attendants on Hawaiian Airlines to protect their coral reefs!)
BADGER NATURAL ANTI-BUG SPRAY
After trying a wide array of products, I've personally found this natural bug spray to work the best.
To get started, this bug spray is nontoxic, conveniently in a spray bottle, and in eco-friendly packaging.
Compared to, most bug sprays that come with DEET, in aerosol cans, plastic bottles, and all options are incredibly toxic or harmful for the environment.
Simply spray this natural bug spray on wrists, ankles, and ears to say goodbye to bites the holistic way.
If it's out of stock there, another option is this one here!
Foldable Lightweight Hat
I personally use a foldable lightweight hat like this REI Co-op Screeline Cap.
A foldable hat is extremely easy for travel, fitting into funky pockets, it has a loop for sunglasses, and and adjustable strap for the perfect fit too!
XERO Z-TRAIL EV SANDALS
Xero shoes offer a natural flexibility and grounding experience between nature and our bodies. They virtually resemble running or walking barefoot, having just a thin layer of protection between our feet and the ground, offering an all-encompassing connection.
Not only that, they have an amazing warranty and a multitude of different options.
Also, Xeros are partially made from recycled water bottles! ECO- WIN!
Matador Nanodry Towel
This full-size shower towel uses a lightweight, fast-drying nanofiber fabric to absorb 2.3 times its own weight in water, making it the perfect travel companion!
Plus, it's machine washable. 
Personally, I love that this towel is full body, has a case, and can be clipped anywhere!
NOW IT'S YOUR TURN TO HAVE SOME FUN & ADVENTURES!
Are you a solo traveler who wants to find more like-minded people and go on amazing adventures like this? Well, not to worry, we actually have group travel trips that you can join in on too!
LOOKING TO JOIN IN ON THE NEXT ADVENTURE? BE SURE TO BOOK YOUR NEXT ADVENTURE  ➟ Travel With Me