/
I'VE GOT A SPECIAL GIFT FOR YOU! ~ YOU DON'T WANT TO MISS THIS! (Psssttt It may just be the ultimate packing list for vacation – but one you've never seen before!)
Alright, yes, I know that you're on the edge of your seat, waiting for this ultimate packing list for vacation spots you'll love!

So, without further ado, allow me to introduce you to the very first ultimate and fully Interactive Travel Essentials Packing Checklist!
Above all, you're the very first one's to have access to this complete unveiling for this packing list for those vacation spots you'd love to visit ! Isn't that just so exciting?!
Some links in this post may be affiliate links or this article may contain sponsored content, which means if you make a purchase, we receive a small compensation at no added cost to you. As an Amazon Associate I earn from qualifying purchases. Any purchases you make helps to keep this blog going and keeps our content free. I truly appreciate your support! Visit my Privacy Policy & Disclosure Policy for more info!
BENEFITS OF THE INTERACTIVE/FILLABLE TRAVEL ESSENTIALS PACKING LIST
Now this is the packing list that you've been looking for!
#1. It's impossible to lose or "destroy" – simply download again and again!
Even if you download it and can't get the one you've originally downloaded, you'll be able to simply get it from your email, over and over again. So there are no worries there!
Honestly, I've personally misplaced notes or even accidentally destroyed notes over and over again. For example; spilling food & drinks, tearing under something heavy, animals chew on it, constantly folded until it's no longer legible. Oh, you too? See!? Digital is better!
Get your official copy of the "indestructible" Interactive Travel Essentials Packing Checklist HERE! Aright, it's probably not indestructible, but it sure is as close as it gets in my eyes! ha!
#2. This checklist is completely interactive! NO MORE PRINTING OR USING PAPER (Save the trees!) ECO-WIN! 🌏
Of course, this is especially amazing for those that have a soft spot for the environment because there are no trees being cut down for a list most people will print, use once, then toss, and repeat that cycle over and over again. 
Fortunately, when it's interactive and printable, there isn't as much of a need for a physical copy – Dang, don't you just love when something is reusable!!! I know that I do! 
Also, picture this, when paper is made, it's not just cutting down trees, it's also using water resources. In fact, it can take It can take five liters of water to make one sheet of paper! WOW! – Thefactfile.org
So, let's start with this switch, and begin integrating into interactive or fillable PDFs. Hopefully, I've helped begin the start of that process and set an example for companies to do the same. 
Overall, there's no need to worry about the resources being used with this one! Get your sustainable Interactive Travel Essentials Packing Checklist here!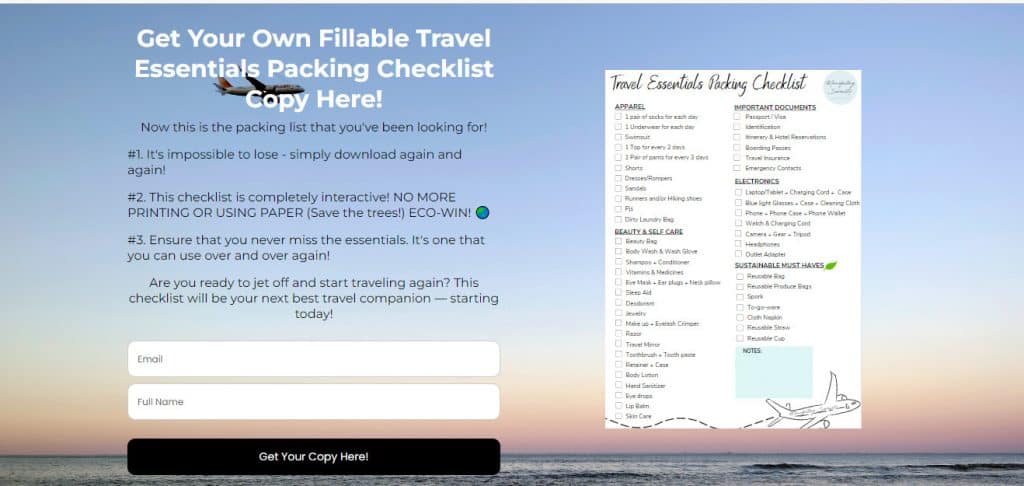 #3. Ensure that you never miss the essentials. It's one that you can use over and over again!
Not to mention, that there's no wiping, scribbles, or even ripping, you'll be able to recheck and double check to ensure your list is true and accurate each time. 
Sometimes, we may run into those trips that we pack for, over and over again, until we just are sure that we have each item, and we're not missing a thing! Simply erase and begin again and again!
Personally, I'd say that every time I go without using a checklist, I've forgotten something. Especially the important things; like my fast charger, natural and eco-friendly shower stuff, and vitamins. 
Unfortunately, those aren't just something that can be picked up at the local or international grocery store, those are "specialty" items. Especially for allergies!
So, let's ensure that you don't miss the important things either – grab your Interactive Travel Essentials Packing Checklist HERE!