/
TAKE A DIP IN THE CENOTE TULUM HEART OF PARADISE – CORAZON DEL PARIASO
Take a dip, dive, soak up rays and enjoy the Cenote Tulum Heart of Paradise in the center of Tulum itself!
Cenotes are considered in Mayan history and culture, thousands of years ago they were used for ceremonies and rituals because they are considered doors to the underworld. In fact, there were many ceremonies performed at this specific cenote. 
Also, this cenote is specifically known for it's shape. From above, this special cenote Tulum resembles the shape of a heart. Of course, it's been formed to this shape over the years, by the river itself.
Along with the cenote being heart shaped, the locals have actually embraced the heart shape through many different heart shaped items and architecture for people to enjoy. For example, a heart shaped dock, hanging ornament, bench, mirrors, and windows. It's quite adorable, really!
Without a doubt, this is cenote is full of hearts and love, and it especially shows with the amount of care that the locals put into it. Funny enough, one of the workers had actually asked us to really be careful of a few of the shrubs when we were snorkeling, because they wanted the utmost care of the area and land.
Some links in this post may be affiliate links or this article may contain sponsored content, which means if you make a purchase, we receive a small compensation at no added cost to you. As an Amazon Associate I earn from qualifying purchases. Any purchases you make helps to keep this blog going and keeps our content free. I truly appreciate your support! Visit my Privacy Policy & Disclosure Policy for more info!
tULUM CENOTE ADMISSION & COSTS
Fortunately, this cenote is actually quite inexpensive compared to others. It's only about 200 pesos ($10ish USD), while others are around 500-600 pesos ($25-30 ish USD).
Overall, this includes parking, and a full day's entry! Which is great!
Also, if you're looking to rent snorkel masks, they are available there as well. Although I'm not sure the price because I had actually brought my own snorkel mask. If you're looking for a good  snorkel mask, then I highly recommend this mask here.
I've tried a few and have found this one to be the best. It covers the entire face, has a self sealing breathing tube, and an area for the go pro to attach to! How fun is that?
Alongside the snorkel masks in the same little hut, there are fruits, drinks, and snacks available for purchase also!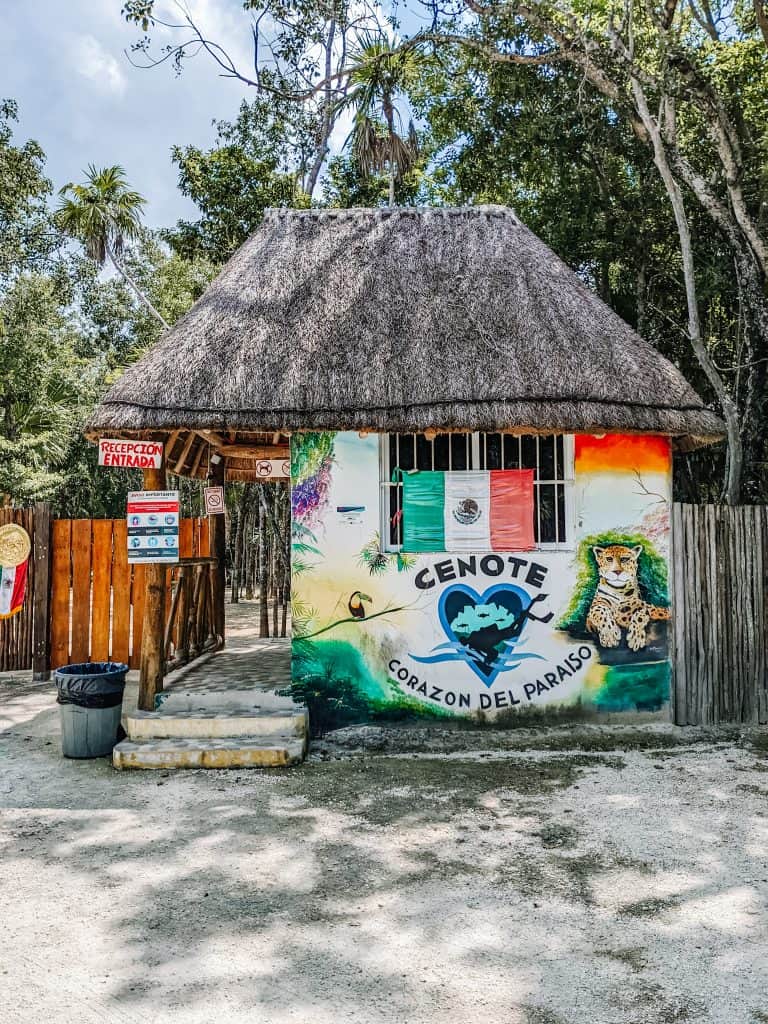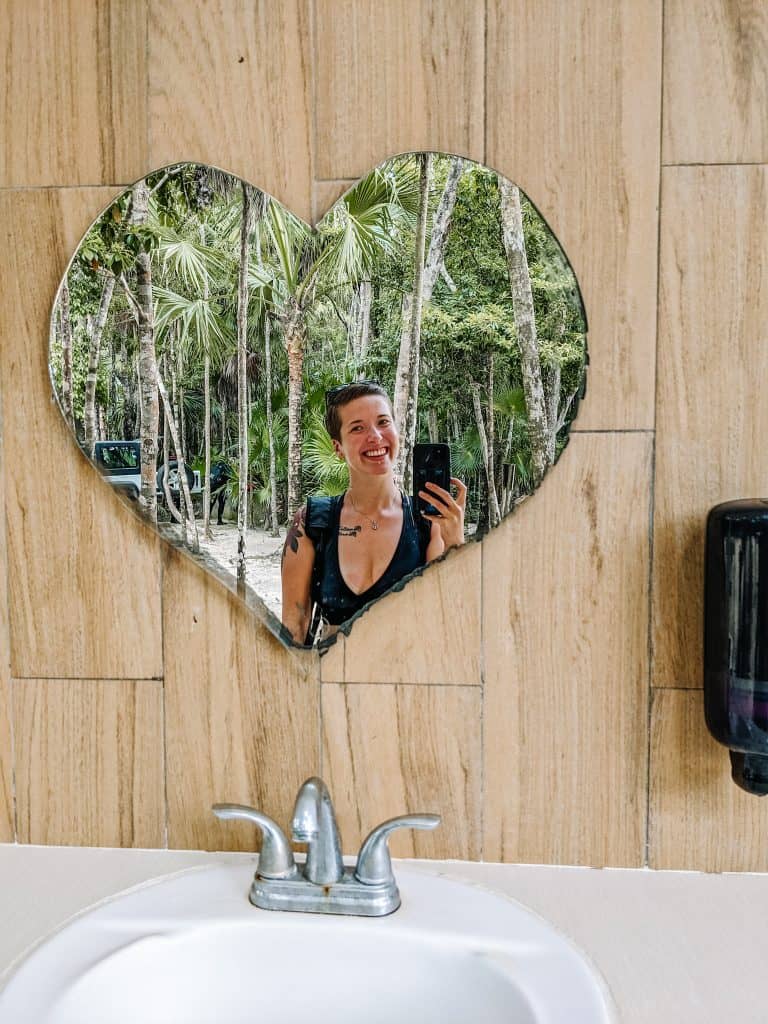 LOCATION
Fortunately, this cenote is located about only 12-15 minutes, or about 7 to 8 Kilometer from downtown Tulum. Which makes this an easily accessible cenote too!
Also, just a heads-up, the road has some pretty deep potholes, so be sure to drive slow and even if you have a small car you'll be able to make it just fine.
WAYS TO ENJOY 
Of course, there are many more ways to enjoy beyond these few ideas, but nevertheless, these are still some great ways to make the most of your visit to the cenote!
#1. Sun bathe 
OF course, Mexico if filled with everlasting sunshine, and what better way to cool off after soaking up rays, than in the cenote.
#2. Snorkel around and explore with new eyes
Being underwater is like exploring a whole new world! Especially because the foliage, wildlife, and scenery is just so vast. 
#3.  Explore the underwater caves
Even though I personally didn't know about this until after I left and the locals had told me, that doesn't mean that you can't explore it! Comment below what you thought of the cave if you find it!!
#4.  Take photos with all the hearts
All around the cenote the locals have placed heart shaped items and decor to be found.
Let's see if you can find them all:
Heart shaped bench

Hanging Woven Heart

Heart Doc

Heart Mirrors

Heart Windows
And more…
Did you find more heart shaped things? Be sure to tag me and share what you've found, I'm curious to see what they add over time.
#5. Swim around and relax
Although swimming is relaxing, you may also be accompanied by some small fish that like to nibble. (maybe even nibble on butts! ha!)
#6. Jump off the diving board
Some people even decided to do flips, spins and even cannonball too! Have fun with it and do what you're comfortable with.
NOW IT'S YOUR TURN TO HAVE SOME FUN & ADVENTURES!
Are you a solo traveler who wants to find more like-minded people and go on amazing adventures like this? Well, not to worry, we actually have group travel trips that you can join in on too!
LOOKING TO JOIN IN ON THE NEXT ADVENTURE? BE SURE TO BOOK YOUR NEXT ADVENTURE  ➟ Travel With Me