/
CHOOSING WHERE & HOW TO SHOWER WITH YOUR CONVERSION CAMPER VAN
At the beginning of van life, it was quite easy to stay on top of hygiene while in a conversion camper van, but things get dirty very quickly! However, it's also extremely easy to clean too!
Not only does the van get dirty quickly, but so do we! Ha! 
So, knowing our shower options can really allow us to stay on top of our hygiene needs.
Especially since,  and every single person has different shower preferences and levels of hygiene needs. 
So, over time we gradually figure out what does and does not work for us, or what we do and don't mind doing. 
Below are some options to help you transition into conversion camper van life hygiene.
Some links in this post may be affiliate links or this article may contain sponsored content, which means if you make a purchase, we receive a small compensation at no added cost to you. As an Amazon Associate I earn from qualifying purchases. Any purchases you make helps to keep this blog going and keeps our content free. I truly appreciate your support! Visit my Privacy Policy & Disclosure Policy for more info!
SHOWER OPTIONS
As a reminder, you must be sure to shower at least 200 feet from any water source, and must use biodegradable products.  By following these practices, we can ensure that our waterways stay clean, and uncontaminated. 
Additionally, you will need to seek out spots that give you enough privacy to shower, especially since in most areas public nudity is illegal, so be sure to avoid residential neighborhoods. 
Solar Shower Pipe & Solar Shower Bag
After having the solar shower for most of the time I was living in the van, I quickly began to realize that the solar shower required intense sunlight, of course! 
However, it quickly became a problem once the van inside would become at least 10 degrees hotter whenever it sat in the sun. 
As someone who is most comfortable between 50-75, I began to see this is an uncomfortable option for me, although it works well for others!
Overall, this option works well for most, and people love how it stores so well on the outside of the van instead of it taking up room inside the van. 
Also, others enjoy the durability and expansive uses for it too.
If you're interested in checking it out to see if it may work for you, check out the Solar Shower Pipe  here and the Solar Shower Bag here.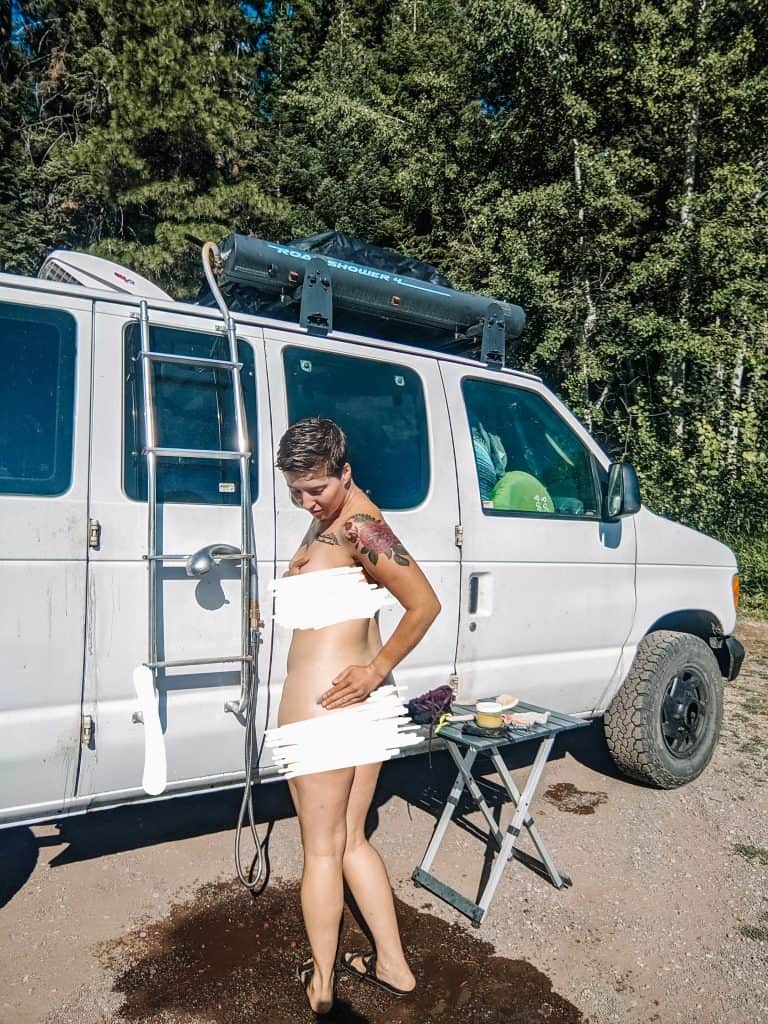 Propane Shower
Undoubtedly, my favorite option, this shower was extremely useful for showering, doing dishes, and even laundry.  
Fortunately, the traveling propane showers are so easy to use and heat up so fast, they just make sense! I wish I would have switched sooner!
Check out this propane shower option here.
Installing a Shower
So many people look at wanting to add a shower into the van itself, but that poses so many other issues and problems.
Some examples of these issues are; piping issues, more water storage needed, adds a lot more weight, they're extremely expensive, it takes up most of the floor space, and leaking can happen. 
After reading many articles about it, I found it to be less worth getting a conversion camper van with a shower installed into it.
WHERE TO FIND SHOWERS
State Park Campgrounds 
Fortunately, finding showers at State Park Campgrounds is pretty common, and they tend to be easily accessible.
Typically, the showers operate on a coin basis, and last for a matter of a few minutes until they require more coins. 
RV Parks
Overall, RV parks are great if you're wanting to get all your cleaning done in the van, but the costs quickly add up if staying on a regular basis.  The costs can range and start at about $20/$40 per night minimum. 
Most of the RV parks can accommodate laundry, water fill-ups, showering, and have plenty of space to clean out the van.
Recreation Centers 
Thankfully, recreation centers have a multitude of available accommodations and can be decently affordable for a day's fun alongside refreshing hygiene needs. 
Typically, recreation centers can have pools, hot tubs, saunas, sport and workout equipment, as well as some classes or events.
Spas
One of my favorite spas in Lynnwood Washington (QSPA) actually has a wet sauna, dry sauna, hot tub, cold pool, normal pool, meditation rooms, and showers for only $20. Plus, they have full-body scrubs, massages, and other spa treatments. 
Although they can be a pricier option on a regular option, they are worth looking into every once in a while for a nice treat.
Gyms
Another great option is going to the gym, not only can it be great for exercise, but they have pretty affordable showers. 
Some may even have pools, saunas, classes, and more!
A great and popular option is Planet Fitness, which is about $10 a month for $20 a month. Not only are they pretty affordable for regular showers, they also have massage beds, infrared saunas, and more.
Just make sure to inquire gyms that are widely spread and fairly accessible during your travels, like 24-Hour Fitness or Planet Fitness.
Family/Friends House 
Undoubtedly, family and friends are usually accommodating and offer up their space when hosting, which is a great time to catch up on some hygiene needs! 
However, don't forget to extend out that favor as well, maybe pitch in to help clean or even make everyone dinner for a night. Just don't forget to show your gratitude.
Truck Stops
So, for truck stops, they typically have a pretty large bathroom and even private bathrooms that have showers!! Woo-fancy! Ha!
Also, there is an app called Trucker Path, which shows a multitude of things from bathrooms, showers, laundry, Wi-Fi to rest stops.
Simply, punch in your location and find stops closest to you, or along the way.
However, this option can get pretty pricey in comparison to a gym membership, and generally start at $15-$20 for a single shower.
Overall, whichever way you decide to start off maintaining your hygiene needs, just make sure to remember that you can always change your mind later or try different ways alongside your journey. 
After all, every journey looks different, do what works best for you and what makes you happy, as long as it doesn't hurt others or our beautiful planet. 
Make sure to share with anyone you want to do van life with or any of those you know looking into it, the more resources we have, the better prepared we will be!
MORE CAMPER CONVERSION VAN ARTICLES YOU'LL ENJOY: