/
DISCOVERING THE ECO FRIENDLY ASPECTS OF LIVING OUT OF A VAN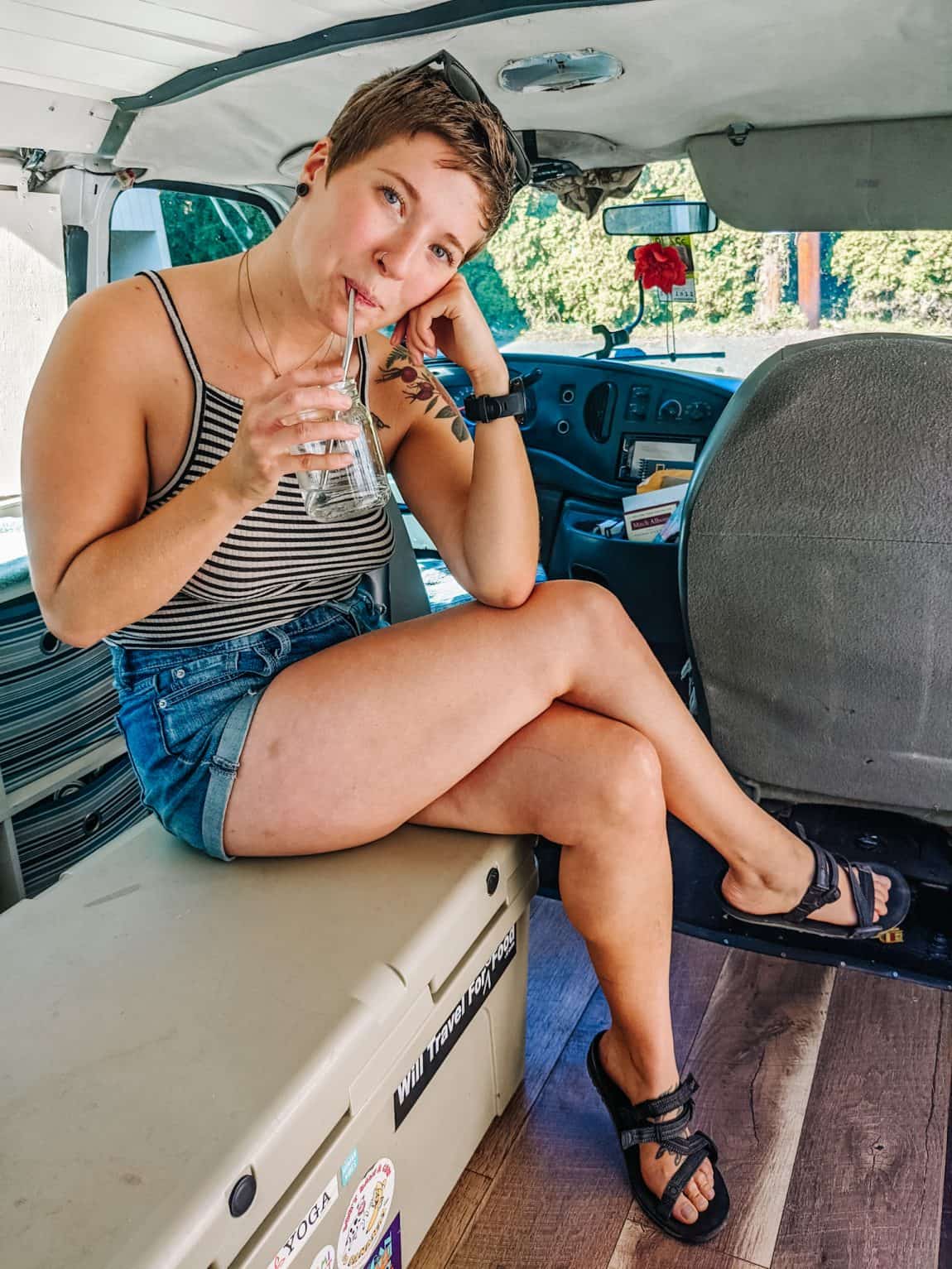 In this article, I share how to keep your desire for living in a van, without compromising your love for the planet.
Additionally, living out of a van has become a huge movement and the controversial subject of it being or not being eco-friendly is becoming evident. 
So, I thought I'd share some of the ways I've come to discover that van life can accompany an imperfectly sustainable lifestyle.
Some links in this post may be affiliate links or this article may contain sponsored content, which means if you make a purchase, we receive a small compensation at no added cost to you. As an Amazon Associate I earn from qualifying purchases. Any purchases you make helps to keep this blog going and keeps our content free. I truly appreciate your support! Visit my Privacy Policy & Disclosure Policy for more info!
1. LESS ELECTRICITY USED
Apart from a typical household, a van is so much smaller and requires way less electricity to thrive. 
Let me share a few examples;
Vacuum

— I personally use a small hand broom that also works on the short-length carpeting, so there is no need for a vacuum.

TV

— Although some van conversions have a television, I choose to not have one. The reason I chose to not have a TV is because it poses a higher risk of theft, it requires more power, it takes up space, and I personally get my enjoyment from reading or getting outside.
Homes in the U.S. contain more TVs than they do people. -relevantmagazine
Microwave

— Less space, means a higher priority on electrical consumption, for most this is the first to go. Unfortunately, microwaves take up too much space, are less of an essential, and even give off massive radiation. So, life is actually easier and better for us without it!

Lighting

— Moreover, a house requires so much more lighting for the large rooms, which wastes 10x more electricity, rather than lighting up a van.

Smaller appliances —

Additionally, the home has appliances at least 2x — 3x larger than a van, which also means more to power and maintenance. An example would be a fridge, stove, oven, etc.
Some of these aren't even required for living out of a van and can be made to fit your lifestyle.
2. SOLAR POWERED
Undoubtedly, when powering a house with solar panels, most choose not to. 
The biggest reason why most people choose to not get solar panels is because it's a huge investment and installment.
Luckily, living out of a van and having solar is extremely user-friendly and quite a bit more accessible. 
Not only, are they more affordable, but they are also easier to install for a small space and can power a small space efficiently.
This is part of the basic solar setup I have below:
3. WATER PRESERVATION
Certainly, not many expect this one, but water preservation just accompanies living out of a van. 
Typically, a van setup doesn't have an 'endless water' supply and is usually set up with a contained water supply. 
In other words, a contained water space means people have to be more conscious of their water usage, or they will run out fast! Which is absolutely great, for water preservation! ECO-WIN!
Speaking of water conservation, check out this article on 8 WAYS THE WATER USAGE PER PERSON CAN BE REDUCED.
4. COMPOSTING
Of course, not every person living out of van compost, but I personally choose to. 
Firstly, composting in the van is extremely easy, especially with the right resources. 
Check out this article where I elaborate on the resources and how to compost from anywhere, even on the road, HAVE YOU HEARD OF SHAREWASTE?.
5. NO DAILY COMMUTE
Evidently, most of our society commutes to work, which is even worse for the environment.
As of 2018, there were 4.3 million workers with commutes of 90 minutes or more, up from 3.3 million in 2010. – Washington Post
If we shift our perception, and think of living out of a van as a swap for that commute, we would probably still save on gas and emissions regardless. 
As an example, when living out of the van, most people are working online and not driving every single day. 
Also, most van lifers have the option to park just about anywhere for any length of time they desire. Some, even smarter, van lifers pair their van lifestyle with bicycles, which is a great duo!
6. LESS CONSUMERISM
As a result of having a smaller space, reducing consumerism closely follows. 
For instance, we don't have the spare space to fill with more stuff. Some examples of this could be knick-knacks, kitchen appliances, furniture, decorative items, 
Overall, there is no room to have useless items, and no space to have doubles either. 
Lastly, having a van space really allows us to concentrate on having quality or quantity, as well as see what items are truly essential. 
Have you ever heard of minimalism? You may enjoy this article, 7 BEGINNER MINIMALISM LIFE TIPS
LOOKING FOR MORE ARTICLES FOR LIVING OUT OF A VAN?
Overall, living out of a van can actually be quite eco-friendly if done continuously. 
Sometimes, we limit ourselves thinking we have to be 100% and completely sustainable always, this thinking is destructive. 
Unfortunately, thinking like that will overwhelm us and will shut down our ideas or efforts in living more sustainably. 
Our goal should be to live our lives in the best and most sustainable way we can, without shutting ourselves down and remaining realistic. 
Let's do the best we can while still enjoying our life, now go enjoy your beautiful life and love our planet in the process!
Comment below if any of these surprised you and shifted your perspective on van life.
Also, don't forget to share with your friends who are thinking of van life, I'm they would love the inspiration and to know you're thinking of them!