/
6 THINGS TO CONSIDER BEFORE BECOMING A VAN LIFE TRAVELER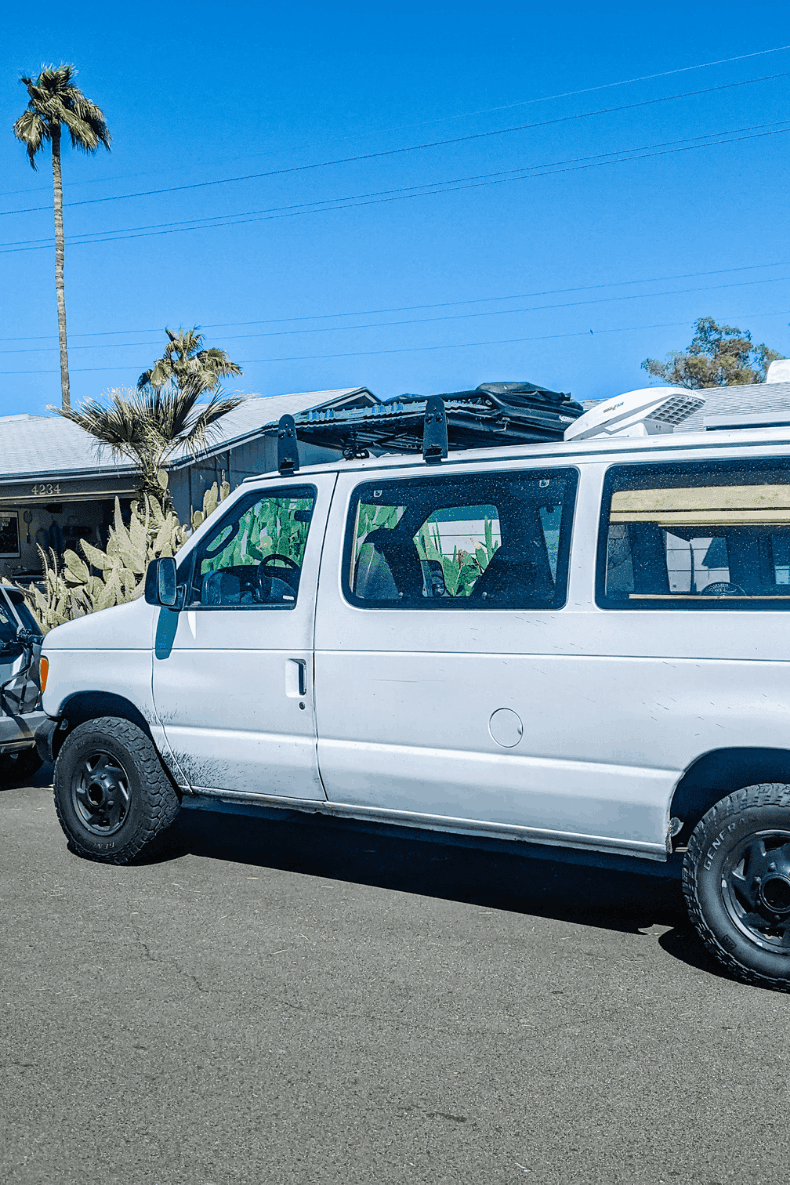 These things aren't covered much on the media, but they are definitely a necessity and should no go overlooked for any van life traveler.
Some links in this post may be affiliate links or this article may contain sponsored content, which means if you make a purchase, we receive a small compensation at no added cost to you. As an Amazon Associate I earn from qualifying purchases. Any purchases you make helps to keep this blog going and keeps our content free. I truly appreciate your support! Visit my Privacy Policy & Disclosure Policy for more info!
1. STABLE AND FLEXIBLE INCOME/FINANCES IS IMPORTANT
To buy a van we obviously need a little money right? But to also keep a van, we need more than a little money. Vans are costly at the beginning and throughout the lifecycle. 
The van life costs can either be as inexpensive as we would like it to be or as luxurious as we would like it to be, but it's not free.
Many expenses to consider with van life can be anything from gas, parking spaces, insurance, mechanical repairs, etc. (I can share more on the finances with van life if you'd like! Just request an article below in the comment section!)
Think of it this way, when using a rubber band over and over and over again we start to wear down the rubber band, and it eventually breaks. This concept can be applied to us using almost anything in life. 
However, with a van, there are a lot more moving pieces and parts to it. So, there is more that wears down over time, and also means there is more that needs to be fixed and replaced. 
I highly recommend having a solidified savings and a steady flow of at least part-time income coming in.
Try looking into remote work or even freelancing to cover some basic expenses and add to your emergency savings. (Want an article on how I work remotely?)
2. EACH COMMUNITY HAS A DIFFERENT CULTURE
After traveling through many cities and states, understanding that each area has it's own culture. 
Think of the different culture between say Seattle, Washington vs. Salt Lake City, Utah. I'ts a completely different culture, right? 
Whelp, just know that our respects and understandings have to shift as well. Each culture has different rules, regulations, traditions, and even language lingo. 
So, keeping an open and curious mind vs a judgmental one will allow us to understand and see others better.
There is nothing worse than feeling disrespected or unwelcome, let's show the same respect to others, equality for the win!
3. BEING A VAN LIFE TRAVELER DOESN'T HAVE TO BE FULL TIME
There is a lot of hype right now about van life full time, but I want to go ahead and release that pressure. Trying out van life part-time or maybe a couple of weekends a month is just as fun and fabulous. 
Being a full-time van life traveler comes with it's own set of positives and negatives. Slowly transitioning or trying it out can really help us grasp the idea of van life before fully committing as well. 
Sometimes it can be hard to make that first step or even the commitment of full time. 
Another great idea could be to think of it like a camper or an RV, some people only take those camping every once in a while, think of yourself as having the same freedom.
4. BE MINDFUL OF YOUR BODY'S NATURAL RHYTHM 
Oftentimes, living in a van and constantly driving from place to place can leave our natural circadian rhythm at a bit of a tipping point. 
A circadian rhythm is a natural sleep–wake cycle that repeats roughly every 24 hours and is affected by our environments. Shifting and changing our environments can really disrupt this cycle.
Consistent driving and flying disrupts this cycle, being mindful of resting and breaks is extremely important. I often think of a battery when I think of resting, a battery has to recharge between uses, and it's the same thing for constantly being go-go-go!
So be mindful of your natural rhythm and what recharges you. Mine is going to bed at 9:30, waking up at 6:00, taking power naps when needed, and not doing any driving for at least 1 day a week. Almost forgot, I also take a lazy lounging around or spa weekend at least once a month too!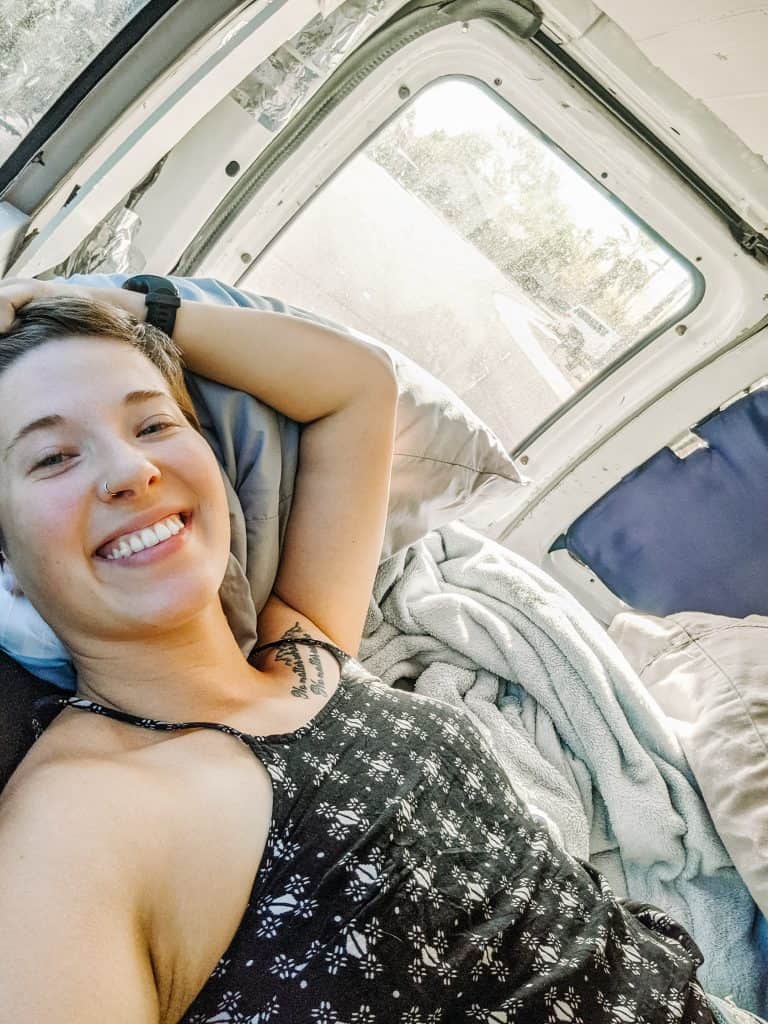 5. HAVE A BASIC UNDERSTANDING OF YOUR BIOLOGICAL NEEDS
Have you ever heard of Maslow's Hierarchy of needs? Maslow's hierarchy of needs is a theory in psychology comprising a five-tier pyramid model of human needs. This theory is an absolutely astonishing theory to be referred to with almost any decision in life. 
I know that can come across as intense, but the way the pyramid is set up shows us that in order to build our life up and get to the top tier, we must cover the baseline needs first. 
To make it a little easier, think of it as a mental checklist. Here is an example of how to do that with van life, "This van has a bed for me to rest, A/C & heat for comfortable warmth, water pump with 10 gallons of water, and a cooler for storing food. It looks like it covers basic needs." 
Each person is going to have different increments of what their biological needs are and how to meet them.
Want more of a detailed idea on how I make sure all my needs are covered, possible article idea?
6. HAVE A BACKUP PLAN
Sometimes there are things that happen in life, that we cannot control. So, the best way to handle those situations is to have a backup plan!
Having a backup plan can be applied in a few ways with van life. 
Firstly, make sure you have all your emergency supplies like a car jack, tire iron, extra oils, etc. (Want an article on emergency preparedness with van life? Leave a comment request!)
Secondly, know your emergency contacts. Most people these days have AAA or even roadside assistance with their insurance. Both are great choices!
Another great idea is a roadside kit, like this one here! Also, always keeping a first aid kit nearby or on hand is never a bad idea too! This first aid kit here is the one I have. I personally like this one because it's so multi-purpose. 
Finally, when you're finished enjoying this freeing lifestyle, have a back-up plan for your transition out of it. There is nothing more crappy than feeling stuck, that's why we like this lifestyle in the first place, right? 
Having emergency savings, room to be able to rent out with a friend, or even just a simple idea of where we would like to settle for a while to heal and recoup can be just as important.
Let's ease our minds into the freedom of having a backup plan.
After reading these, if you think you can, you're ready to become a van life traveler, comment yes! If you don't think you're ready, comment below and tell me why, maybe I can help! I guarantee someone has the same question as you.
Enjoyed this article? Check out these other similar articles below!
PACKING FOR A ROAD TRIP CHECKLIST
PACKING THE BEST ROAD TRIP FOOD