/
PACKING THE BEST ROAD TRIP FOOD
The trick to the best road trip food is buying small quantities, keeping everything as fresh as possible, and getting plenty of variety! Let me elaborate.
Always try to consume adequate amounts of proteins, carbs, fruits, veggies, greens each and every day. I highly suggest mixing it up to hit each suggested serving size!
Disclaimer: I'm not a certified nutritionist or a doctor, but I really urge everyone to hit all the recommended servings. I also do not focus on recipes, as they are not my specialty.  I want to put more of an emphasis on easing into packing food for a road trip!
Meal prepping ahead of time can really take the edge off. Sometimes there is an extra headache that comes with urgently searching for a next meal. Plus, it will allow us to have better choices, last minute decisions can lead us to make unhealthy choices.
Oftentimes, the best road trip food is clean and fresh, which can really make a difference with clarity and our digestive system. Oftentimes on road trips, we are sitting, experiencing elevation changes, and the vehicle we are in is shaking our bodies. For these reasons, staying hydrated with the right fuel is always best!
Also check out the article HOW TO EAT OUT PLASTIC FREE, when choosing to go out to restaurants while on the road!
Some links in this post may be affiliate links or this article may contain sponsored content, which means if you make a purchase, we receive a small compensation at no added cost to you. As an Amazon Associate I earn from qualifying purchases. Any purchases you make helps to keep this blog going and keeps our content free. I truly appreciate your support! Visit my Privacy Policy & Disclosure Policy for more info!
Breakfast
Fruit
Generally, when choosing fruits, I get one or two that are perfectly ripe and then choose a couple more that are under-ripe. Typically, by the time I've eaten the perfectly ripe ones, then the under-ripe fruits are ready. 
Getting all ripened fruits oftentimes can become a mess and a waste.  There have been so many times that I had bought ripened fruits and later found 2 smashed to the bottom of my bag or cooler because they ripened faster than I could eat them.
Also, choosing fruits that don't need to fit into a cooler can really save on cooler space, be easier to grab, and are typically less messy!
Furthermore, avoiding large fruits that take up tons of cooler space is key! A couple of examples would be melons and pineapples!
Under ripe bananas 
Apples
Tomatoes

(Yes, these are a fruit!)

Avocados

(Yes, these are also a fruit!!)
Fruits that require cooler space & go bad faster, but are still delicious!
Berries

Strawberries

Blueberries

Blackberries 
Meals
Fruit parfait 

Granola

Dairy free probiotic yogurt 
Fermented foods really aid the digestive system, especially while on the road!
Chia seeds

Fruit: Strawberries/mangoes/berries/bananas

Nuts & seeds
Protein Shake

  

Oatmeal or overnight oats

Oats

Fruit

Nuts (Pecans, Almonds, Walnuts)

Sweetener (Maple syrup, Agave, Raw sugar)
These typically have to be premade or made using a travel blender like this one here! These also store great in mason jars too!
Fruits

Seeds (Hemp seeds, flax seeds, chia seeds)

Greens

Superfood powders
Granola

Nut milk

Fruit: Bananas and/or Apples

Nuts and Seeds (walnuts, pecans, pumpkin seeds, chia seeds, flax seeds)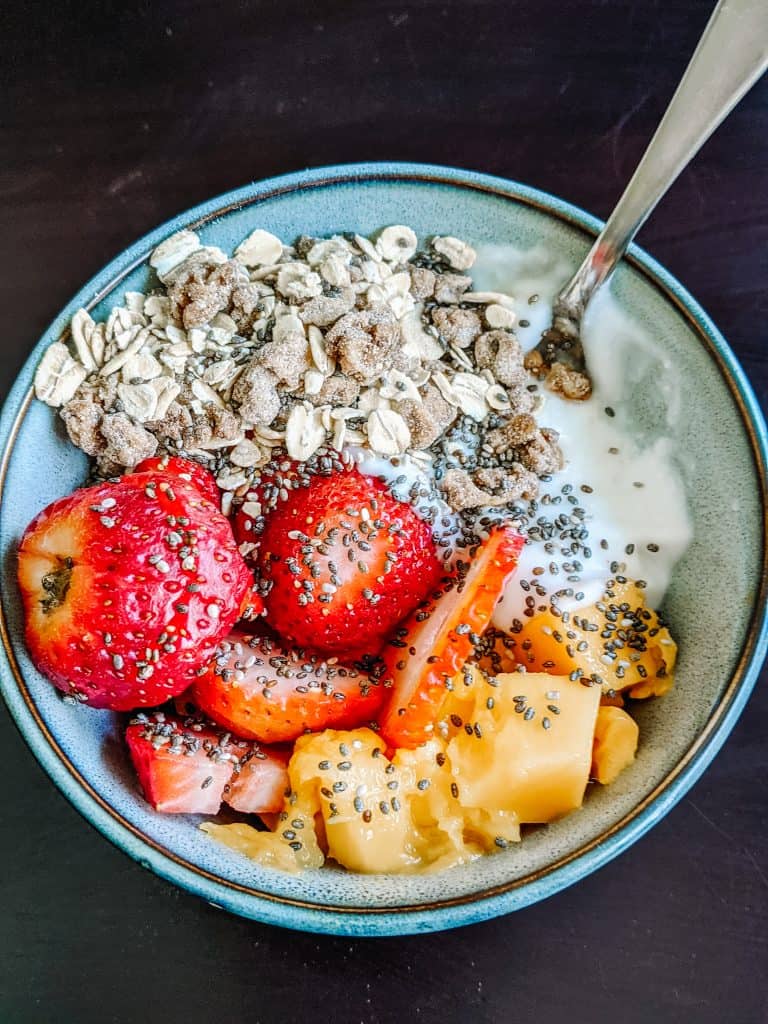 Snacks
Energy Balls = Dates + Oats + Nut butter + Seeds + Nuts
Guacamole + chips or crackers
Nuts & Seeds (Cashews, almonds, pumpkin seeds, sunflowers seeds, pecans, walnuts)
Crackers & Fermented nut cheese
Chips + Hummus or Bean Dip
Potato wedges + Hummus or bean dip
Avocado + Salt or lemon juice or salsa
Dark chocolate coffee beans
Fermented Sauerkraut or Fermented veggies
Fermented sauerkraut gives us a serving of vegetables, while also aiding our digestive system with healthy enzymes! YUM!
Lunch
Oftentimes, I try to keep lunches cold and not needing to be cooked, this saves on time and energy. The best road trip food goal for lunch is aiming to keep lunches uncooked, but having the meal light and packed full of energy. A heavy meal can make us lethargic and craving a nap.
Hummus + Raw Veggies (carrots, mushrooms, celery, broccoli, cauliflower)
Gazpacho – blended raw veggie soup
Charcuterie Boards – An array of mixing up snacks 
These bamboo cutting boards are the easiest to display on for the road trip! There are square ones here or even lightly rounded edged ones here!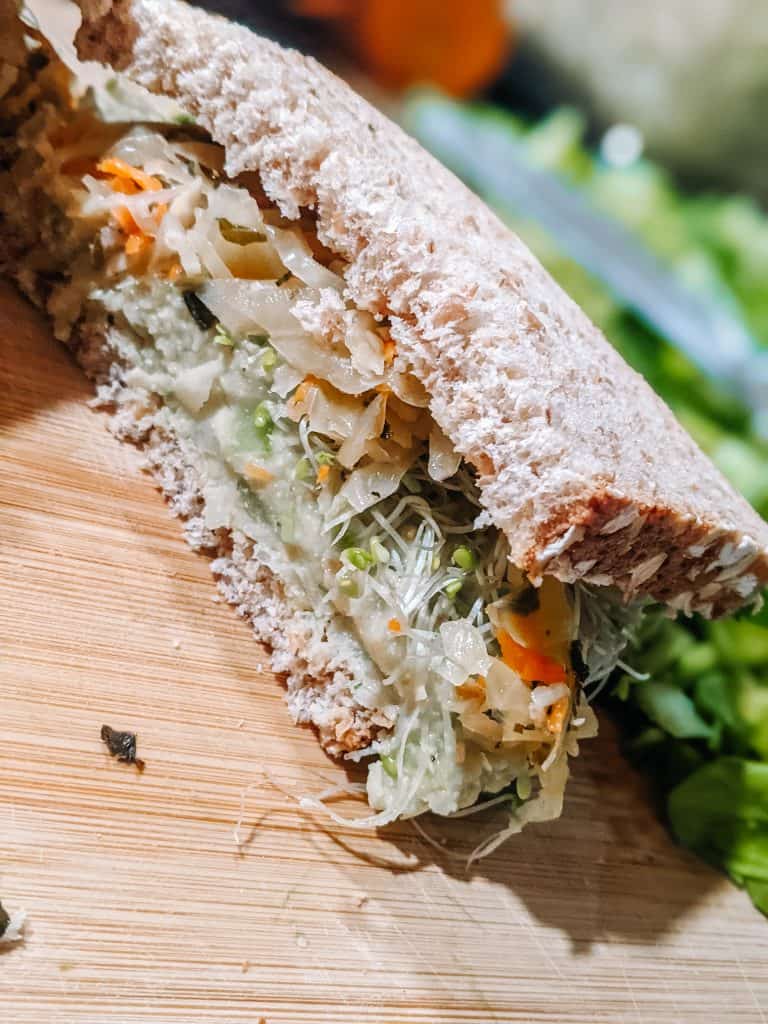 Dinner
I typically crave something warmer and heavier in the evening to start preparing me for bed.
Bringing a small cooking setup can be ideal for those that don't want to meal prep. Here is the Coleman stove I typically cook with on a road trip.  Most portable cooking stoves also require propane, this is typically what I use here. 
These are just some basic examples, and there are so many variations of them!
Pesto

Alfredo 

Classic Tomato

Olive oil + Vinegar Base
Tofu, Shitake Mushrooms, Beans

Bell peppers, Zucchini or summer squash

Salsa

Cilantro

Avocado

Lime

Taco seasoning 
Similar variation to tacos but wrapped differently
Broccoli cheddar

Veggie soup

Potato soup

Pho soup

Miso soup
Stuffed baked potato (These are especially delicious when baked in a campfire!)
Vegan cream cheese

Vegan cheese

Scallions/chives

Sautéed mushrooms +onions +garlic
Grains: quinoa or rice

Steamed or Sautéed Greens

Steamed or Sautéed veggies

Protein: Tofu/Beans/Shitake Mushrooms
Ramen noodles + Veggies + Greens
Not sure if you noticed, but I'm a vegan! These meals can be made in any variation, and I just give a basic overview of the possibilities.
The best road trip foods to me stem from; organics, sustainably sourced, and zero waste. Want an article on how I shop sustainably? Please comment below!
Want to see how I store everything while road tripping? Comment below and I can create that article!
♻ Sustainability Tip: So many of these goodies can also be composted when you're done or if something has accidentally gone bad on you! I've written an article on SHARE WASTE, which shows us how to compost almost anywhere, especially on road trips!
Do you have anyone you want to go on a road trip with? Share this article with them now!