/
6 EASY STEPS TO EATING OUT PLASTIC-FREE
Eating out plastic-free can seem daunting at first, but after doing it for a while, it will seem as easy as brushing your teeth! Here are some steps to ease into it.
Some links in this post may be affiliate links or this article may contain sponsored content, which means if you make a purchase, we receive a small compensation at no added cost to you. As an Amazon Associate I earn from qualifying purchases. Any purchases you make helps to keep this blog going and keeps our content free. I truly appreciate your support! Visit my Privacy Policy & Disclosure Policy for more info!
#1. RESEARCH
Don't be afraid to reach out to the eatery or wherever you may be staying and just ask if they have compostable to-go ware, cutlery, straws, etc.
This will allow us to know whether we want to do step number #2 or #3. 
Getting to know the eateries and their options will also let us know who is more mindful of the environment and whose efforts could be further supported. 
I always find myself leaning towards supporting the businesses that keep foods local, organic, have compostable to-go ware, and also support fair trade.
Interested in me sharing a shopping sustainable and ethical article? Comment below!
#2. REFUSE
One of the most powerful R's in sustainability is called Refuse! Ever heard of the Rs in sustainability? If not, please comment below, and I will get on writing an article for you!
Just say, "No, Thank you." If they ask, feel free to share the mission!
Refusing single-use items is so crucial in sustainable practices. Single-use items can be cutlery, straws, to-go containers, marketing flyers, plastic bags, and much more!
Every time I don't refuse, I seem to end up with some kind of plastic bag, container, or cutlery.  I immediately feel guilty and then try to find a recycling center near me. Also, trying to find a recycling center near me takes time, gas, and energy. 
Starting off with refuse is more important than we think. Eating out plastic-free is an active choice that is supported by dedication and a true love for the planet, you taking the time to read this article is a great step in the right direction! Keep it up, eco-warrior!
PS: The best thing about refusing is that we don't have to be responsible for that trash and trying to recycle it.
#3. BRING YOUR OWN TO-GO WARE
Surprisingly, this is incredibly easy. Although, this step can be done simply by using what we have around the house. This could simply look like a fork, spoon, reusable straw, knife (with protective cover) all wrapped up in a small towel.
Alongside that wrapped up cutlery, don't forget to bring a to-go container to store the food and a reusable bag to fit it all inside, it makes the process seamless!
Having the kit together in the car and ready to go can make a quick outing hassle-free as well!
Some people also prefer to have a very aesthetically pleasing to-go bundle to get themselves more excited about the process. 
For instance, aesthetically pleasing bundles could be the popular bamboo bundles here or this fancy spork here (I have this one and love it!).
OOOhhh I almost forgot coffee cups! There are so many options for this one. 
There are ceramic mugs like this one here or even stainless steel tumblers like this one here.
I personally have a shaker bottle that a friend gave me years ago that I use for most of my smoothies and protein shakes, and a Hydro Flask I use for most waters, hot teas, or coffees.
$ Frugal Tip: Heck, some people even give discounts to people who bring in their own to-go containers because it saves their company money. Simply just ask!
#4. GIVE FEEDBACK
Most business owners I know want to know what their customers want. It's incredibly difficult to help customers if they don't communicate what they are looking for. 
After many sit-down conversations with business owners, letting them know more sustainable options or asking if they had any plans to implement sustainable options. Most businesses already planned on implementing them or were happy to hear the suggestions I had.
We truly vote with our money and who we give our businesses to, companies know that! Eating out plastic-free is our vote!
#5. SKIP TAKEOUT
I know that this one sounds easier than it is, but believe me when I say sometimes this can push us to be more creative in the kitchen!
Take-out almost always comes with plastic cutlery (even if you opt-out), plastic or styrofoam to-go containers, and all in a plastic bag. 
Here are some motivation statistics:
It takes 1,000 years for plastic bags to start breaking down

Styrofoam doesn't biodegrade and can take at least 500 years to start breaking down

Plastic cutlery can take at least up to 200 years to start breaking down
Of course, I know that we all have those days we don't want to cook and would like to finally take a break from it. I have a couple of tips to make that a bit easier for you!
First, try meal prepping. I spend a few hours in one-day cooking, and it covers my meals for that week. Here are some great containers to help get you started meal prepping. 
These glass food storage containers can be heated up, click here. However, these stainless steel containers are quite a bit more durable, check them out here. I personally have both types!
I highly recommend square, because circular doesn't often fit well in a square fridge or square cooler. Believe me, I've tried! HA!
If you're needing more than meal prepping, try having dinner nights with family and friends to share the responsibility of cooking. This can spice things up and keep our social cup full! 
I once had a friend that did taco Tuesdays and had another friend that would have an Asian-inspired food night a couple of nights a month. Just don't forget to trade off on cooking to keep things fair.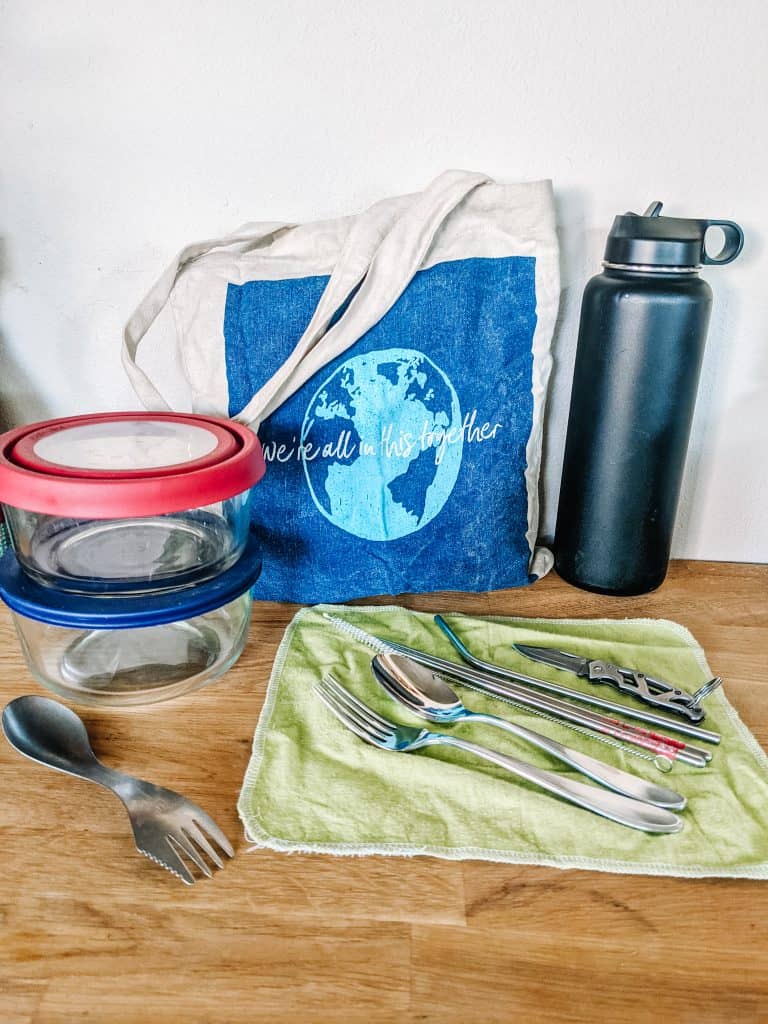 #6. SHARE WITH OTHERS ON HOW TO EAT OUT PLASTIC-FREE
Most people don't see this often; encouraging friends, family, and partners to join in or even bringing an extra container for them can really help encourage more people to join!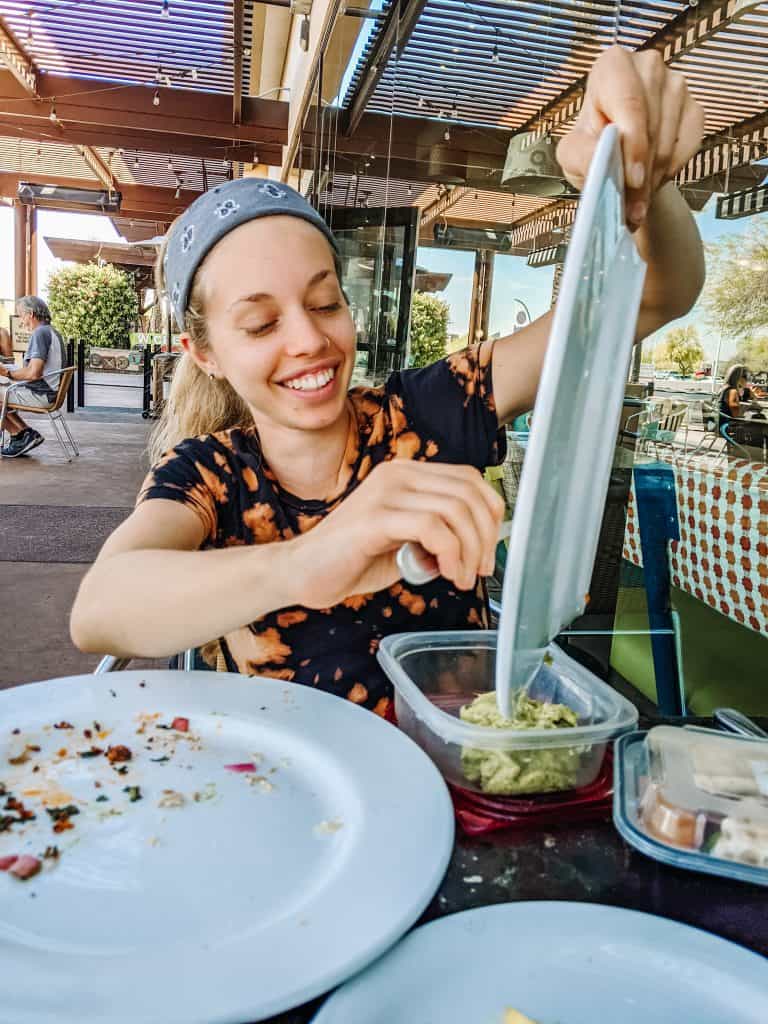 Let's spread the mission, share with those who can use this information!
RELATED ARTICLES: