/
7 SUSTAINABLE GROCERY SHOPPING OPTIONS
When it comes to sustainable grocery shopping, there are so many glorious ways to do it. Often times we can think our options are limited, but if we know what to look for, we can truly find some great ideas.
After moving to many places and getting involved with the communities, I've found these glorious resources to be able to share with you, enjoy!
Some links in this post may be affiliate links or this article may contain sponsored content, which means if you make a purchase, we receive a small compensation at no added cost to you. As an Amazon Associate I earn from qualifying purchases. Any purchases you make helps to keep this blog going and keeps our content free. I truly appreciate your support! Visit my Privacy Policy & Disclosure Policy for more info!
#1. PRODUCE RESCUE / FOOD RESCUE
Generally, produce won't get purchased from retailers or customers because their produce looks imperfect (sizing, blemishes, etc.), not having as high of a demand for that item, or just having too much of that item in stock.
Typically, produce not purchased by customers or retailers, from produce distributors, often ends up being dumped in the landfill. The retailers find it is too costly for distributors to transport back to the growers, so that's why it gets dumped. 
So, companies all over have started organizations towards reducing the amount of waste that ends up in the landfill and redirecting it to homes.
That being said, this was the first company I had ever found and bought from that does produce rescue, and they were amazing, to say the least.
Arizona — Borderlands POW WOW
This organization has many locations scattered all over Arizona and has its set-up similar to a drive-through. Simply drive up, give them $12 cash for 70lbs of produce, and they put it in your car for you. Seriously, 70lbs of produce!! 
Their event happens every Saturday in the morning, usually between 7:00 am to 10:00 am, however, hours may vary. Feel free to check out their website to find their many locations.
Also, If you follow them on social media, you'll get a sneak peek into what kinds of produce are available each week. 
"During our 2018-2019 produce season we were able to rescue 32 million pounds of fresh produce, of that over 5 million pounds (40 varieties) were distributed through our P.O.W.W.O.W. program. This makes a grand total of 76,853 fresh, nutritious produce boxes distributed to families across Arizona." — Borderlands Produce
I actually had the opportunity of being a customer/supporter of theirs, while I lived in Arizona.
Here is a resource for finding other produce rescues, click here!
Please know that these food rescues are not typical to a grocery store where we choose the specific foods we want, these systems are more directed towards whatever they have in access or whatever they were able to divert.
The best ways to make the most of this, are by food preservations/ prep like making freezer meals, juicing, or canning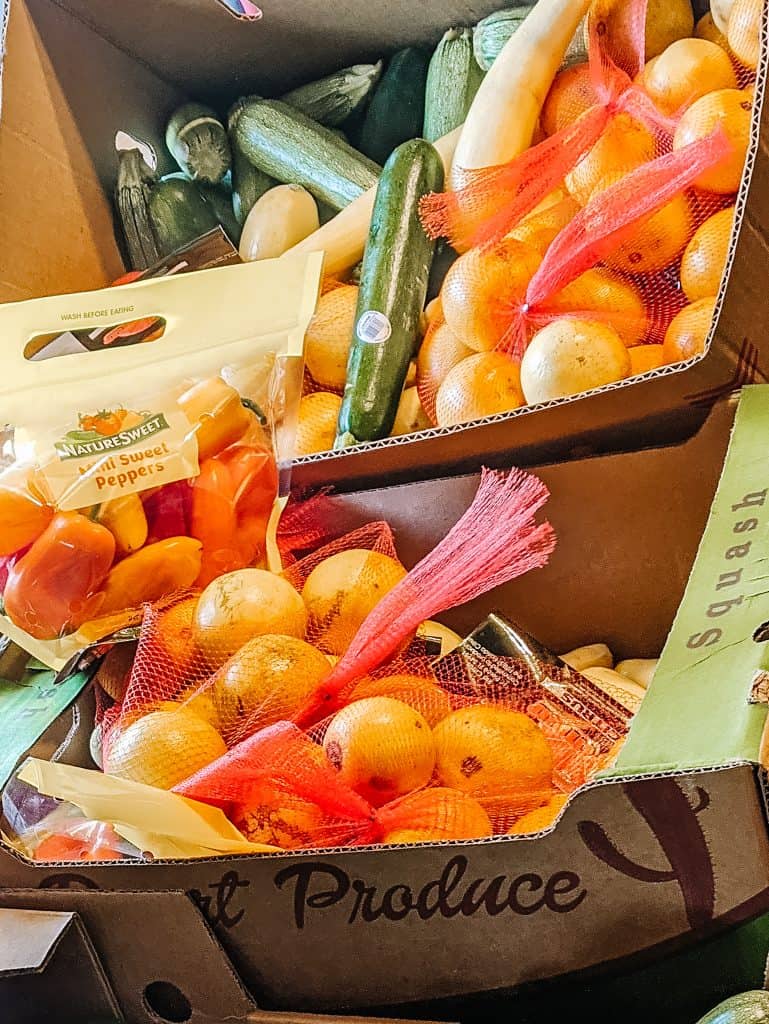 #2. DELIVERED SUBSCRIPTION
Imperfect Foods
Imperfect Foods is truly the first of its kind, a convenient delivery service, that also diverts food from ending up in the landfill. It's amazing!
Available in many locations all over the states, so chances are, you may be able to get them delivered to you too!
I have been following this Imperfect Produce/Imperfect Foods for years now, watching their progress, they have gone from just a small produce rescue to now offering different varieties of foods.
This delivery service is similar to most companies and operates on a subscription basis, so every week we have the option of actually picking the foods we want.
Their produce really is beautiful, it honestly shocks me how companies throw away such perfectly great produce!
Imperfect Foods is currently giving out $80 ($20 off 4 orders) for new members! I don't know of any grocery store offering those kinds of deals, do you? Click here to claim this offer.
I think it would be fun to do an unboxing, what do you think?
#3. FARMERS MARKETS
A farmers' market is typically gleaming with happy, friendly folks sharing their products and foods that they have just poured their heart and soul into, it truly shows!
I swear I can just smell the oven-baked bread and the fresh cut flowers, can you?
Farmers' markets are fairly common, although usually seasonal, this is a great way to support local artisans and farmers, get food fresh, and get a true look at what is seasonally grown in the area. 
Supporting farmers markets/farmers is a critical component in rebuilding the local food economies, reducing emissions, and ensuring food security.
Let me ask you this, what would happen if we had no farmers and no farms? Having no farmers means no food!
Check out this resource for finding farmers' markets near you, click here.
#4. U-PICKS & FARM VISITS
This similarly follows farmer markets, but u-picks are extremely overlooked because they aren't as convenient.
However, planning an outing or a picking session with friends or family can be a fun experience.
Best of all, u-picks offer an exhilarating experience of seeing where your food comes from and how it's grown, but it doesn't truly get any fresher than that! Straight from the plant to your plate (or mouth, ha!)
After searching a few platforms, I had finally found one that was not only easy to navigate, but was actually U.S. run and operated. Of course, this keeps the support even more local! YAY!
Check out this website here, to find some u-picks near you. Better yet, this resource lets you choose the state and gives the farm name, address, farm type, and produce available.
Now that's a bit more convenient!
Plus, UPick Farms USA is growing! So, check back often to see what new goodies they unveil, I definitely look forward to seeing what deliciousness can be picked next!
#5. LOCAL FOOD CO-OP
A food co-op is a grocery store owned by locals in their community. Co-op grocery stores are the place to find the best local foods because they know their local farmers and family business owners by name, and food co-ops are passionate about giving back to their communities.
A food co-op is typically a farmer's market and grocery store combined, they are a great option for sustainable grocery shopping. They offer varieties of the farmer's market, with still having the basis of the essential foods as well.
Explore this resource to find out where your local co-ops are, click here.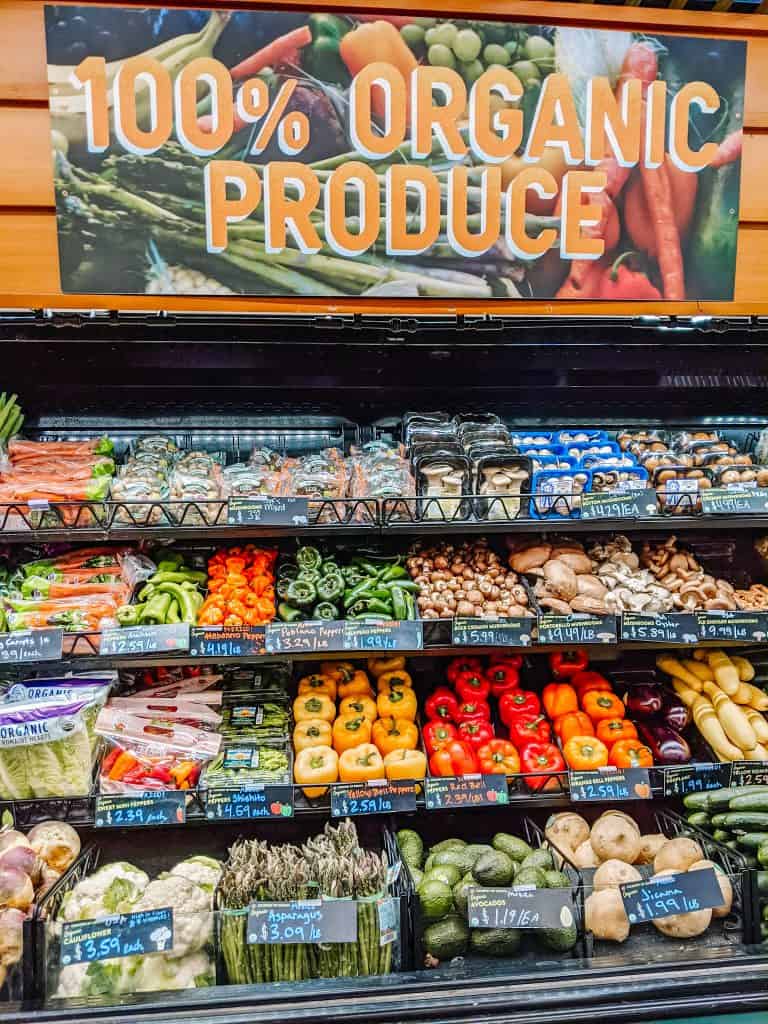 #6. FORAGING 
After foraging for years myself, I know how truly thrilling it is to forage for your own food. Almost any climate has a different abundance to offer, as well as the seasons. In every area, there are phases of the plants and to with which you can harvest. 
Don't know where to start with foraging or gleaning? 
Start by finding classes in your area and buying a couple of educational books to cross-reference, there are an amazing amount of resources out there to choose from. Please just double-check before consuming. 
There are many types of goodies to forage, some examples could be nuts, berries, mushrooms, roots, seeds, fruit, greens, etc. 
Would you be interested in an article on foraging? Please comment below, I'd love your input!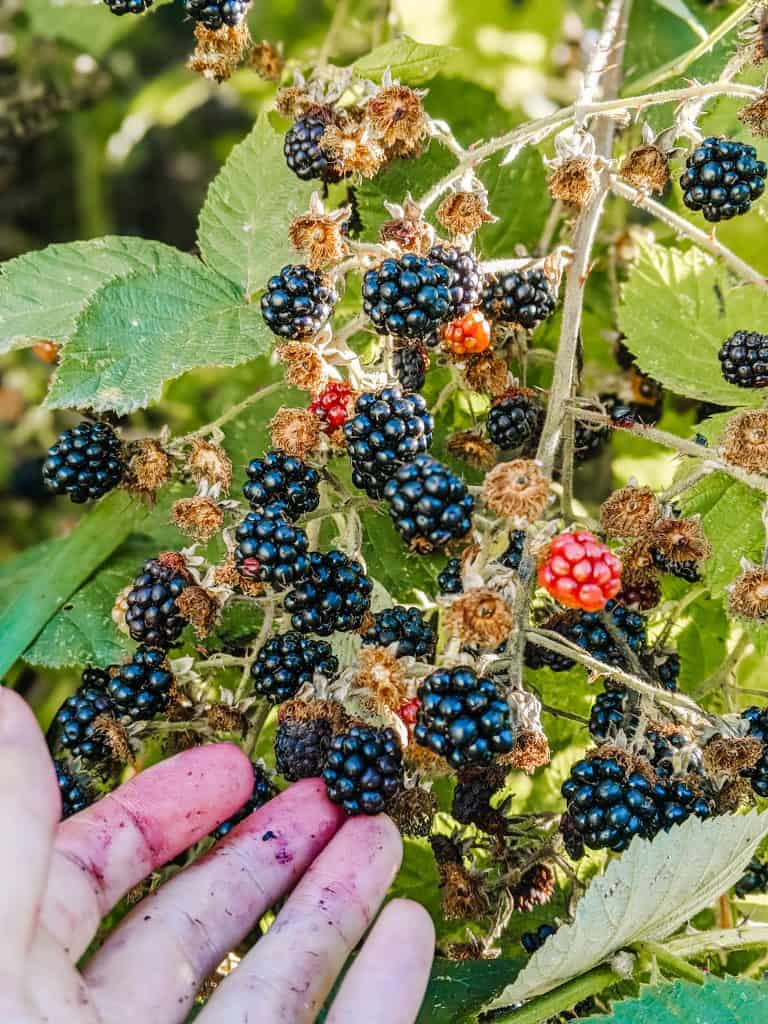 #7. LOCAL & NATURAL GROCERY STORES
Usually shopping at a natural grocery store is my very last choice for sustainable grocery shopping, but not every area has the same available resources. So, these are still good options for what's available. Plus, they typically have a bulk section and some organics, which is a total bonus! 
Sprouts
Whole Foods
PCC
Central Market
Natural Grocers
Haggens
Winco – I only put Winco on here for the bulk section.
Did I miss any well know natural grocery stores? Have more to suggest?
LOVE THIS SUSTAINABLE GROCERY SHOPPING ARTICLE? DON'T FORGET TO SHARE WITH THOSE WHO HAVE A LOVE FOR DELICIOUS FOOD AND OUR BEAUTIFUL PLANET!
EXPLORE SIMILAR ARTICLES HERE: