/
7 WAYS TO REDUCE WASTE THIS HOLIDAY SEASON
It's a better time than ever to start switching up traditions to reduce waste this holiday season. 
Especially after finding out that Americans throw away 25% more trash during the Thanksgiving to New Year's holiday period than any other time of year. The extra waste amounts to 25 million tons of garbage, or about 1 million extra tons per week! 
-lbre.stanford.edu
Plus, there are endless possibilities and ideas, here are some I've gathered for you!
"Be the change you wish to see in the world." – Gandhi
Some links in this post may be affiliate links or this article may contain sponsored content, which means if you make a purchase, we receive a small compensation at no added cost to you. As an Amazon Associate I earn from qualifying purchases. Any purchases you make helps to keep this blog going and keeps our content free. I truly appreciate your support! Visit my Privacy Policy & Disclosure Policy for more info!
#1. GIFT MINDFULLY- SHOPPING ETHICAL & SUSTAINABLE
After the last could years we've all had, heck, we all need some of these pamper items! Can I get a heck yeah!
Check out these, ZERO WASTE GIFTS FOR THOSE THAT NEED TO PAMPER THEMSELVES, 
So, don't forget to send this over to your friends/family/partner who is looking to buy for you too, you need it too!!
Well, then again maybe your'e a traveler or looking to buy for a traveler, and if so, check out this article A‌ ‌SUSTAINABLE‌ ‌GIFT‌ ‌GUIDE‌ ‌ON‌ ‌TOILETRIES‌ ‌FOR‌ ‌BUSY‌ TRAVELERS‌ . 
Sometimes, we limit our minds to the possibilities of what we can gift alternatively, but these articles are a great place to start!
#2. WRAP GIFTS & PRESENTS SUSTAINABLY 
There is no better time to start than the present, get it present – Wink!
The United States produces an estimated 4.6 million pounds of wrapping paper each year, about 2.3 million pounds of which end up in landfills. -rd.com
Fortunately, I've created this gift guide to help! Click here to read all the sustainable gift wrapping options!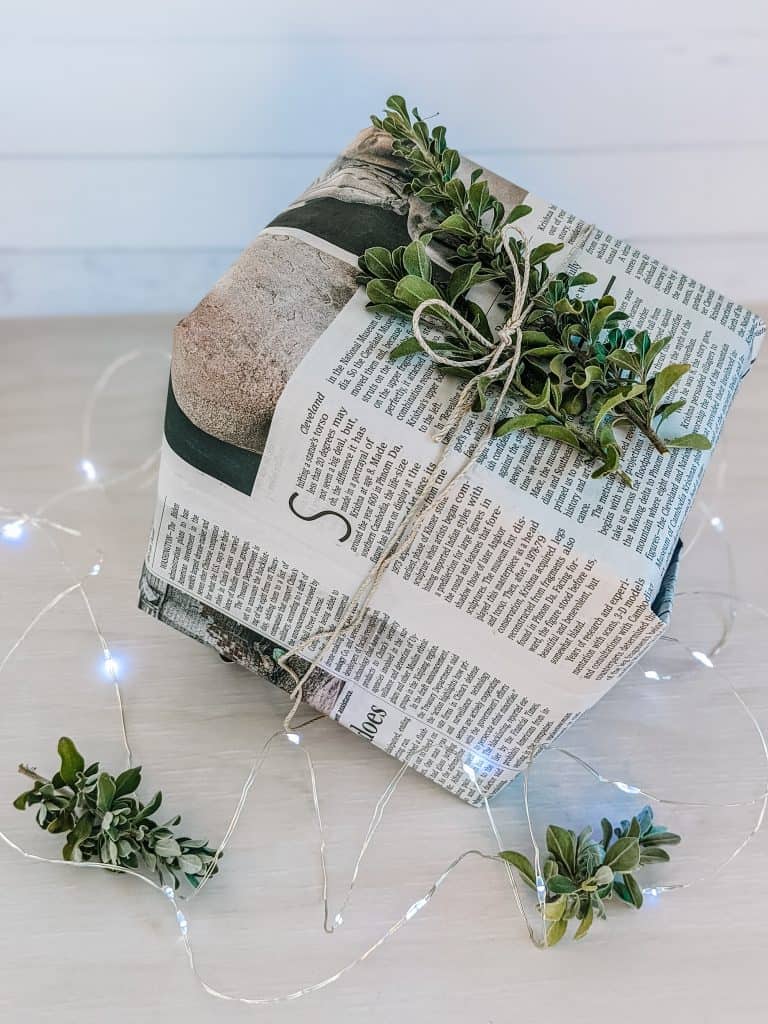 #3. TRY SUSTAINABLE DECOR
As the years have gone on, innovation and creativity have increased, so there are unlimited options available now!
Here are a few fun swapping ideas.
Traditional Lights → LED Lights

Plastic Ornaments & Decor → Fair Trade, Eco Friendly, and Handmade Ornaments & Decor

Plastic Tinsel → Second Hand Garland 
As far as LED lights go, they last more than 6 times longer than traditional incandescent lights do.
Speaking of lasting longer, I've also come to notice that crafting garland or secondhand garland lasts longer than tinsel strips too! Plus, there's no need to worry about little random pieces everywhere. 
Above all, plastic ornaments get quickly outdated, get scratched easily, have tons of plastic glitter/film, and just fall apart too easily!
So, not only is swapping out these Christmas decor go to's more sustainable, they will also last longer, be less fussy, and less messy too.
PS: Some of the best ornaments can be the ones you'll make together!
#4. AVOID FOOD WASTE
Is it bad to say that one of my favorite things about the holidays is the food? Especially all of that holiday Who-hash! Ha!
Unfortunately, "It's estimated [by USDA figures] that between 30%-40% of the food supply goes to waste each year" -Market Watch
A great alternative is bringing reusable containers and packing meals out of the leftovers.
Some great options are:
Often, these are called "to-go ware", more options can be found here too!
However, another option is to also make another meal out of the leftovers too. For example, try tofurkey sandwiches, everything stew, or a stuffed casserole. There are so many dishes that can be created by throwing most things together creatively. 
Plus, it takes meal prep out of the next week!
♻ Sustainable Tip: Save old jars and containers for the holidays for those that didn't bring any!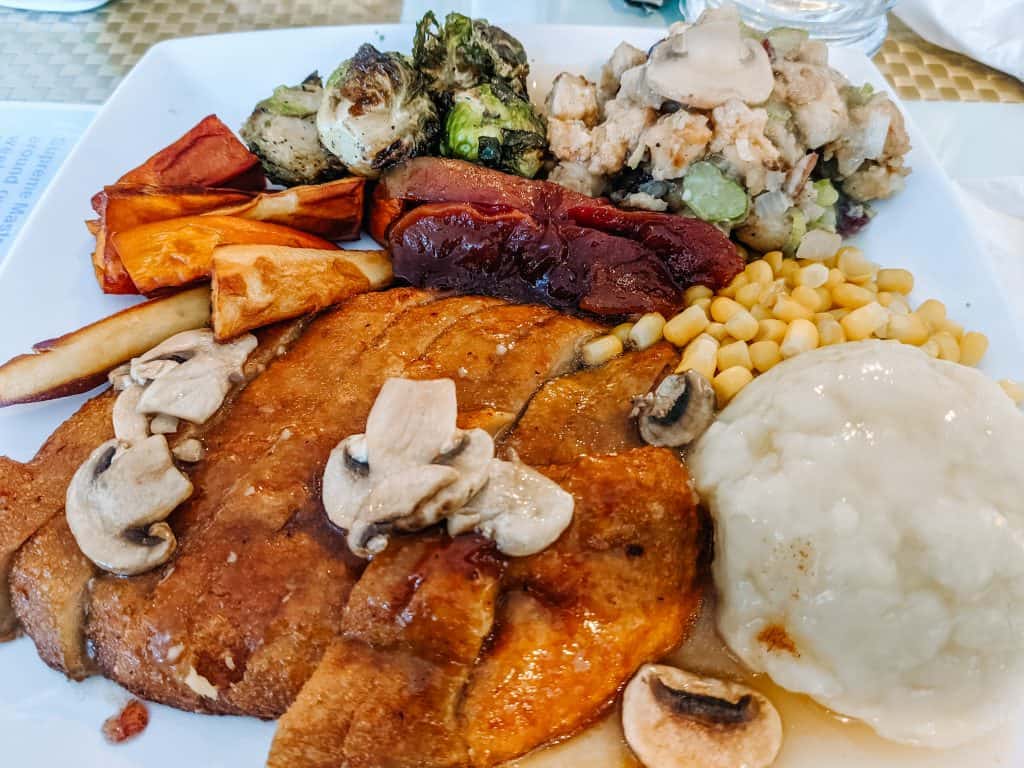 #5. MAKE BINS EASY TO RECOGNIZE
So, we all know that each family does have people who aren't as mindful about recycling, compost, and specialty recycling.
This can be understood in some areas not even having recycling facilities, but we are evolving so much as a society. 
Alternatively breaking that cycle, making these bins clearly marked and easily accessible, while keeping the trash hidden will also have them asking with the opportunity to educate them.
ECO WIN!
#6.  PROPERLY RECYCLE SPECIALTY ITEMS
When the holidays come around, there can often also be special items we don't use the rest of the year that require a bit of extra attention for proper recycling.
If you haven't had the chance to read the article 7 AMAZING SUSTAINABILITY APPS WORTH TRYING, I highly recommend giving it a look, I added a great recycling resource app there!
Most importantly, Incandescent bulbs & Christmas lights (Non-LED) contain mercury, which if disposed of improperly can leach into the environment and into the air. Unfortunately, mercury can cause brain damage in animals and in humans, so it needs to be handled with the utmost care! 
There are so many other items getting wasted during the holidays, too many to list in this article alone.
So, having that resource handy to find recyclers near you definitely comes in handy!
#7. BORROW AS MUCH AS YOU CAN
Best of all of the ways to reduce waste this holiday season, borrow as much as you can, this allows the item to get many uses throughout it's life, and even leads to less one use items during the holiday season. 
I remember growing up, we would have a few different sets of decorations, some were gold, silver, reds and greens, and even blue.
We could have offered to let others borrow those other decorations, while we chose which set we wanted to use that year.
However, this can go beyond just decor, this could also be bakeware,  glassware, utensils, baking sheets, and more! The possibilities are endless! 
But, don't forget to thank the person you borrowed from too!!
Lastly, don't forget to have gratitude this holiday season and share this article with family and friends so that we can all reduce waste this holiday and have a more conscious gathering for the holidays.