/
SUSTAINABLE GIFT WRAPPING GUIDE
Now that we've ordered this year's holiday gifts, it's time to step into the next phase of sustainable gift wrapping.
Let's make those presents dazzle and show everyone eco-friendly wrapping alternatives.
If you haven't already bought gifts, check out these sustainable gift guides to give you great ideas, it's not too late, but the time for shipping is running out!
ZERO WASTE GIFTS FOR THOSE THAT NEED TO PAMPER THEMSELVES
A‌ ‌SUSTAINABLE‌ ‌GIFT‌ ‌GUIDE‌ ‌ON‌ ‌TOILETRIES‌ ‌FOR‌ ‌BUSY‌ TRAVELERS‌ ‌
Now let's move back into sustainable gift wrapping!
The United States produces an estimated 4.6 million pounds of wrapping paper each year, about 2.3 million pounds of which end up in landfills. -rd.com
Some links in this post may be affiliate links or this article may contain sponsored content, which means if you make a purchase, we receive a small compensation at no added cost to you. As an Amazon Associate I earn from qualifying purchases. Any purchases you make helps to keep this blog going and keeps our content free. I truly appreciate your support! Visit my Privacy Policy & Disclosure Policy for more info!
WRAPPING CHOICES 
Undoubtedly, having less wrapping paper end up in the landfill, especially after reading 2.3 million pounds ends up in the landfill! WOW! 
PS: Unfortunately, metallic or glitter embellished wrapping paper cannot be recycled and has to go into the landfill, along with ribbon and plastic strings.
So, keep reading to find better alternatives for our beautiful planet!!
Newspaper
Not only is this option typically free, but it's also giving the paper another life and avoiding the landfill or from being discarded. 
Places to get newspaper:
Local newspaper offices

Friends & Family

Post Offices

Local Libraries

Gas stations

Grocery & Drug stores

Local schools & Colleges
Also, if you'd like to take an extra ECO-WIN step forward, check out Reyclingcenters.org to see if you get to grab them before they get sent back to the paper mill. 
However, not every center gives them out, but it can still be a great option if getting it in bulk.
PS: Try to be mindful of the section of the newspaper used and what may make the other person uncomfortable.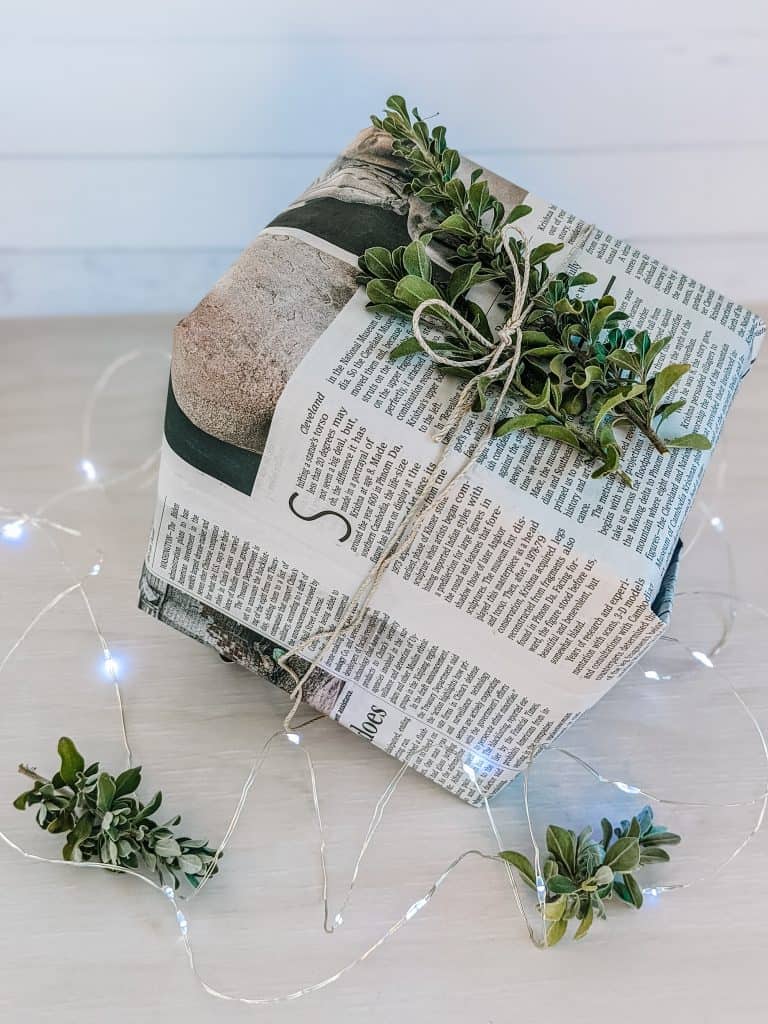 Kraft Paper
Not only is this simple brown Kraft Paper recyclable, but it's also a blank canvas with endless opportunities for creativity!
If keeping the Kraft Paper clean and chemical-free, you can even compost it and use it to add nitrogen to the soil once done with it, too!
Old Maps
One of my all-time favorite methods of wrapping is reusing outdated or expired maps. 
Over time, Road Atlas's expire or other maps become outdated, so what better way to reuse them than wrapping them and gifting them to a traveler who would absolutely adore the repurposing!

♻ Sustainable Tip: Old maps can be found in newspapers, old outdated books, old road atlases, libraries, public transit books, any tourism companies, etc. This would be a fun paper mache project too!
Fabric
While the paper is a very classic and popular choice, the fabric is a bit more of a classy choice and can add a bit of color and texture to the gift. 
Another great thing about fabric wrapping is that you could wrap it in a scarf, sweater, or shirt to have it be an extra gift too!
Not only is this a fun alternative, but fabric can be continuously reused so many more times than traditional paper wrapping.
♻ Sustainable Tip: Some great ways to be extra sustainable is to reuse scrap fabric, leftovers from fabric stores or even some scarves from the thrift store to wrap.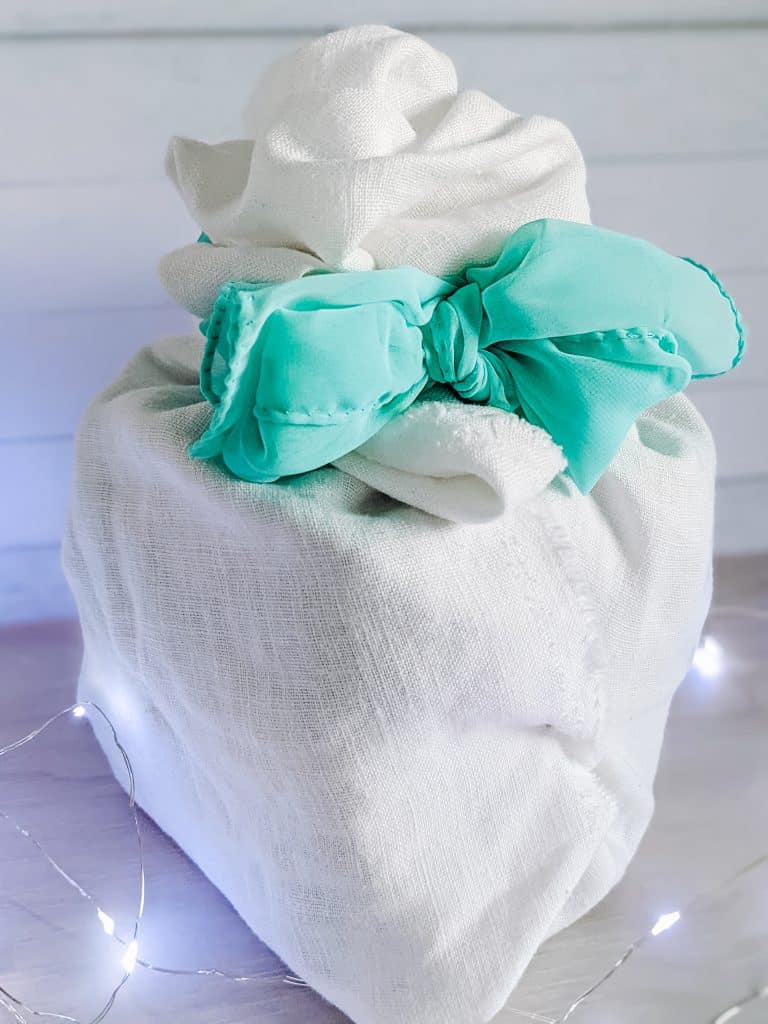 ECO FRIENDLY GIFT BAGS
So, maybe you're not much of a wrapper and want to take most of the work out of wrapping? 
Well, you're in luck, there are eco friendly gift bag alternatives too! 
Overall, a really classic version of this would be to have a clean cotton bag and then add some decorations to it to dazzle it up. Keep reading to find the decor section.
By keeping it a classic cotton and not having holiday designs on it, the person can reuse it over and over again as a produce or bulk shopping bag, it's extremely multipurpose! YAY!!
TAPE ALTERNATIVES
In order to make a traditional tape, companies have to drill for oil and boil large vats for the sticky residue, releasing it into our atmosphere and damaging lands for extraction as well as disposal. 
Not only is this plastic tape not recyclable, but soft plastics can take up to 500- 1,000 years to biodegrade just like plastic bags, as they are both soft plastics.
A few tape alternatives are:
Flour Paste 
Unquestionably one of the most eco-friendly options and completely accessible to anyone and everyone. 
Have you ever done paper mache? It's pretty much the exact same thing.
Mix one part flour with one part of water (eg, 1 cup flour and 1 cup water, or 1/2 cup flour and 1/2 cup water) until you get a thick glue-like consistency. Gradually, add small bits of water, if too thick, to get to the desired consistency.
Recycled Washi Tape
Overall, this tape is great because it's made from recycled paper and all-natural rubber, making it incredibly eco-friendly. 
Plus, it totally adds a pop of color to any gift! Check out the different styles here!
Kraft Paper Tape
I've personally used Kraft paper many times, it's a great alternative and fully recyclable with boxes or paper. 
Although it doesn't stick well to plastics, it's still great for other packages. 
I personally prefer this fragile tape roll, because it gives people the warning to be more careful with our packages. This is especially great because I've definitely had packages scratched, warped, and dented over time.
So, what better way to avoid damage than being preventable, think of it like a two for one.
DECORATIONS
As far as decorations go, there is an endless opportunity for decor out there that's eco-friendly.
Here are some great options:
Cookies (Think of those gingerbread cookies people decorate with!)

Dried Fruits (Orange slices, apple slices, berries on a branch, etc.)

Cinnamon Sticks

Foliage Clippings (Pine, Spruce, holy, mistletoe, herbs, etc)

Metal Bells

Metal Charms
GIFT TAGS
Along with the many decor alternatives, there are also many gift tag alternatives.
Some great options could be reusing paper scarps, cutting up and reusing old holiday cards, or even cutting up thin cardboard.
Heck, I've even seen people flatten out and cut up toilet paper rolls then add glitter, and the recipients never knew!
As we can see, there is no shortage of inspiration out there, it's just a matter of thinking differently and more organically.
Have you done any of these sustainable gift wrapping alternatives before? What ones were new for you? What did you end up doing!!?? I'm so excited to see, please share your results! 
Also, don't forget to share with those wrapping your gifts – You don't want to end up with that landfill stuff! 🎁