/
WHAT IS COMPOST, WHAT'S SPECIAL ABOUT IT, AND WHAT CAN I PUT IN IT?
Surprisingly enough, the question "What is compost?", comes up incredibly often, but it's such an underrated conversation.
Nonetheless, it's incredibly important and one worth talking about, so let's begin!
Some links in this post may be affiliate links or this article may contain sponsored content, which means if you make a purchase, we receive a small compensation at no added cost to you. As an Amazon Associate I earn from qualifying purchases. Any purchases you make helps to keep this blog going and keeps our content free. I truly appreciate your support! Visit my Privacy Policy & Disclosure Policy for more info!
WHAT IS COMPOST?
Well, what is compost? Compost is a mixture of previously used organic material given the proper environment, broken down into nutrient-rich soil that is used to fertilize the plants and land.
Best of all, this nutrient-rich soil is prized and a key component to a thriving eco and food system, as well as the process of truly rebuilding and refeeding our planet.
Truthfully, without compost, our soil becomes depleted in nutrients and minerals.
WHY IS IT IMPORTANT TO COMPOST?
Alright, we've answered the question "What is compost?", but Why is it truly important?
Well, when we toss our food scraps in the garbage, unfortunately, the food scraps are not able to properly break down. The food scraps end up mixed inside plastic bags, amongst chemicals, amongst other inorganic materials in the landfill.
Unfortunately, without the food being in a natural and compost-friendly system, they will produce methane (a greenhouse gas) that is almost 50 times more harmful to the environment than carbon dioxide, just like trash.
Every day, the average American generates 4.4 pounds of waste but only about 1.5 pounds is composted. –House Grail
So let's take those scraps and waste out of the trash and put them into the compost! Especially since it helps the host get compost for their garden! How great of a contribution is that?
♻️ Sustainable Tip: The ShareWaste app is pretty easy to navigate overall and will make composting simpler. I personally love the app; The app offers the opportunity to help the environment, connect to the community, and even has a couple of extra fun features! If you log in when you drop off your compost and how much compost you dropped off, the app will add that up and tell you how much methane gas you've saved from being produced! I personally adore how it personalizes that conversion!
CAN COMPOSTING BE DONE ANYWHERE?
Well, this is a yes and no answer. Fortunately, many businesses and options have grown to become accessible, but that doesn't necessarily mean that everyone implements them!
So, the yes is that we can start up a composting system ourselves, utilize the community resources, and even opt for more eco-friendly materials.
However, the no is from compost needing a specific environment to be able to break down properly. For example, compost requires 40-65 degrees Celsius or 104-149 degrees Fahrenheit, specific bacteria, a good mix of green & brown materials, proper moisture levels, and even the right location. 
Although it may sound pretty specific, I can give a more specific example. For instance, the apple core thrown out the window, landing on the concrete isn't going to break down the same way that the apple core placed inside a pile of other kitchen scraps of a dug hole in the backyard would. An environment can change the way it breaks down drastically!
Although, I must disclose that there are so many ways to compost, and vast differences between them! Would you be interested in having an article where I share the composting options?
PS: Personally, I'm so dedicated that I even composted in my camper van and had utilized ShareWaste everywhere I went and even take my scraps home to compost them if I can't locate another are or way.
WHAT CAN BE PUT IN COMPOST? 
Fortunately, there's a whole slew of things that can be compostable, like these items here:
Paper bags

Leaves

Grass clippings

Fruit & Veggie scraps

Bread

Coffee grounds & unbleached filters

Non-shiny (Plastic Film Based) food boxes – Like pizza boxes!

Tea bags (Ones that have no wax coating or metal staple)

Houseplant trimmings

Eggshells

Spices & seasonings

Newspaper & paper scraps (Non-shiny/plastic coating)

Nutshells

Thin & small branches

Nutshells

Sawdust from untreated wood

Coir liners
Surprising Extras:
Nail Clippings

Hair Clippings/Hair wads (Unbleached & Uncolored Only)

Dead skin

Used Napkins & Paper Towels (When cleaned with human waste or organic/non-toxic products)

Bamboo Swabs

Wooden toothpicks 
Although this may seem a bit weird to some, we are also completely made up of organic material too!
Just be sure to remember that any materials should be organic and pesticide or chemical-free, because creating compost typically goes right over the top of food gardens.
As a follow-up, things that aren't listed typically can't or shouldn't be composted, a few examples could be plastics, styrofoam, chemicals, metals, etc.
WHERE DO I BEGIN COMPOSTING?
Personally, I prefer to keep my scraps in five-gallon buckets, dump them out at the host's location (Via ShareWaste), and then hose them out. You can find buckets free from most bakeries at local grocery stores bakery department as well.
Also, try avoiding anything that had chemicals in it before, as it could disrupt the natural composition cycle.
A couple of options online is a 5-gallon bucket option here. Or maybe you already have a 5-gallon bucket and just need a lid, this one should work for you here. If you don't want a screw-top lid, there is a bundle of buckets here.
I rotate about three of the 5-gallon buckets, once all three are filled, then I drop them off. I frequently drop off since I'm primarily plant-based and enjoy gardening! I end up with a lot of scraps.
Sometimes I drop off once a week, but that depends on whether it's melon season or not! Those melon rinds take up a ton of composting space!
Plus, I do the drop-offs for my roommates and myself. YES, I got my roommate to start composting! YAYAY! I've gotten a couple of neighbors to start composting and using the app as well! What an exhilarating feeling! Eco-win!
Overall, we're in this together, this is all our planet!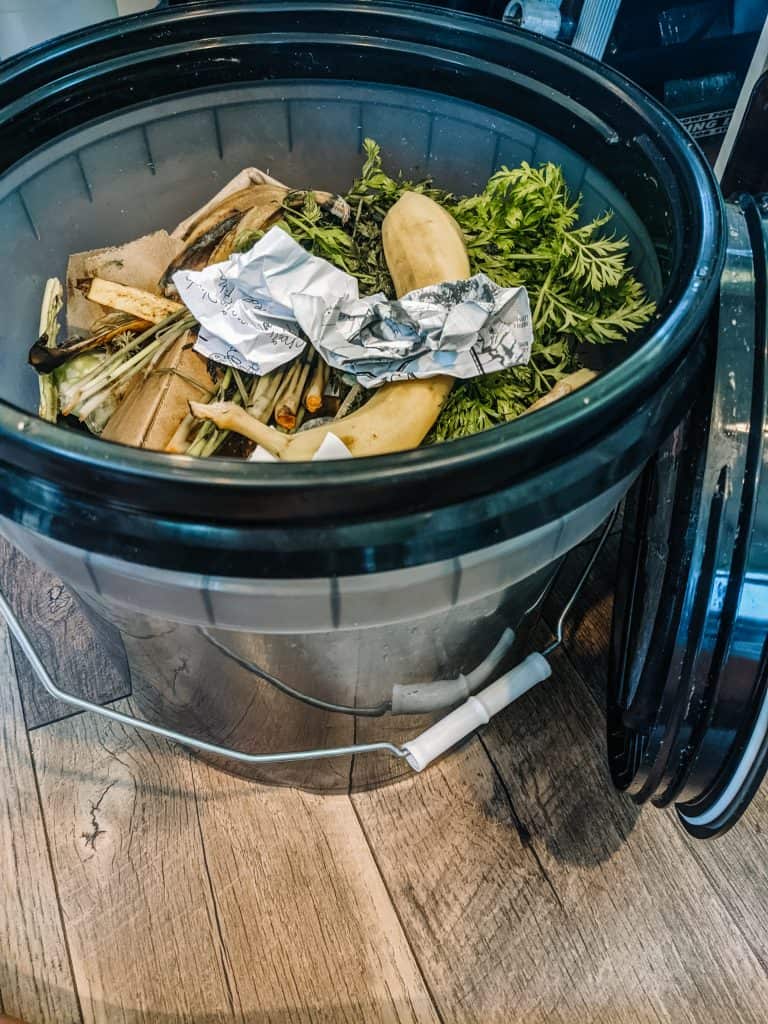 BENEFITS OF COMPOSTING
One major benefit of composting is that compost helps to rebuild the soil and in turn makes it retain more water, promoting water conservation. 
Interested in reading more about efforts to reduce water consumption? Read more in this article on 8 WAYS THE WATER USAGE PER PERSON CAN BE REDUCED.
As well as what I've mentioned earlier in the article; like reducing waste and creating nutrient-rich soil.
Amongst the nutrient-rich soil, thriving gardens and nutrient-rich foods, critters and wildlife also flourish.
Overall, it's a win for everything and anyone! Eco-win!
If you're looking for a way to get started composting, I go over how to start with a simple bucket system and utilize the community in this article here.
Would you like to learn or hear about more systems on how to compost or what is compost in other forms, please comment below!?!
MORE ARTICLES TO ENJOY: