/
8 THINGS I WISH I KNEW BEFORE GETTING INTO ZERO WASTE LIVING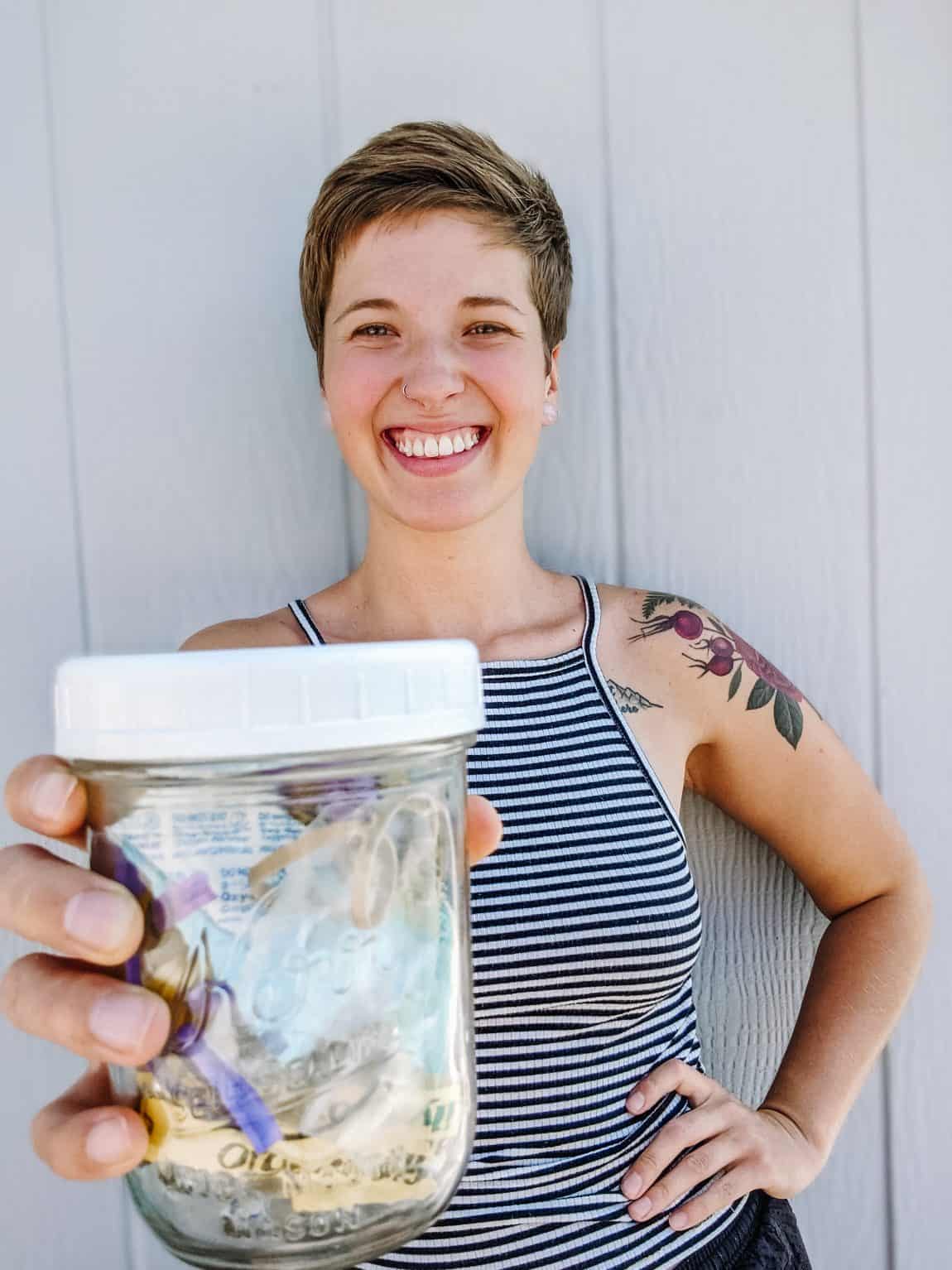 Zero waste living can be a really intimidating idea, but it won't be once you've read this article. This list will take the shiny blinders off of zero waste living and show you how it is truly for everyday people, just like you and me! Let's take the intimidation off of our shoulders and truly take another look at zero waste living now.
Some links in this post may be affiliate links or this article may contain sponsored content, which means if you make a purchase, we receive a small compensation at no added cost to you. As an Amazon Associate I earn from qualifying purchases. Any purchases you make helps to keep this blog going and keeps our content free. I truly appreciate your support! Visit my Privacy Policy & Disclosure Policy for more info!
1. ALL OF YOUR GARBAGE DOES NOT HAVE TO FIT INTO A JAR
Often times we look at a tiny jar and think wow that's so inspiring, but then turn and look at our stuff or what we have and get so overwhelmed that we aren't sure where to even begin. Don't let this garbage jar hold you back, it took those people many years to get to that point. Heck, I'm not even there, but it's not my goal. The goal is to be better than we were yesterday.
Start with small changes every day, and you'll make some big changes over time.
2. SOME GARBAGE IS UNAVOIDABLE
Some garbage is unavoidable or extremely hard to avoid. Let me give you some examples; receipts, bottle caps, produce stickers, clothing tags, spray nozzles, and club/loyalty cards. (That's just naming a few!) 
Don't beat yourself up about it when it happens. It's not a perfect system…yet!
3. BULK SHOPPING IS NOT WIDELY ACCESSIBLE 
Bulk shopping is not widely accessible, meaning it's not available to everyone everywhere. Bulk shopping is definitely shown quite a bit on blogs and YouTube, which I also absolutely love, but sometimes it's just not always available. 
So try opting for compostable packaging or the packaging with the least amount of plastic on it as possible, if there are no bulk options near you.
4. USE WHAT YOU HAVE FIRST
A lot of the zero waste containers are so pretty and have all the pretty colors and just shout "BUY ME", however this can be quite an overwhelming process to look at what we have and just think that it's not good enough. Truth is, it is! 
Heck I still have plastic reusable containers for so many years, and they work great. 
Truthfully for food containers I personally don't like the taste associated with plastics and need the durability, so I choose to opt for glass, silicone and stainless steel food containers now.
Don't worry I will work on giving you more information on swaps!
I've also placed some of my favorite swaps in my blog shop here.
Earth Hero is another great place to get started, they have a wide assortment of items, but don't overwhelm yourself too much. But if you do decide to check out their shop use Serenity 10 at check out for 10% off, click here.
I will be giving out plenty of information in future blog posts to help you with your swaps. Check back in the Sustainability section of the blog for future blog postings often, here.
5. BUSINESSES AND CORPORATIONS NEED A PUSH
At first, this one can seem off-topic, but I promise you it's not! Businesses and corporations are responsible for buying products from companies for their customers. At the end of the day, they are trying to make the customers happy. 
Taking a look at the companies we buy from and follow is what we also choose to support. Try bringing up the plastic-free movement and asking if they can start implementing those practices. You'd be surprised at how many businesses say they would love to or that they just don't care. This was a wake-up call for what companies I personally choose to give my dollar to. 
The ones changing with us and care need our support!
6. CHANGE DOESN'T HAPPEN OVERNIGHT
Yes yes I know, we all just want to get there and be the best that we can be! I assure you it can be too much all at once. Start small and be consistent on the habits and the changes will happen over time. 
Phillippa Lally a psychology researcher says it can take around 66 days or a little more than 2 months minimum for a new habit to form. So just get started slowly and as long as you keep at it, the habit will form.
7. ZERO WASTE LIVING LOOKS DIFFERENT FOR EVERYONE
The truth is that zero waste living is becoming more mainstream, and it's a great thing! However, going zero waste living will look different for everyone. Each person will have a different sustainable look, or choice on where they shop, and even what they choose to buy to support that sustainable lifestyle. 
Focusing on your journey, not comparing yourself to other people's Zero Waste perfect look will keep you motivated in the long run. I've even found that some people will buy things in small plastic bags and then put them in jars to make it seem like it's Zero Waste, which defeats the purpose. 
Although I'm not discrediting the jar look. Having things look aesthetically pleasing can actually increase our desire to be more involved because it looks great! Just keep the mission strong with the look.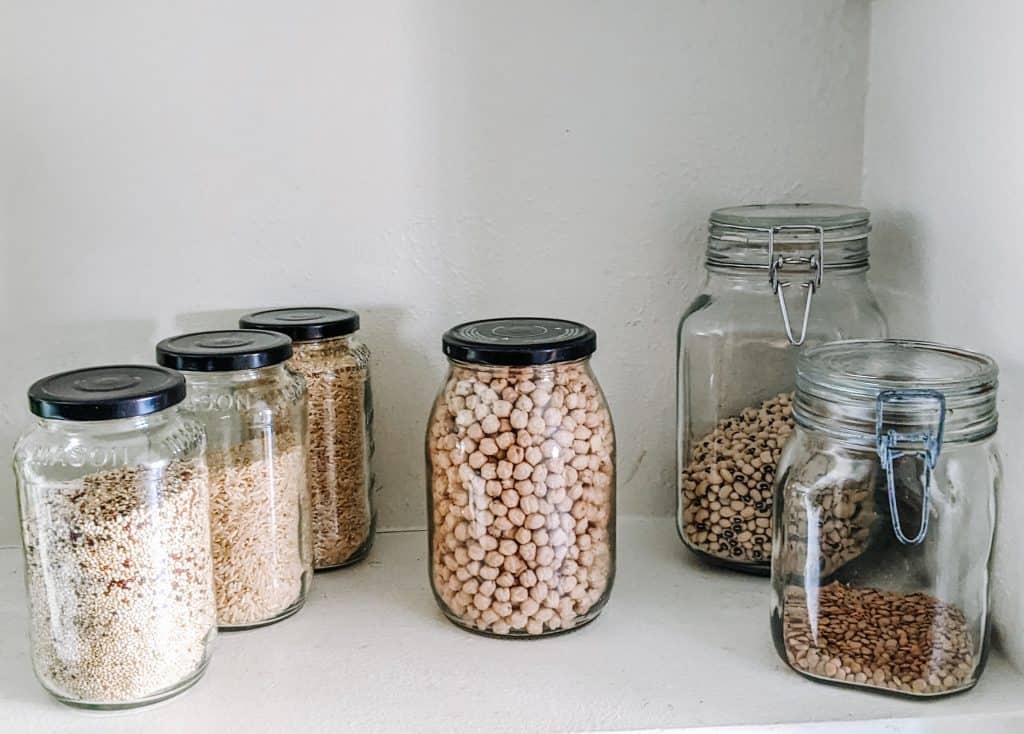 8. WE ARE NOT IN IT ALONE
I guarantee that if you were to reach out to the surrounding community, some people are at least a bit curious or have been introduced to the idea already. There are people out there that have been where you are and have so much information to share and to offer you. I'm one of them! I will happily support your journey, don't be afraid to comment on the articles if you ever need help!
Now is a great time to get started watching what you're buying, where you're shopping, what you're throwing away, and who is being supported by your dollar.
Don't get discouraged, get inspired, 
I will be consistently coming out with new articles to help you on this journey and inspiring you along the way.
Don't forget to subscribe to the newsletter, every single month I will be hosting giveaways, sometimes there will even be zero waste / sustainable goodies in there!
The email subscription is at the bottom of the blog homepage here.
Please release the desire to be perfectly zero waste, just be imperfectly sustainable. Try your best every day and do what you can to help this lovely planet we call our home.
With you already wanting to read this article and sparking curiosity to want to do more is already a beautiful step in the right direction. Give yourself some credit, and then let's get excited!
If you're wanted to get started now, try checking out this blog article on THE SEARCH FOR ZERO WASTE & ECO FRIENDLY LAUNDRY DETERGENT
Don't forget to share this post with a friend who is interested in zero waste but doesn't know where to start. Let's support our community. ♡