/
10 SUSTAINABLE PRODUCTS TO SIMPLIFY CAMPER VAN LIFE
Some people may not believe that it's possible to live sustainably in a van, whelp, let me assure you that it's entirely possible and can even help simplify camper van life.
In fact, there are even some things that are more sustainable whilst living in a van! 
Here are some of those marvelous sustainable products, to get started with.
Some links in this post may be affiliate links or this article may contain sponsored content, which means if you make a purchase, we receive a small compensation at no added cost to you. As an Amazon Associate I earn from qualifying purchases. Any purchases you make helps to keep this blog going and keeps our content free. I truly appreciate your support! Visit my Privacy Policy & Disclosure Policy for more info!
1. CUTTING BOARD
In camper van life space is limited, so having a cutting board instead of having plates can really simplify camper van life.
The non-toxic bamboo is naturally moisture-resistant, so the boards won't swell or warp with each wash. It's made of organic bamboo, free of formaldehyde (unlike traditional cutting boards), and finished with natural food-grade oil.  So, I know it's safe!
Maybe you're a fan of the round-edged cutting boards like these here, or perhaps you're a fan of the more squared cutting boards like this here. 
Having a bamboo cutting board was exactly what I needed, and I used it every single day. They are great for cutting fruits & veggies, using as a plate, or even displaying food like a charcuterie board. 
Sustainable Tip: Charcuterie boards allow for me to nibble on different foods without having to do a lot of prep work. Also, keeping food prep simple preserves resources (like propane and water) from being used with having to cook or do the dishes. Total ECO-WIN!
2. STASHER BAGS
Let me just start by saying wow! How have I been living my life without these? These Stasher bags came in handy in most situations I faced. For example, when I needed something to put my wet bathing suit in, to keep my sunscreen from leaking when I broke the nozzle, packed vitamins to go, added ice to my cooler, or even storing hiking snacks. 
 These are a great replacement for single-use plastic bags and ziplock bags!
The Stasher bags are made of 100% silicone, being BPA-free. They are safe for use in the freezer, oven, dishwasher, microwave, and even in boiling water.
♻ Sustainability Tip/Highlight: They are even more amazing because they have a repurposing program. This repurposing program utilizes the broken Stasher bag, turning it into a playground or track surface.
3. WATER BOTTLE
I know, I know, water bottles always seem like they're talked about everywhere. However, as soon as I went to Arizona and experienced triple-digit temperatures, I have a newfound appreciation for my stainless steel water bottle, so would you!
Whilst, backpacking, and van life re-teach us, that having fresh and clean water is our lifeline. 
So ultimately water is essential, that's why it's talked about everywhere! I personally choose a Hydro Flask water bottle because the double-wall vacuum insulation keeps a drink hot or cold for hours. 
Not only that, but the double-wall vacuum insulation prevents the outside of the bottle from becoming too hot in warmer climates or if left in the sun.
4. REUSABLE BAGS & PRODUCE BAGS
I know that reusable bags can seem like they are over-talked about, but they are normally just referenced for grocery shopping, not here though!
Let me start off by saying that reusable bags are so multi-purposed that they get used for almost everything! 
These bags are so multi-purposed they can be used for laundry, straining nut milk (depending on the bag type), lunch, extra produce, and everything else you can think of where you'd use a bag.
Seriously though, reusable bags are so versatile and sturdy compared to plastic, the plastic bags almost always break and are such a waste! Making the switch has never been easier.
Plus, the options are endless! For instance, this canvas-style tote here, or even this beautiful recycled polyester bag here. 
Of course, we could never forget the mixed styles of produce bags too, having both fabric and mesh is great. For example, the fabric is great for bulk bin items (grains, legumes, etc.), lettuce, and mushrooms. While the mesh produce bags are great for most other produce, like carrots, apples, oranges, garlic, and more!
Best of all, the fabric produce bags can be slightly dampened to maintain freshness for the mushrooms and lettuce too!
5. SCOURING PADS
Sometimes when cooking with the pots, pans or on stainless steel surfaces there is hardened residue that just won't come off, metal scouring scrubbers like this truly help remove stubborn spots, without scratching. 
These scouring pads are especially great for use on a cast iron, stainless steel, and glass (Yes, even glass!).
However, I recommend not using these scouring pads on non-stick or porous surfaces because they will scratch. These are also fully metal recyclable at the end of their life. ECO-WIN!
6. UNPAPER TOWELS
Firstly, these Unpaper Towels are a total multipurpose product. They can be used as paper towel replacements, napkins, facial wipes, small drying cloths, tissues, or even to wiping down dishes. See what I mean? Unpaper Towels are so versatile and useful!
Secondly, Being 100% organic cotton means they will fully break down at the end of their life, yay!
7. LOOFAHS
Loofahs are so versatile, they can be used for scrubbing our bodies, our dishware, countertops, and even bathtubs. The uses are endless with these loofah scrubbers. 
The best part is that these loofahs are entirely chemical-free, grown by a family in Guatemala, and can be composted back into the earth at the end of its life cycle. Yet another ECO-WIN!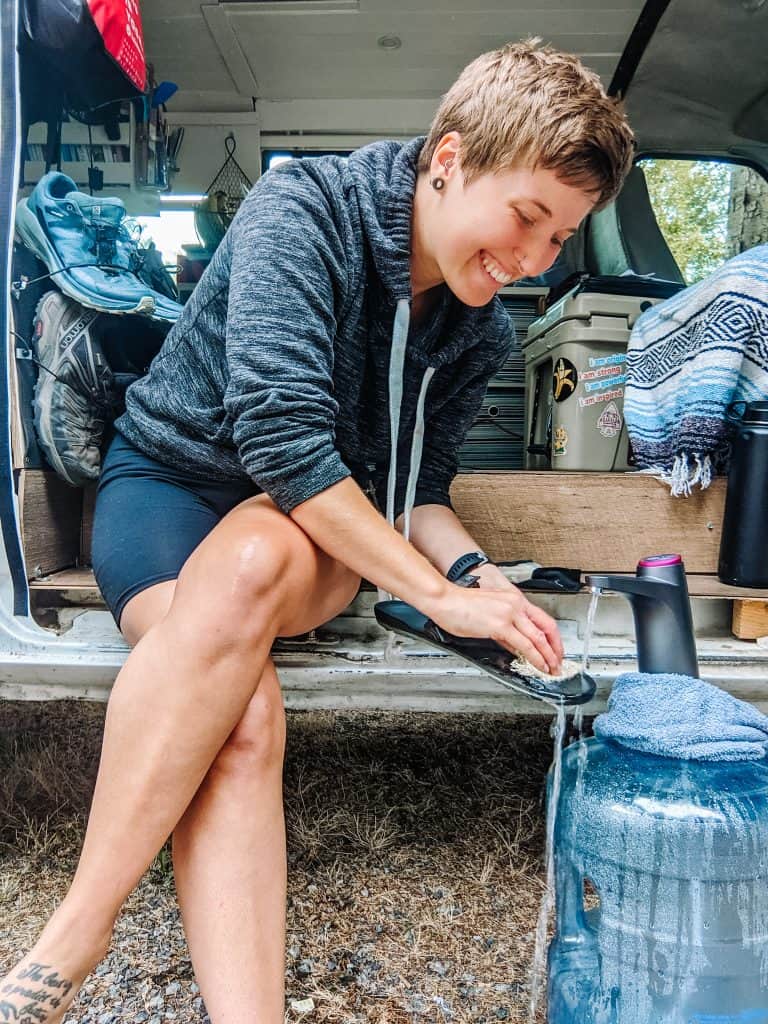 8. PACKING CUBES
These Packing Cubes are so light, flexible, and easy to use. I have tried a few different brands of packing cubes and none of them quite did the trick as these did! These packing cubes have density, breathability with the mesh, and even a handle to easily grab. 
♻ Sustainability Tips/Highlights: 
Did I mention that the company that makes these packing cubes also makes them from 100% recycled fabrics? If I'm going to be buying packing cubes anyway, why not support a company with an amazing mission and help the environment?!
This multipack is great because it can fit a variety of clothing types and styles. The bigger packing cubes can fit jackets, jeans, and so much more. Comparable packing cubes lack the depth that these have. Just giving a heads-up!
One of my favorite ways to organize is by style type. For example, in the biggest packing cube, I have all my everyday clothes. But in the medium-sized packing cubes, I keep all my professional and dress-up clothes. Then in the smallest packing cube, I store all my delicate, like socks, underwear, swimsuits, etc.
PLEASE NOTE: The Tentree packing cubes are no longer made – but another great alternative is these Cotopaxi Packing Cubes which I've relinked to.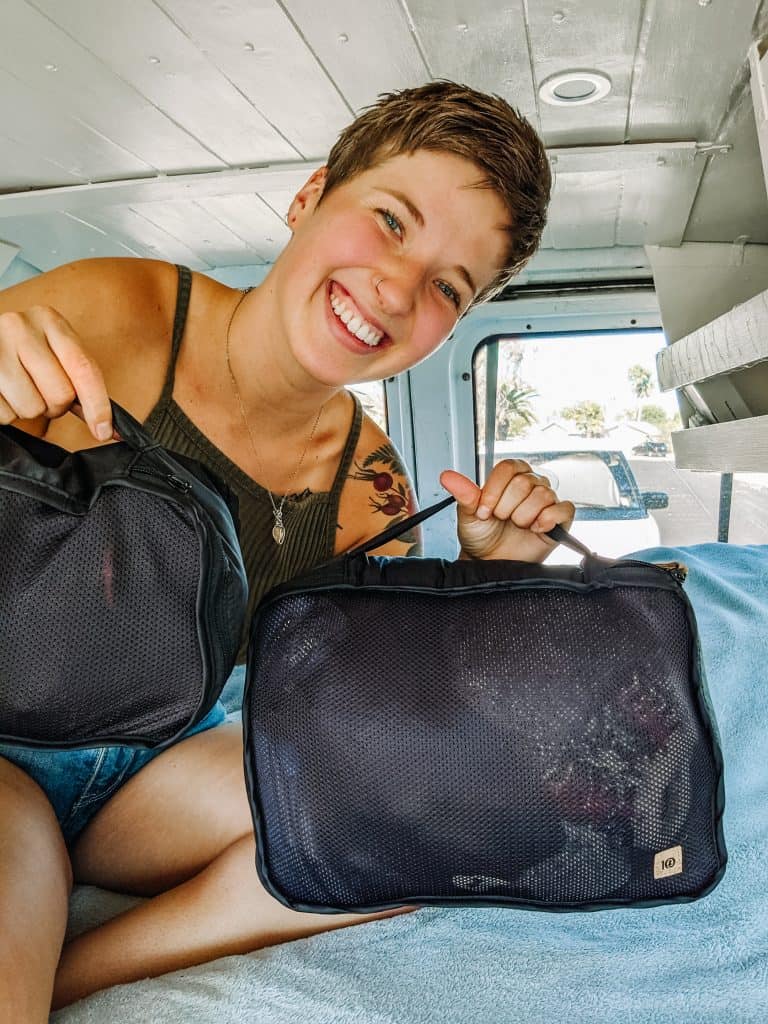 9. CAR CHARGER
Having a car charger is a pretty obvious one to most, but hey it's still a necessity! A car charger is especially a necessity when using the navigation on the phone, I swear the GPS runs my phone into the ground, on battery life. 
Something I've learned over the years is to just keep my phone plugged in and charging while driving. It just makes sense, right?! HA!
However, this car charger is also made by Nimble, which is a company geared towards creating more mindful technology. I talk more about Nimble in the next section, too!
PLEASE NOTE: Nimble products are incredibly popular and people love them so much that they often sell out super fast! Most companies have a waitlist for them and it's worth it! Although I'd recommend getting on the waitlist, another alternative is buying a traditional one from Amazon, like this one here.
10. TRAVEL CHARGER
I'm often outside the van taking photos or videos or off on a hike, having a travel charger with me no matter where I'm at, and can truly make a difference in keeping all of my techs reliably charged. Yes, that's right, camper van life doesn't mean being inside the camper van all day! ha!
There had been too many times when I missed taking the perfect photo because my phone had suddenly died or even missing an important phone call. So, I needed a backup!
I now carry this travel charger with me to most places, especially when I know I'm going to be away from the van for a few hours, I don't want to miss something again! I'm sure you wouldn't want to either!
♻ Sustainable Tips/Highlights: 
This portable charger is composed of recycled aluminum and bio-plastics, how cool is that?! It also has the ability to charge multiple devices at the same time. Nimble is a very sustainable company; Certified B Corp, donates 1% for the planet & sustainable non-profits, and is carbon-neutral. 
Did I mention they also have a take-back program? For every product purchased, Nimble will recycle up to 1lb of e-waste through their One-for-One Tech Recovery Program. They simply ship you a return envelope for your broken electronics, to be sent back to them.
PLEASE NOTE: Nimble products are incredibly popular and people love them so much that they often sell out superfast! Most companies have a waitlist for them and it's worth it! Although I'd recommend getting on the waitlist, another alternative is buying a traditional one from Amazon, like this Anker one here.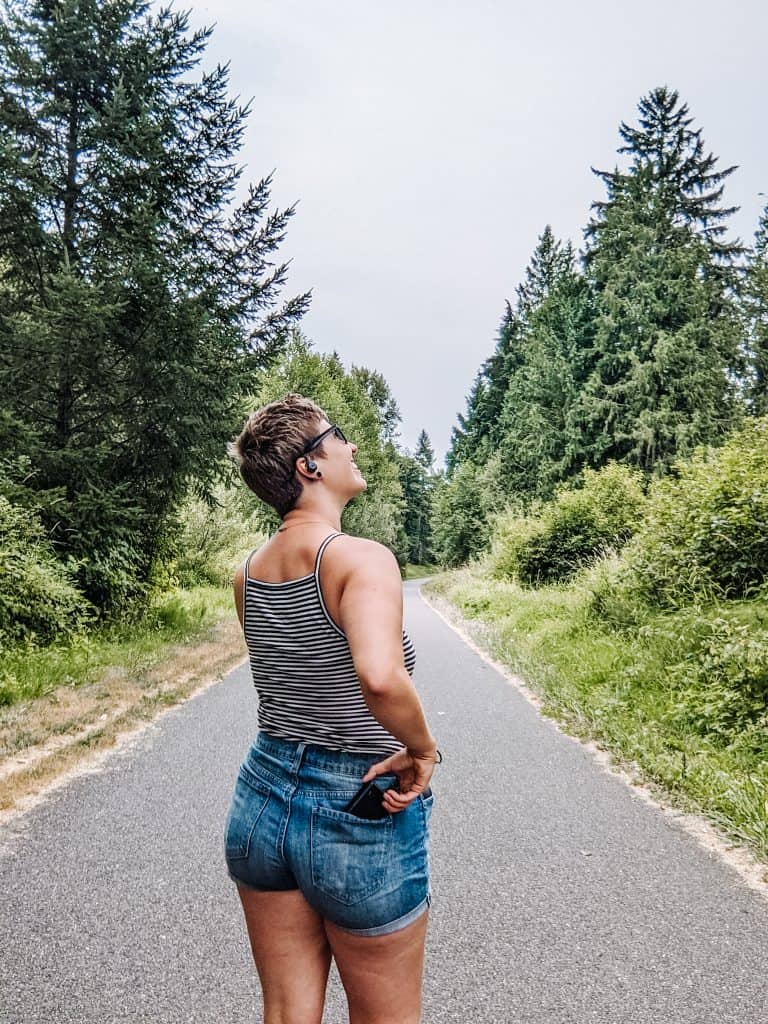 WHICH OF THESE PRODUCTS DO YOU THINK WOULD REALLY HELP YOU SIMPLIFY CAMPER VAN LIFE ?
Love this article? Thinking about van life and have a soft spot for the environment? Don't forget to save this for later and share it with your fellow van lifers!
I also wanted to make sure to mention that all these brands and products are available on EarthHero.
This zero-waste shop, not only shows all the sustainable spec for each and every product, but they care about their community and listens to their customers.
So, when I have a need, they are my first go-to shop, I'm sure you'll love them too!