/
DAY TRIP TRAVEL IN NYC – MANHATTAN NEW YORK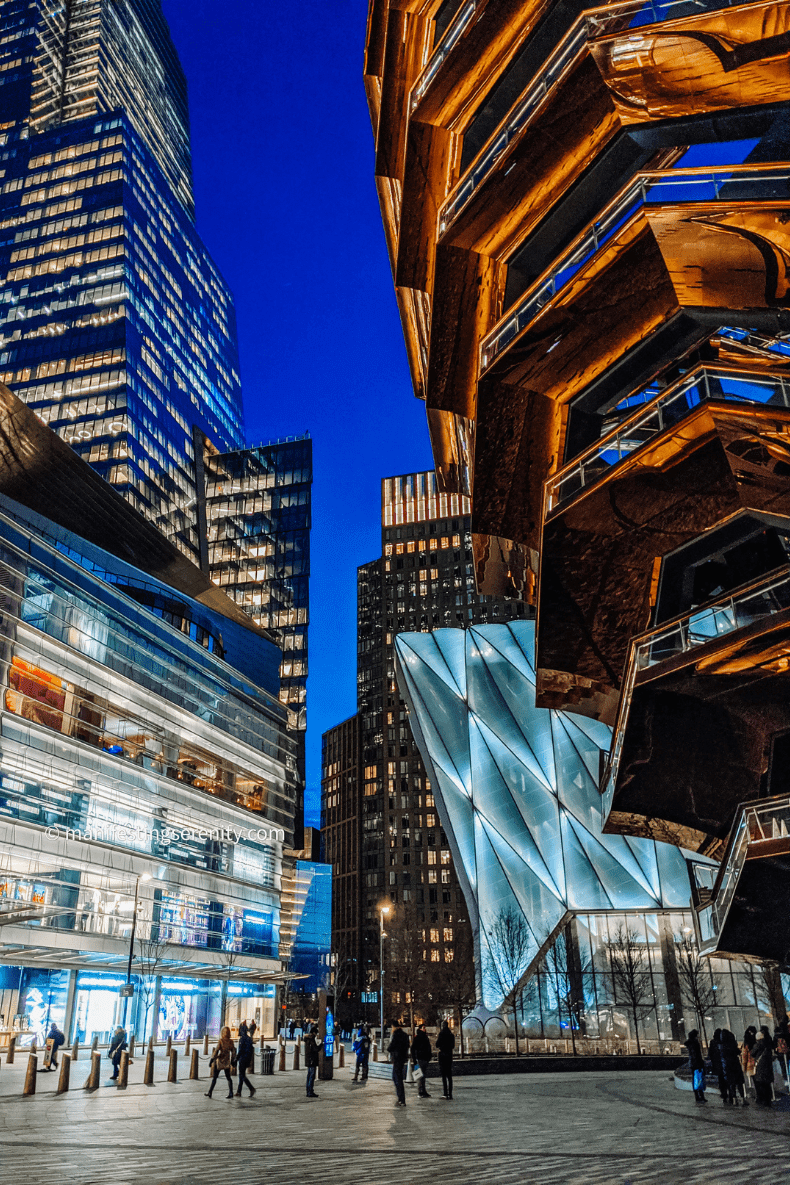 The big cities always have an amazing architectural theme that's just bewildering, travel in NYC is quite a unique experience. 
From the crisp air to the glistening city lights, there is no shortage of sights to see or food to eat here, folks!
Some links in this post may be affiliate links or this article may contain sponsored content, which means if you make a purchase, we receive a small compensation at no added cost to you. As an Amazon Associate I earn from qualifying purchases. Any purchases you make helps to keep this blog going and keeps our content free. I truly appreciate your support! Visit my Privacy Policy & Disclosure Policy for more info!
GETTING AROUND NEW YORK CITY
When trying to travel in NYC, these options are the go-to:
Subway (7-Day Metro Pass card will be the most affordable)

Uber or Lyft 

Cabs

Public Transit

Walking or Biking
Keep in mind that walking can add up fast while touring the city, in one day I managed to rack up over 50,000 steps.
So looking into all modes of transportation, budget, and parameters will give you a better idea of what works best.
However, carrying a map or downloading the NY Subway app on your phone can be really helpful to avoid getting lost or transportation confusion.
PLACES TO EXPLORE
For a city with an estimated 20.4 million (in 2021) and being the fourth most populated state in the US, it welcomes all walks of life. Have you ever just sat and watched all the beautiful people walking past? Yeah, me too. 
There is beauty to be seen everywhere, well the travel in NYC seems to have a lot of it, in every manner. 
CENTRAL PARK
Starting off at the most well-known park in New York, Central Park, with coffee in hand and the slightly brisk air is just divine. 
The unbeatable Central Park's located between the Upper West and the Upper East Sides of Manhattan, covering over 843 acres, with an abundance of facilities available. They just require a little patience and searching, it's just so dang big!
It's the perfect park for strolls, admiring the monuments, sculptures, arches, bridges, and many fountains. (50 to be exact!)
Since Central Park is so widespread, it takes up a pretty big portion of the city, so it can't be missed while you travel in NYC.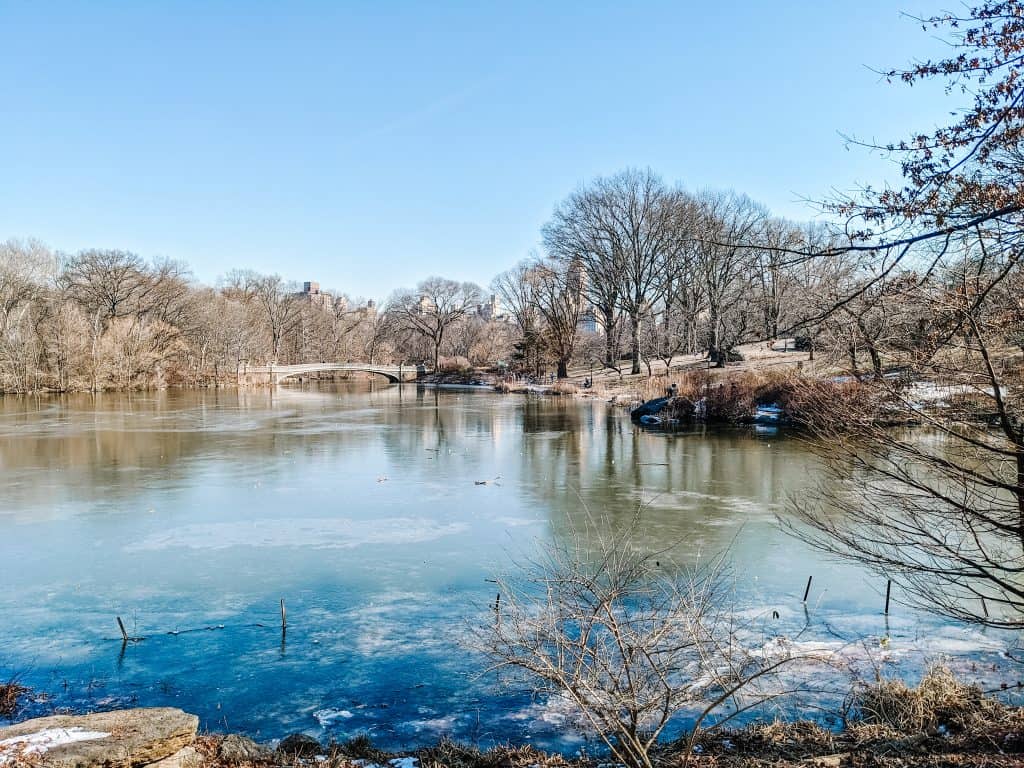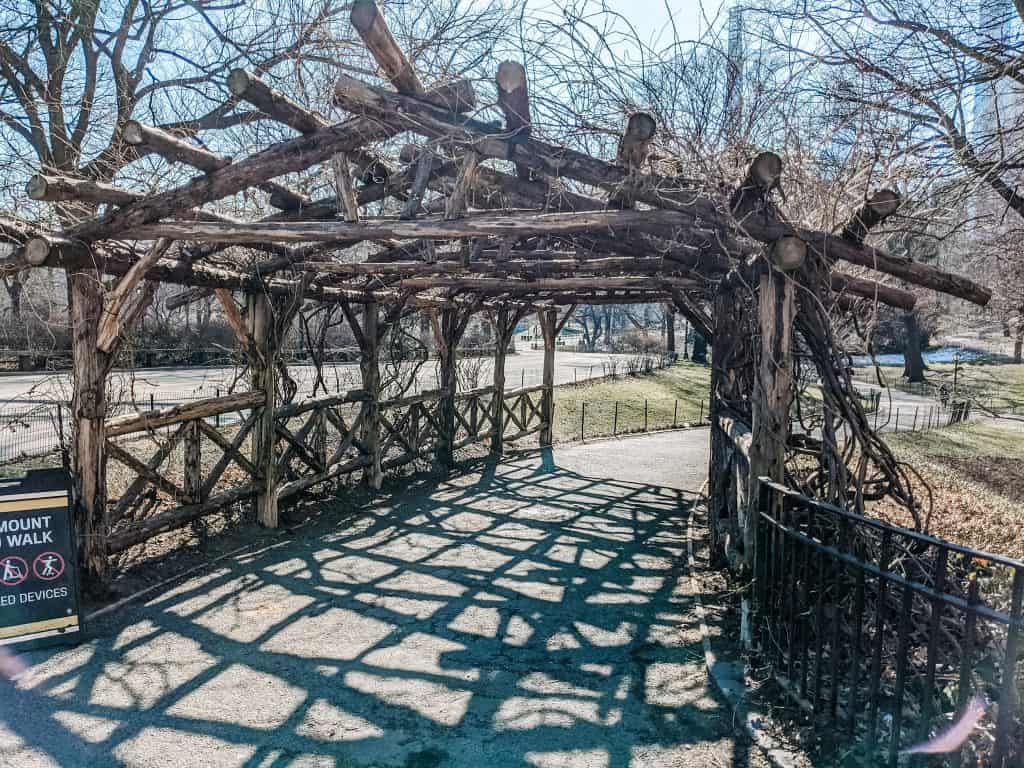 SPYSCAPES
Awesome name right? The SPYSCAPES is such a unique and interactive museum, offering seven main experience zones, and a James Bond exhibit.
These interactive exhibits test each person's spy skills and strategically label them according to their results. I personally had the label of surveillance officer, and my friend had gotten a hacker role (fitting, because he is one!).
Some of these skill tests include reading code, finding details in surveillance videos, a physical laser room, and more.
It costs about $39 for adults and $32 for children for about two hours of fun.
Spyscapes is open:
Mon – Fri 10:00 AM – 9:00 PM
Sat – Sun 9:00 AM – 9:00 PM
Although I had never had any spy experiences before this, I must say this was such a unique experience, and I am so happy I got to try this out. Trying new things and opening our minds up to the world around us is exhilarating!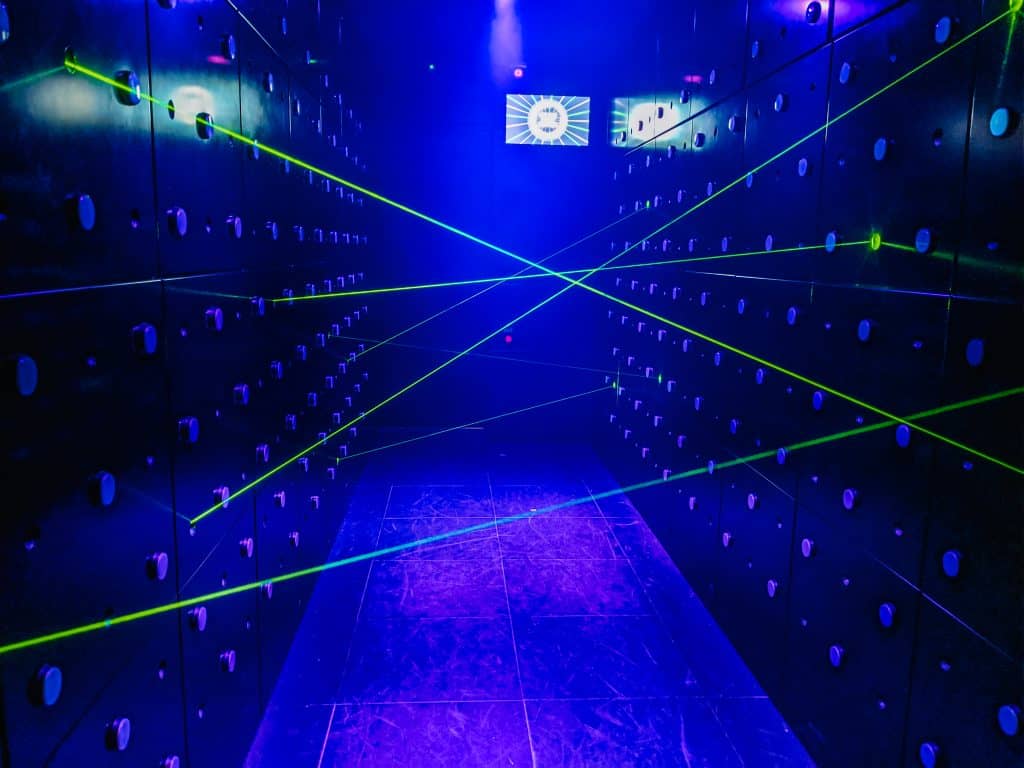 WALK AROUND AND VIEW THE ARCHITECTURE
It's no secret that every single city has a completely different architectural theme. 
I had found different aspects of European design, industrial design and I even found some retro ones. Those architects are so creative, talented, and show such expression.
THE VESSEL
The Vessel is a structure and visitor attraction built as part of the Outdoor Public Garden, Hudson Yards Redevelopment Project in Manhattan, New York City. 
It comprises 154 interconnecting flights of stairs and 2,500 individual steps, equalling out to about a mile in length.
The details and allusions in the architecture are baffling.
Can you believe this project took almost 200 million dollars to build?!? 
I highly recommend capturing the Vessel's beauty at sunrise or sunset and watching the complementary colors play off each other well. The deep blue skies, alongside the copper-toned Vessel, are absolutely breathtaking! 
When it comes to the entry for the Vessel, it is free, but it requires a reservation well in advance, almost 2 weeks in advance, or a limited amount made available daily at 8/9:30 am for same-day reservations.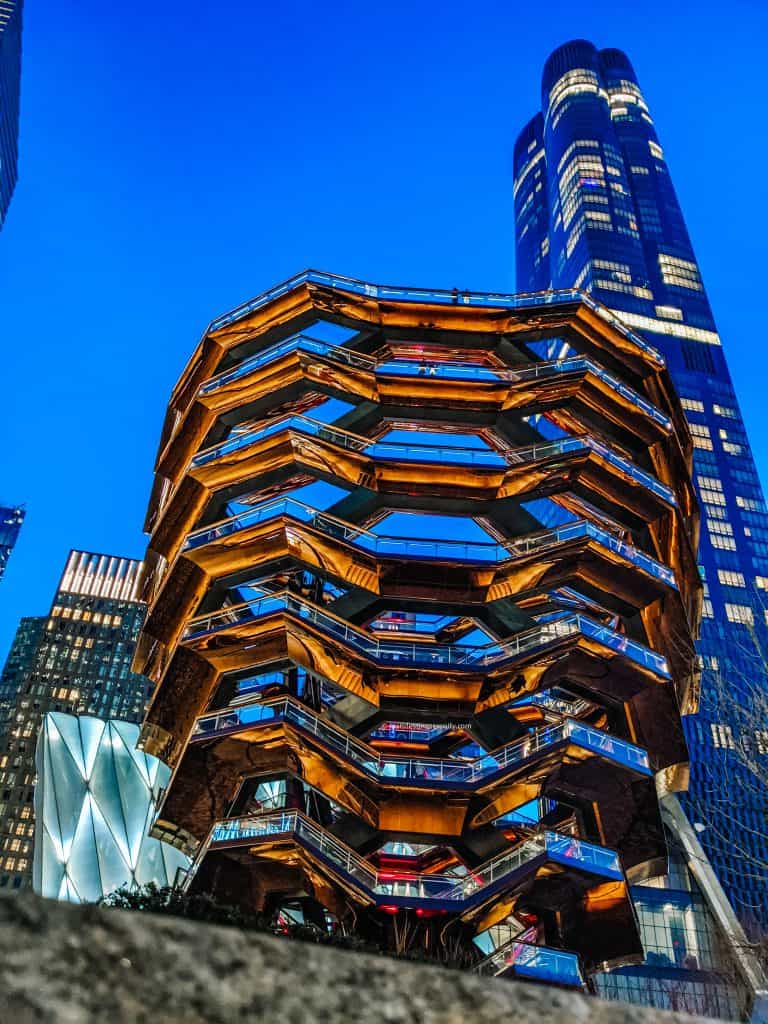 TIME SQUARE
This was such a beautiful spot. My absolute favorite picture was the red chairs as the focal point was so beautiful!! 
It was quite the sight to see all the taxis, people walking, and the city lit up like it was the middle of the day. So many directions to look at, with billboards, flashing lights, signs, trollies, booths,  taxis, ads, and hundreds of people. 
Not to mention everything was within walking distance or had easy public transportation, I love some easy transportation!
PS: Be careful of people walking around in costumes, they will try to get a picture with you and charge a hefty fee.
Times Square's located in Midtown Manhattan, at the junction of Broadway and Seventh Avenue and stretching from West 42nd to West 47th Streets.
Remember to have fun, and be mindful of the ads, you might just buy something you didn't know you wanted before, ha!
PS: I highly recommend viewing the area at night for the full experience.  
EMPIRE STATE BUILDING
Let's start off by saying the Empire State Building glows spectacularly at night, wow! I especially love how the very top glows gold.
I will have to say though, I think the Space Needle in Seattle back home is still a better architectural landmark in comparison! 
However, Seattle doesn't have nearly as much detail as New York, with most of their buildings. 
Fun Fact: The Empire State Building was built after New York's mega economy boom, during a competition between other New York builds, to erect the world's tallest skyscraper! How fun!
For added reference, the Empire State Building measures up to be about 1,250 ft while the Seattle Space Needle is only a mere 605 ft.
The Empire State Building beats the Space Needle in height, but the Seattle Space Needle has an observation level, revolving glass floors, and a restaurant. 
Want an article on the Seattle Space Needle? Comment below and I'd love to do one!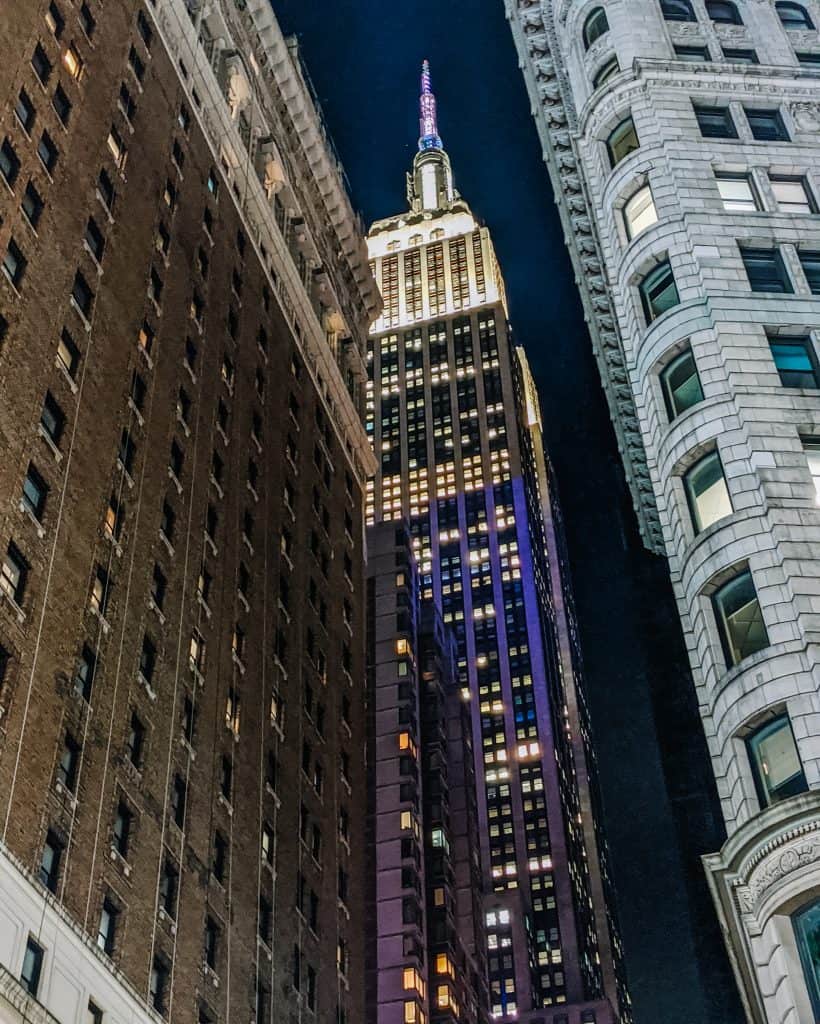 WHERE TO EAT 
After going to a few places, I must say that Peace Food Café was by far my favorite and probably one of the few eateries I'd mention out of everywhere I had gone to. 
The ambiance is incredibly welcoming. Everything was bright and cheery, featuring live plants, soft music, and a display of their fresh desserts. Plus, the name is so sweet, I just had to try it! I'm so thankful I did. 
Peace Food Café has lighter meals, raw vegan meals, fully satisfying meals, and dessert options available; so there is a way to satiate any of those cravings.
Address:
460 Amsterdam Ave, New York, NY 10024 – Uptown Location
41 E 11th St. New York, NY 10003 – Downtown Location
♻ Sustainable Tip/Highlight: 
Peace Food Café helps contribute to Support + Feed; a community organization that provides plant-based meals, from local vegan restaurants, for people experiencing food insecurity.
Taking the time to travel in NYC provides it's own very one-of-a-kind experience, from the people, architecture, even down to the food. There is a specific culture I hope you get to experience in the most exceptional way. 
Let me know in the comments below some of your favorite places you've had to opportunity to travel in NYC. I'd love to know for future trips!
ENJOYED THIS ARTICLE ON DAY TRIP TRAVEL IN NYC? HERE ARE SOME SIMILAR ARTICLES: