/
TSA APPROVED MEALS & SNACKS YOU CAN BRING ON AN AIRPLANE
After flying on many occasions, I began to take not of all the snacks you can bring on an airplane, I've listed some options here for you. 
Personally, I can't eat most of what's served, so I had to start getting creative – hopefully, this helps you as well! Especially when trying to avoid plastic and trying to be accommodating to allergies.
Some links in this post may be affiliate links or this article may contain sponsored content, which means if you make a purchase, we receive a small compensation at no added cost to you. As an Amazon Associate I earn from qualifying purchases. Any purchases you make helps to keep this blog going and keeps our content free. I truly appreciate your support! Visit my Privacy Policy & Disclosure Policy for more info!
TSA GUIDELINES
Overall, the best way to get food thrown away by TSA is to follow its guidelines and rules. 
Although some of those rules can be pretty borderline with the liquid rules, I've most recently had it broken down into a simpler saying. One of the women in TSA had told me "Nothing spreadable or creamy even." 
For example, hummus, peanut butter, guacamole, and yogurt all count as liquids to the TSA.
*Can we just take a moment to mourn the hummus and peanut butter I've had thrown away*
However, there is a very small amount of creamy dips, spreads, dressings, sauces, and salsas, but are subject to the 3.4-ounce liquid restriction.
Another option is to have the liquids put in your checked bag, but those bags can be thrown around a bit and end up leaking or even broken. 
So, for now, let's just stick to the snacks you can bring on the airplane with your carry-on.
Please note: Passengers flying from Hawaii, Puerto Rico, or the U.S. Virgin Islands to the U.S. mainland cannot take most fresh fruits and vegetables due to the risk of spreading invasive plant pests
Also, don't forget to dump out the water you previously had in your water bottle before going through TSA. Fortunately, there are a decent amount of fill-up stations available, water fountains, and even coffee shops that we can go to for filling up our water bottles after going through TSA.
PACKING THE FOOD
Of course, there are so many benefits to bringing our own snacks on a plane, and here are just a few:
Avoid Plastic Waste

Ability to Honor Allergies

Great Way to Stay Eating Healthy

Save Money
So, why don't more people pack their own food? Maybe, we can show them how!
However, when actually packing our food, opting for great sustainable cutlery, containers, and even water bottles can truly be an even better way to prevent plastic waste. 
Overall, these are some of the absolute favorites that I know you'll love too!
Many of these items are incredibly popular but also can be found on another favorite site if these are out of stock.
Check availability for:
OPTIONS FOR SNACKS YOU CAN BRING ON AN AIRPLANE
Snack Ideas
:
Nuts

: pistachios, cashews, peanuts, walnuts, and pecans

Trail Mix:

DIY trail mix, a great way to cut down the sugar and avoid allergens. Some great things to add are popcorn, nuts, chocolate chips, pretzels, seeds, dried fruit, etc.
Seeds:

Pumpkin seeds & sunflower seeds are great go-to snacks, whether they are roasted or even raw.
Chips:

Whether it be fruit hips or salty & savory veggie chips, they can help relieve some of the jaw tension that can come from flying.
Fruits:

Apples, citruses, etc. Think of fruits that are firm and can't be easily crushed too, because then they become spreadable! HA! I had this happen with a banana once!
Vegetables:

Some great examples are cucumber, celery, Very similar to the fruits, just be cautious about the veggies being crushed!
Protein bars:

These are an absolute staple for any trips, hiking, flying, backpacking, road trips and best of all snacks you can bring in an airplane.
Jerky: Have you ever tried mushroom jerky or the Beyond Meat Jerky? They are amazing and the perfect savory snacks!
Solid cheese & crackers:

Unfortunately, spreadable cheese counts as liquid cheese, unfortunately, so just be sure to have solid cheese!
Meals:
In addition to all those delicious snacks, meals can also be great for those longer flights that need a good pick me up or even being on the safe side in case of delays! 
Personally, I find that having meals that don't need to be reheated is typically better tasting, and is convenient when traveling without a heat source.
Here are just a few of my personal favorites:
Salad:

Avoid the liquid restriction by adding dressing to your salad right before you go through security! When timed right, you can avoid soggy lettuce and have a fresh salad ready to go.

Pasta salad:

This one is such a classic and is simply just cold pasta mixed together – yum!

Potato salad:

Have you ever heard of a lazy potato salad? Well, it totally works, simply scoop out the veganaise and add a big ol dollop onto some solid potatoes and anything else you'd like to add to your potato salad, then once through TSA mix it all up together – viola it's delicious!

Veggie fried rice:

Simply cook up some rice and some finely chopped veggies and seasonings. 

Sandwiches or Wraps:

Something spreadable won't go noticed inside a sandwich or even a wrap, so this is a great opportunity to go wild with the spreadables and the other filling goodies too!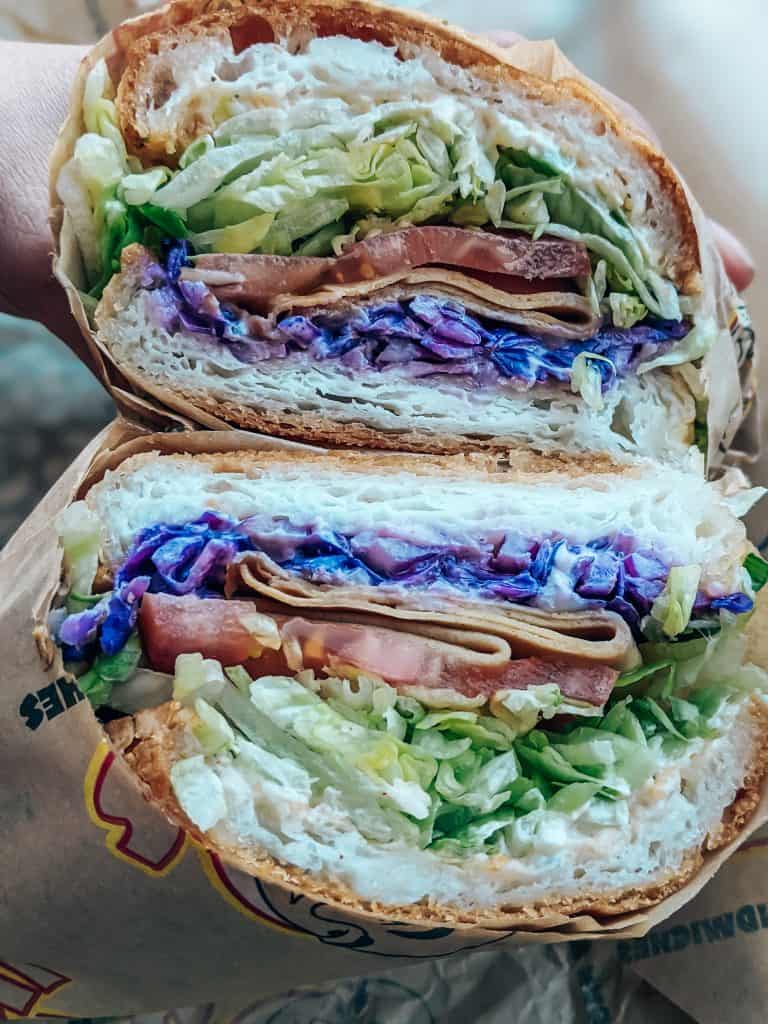 Of course, there are sooo many more options for meals, but these are just a few personal favorites and super-easy go-to ones. 
Are you wondering where to sustainably grocery shop for these goodies? Read more here!
Are there any snacks that you can bring on a plane that you'd like to add? I'd love to hear your comments below!
HERE ARE SOME MORE TRAVEL ARTICLES YOU MAY ENJOY: