/
A COMPLETE GUIDE TO VISITING BRYCE NATIONAL PARK: THE NATIONAL PARK WITH THE MOST HOODOOS ON EARTH!
After road tripping through the west and visiting Bryce National Park, I knew it just had to be shared for you to be able to visit too! 
Bryce Canyon National Park contains the most hoodoos on earth, has some of the clearest skies, and is a four-season National Park. So, it's got a wide variety of colors in all seasons, and it's absolutely astonishing! 
Some may even say that this is what they think Mars would look like if they could guess it!
Also, you may notice me saying Bryce National Park or Bryce Canyon National Park, both are correct and often are referred to as both nationwide, so I wanted to be sure to clarify. Although Bryce Canyon National Park is the full and prepper term, Bryce National Park is also right, but also just as referenced.
Some links in this post may be affiliate links or this article may contain sponsored content, which means if you make a purchase, we receive a small compensation at no added cost to you. As an Amazon Associate I earn from qualifying purchases. Any purchases you make helps to keep this blog going and keeps our content free. I truly appreciate your support! Visit my Privacy Policy & Disclosure Policy for more info!
BEST TIMES TO GO
Amazingly enough, Bryce Canyon is open 24 hours, and year round! But from October until May some roads, campgrounds and other accommodations close.
Best of all, if you're looking for cooler weather and some beautiful fall foliage, October and November are absolutely breathtaking!
On the other hand, if you're looking for cozier months, then May and September would be your best bet.
Above all, be sure to be prepared for temperature drops, the elevation causes the temperatures to be a bit unstable.
Of course, just like most popular destinations, the crowd starts to roll in between about 9 to 5, so to beat the rush getting up early to the sunrise and even getting out to see the sunset can be most rewarding! Please note that if hiking to see the sunset, you'll want to bring headlamps for the trek back! 
BRYCE NATIONAL PARK LOCATION
The ever famous Bryce National Park is located in the southern part of Utah, near Zion and Escalante as well. 
Here are some popular drives into the park:
When coming from Zion National Park (72 miles) you'll take Hwy 9 east toward Mt. Carmel Junction. Take Hwy 89 north for 43 miles, then turn right and head east on Hwy 12. Follow the signs to Bryce Canyon National Park. This drive averages about 72 miles.
So, from Las Vegas, Nevada, you'll take I-15 N toward Salt Lake City. Take exit 95 and head southeast on Hwy 20 to Hwy 89 south, then Hwy 12 east. Follow the signs to Bryce Canyon National Park. Overall, this drive is about 260 miles.
Lastly, if coming from Salt Lake City, Utah, take I-15 S toward Las Vegas, NV for 213 miles. Take exit 95 and head southeast on Hwy 20 to Hwy 89 south, then Hwy 12 east. Follow the signs to Bryce Canyon National Park. As well as having this trip be about 268 miles.
PERMITS AND FEES
Thankfully, there's not many fees or much permitting required for the hikes in Bryce Canyon compares to other National Parks. 
Overall, the main fee is the entrance fee, of about $35 per vehicle, but I highly suggest getting an America the Beautiful Pass. 
First and foremost, the American The Beautiful Pass is absolutely essential for anyone regularly enjoying the outdoors. 
Most entrance fees start at $30 per entrance, but this pass covers all entrances annually, for only $80! WOW! 
Seriously, I wish I had known about it sooner.
This pass is honored at sites managed by the Forest Service, National Park Service, Fish and Wildlife Service, Bureau of Land Management, Bureau of Reclamation and Army Corps of Engineers
BEST BRYCE CANYON HIKES
Of course, each trail offers it's own unique views of the National Park, with it's own hidden gems! Let's ensure the preservation of these trails by respecting the Leave No Trace Principles, and keeping the trails clean for all to enjoy! Happy Trails, fellow adventurers and explorers!
Navajo Loop Trail 
Trail Type: Loop
Length: 1.5 miles
Elevation: 515 ft
Permit Required: No
Best of all trails, the Navajo offers views of the towering Hoodoos, the infamous Thor's Hammer, amphitheater, and even a narrow switchback slot canyon called Wall Street.
The iconic Thor's Hammer is made up of dolomitic limestone, white limestone, and red limestone, mud stone. After years of weather forces that weather and eroded the stone into the magnificent and iconic shape it is today!
A typical weather cycle that takes place is when rain or melted snow freezes at night and then melts and drains in the afternoon. This currently happens about half of the nights here, shaping rocks bit by bit and create tall, narrow hoodoos like Thor's hammer.
Fun little facts I learned from an interactive children's junior ranger pamphlet my friend gave me, yes having some childhood fun is always the answer!
Hoodoo stages:
Wall or fin

Window

Hoodoo

Rounded hill
Also, please note that this is an extremely popular trail and I highly recommend getting there as early as possible and even trying to catch the sunset!
Peekaboo Loop Trail
Trail Type: Loop
Length: 4.5 miles (from Bryce Point)
Elevation Change: 1450 ft
Permit Required: No
If you're looking to soak in the sights of Bryce Canyon just a bit longer, the Peekaboo Loop Trail is great for that! 
Although this trail offers a somewhat similar view of the Hoodoos, this trail differs by giving a detailed view of the more beginning stages of the Hoodoo transformative process, and even a Wall of Windows. 
NIGHT HIKE VS SUNRISE HIKE
Another widely suggested type of hike has been doing a night hike, star walk, or viewing the galaxy. 
Although Bryce Canyon is known for being the highest elevation in Utah, it surprisingly has a bit more light pollution than Zion National Park, and I personally recommend saving that for Zion.
After spending days and nights in both Zion and Bryce to try to see the galaxy, Zion showed the most detailed and brightest stars as well as galaxy shots.
However, the sunrises in Bryce Canyon illuminate the gradient oranges throughout, it's totally worth the early rise!
WHAT TO PACK
Thankfully, I've put together an article for that already! Just head over to the article WHAT HIKE ESSENTIALS TO PACK FOR A DAY FULL OF ADVENTURE. 
However, I also highly recommend packing twice as much water as you'd typically bring as well as extra warm layers because the elevation in Bryce Canyon National Park is the highest in Utah. 
So, with extreme elevation also means extreme dehydration and hugely fluctuating temperatures. 
For instance, in Zion it was 85 degrees one day, but then driving merely 2 hours over to Bryce Canyon brought the temperatures down to 50's during the day and 36 at night. 
So, it would be a great idea to pack a warm hat, gloves, a cozy winter coat, and double layer on pants. Definitely, don't underestimate the weather here.
Also, if you're planning on turning this visit into a road trip, be sure to read more on PACKING FOR A ROAD TRIP CHECKLIST, where I give a whole checklist of what to pack when your getting ready to hit the road!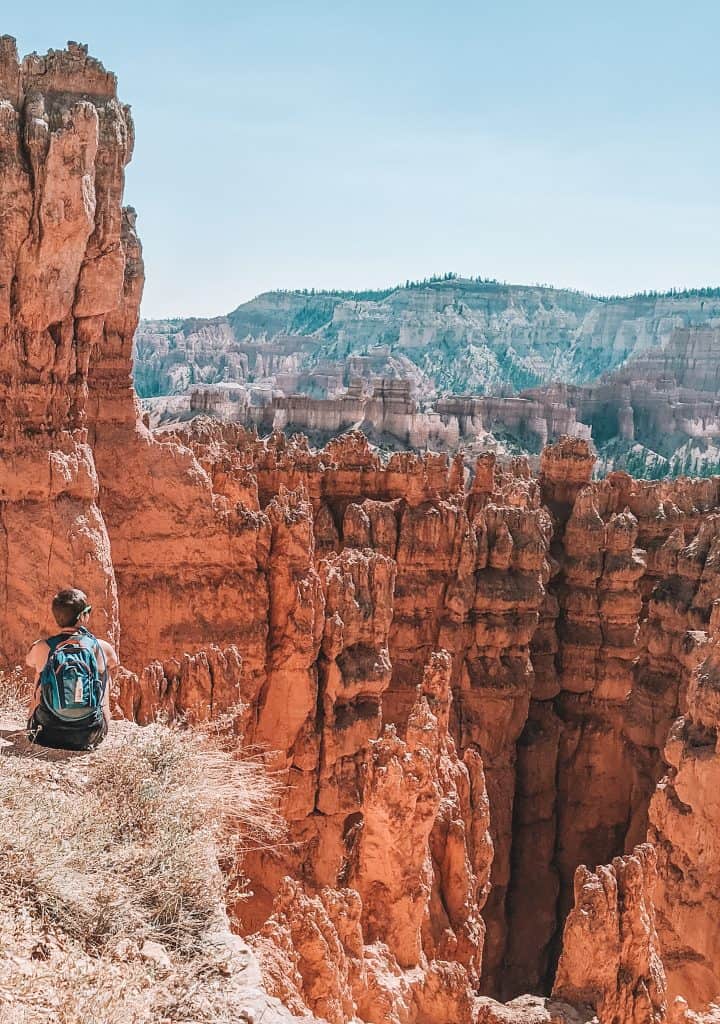 Well, fellow adventurer, I hope you're excited, ready, and confident to get out there and explore Bryce Canyon National Park with this helpful guide. If you're not planning to go right away, save this article for later or save it to your bucket list board on Pinterest! 
Also, if you enjoyed the article, please share it with others so that they may also have the resources to be able to enjoy this beautiful world!