/
Adventure Prep: Making Your New Favorite Day Trail Mix
As we begin to gear up to get outside and go out on our new adventure, we of course have to think of what fuels us, like a new favorite day trail mix – YUM!
After continuously searching for gluten-free, sugar-free, vegan trail mix in sustainable packaging, I began to realize it seemed nearly impossible to find. 
So began the venture of making it from scratch! Also, this isn't a typical recipe, this is more like a slap things together and have fun with it kind of post -HA!
PS: Not only is this great for hikes, backpacking, but it's also great for road trips and even when flying. It's an amazing, quick and easy to pack snack.
Some links in this post may be affiliate links or this article may contain sponsored content, which means if you make a purchase, we receive a small compensation at no added cost to you. As an Amazon Associate I earn from qualifying purchases. Any purchases you make helps to keep this blog going and keeps our content free. I truly appreciate your support! Visit my Privacy Policy & Disclosure Policy for more info!
OPTIONS FOR MAKING YOUR NEW FAVORITE DAY TRAIL MIX
Another incredible part about making your new favorite trail mix is that it can also be made allergy-friendly. 
Plus, it can be made with different flavor preferences as well. For example, more sweet or even more savory even.
♻ Sustainability Tip: Also, when shopping for these ingredients, try seeing if you can find them in the bulk sections of your local stores. If you'd like some ideas on where to shop – check out this article here, 7 SUSTAINABLE GROCERY SHOPPING OPTIONS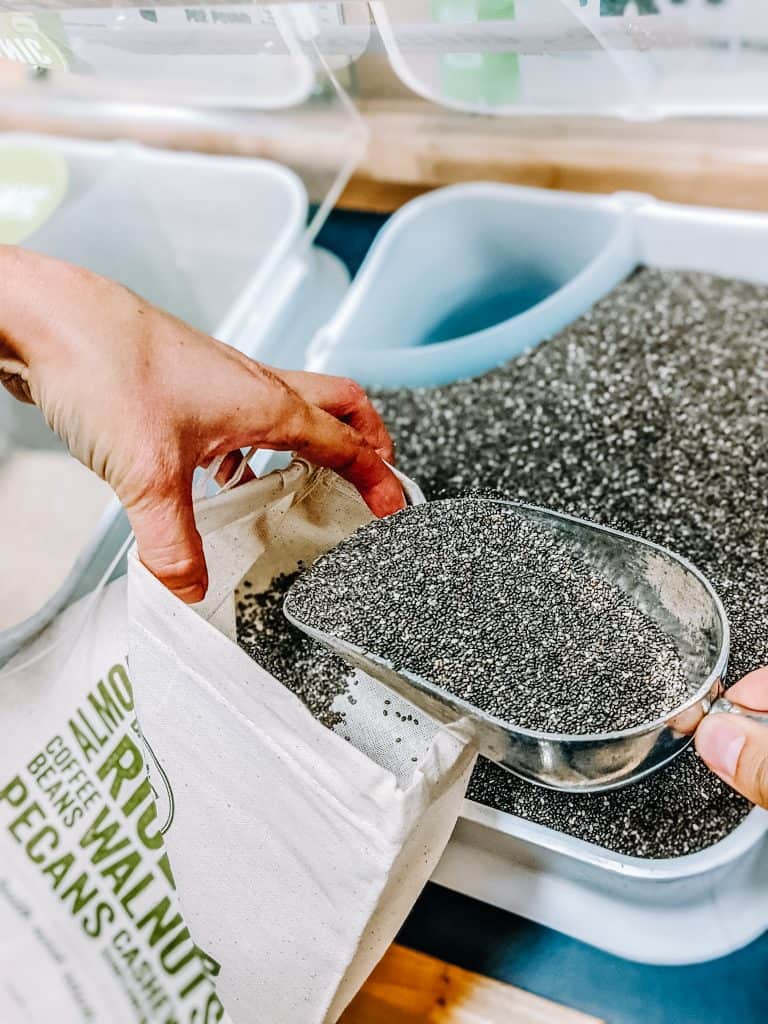 Seeds:
Sunflower

Sesame 

Chia

Flax

Pumpkin
Nuts:
Almond

Walnut

Pecan

Peanut

Cashew 

Hazelnut
Dried Fruit:
Raisins

Cranberries / Craisins 

Blueberries

Cherries

Dates

Apricot

Fig

Plum

Apple

Mango

Pineapple

Banana

Coconut Shreds
Grains:
Although I personally try to avoid refined sugar on a regular basis, sometimes it can be quite a treat to eat a couple of sweet treats after a 30-mile backpacking trip or an 11-mile hike! Shhh – don't tell anyone!
Candy:
Chocolate Chips

Broken up cookie bites
Simply mix together whatever you'd like, and this can look different for every snack bag too!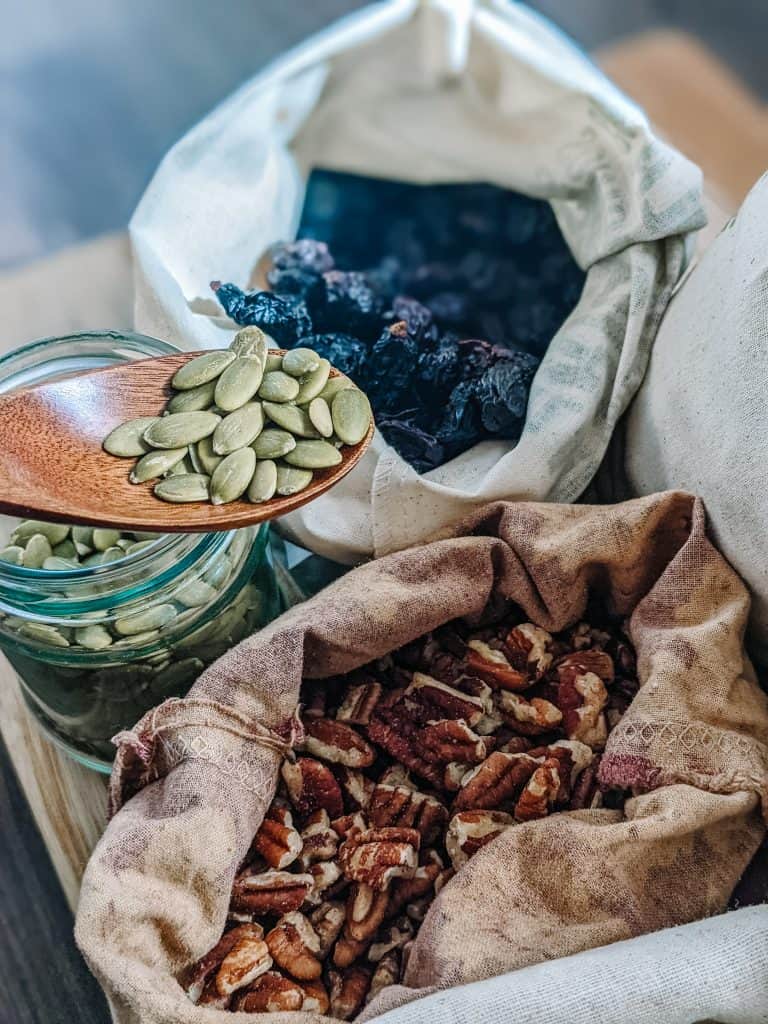 WANT TO TURN IT INTO GRANOLA CHUNKS?
If you're wanting to take it up another notch, there are other options for even turning it into clusters or even granola. 
Although this can be a bit of a process, it can amp up the flavors and combinations!
Simply start this by adding sweet syrups/honey/dried fruit paste and nut butter together with the previous trail mix ingredients.
I personally am not much of a recipe follower – hence the non-recipe formatting.
So, try slowly adding the sweet syrups/paste and nut butter until everything is in a clumpy consistency while taste-testing the process to get it where you'd like it in ratio to sweet and salty.
Once it reaches a chunky consistency, then slowly spread it over a pan and begin to bake in the oven at about 200 degrees F. 
If you're nervous about it sticking to the pan, try adding a layer of unbleached and compostable parchment paper to line it. 
After about an hour, begin to check on the consistency – the stiffer it is, the easier it is going to turn into crumbles/chunks when it cools.
Overall, the heat will still make it kind of gooey and sticky, but when cooled it will stiffen and harden up a bit. 
STORAGE OPTIONS
Personally, I've come to see that using Stasher Bags has been the most affective way to store this.
Not only are the Stasher silicone bags reusable and more eco-friendly but they 
Another option is storing it in compostable bags, but this can get a little tricky because it requires a commercial compost system to get hot enough to be able to break it down properly.
♻ Sustainability Tip: However, there is a way around this, the commercially compostable containers/bags can be thrown into the fire and the ashes can be repurposed into the garden because they are simply comprised of plant matter!! WHOOP-WHOOP! Cheers to hacks!
Also, glass is typically not allowed on trails, and it can take up too much room when packing it for most travel trips – o I don't consider this to be the best option.
So, have you ever tried to make a new favorite day trail mix before?! Did you use anything not mentioned here in the article? 
PS: To make it more fun, try doing it together with a friend and swap half of each batch to have different flavors! YAY!
CHECK OUT THESE OTHER ARTICLES SIMILAR: