/
DISCOVERING THE BLUE POINT TO THE OVENS TRAIL – THE HIDDEN ARIZONA HIKING TRAIL THAT HAS WILD HORSES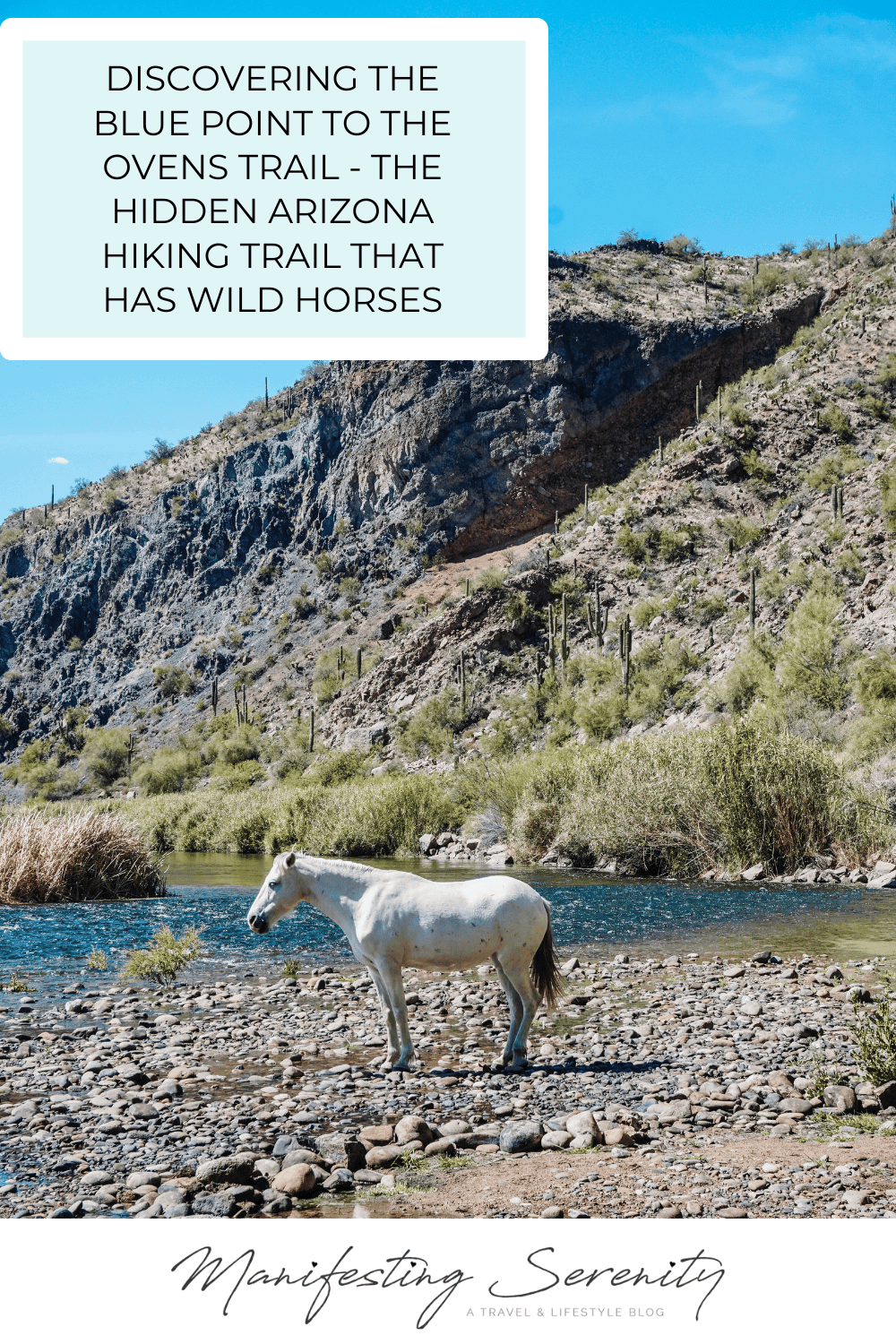 Almost anywhere in the world has some trails that are just a bit more hidden than others, but this Arizona hiking trail had a secret that no local had ever shared.
Of course, I kind of gave away a little part of it in the title, but just wait till you see! You'll know what I mean!
Some links in this post may be affiliate links or this article may contain sponsored content, which means if you make a purchase, we receive a small compensation at no added cost to you. As an Amazon Associate I earn from qualifying purchases. Any purchases you make helps to keep this blog going and keeps our content free. I truly appreciate your support! Visit my Privacy Policy & Disclosure Policy for more info!
WHAT TO PACK FOR HIKING
Of course, making sure to have all the right gear is essential when Arizona hiking or even hiking in general! I've often heard the gear can be a huge difference in enjoying a trip to the fullest, or even for safety purposes!
Be sure to check out this full article on all the gear I highly recommend while hiking – WHAT HIKE ESSENTIALS TO PACK FOR A DAY FULL OF ADVENTURE
Also, maybe you'd like to try making some of your own trail mix too, while you're prepping for such a fun little trip! Read the trail mix article here!
HIKING ETIQUETTE
Above all, and whenever going outdoors, respecting nature and preserving nature, ensuring the preservation of the area for years to come and for others to enjoy. 
If you're not familiar with the Leave No Trace Principles, please take a quick moment to read them in an article here!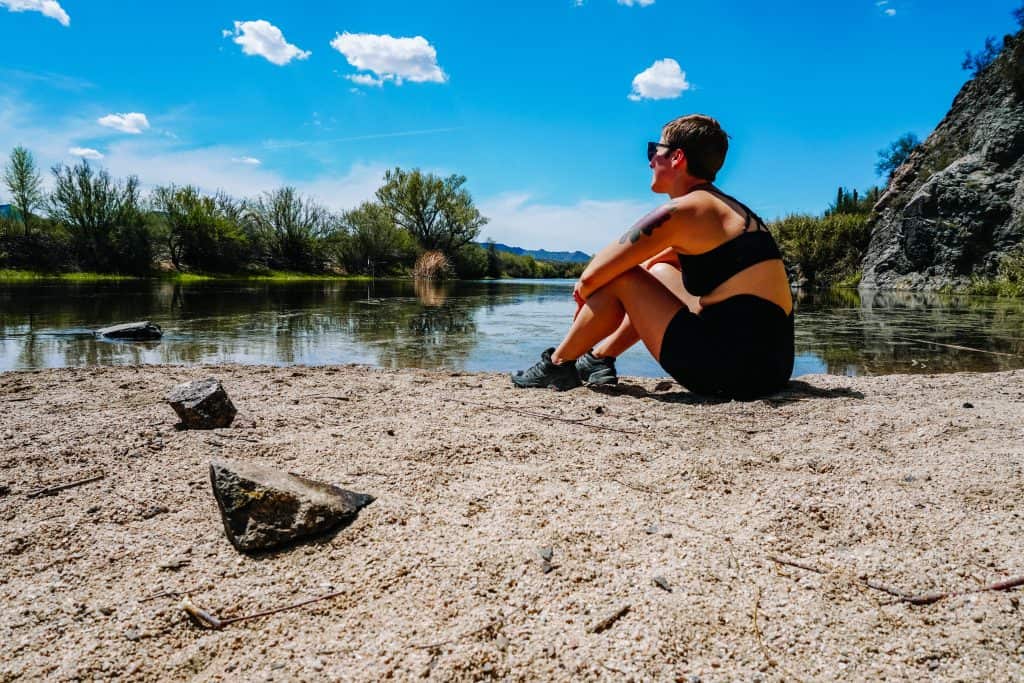 PARKING & LOCATION 
I had found the Blue Point to the Ovens Trail after seeing some decently high reviews and noticed that it was fairly close to the city of Tempe, just 35 minutes east to be exact.
So, to get to the trail head, you'll end up parking at the main Blue Point Recreation Area. Thankfully, there are easily accessible restrooms, garbages, and plenty of parking. 
The Blue Point Recreation Area, is a great spot for picnics, barbecues, or even just lounging around the river.
Please, also note that this is in Tonto National Forest and requires a pass!
I highly recommend getting the America the Beautiful Pass because it's a pass that covers National Park fees all over the country for an ENTIRE YEAR! 
Overall, most entrance fees start at $30 per entrance, but this pass covers all entrances annually, for only $80! WOW!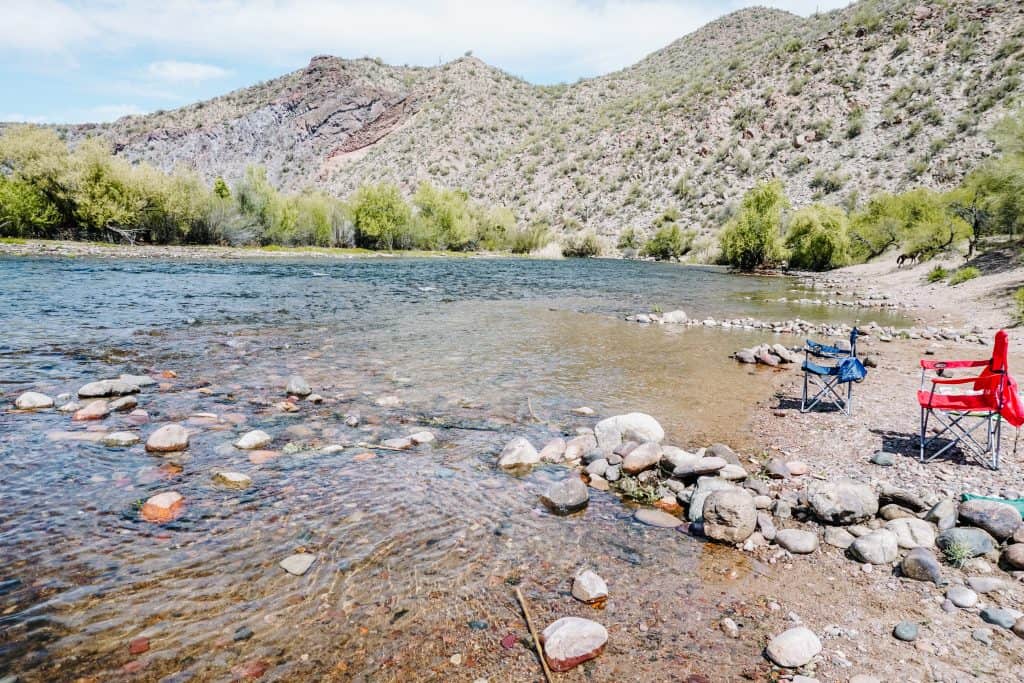 HIKING THE BLUE POINT TO THE OVENS TRAIL OVERVIEW
Miles: 4 miles
Elevation: 406 ft
Trail Type: Out and back 
Rated: Moderate
Average Time of Completion: 1 hour and 53 minutes
Pets: Welcome
When looking for the trail, you'll see a few slit entryways through the metal fencing, these are where you'll get to the river too. 
Unfortunately, the trail is quite hidden and not marked well. The best way to find the trail is to follow the slit entryway through the metal fencing in the very, very back of the parking lot between the two bathrooms. 
After a bit of walking under trees, and through some patches of grass, while following what seems to be a somewhat previously walked trail, you'll start to walk alongside the river bed.
The very begging of the trail is rather easy, but the terrain will quickly change over time. 
Firstly, the terrain is a pressed thin sand, then becomes bigger uneven rocks and then lastly shifts into sand that can sink slightly – be prepared for a calf work out!
Of course, having the right hiking shoes can make a huge difference, not only for safety but also for comfort. So far, these Solomon trail shoes have been the absolute best for me and work amazingly! Check the out here!
BUY THE SOLOMON TRAIL SHOES HERE! 
Once you come to a pile of white rocks, take a right, and you'll see the oven, and if you look closely you may be able to see pieces of stones or broken pottery with a gloss on them, from when they were baked.
TIP: Along the trail you'll see lots of horse manure, 
If you keep your eyes open, you may just see a herd of wild horses. 
SOOOO worth it!
BEST TIMES TO VISIT 
When visiting or hiking Arizona, typically the most comfortable times of the year for most people are between Mid-October until the end of March, but that also completely depends on your comfort. 
So, mostly through fall, winter, and spring are best.
If you're not used to traveling in the heat, reading this article may help you better prepare or to even know what to better expect when traveling in the warmer months.
READ THE 25 TIPS FOR TRAVELING IN THE HEAT OF THE SUMMER
I especially recommend the spring because the entire trail is filled with an array of colorful flowers; purples, yellows, oranges, whites, and more. 
The desert in the spring is one of the most beautiful ways to see the desert. 
Perhaps, if you're even more lucky and taking a sitting break with pure stillness and being quiet, you'll notice marmots, lizards, desert squirrels, butterflies, birds, and so much more.
Thinking of visiting?! Don't forget to share this article with those people and anyone else you know that may be visiting Arizona!
STAY TUNED FOR ADVENTURES HAPPENING SOON! CHECK BACK REGULARLY OR SUBSCRIBE TO THE NEWSLETTER WITH UPDATES WHEN EVENTS AND TRIPS GET POSTED!
HERE ARE MORE ARTICLES YOU'RE SURE TO ENJOY: