/
7 REASONS TO VISIT ARIZONA IN WINTER
All across the US are beautiful states, but something about Arizona in winter just outshines all other states.
Before visiting Arizona, I had thought it was going to be a flat desert with rolling tumble weeds, some cacti, sunshine, and lizards. Never had I ever imagined that it would offer so much more!
Some links in this post may be affiliate links or this article may contain sponsored content, which means if you make a purchase, we receive a small compensation at no added cost to you. As an Amazon Associate I earn from qualifying purchases. Any purchases you make helps to keep this blog going and keeps our content free. I truly appreciate your support! Visit my Privacy Policy & Disclosure Policy for more info!
#1. WEATHER All CAN ENJOY
Actually funny enough, Arizona really does outshine other states with around 299 days of sunshine, compares to the sum average of only 205 days of sunshine in other states, it's actually the sunniest state!
After staying in Arizona for a little under a year, I got the opportunity to explore so much of the state and got a pretty good understanding of the weather.
Arizona surprisingly has all seasons, which can satisfy most people's desires! 
Also, each main city in Arizona has a bit of a different climate and landscape.
Sedona –Known for getting a little snow in winter but not much, and it gets all seasons.
Flagstaff – Known for snow in the winter and all seasons – great for skiing, snowboarding, and other winter ventures!
Phoenix- Known for the warmer weather and getting pretty hot in the summer.
Scottsdale – Known for being a little cooler than Phoenix because it's on the northern side, but still being warmer than most of the other cities mentioned.
Prescott – Known for having all the seasons.
Overall, Arizona in winter is spectacular for all variations of fun or even for those that want to sprawl out and relax in the sun, sit poolside or snow side.
Personally, I typically choose poolside!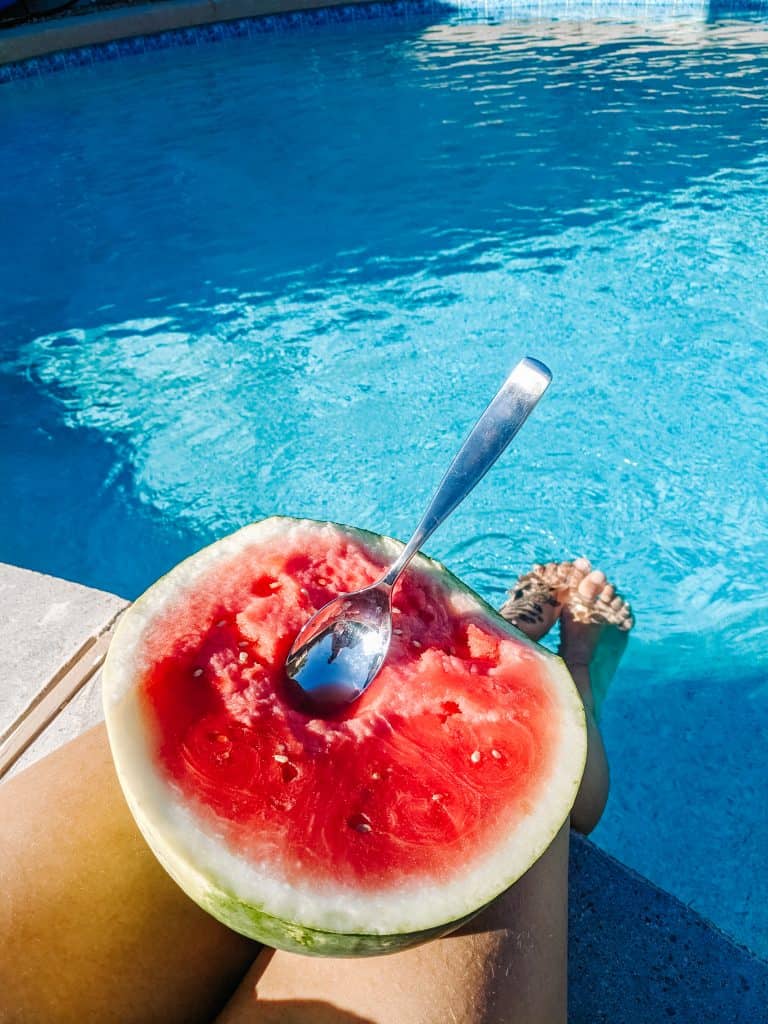 #2. YEAR-ROUND HIKING 
Most areas don't get so much snow that hiking is impossible, so you can really enjoy the winter wonderland scenery anywhere in Arizona.
Although, in December the Phoenix area cools down enough to really comfortably hike, while the northern parts of Arizona start to snow in December. 
Often times I'll hike the northern parts of Arizona in the late fall and early winter, then hike the southern parts of Arizona in the rest of winter.  
The best part about mapping out hikes to follow the weather is it makes the hikes more enjoyable while avoiding being too cold or hot. 
Plus, it makes Arizona hikeable all year round!!
I personally like between about 50-78 degrees for hiking, as our bodies quickly warm up from our blood flow and the sun.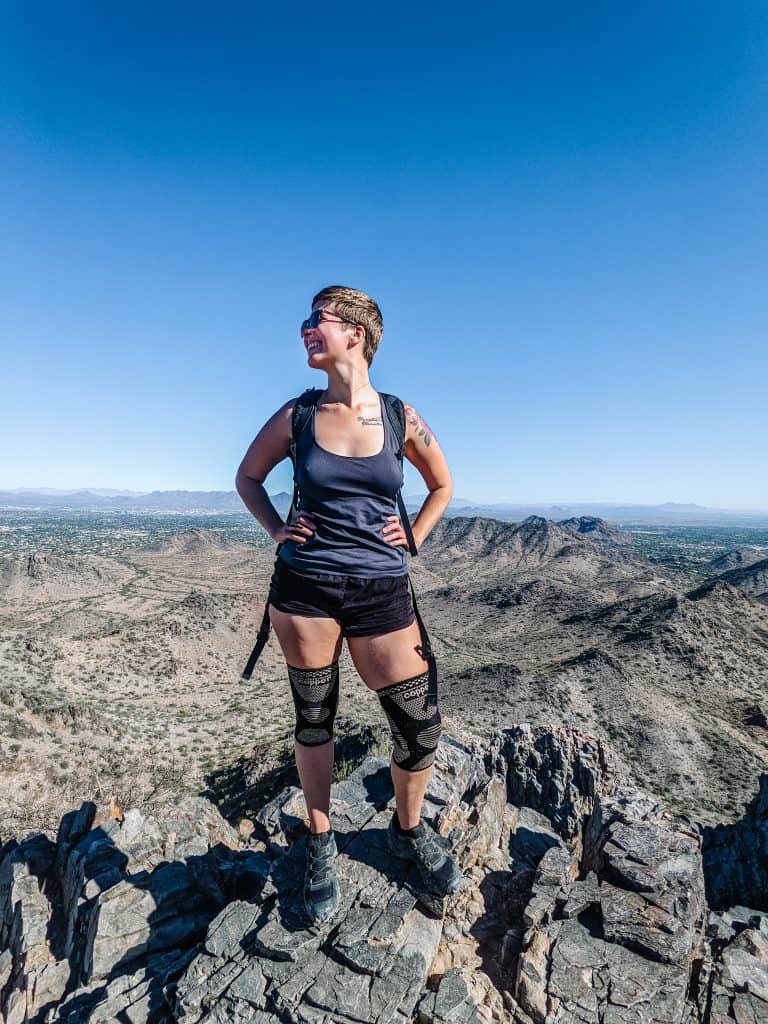 #3. THE BEST CITRUS
As someone who loves fresh fruits and foods, this was a beautiful part of living in Arizona. 
So, get this?! There are citrus trees all over the place!
The best part is that there is an assortment of oranges, lemons, limes, tangerines, grapefruit, oranges, pomegranates (not a citrus but still delicious!), and tangelos. 
PS: Grapefruit bought in a regular grocery store is prepicked – bitter and sour! But the sweet grapefruits right off the trees are absolutely amazing! Seriously, there's nothing like it!
In addition, citrus starts to ripen in November, and citrus season goes until about May, but the best times to pick are in December to March.
Any of these fruits can be found around the cities, at the year-round local farmers' market, or at local fruit stands.
♻ Sustainability Tip: As a local or a neighbor if you can pick their falling fruit; so many people don't eat it, it saves them from having to pick it up, and you'll be putting it to use instead of it being wasted! Eco-Win!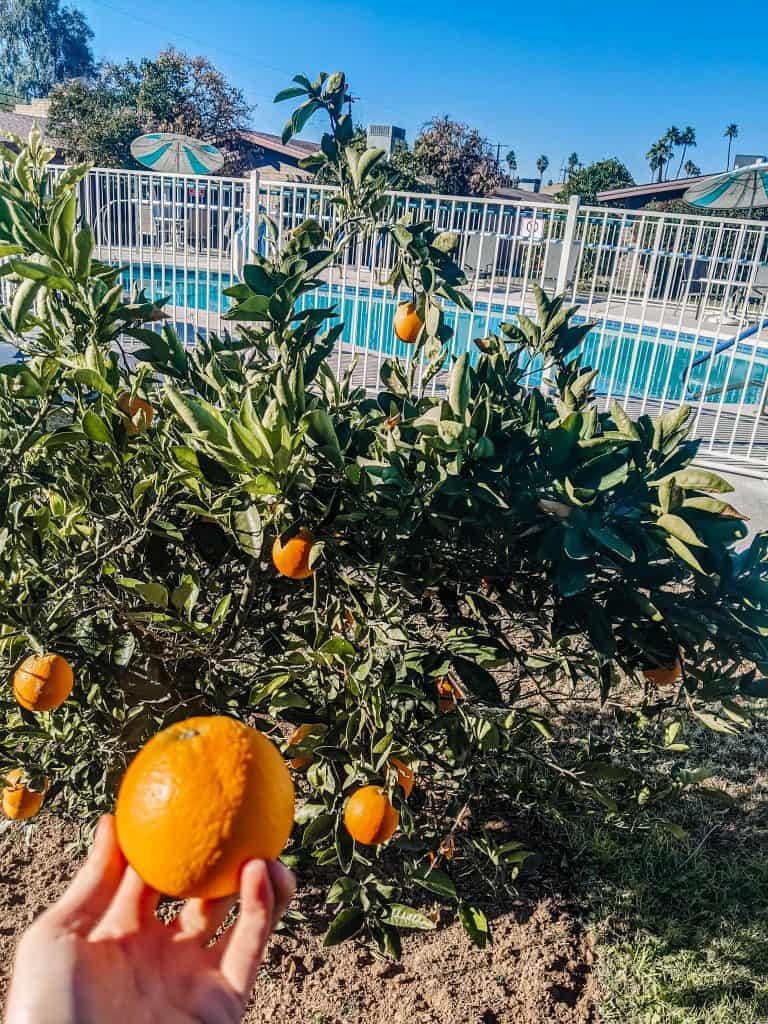 #4. AFFORDABLE
I'm sure you've heard Arizona is affordable in general, but Arizona in winter is even more affordable than the other seasons!
So, to most hotel owners between the end of November till the beginning of January, it's known as "slow season", which is a great opportunity to travel!
In other words, "slow season" means lower costs for hotels/accommodations, events, and car rentals! WooHoo!
#5. FEWER CROWDS
Closely following Arizona in winter being "slow season", that also means that there are going to be fewer people and smaller crowds.
For those that like a bit more peace and quiet on a hike, while basking in nature, or even less traffic; then this is a major benefit for you! 
#6. GORGEOUS SUNSETS
Firstly, sunsets have to have a combination of elements to be able to even show a sunset and in a cloud area or rainy climate, there won't be much of one. 
However, that isn't much of an issue with Arizona. Although it's said that Arizona experiences the best sunsets in the summer, they can be seen just as beautiful throughout the entire year – keep an extra eye out when it's a bit stormy/windy!
According to the Arizona state parks – "Windy days inspire the movement of particles from their sedimentary state and more of them are available in the sky to scatter light."
Without a doubt, Arizona in winter has shown some of the absolute best sunsets for me so far, see for yourself how beautiful it is!
Psshhtt.. while being in Arizona, people don't just have one sunset picture!
#7. LOTS OF ENTERTAINMENT
Across Arizona, each area has it's own array of entertainment, but during winter it has a totally different scene to it.
Not only is there always something going on whether it be all the twinkling lights, shows, parades, marathons/races, competitions, sleigh rides, skiing, snowboarding, mountain biking, etc. 
As you can see, there is no shortage of things going on here!
PS: Palm trees lit up during the holidays is a bit different from a spruce, but still just a different kind of gorgeous. The holidays still happen, they are just a bit different!
OTHER AREAS TO ENJOY DURING ARIZONA IN WINTER- CHECK OUT THESE ARTICLES:
Don't forget to subscribe to see more amazing places to go, fun things to do, how to's , sustainable favorites!