/
TOP HIKES IN SEDONA ARIZONA – INCLUDING VISITING A POWERFUL SEDONA VORTEX!
Of course, Sedona is known for being a healing and revitalizing hub with a powerful "Sedona Vortex", that you don't want to miss!
Fun facts about Sedona:
The red sediment is from Iron, and most of the population is low in iron, so when breathing in the sediment or even having it be on your skin (bath, face mask, etc), you'll absorb some of the properties like an essential vitamin.
Within the red rocks contains quartz crystals that are said to amplify the healing energy within a Sedona Vortex
Native Americans believe that a spiritual transformation occurs more easily here because the veils to other dimensions are more translucent and accessible.
Overall, Sedona is quite a powerful place with lots of things to do, place to go, stuff to release, and transformations to take place. You'll see when you're there!
Some links in this post may be affiliate links or this article may contain sponsored content, which means if you make a purchase, we receive a small compensation at no added cost to you. As an Amazon Associate I earn from qualifying purchases. Any purchases you make helps to keep this blog going and keeps our content free. I truly appreciate your support! Visit my Privacy Policy & Disclosure Policy for more info!
CATHEDRAL ROCK
This hike was a popular hike and highly recommended by any of the locals that I had spoken with. The trail can be accessed by the road Back'O'Beyond Road (I now think of Beyond Meat every time I hear this! Ha!) 
Most of the rockery was a bit slippery. I highly recommend getting yourself a pair of Solomon shoes. I got a pair of their trail runners, and I don't know how I hiked before having them. The grip is amazing! Check out these here → 
Additionally, the hike was incredibly narrow at some spots and made it a bit difficult to avoid other people, so you'll encounter a lot of traffic jams of people. Some portions were so sloped that I ended up doing a lot of crab walking down, alongside others. Have you ever seen someone crab walk before? It's slightly hilarious!
Overall, the rockery was absolutely gorgeous, showing a lot of the red and oranges throughout vibrantly as well as a multitude of textures. Even the mosses giving off bright greens complimented the rockery colors well! Most of the rock also being hollow, giving off a little echo when tapped on.  
When you reach the view/the top, there will be an edge of a cliff side where everyone goes to take their best pictures, I posted mine here, there are a couple of beautiful spots to enjoy a nice picnic or some snacks, and don't forget to walk down the slightly hidden side "trails". After exploring a bit more of those trails, we ended up finding some hidden altars, towers, and more! (You'll just have to venture out to see what I mean!)
Plus, there's an iconic spot on the ledge where you'll be able to take fantastic pictures, that overlook the red rocks. Especially because the sunset is just divine! Oh, heck, you may even see people getting married there too! Be sure to bring your camera or your best camera phone! 
Mileage: 1.2 miles
Elevation: Over 740 Elevation
Rating: Hard
Address: Cathedral Rock Trailhead, 500 Back O Beyond Rd, Sedona, AZ 86336
Located: Coconino National Forest
Admission Cost: National Forest Pass
So, most entrance fees start at $30 per entrance, but this pass covers all entrances annually, for only $80! WOW! GET THIS PASS HERE!
Open: Year Round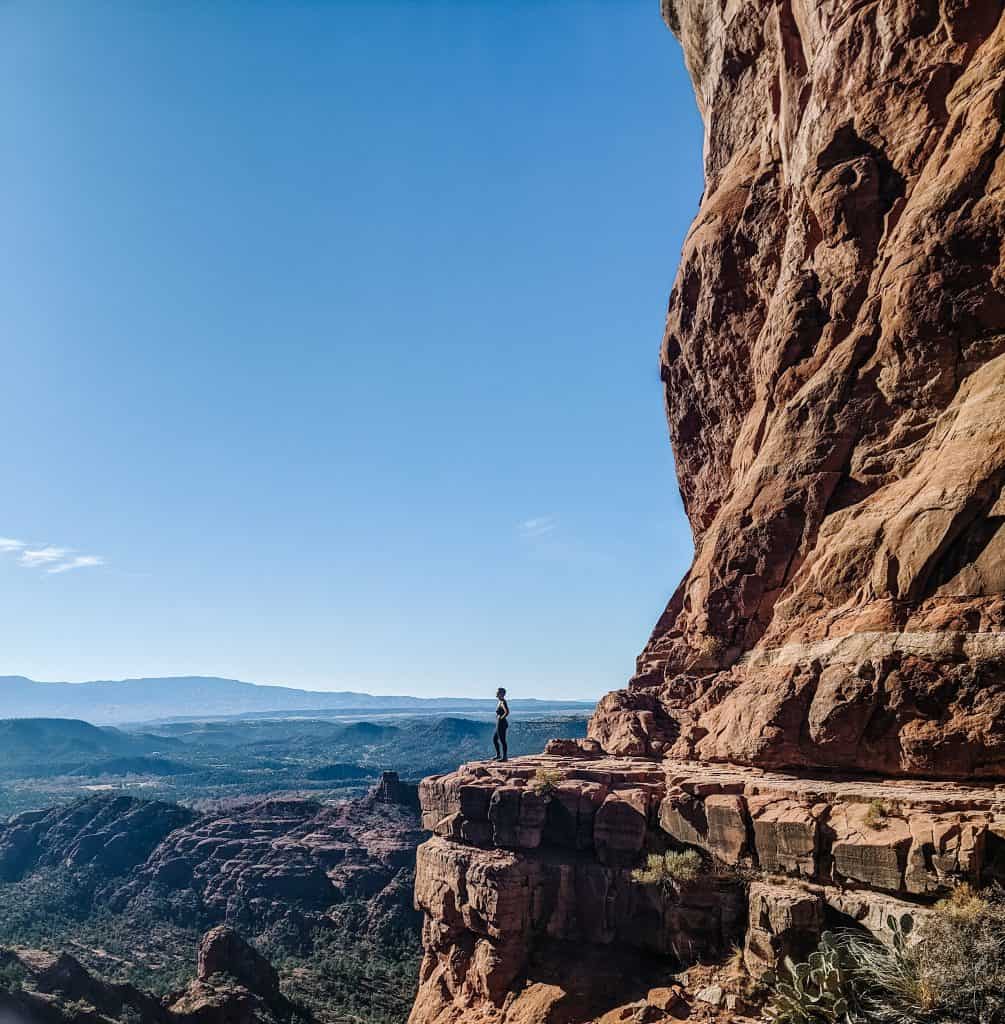 DEVILS BRIDGE
Of course, I'm sure you've seen this well known hike across social media and all of it's glory, but being there and walking on it is a totally different experience. 
For instance, social media and even walking around the bridge can give an illusive view of it looking thin and dangerous, but when actually walking the bridge itself is a different view entirely. When actually walking the bridge, though it's at least a few feet wide and not nearly as intimidating.
Above all, just use your best judgement and do what you're comfortable doing, but be safe regardless.
Iconically, Devils Bridge is the largest natural sandstone arch located in the Sedona area of Coconino National Forest, offering breathtaking views of Red Rock country.
Also, parking at the Dry Creek Vista trailhead is very limited. Fortunately, the city of Sedona offers free shuttle service to the Dry Creek Vista trailhead from a designated park & ride within central Sedona. The service operates Thursday through Sunday and is free and open to the general public. Best of all, there is no charge for parking at the park & ride location. For more information on shuttle schedules and park & ride locations, visit SedonaShuttle.com to find out more.
Mileage: 3.9 miles
Elevation: 521 ft
Rating: Moderate
Address: Dry Creek Rd, Sedona, AZ 86336
Located: Coconino National Forest
Admission Cost: National Forest Pass
So, most entrance fees start at $30 per entrance, but this pass covers all entrances annually, for only $80! WOW! GET THIS PASS HERE!
Open: Year Round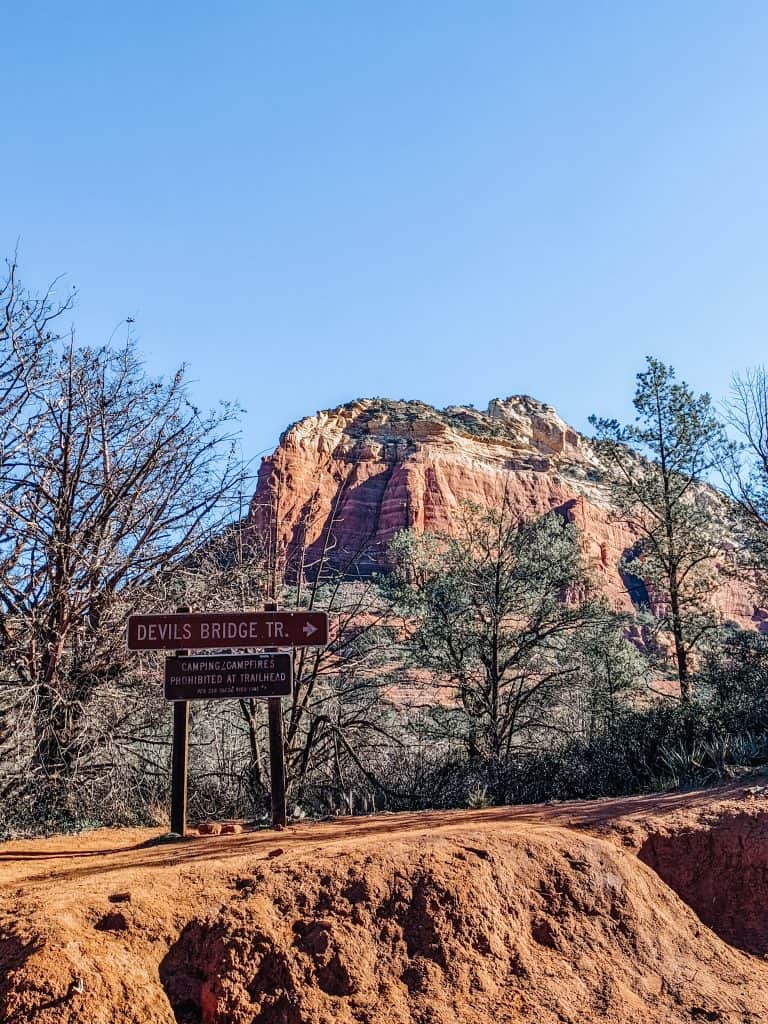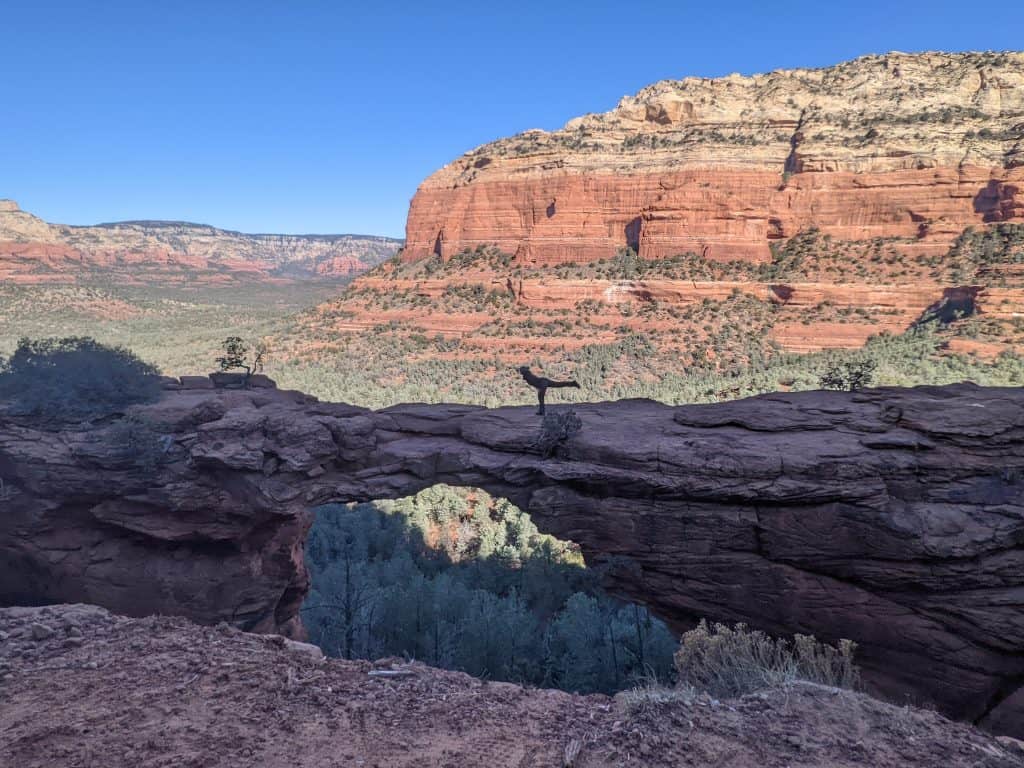 BOYTON CANYON – A POWERFUL SEDONA VORTEX
Astonishingly, Boyton Canyon offers 360 views and more if you decide to venture onto the cliff side; you'll see a thin trail path where others have gone before. The rockery is slippery on that extra path though, I highly suggest really gripping shoes and being mindful of the branches along the trail that are poking through as well.
The colors were spectacular, the deep greens from the pine trees complimenting the bright oranges and reds of the rockery alongside it. So many textures, shapes, and designs to admire. The first portion of the trail offers some slight peaking views along brush, which can be even more beautiful in the fall with all those colors too! Especially with the Autumn's yellow leaves in contrast to the red rock.
Also, you may get the opportunity to spot some Javelines (Peccary) They aren't quite pigs, but of a similar nature. They range in size from 35-60 lbs and can measure 29 to 39 inches long. It was quite the experience! Just be mindful of space, they are a wild animal and are quite unpredictable. But they probably love hanging out around the sedona vortex
Midway through the hike it gets a bit different, you'll end up walking through a forested area (this area got quite a bit colder than the beginning and end. Once reaching the "end" of the trail, you'll see a sign, you'll know you're there!
After looking around at the views for a bit, you may spot some less noticeable "trails" that veer off multiple different directions. The trail offering more views is straight/slightly off to the right side and a bit over some hills, towards a flat patch that offers a full and widened 360 view. Most people just kind of veer off all over the place and find little spots, just be sure to keep note of where the original trail is to not get lost.
You may want to download the offline map before you go and watch for offline notifications, this trail is reportedly hard to follow, I wonder if the energy from this Sedona vortex distorts the maps?. Although I personally had no issues with this trail.
Personally, I'd say that out of every single trail I've been to in Arizona, this was by far my favorite and I enjoyed it even more than the Grand Canyon. Be sure to add this Sedona vortex to your bucket list!
Mileage: 6.1 miles
Elevation: 826 ft
Rating: Moderate
Address: Vault toilet, Aerie Trail, Sedona, AZ 86336
Located: Red Rock-Secret Mountain Wilderness
Admission Cost: The Red Rock Pass fees are per vehicle per day, or per week. You can also purchase an annual pass.
Open: Year Round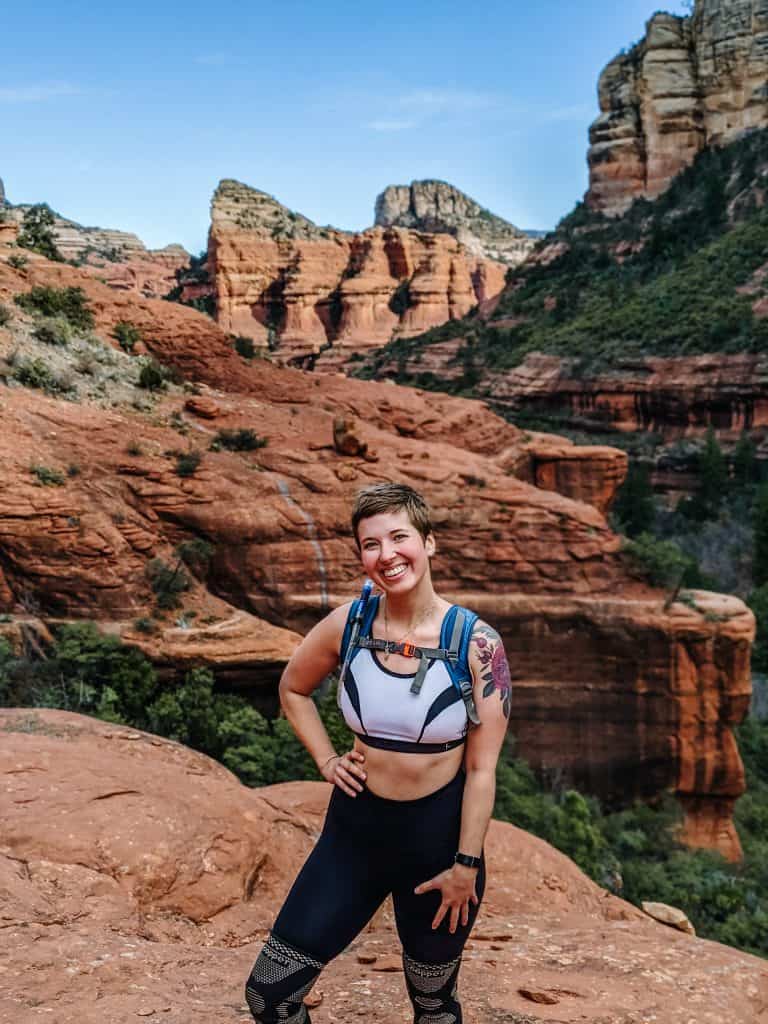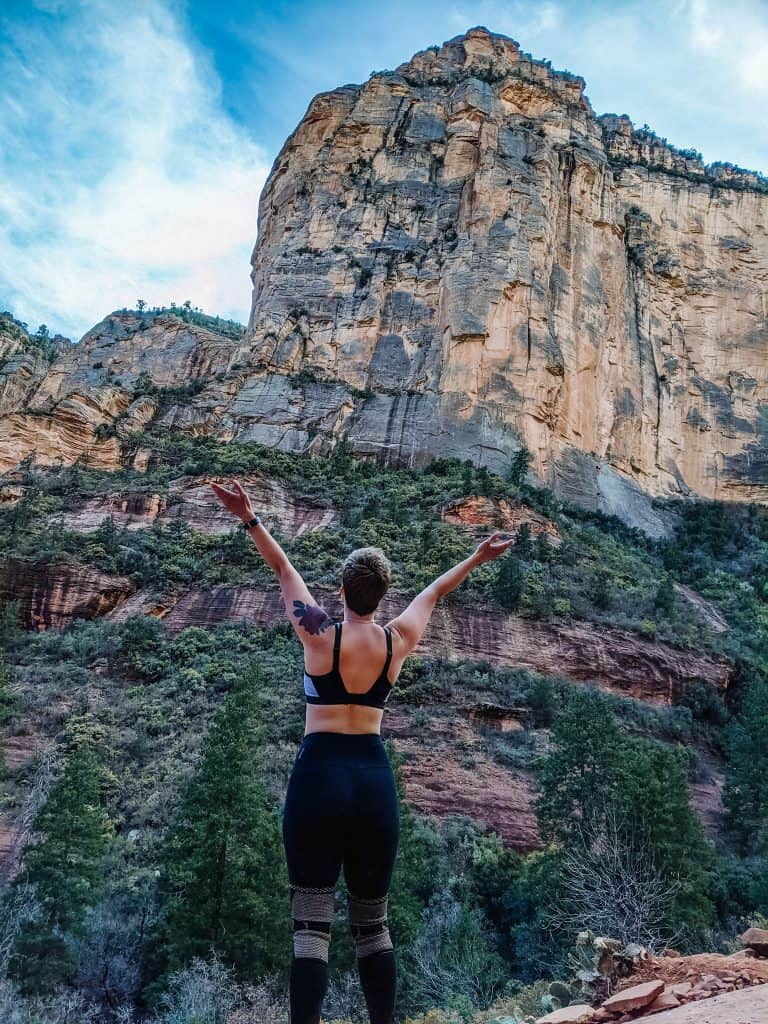 Other hikes that you may enjoy:
Water Wheel 
Soldiers Pass
 
NOW IT'S YOUR TURN TO HAVE SOME FUN & ADVENTURES!
If you found value in this, be sure to share it with our friends and family! (The share buttons are to the left!)
LOOKING TO JOIN IN ON THE NEXT ADVENTURE? BE SURE TO BOOK YOUR NEXT ADVENTURE  ➟ Travel With Me