/
Discovering Tonto Natural Bridge State Park – The Largest Natural Travertine Bridge in the world!
Discovering the Geological wonder, the Tonto Natural Bridge State Park is a must-see for anyone visiting Arizona!
Not only is there just one view, but there are views from above, below, and throughout! 
It's believed to be the largest natural travertine bridge in the world. The bridge stands 183 high feet over 400 foot long tunnel that measures 150 feet at it's widest point. 
For those that are wondering what a travertine bridge is; Precipitation had created limestone aquifers beneath the rock, carrying dissolved limestone and calcium carbonate that formed this marvelous  and largest travertine dam in the world.
Some links in this post may be affiliate links or this article may contain sponsored content, which means if you make a purchase, we receive a small compensation at no added cost to you. As an Amazon Associate I earn from qualifying purchases. Any purchases you make helps to keep this blog going and keeps our content free. I truly appreciate your support! Visit my Privacy Policy & Disclosure Policy for more info!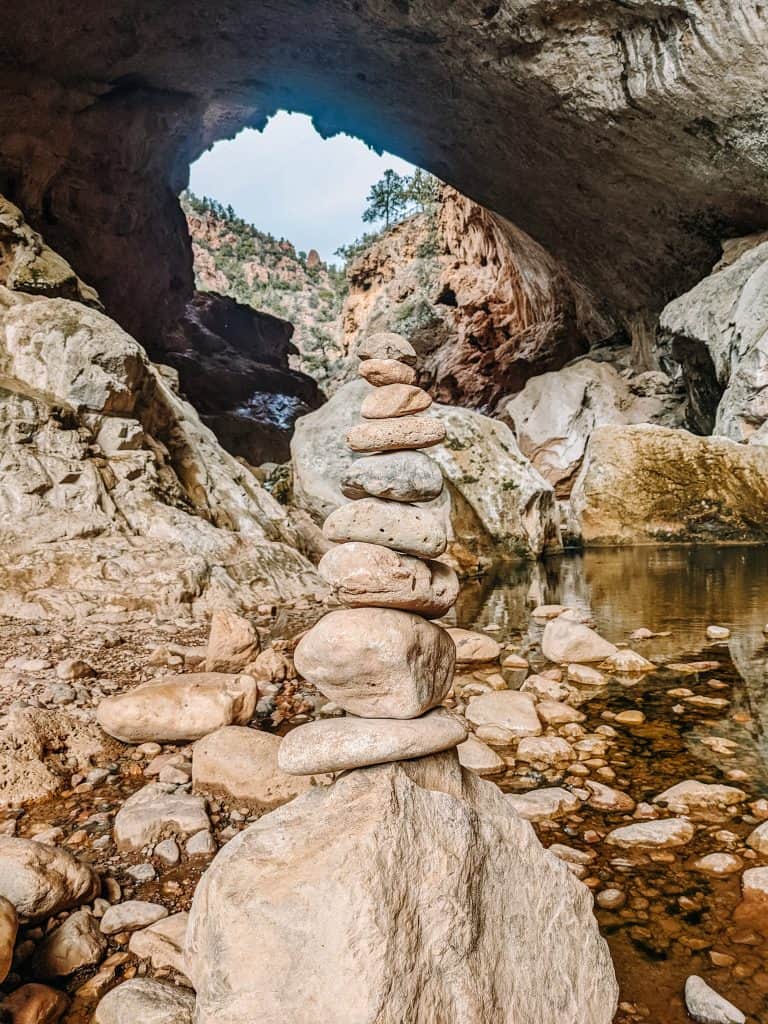 TONTO NATURAL BRIDGE LOCATION 
As for the location of the Tonto Natural Bridge, it's centrally located near Payson. 
Also, being about one and a half hours northeast from Central Phoenix, and just a little over 3 hours southeast of the Grand Canyon. 
Address: Nf-583A, Pine, AZ 85544
GPS
Latitude: N 34 20.090
Longitude: W 111 25.264
WEATHER & SCHEDULE
Luckily, in Arizona it's sunshine and good time most of the year, but the best time to go is in the spring and fall. 
Although it's still accessible in the wintertime, it can still get below freezing, nothing some extra layers can solve!
Also, in the summer it's accessible as well, but the weather can reach an average high of about 90 degrees in June, July, and August.
CURRENT HOURS – Subject to change
9:00 a.m. – 5:00 p.m.
(Last entry at 4:00 p.m.)
Trails close one hour before the park closes.
Holiday Hours
Thanksgiving: 9:00 a.m. to 2:00 p.m.
Christmas Eve: 9:00 a.m. to 2:00 p.m.
Christmas: Closed
ENTRANCE FEES/ COST
So, because this is a State Park there are entrance fees for entering and the National Parks Pass doesn't work here because it's a State Park not a National Park. 
Prices:
Adult (14+): $7.00
Youth (7–13): $4.00
Child (0–6): FREE
Prices are subject to change, make sure to double-check with the park.
Nonetheless, the price is extremely accommodating and totally worth a full day of entertainment.
PARK MAP
Luckily, the park has printed out maps when paying the entrance fee, but if you want to have more of a game plan, definitely check out their printable maps by clicking here.
So, their printable map will give a full overview of the trail names, length and a brief overview of the trail itself as well as shoring how and where they intersect.
TRAILS
All trails are steep, uneven, and some are even incredibly slippery. 
I highly recommend wearing an excellent gripping day hiking shoe, like these Salomons here! They are my absolute favorite, I've never gone hiking without them since I've got them – they will show you what it means to have complete trust in your gear!
Just a reminder – the trails do close about an hour before the park closes, so please keep that in mind when planning out your day!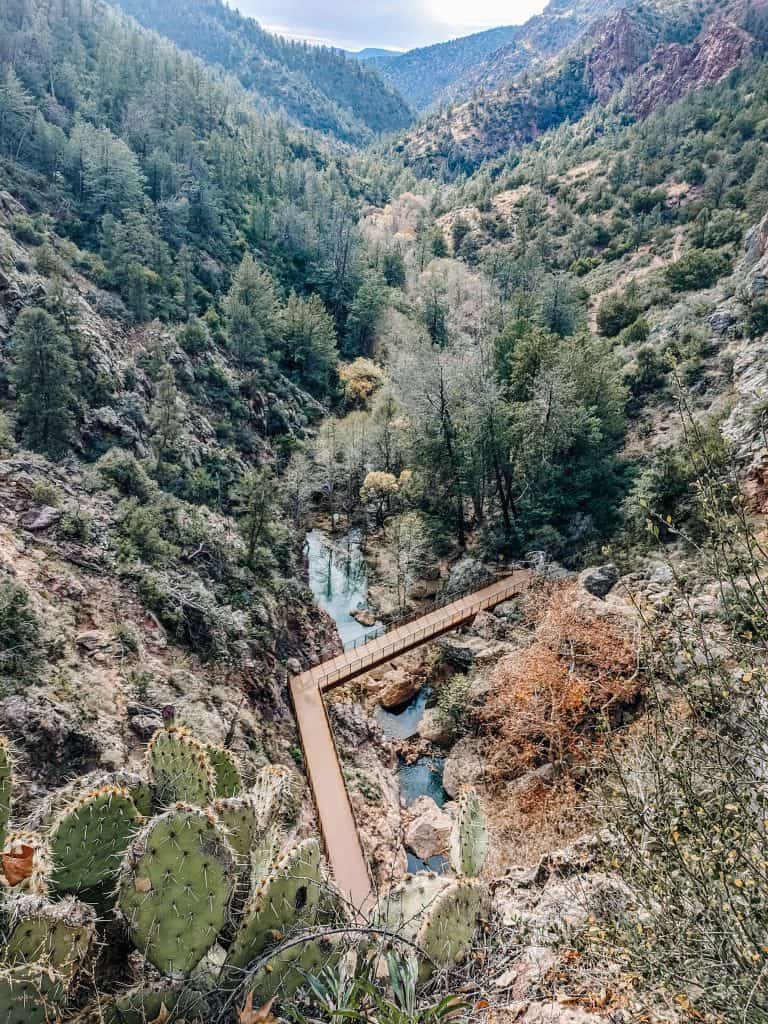 Pine Creek Trail 
As, for Pine Creek Trail, it's the trail that's closest to the entrance of the State Park and winds through to a few other intersections throughout the park itself. 
Despite the first 400 feet of the trail being developed, it begins to collide into the Pine Creek and quickly turns into boulder climbing. 
After beginning to cross the borders, you'll quickly come to notice that it's easy to get turned around or to get off track, simply follow the yellow arrows, and they will lead you. 
Not only are there views of trickling waterfalls, but also views into a cave full of stalactites from the mineral calcite being dissolved from the limestone rock. 
Overall, this is an easily overlooked trail for most if they don't keep their eyes open – it's not worth missing!
Equally important, allow around an hour to complete this trail, not including the intersecting trails or other trails chosen to split onto.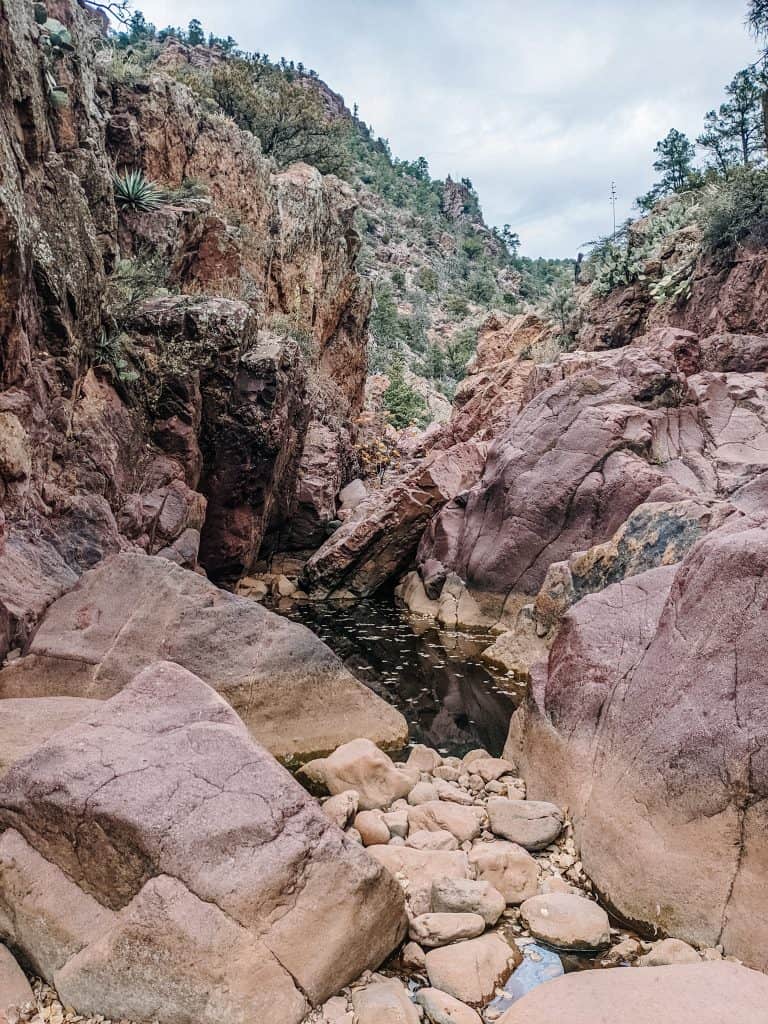 Anna Mae Trail
Following the Pine Creek Trail, the Anna Mae Trail veers slightly off, doing a short half loop, to another small viewpoint of the cliffside. 
Similarly, the viewpoint is just the other side of the cliff that the Gowan Trail sees, but of course, every trail beholds a different kind of beauty. 
WATERFALL TRAIL
An easy-to-follow trail, short uneven steps and kick in your step can down this simple path straight to a waterfall. 
It's an extremely easy trail, great for all skill levels, and provides a small trickling waterfall that most people in Arizona just don't get to see.
Plus, it's only about 15-20 minutes long, and about .1 miles.
PS: Don't forget to peek behind the waterfall to find the cave, it's full of mosses, ferns, and other little furry foliage. I personally felt as if I was taken back to Washington on this trail, it's so lush and green!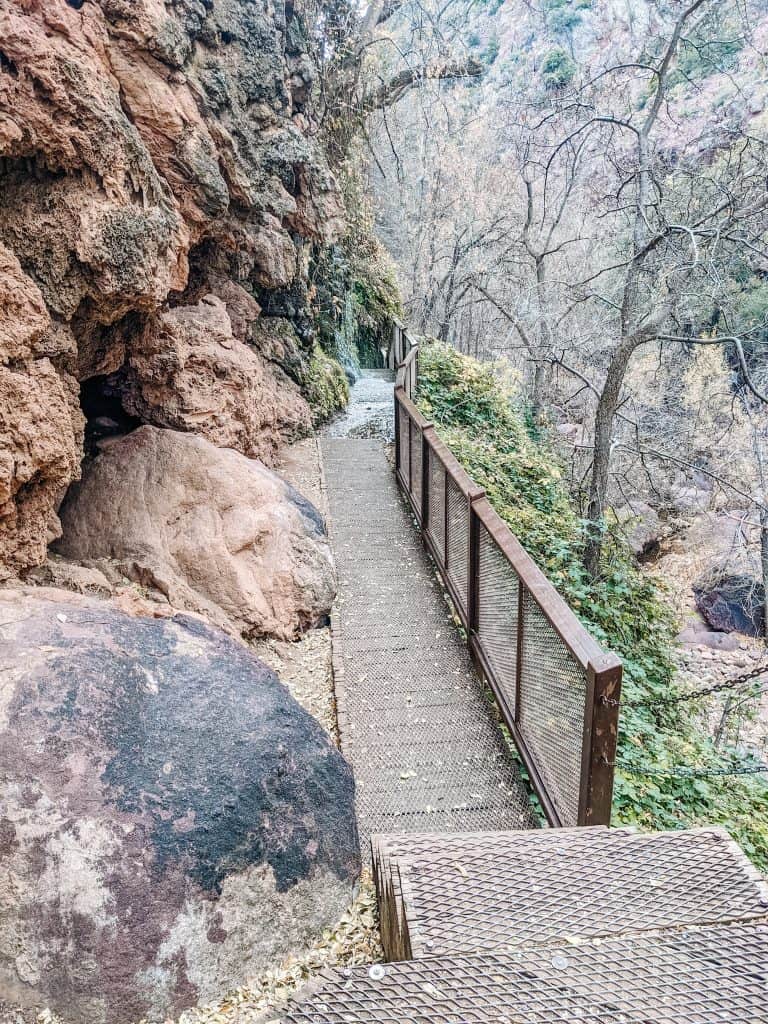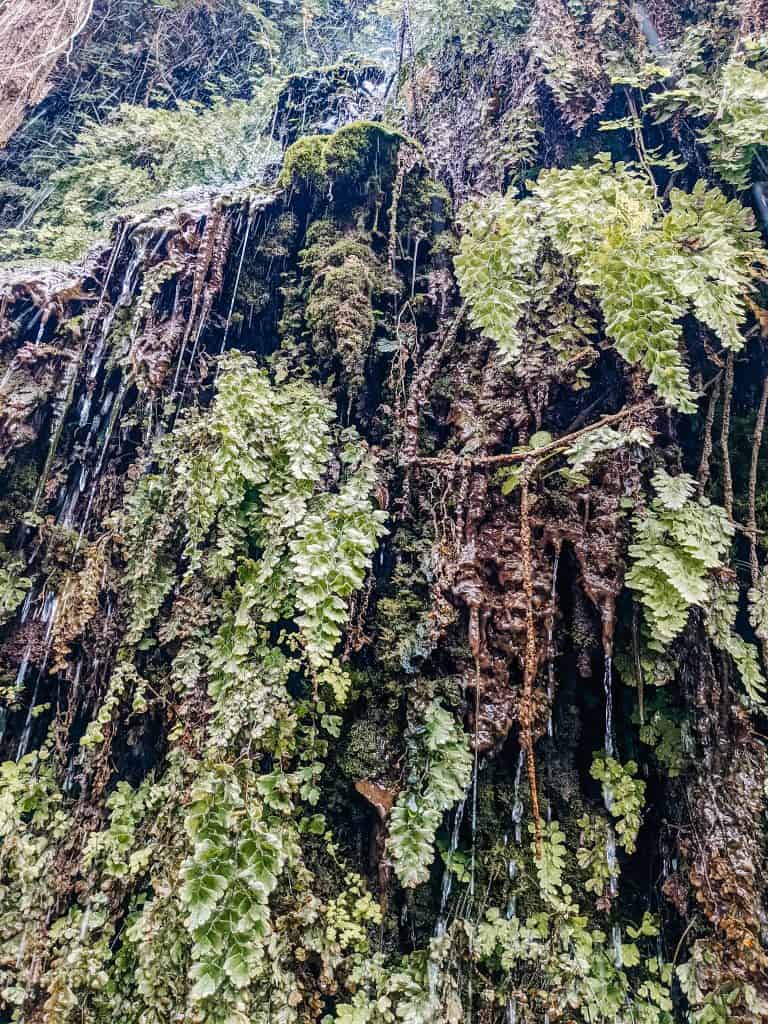 Gowan Trail
Last but not least, the Gowan Trail is absolutely fantastic! 
Fair warning, this trail incredibly slippery and is best suited for professional hiking shoes, like these Soloman shoes here, these are my personal favorite. 
Overtime, the waterfall has dripped across the rocks, polishing them and creating a lot of smooth but slippery pathways.
Nonetheless the views are immaculate offering views of the front, back, and even underneath the bridge itself. Plus, trickling waterfalls, sparkling blue ponds, and limestone formations of all shapes!
 YOU DON'T WANT TO MISS THIS!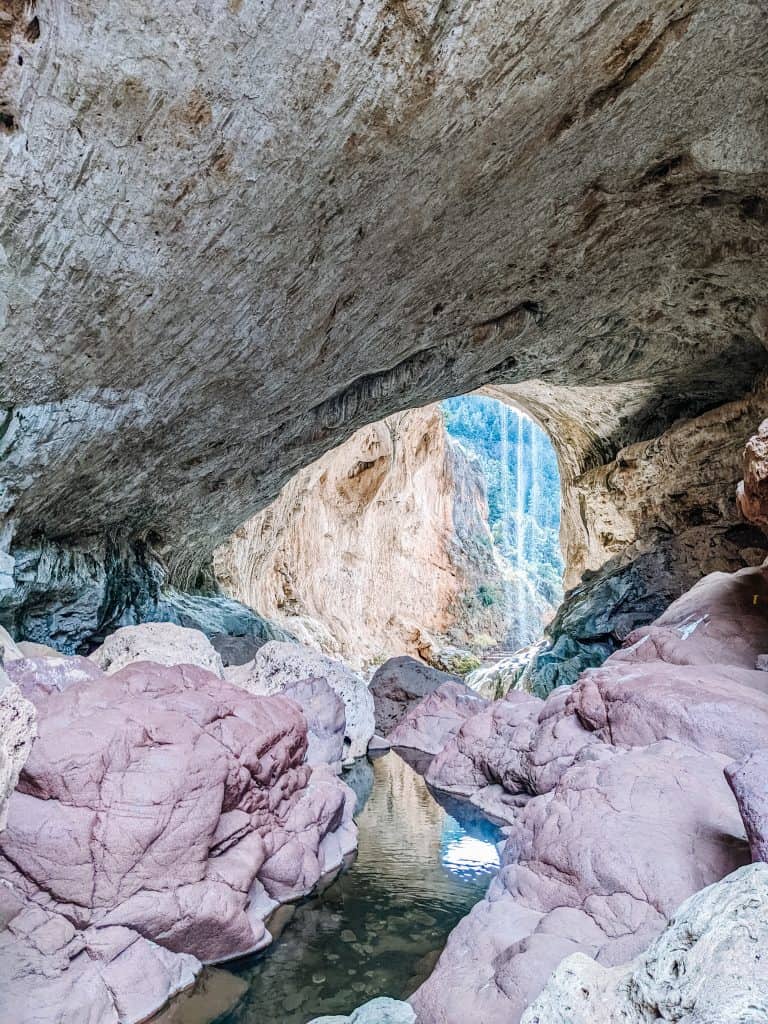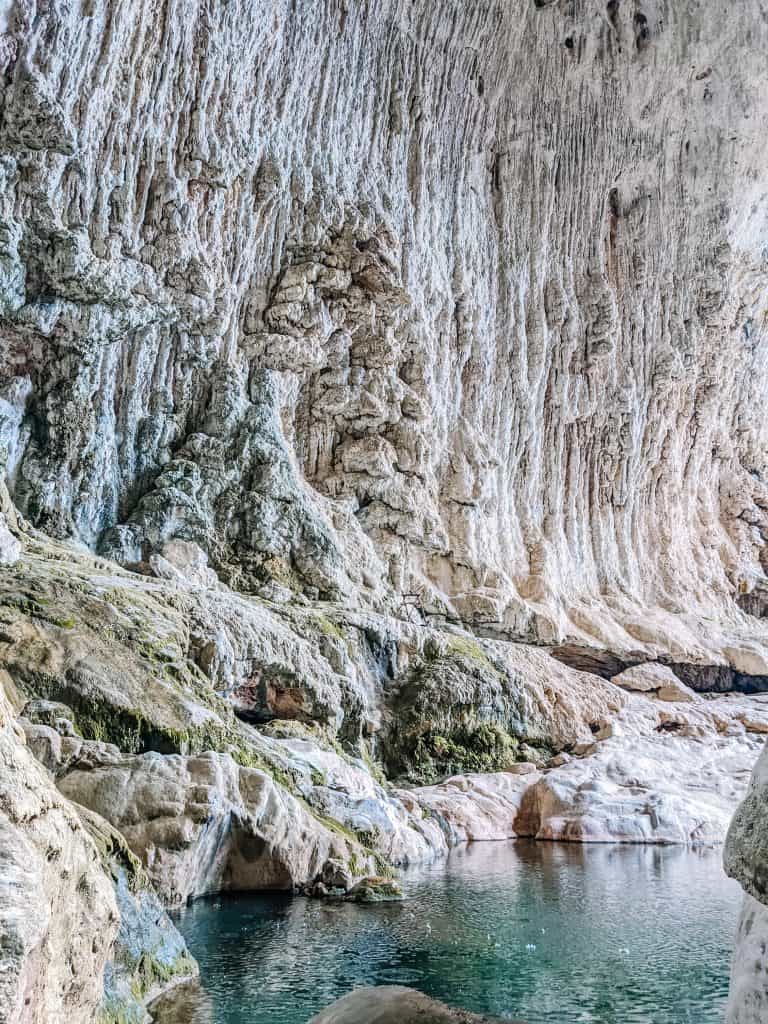 Overall, Tonto Natural Bridge State Park was one of the top sights worth seeing in Arizona, and it makes for a great day trip. 
It's full of vibrant greenery, multiple waterfalls, detailed rock formations, and glorious sunshine.
If you're in the area for a few days and decide that you'd want to take a bit more time exploring, check out this article on how to find these camping spots.
KNOW ANYONE ELSE WHO MAY ENJOY THE TONTO NATURAL BRIDGE STATE PARK? SEND IT THEIR WAY SO THEY CAN MAKE AMAZING MEMORIES TOO!