/
Exploring Yellowstone National Park in One Day
Exploring the Yellowstone National Park in one day is going to be jam-packed with mesmerizing secrets, and you are in for a once-in-a-lifetime adventure!
Nestled primarily in the majestic state of Wyoming, this iconic park stretches its arms across not one, not two, but three states! Yep, you heard me right. It's a tri-state extravaganza! To top it off, Yellowstone proudly holds the title of the first national park in the good old United States. Talk about making history!
Get ready to feast your eyes on jaw-dropping geothermal features that will leave you speechless. Imagine witnessing the mighty eruption of Old Faithful, a geyser that's practically a celebrity in its own right. 
Brace yourself for the vibrant colors of the Grand Prismatic Spring, a sight that'll make your eyes pop. Yellowstone is like a playground of natural wonders, flaunting Mother Nature's raw power and breathtaking beauty!
So, gear up and get ready to witness wildlife and landscapes that will make your heart skip a beat. 
Some links in this post may be affiliate links or this article may contain sponsored content, which means if you make a purchase, we receive a small compensation at no added cost to you. As an Amazon Associate I earn from qualifying purchases. Any purchases you make helps to keep this blog going and keeps our content free. I truly appreciate your support! Visit my Privacy Policy & Disclosure Policy for more info!
Best Times To Go
I've got the inside scoop on the best times to truly enjoy Yellowstone National Park in on one day, as well as finding the season and crowd type for you. Get ready to plan your epic escape with this witty rundown of the seasons!
First up, we've got the shoulder seasons, late spring (April to May) and early fall (September to October) are where it's at. Picture this: milder weather, fewer crowds, and wildlife galore! It's like having your own private party with the animals. Plus, spring unveils newborn critters, blooming wildflowers, and thundering waterfalls. 
Now, let's talk autumn, early fall is a symphony of colors, showcasing nature's very own art show. Think stunning autumn hues that'll make your jaw drop. You'll be thrilled to know that it's also the time for the elk rutting season, where male elk bring the drama with their epic displays of dominance. The crowds start to thin out, but the geothermal features? They remain as mind-blowing as ever. It's a win-win!
If you're a summer lover, don't fret, July and August have their perks too. The weather is pleasant, and you'll have access to the entire park, including the high-elevation spots. It's like having a golden ticket to hiking, camping, and exploring Yellowstone's vast trails and scenic drives. Just be prepared for some company because, you know, everyone loves a good summer adventure. But it's also the busiest season of the year, because of all the extra tent campers as well.
Last but not least, we've got winter, It's a whole different experience. Begin to picture Yellowstone transformed into a winter wonderland, where snowshoeing, cross-country skiing, and wildlife spotting become your new favorite pastimes. But hold on tight! 
Roads and facilities may be closed, and extreme weather conditions are the norm. It's like stepping into a frosty fairy tale but with a side of careful planning. Just keep an eye out for the occasional road or trail closure and a sprinkle of unpredictable weather. CHECK OUT THE CONDITIONS HERE!
Oftentimes, Mother Nature likes to keep us on our toes, you know? So there you have it, fellow thrill-seekers. The seasons of Yellowstone National Park are calling, each with its own unique allure. It's time to decide when to make your grand entrance and let the wild adventure begin!
Story Time
The original plan was to stay at one of the Yellowstone campgrounds for a week, but I get to the town of Yellowstone and realize it's snowing unexpectedly. I wasn't packed or prepared for snow! That's how all beautiful things happen in life, when you're least expecting them!
After speaking to the ranger, he had told me that the best times to go were in July, if you wanted the least risk of snow, although they get random unavoidable snow storms. Needless to say, I had canceled my reservation for the 4 nights and decided to enjoy it Yellowstone in one day, and I know I will be back again!
It was my first solo road trip & just saw this as a learning experience. I must say though that Yellowstone was truly beautiful in the snow, the white contrasts made everything pop with color!
Most of the time, adventure is just rolling with it and appreciating the new perspective or new view. Isn't the snow beautiful!?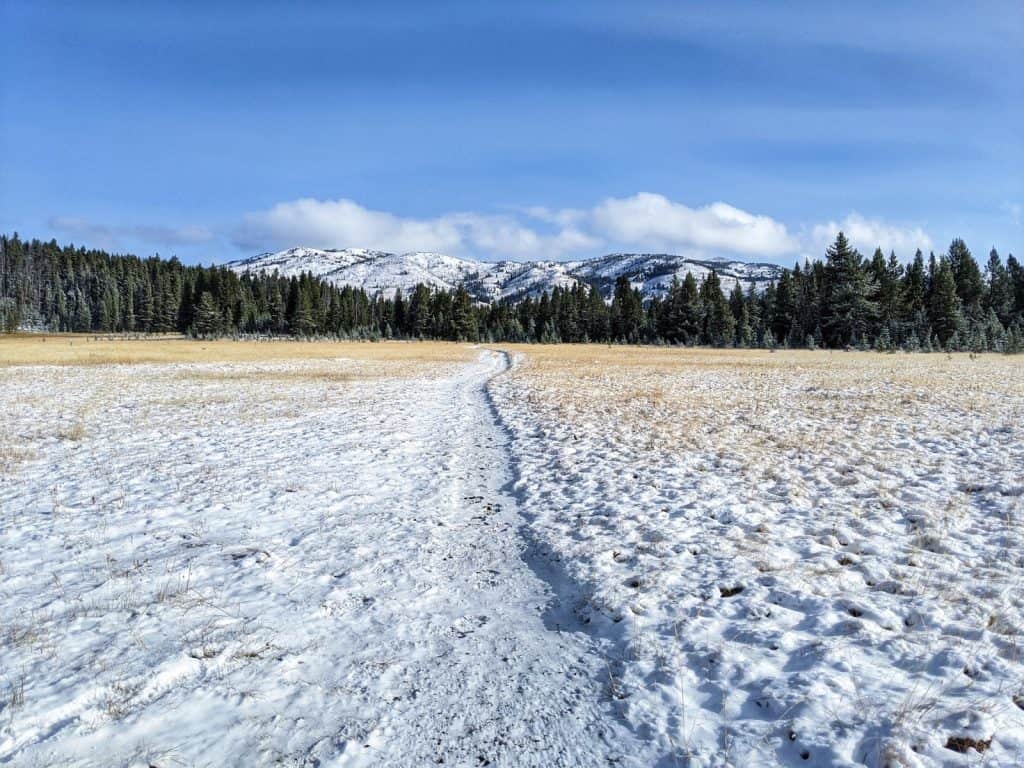 How to Get There
Picture this: the park is a colossal expanse of approximately 3,500 square miles, nestled in the northwest region of Wyoming. But wait, there's more! This beauty spills over into Montana (a teeny 3%) and even Idaho (just 1%). Talk about spreading the love across state lines!
Keep this in mind: driving times between these entrances can be a bit on the lengthy side. So, before you embark on your epic journey, do yourself a favor and check the road conditions at your desired entrance. Stay informed, stay savvy, and let nothing stand in your way as you explore the marvels of Yellowstone National Park in one day.
Airports
Year-round commercial airlines operate at airports near Yellowstone National Park, including Cody and Jackson in Wyoming, Bozeman and Billings in Montana, and Idaho Falls in Idaho. The West Yellowstone airport, located in Montana, offers services from early May to mid-October, connecting with Salt Lake City, Utah.
Bus Stations
For bus transportation, there is a year-round service from Bozeman, Montana to West Yellowstone via Highway 191. During the summer months, there are limited bus services directly from Idaho to West Yellowstone. Whereas, commercial transportation from Bozeman, Montana to Gardiner, Montana is available during the winter and summer seasons.
Additionally, commercial transportation to the park is available from Cody and Jackson, Wyoming, but only during the summer season.
This map is a little more detailed than the one that the park gives out. It shows a lot of the key features, entrances, and stops! 
Did you know?
Yellowstone was actually one of the world's very first National Parks
Yellowstone is also one of the most popular National Parks, so traffic will be a bit crowded and slow, no worries though. Just plan to be patient and relaxed when visiting.
Even though each thermal feature may have similar qualities, no two features are identical!
Old Faithful and The Upper Geyser Basin 
This is one of the most famous attractions here at Yellowstone National Park. The crowd gathers in eager anticipation, eyes fixed on the geyser, waiting for that explosive moment! Some brave souls even attempt to do countdowns as if they hold the secret to its impeccable timing. But let me tell you a little secret: even with all their scientific know-how, this geyser remains a wild card, defying all expectations! It's like trying to predict the lottery numbers. You never know when it's gonna blow! 
Tip: Tune into 307.344.2751 option 1 for geyser eruption times. (Check the visitor center to make sure the number is still accurate, I heard it changes periodically) The geyser's known to erupt every 35 to 120 minutes.
I highly recommend grabbing a hot tea or cocoa, light snacks, or a hearty lunch while you enjoy the show! Which is even more fantastic because you'll be conveniently right next to the Old Faithful Lodge Cafeteria. Did I mention that they have vegan options available as well?! Amazing, right?! 
♻ Sustainable Tip/Highlight: Their to-go containers and silverware were compostable! Yay! Thank you, Yellowstone, for having a composting system in place. There are also scattered water fill-up stations around the park too, eco-win!!♻ Sustainable Tip/Highlight: Their to-go containers and silverware were compostable! Yay! Thank you, Yellowstone, for having a composting system in place. There are also scattered water fill-up stations around the park too, eco-win!!
Cafeteria Hours are  11:00 A.M. – 9:00 P.M. I personally enjoyed a Noodle Bowl; Garlic noodles, Sautéed Gardein® Chick'n, Spicy Peanut Sauce, Chopped Peanuts, Crispy Chow Mein Noodles, and Chopped Green Onions. Every bowl also comes with stir-fried veggies.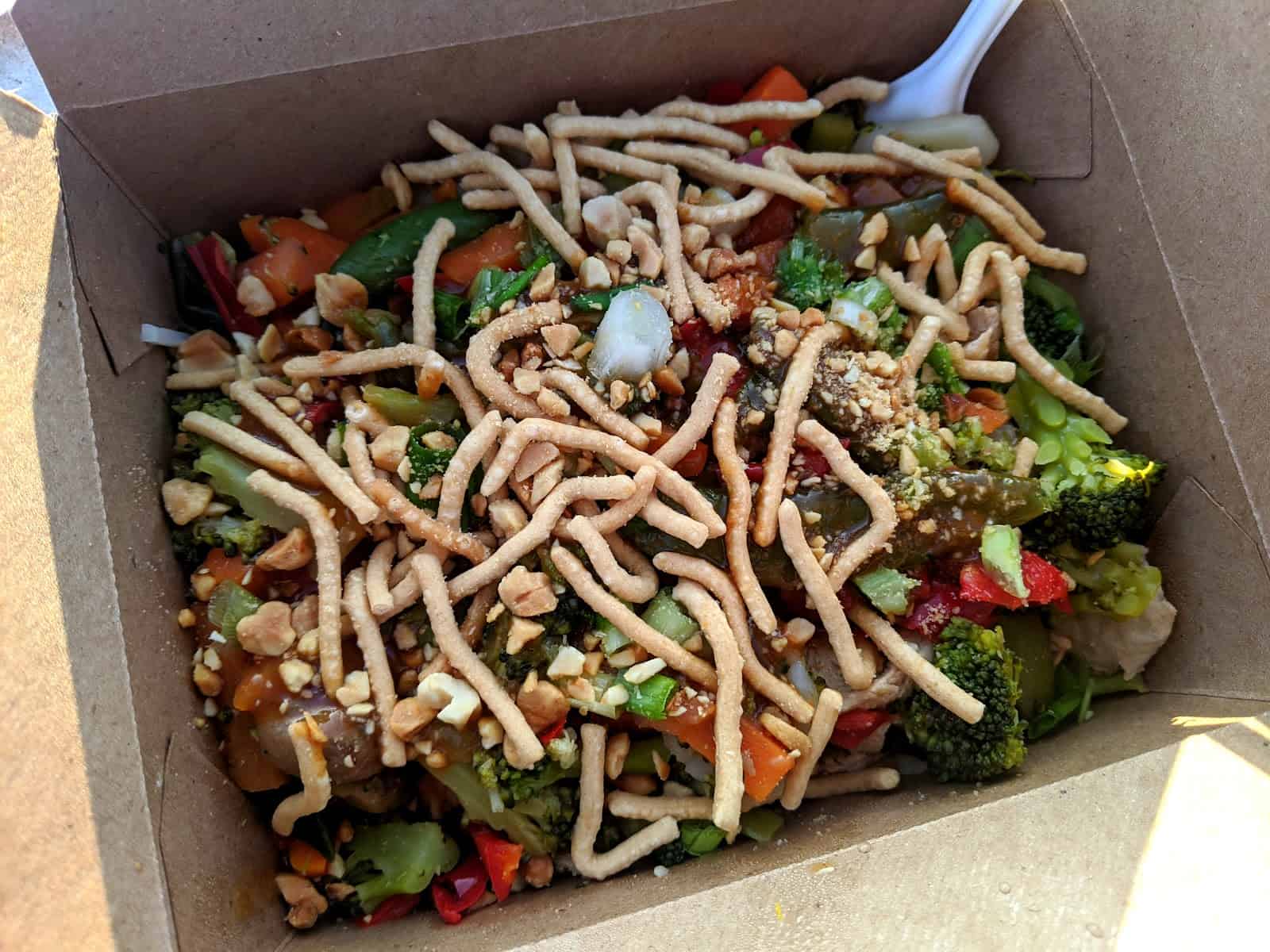 GEYSER BASIN LOOP TRAIL
When searching for Old Faithful, it's actually on the Geyser Basin Loop Trail. This loop is stunning with lots of colors, textures, and even smells. I wouldn't blame you if you even decided to plug your nose, it's rich with sulfuric smells all around!
Here are some of the other geysers within the loop too.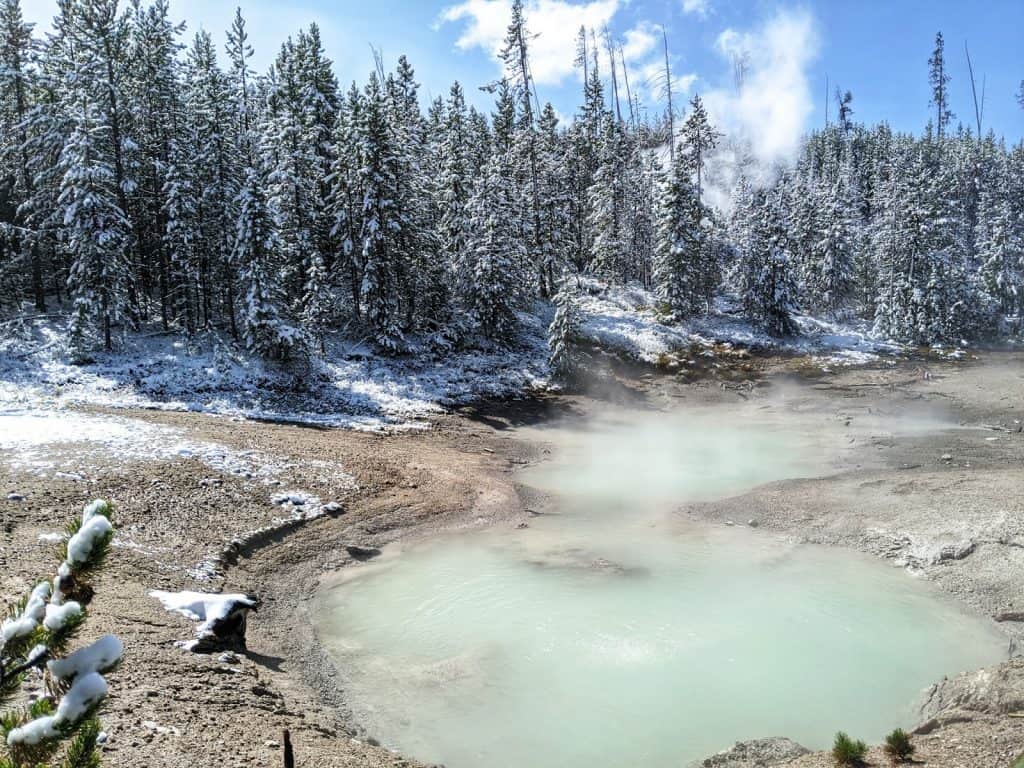 THE GRAND CANYON OF YELLOWSTONE
This section of Yellowstone features a massive, astonishing waterfall with multiple viewpoints, with Upper Falls Point and Artists Point being the most popular angles. 
This area was also where Yellowstone National Park had gotten its name, when the sun hits the canyon just right, the rocks illuminate in yellow tones!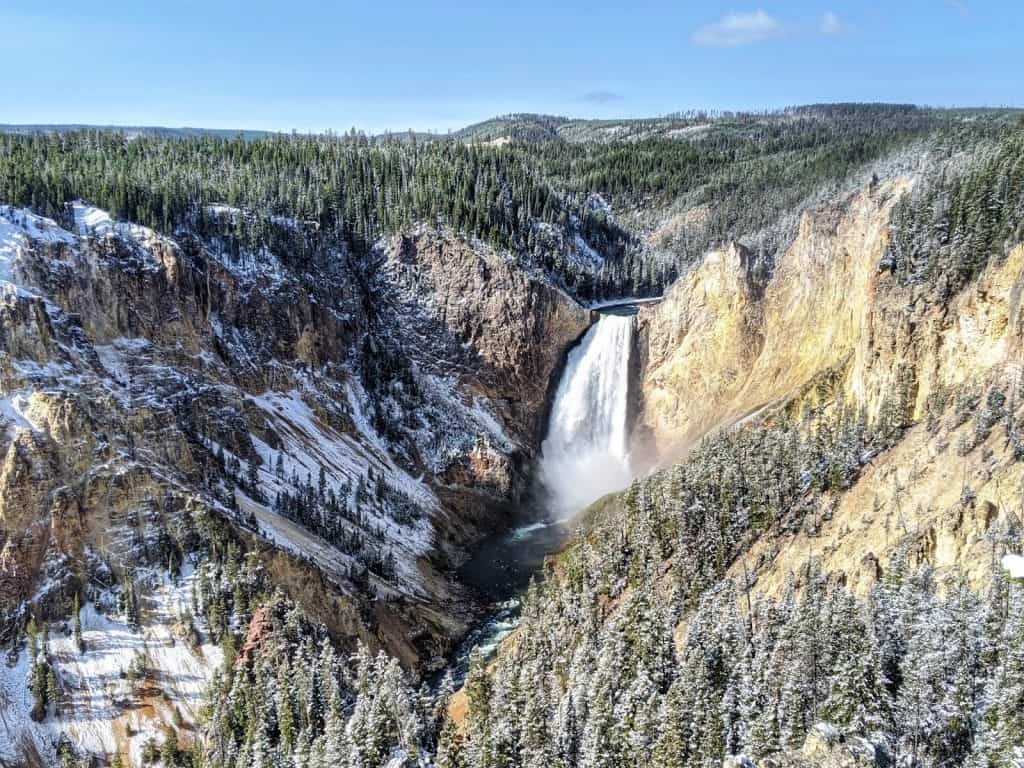 Firehole Falls 
Firehole Falls is located directly off Firehole Canyon Drive. Viewing and accessing it is super easy, requiring barely any walking or hiking. You can simply pull off the side of the road and enjoy its majestic view! Don't be deceived by the pictures though, it may look small, but it is 40 ft. tall! 
It is also a swimming spot in the hotter months, however, I didn't dare step foot in it during the 13-degree weather, while I was visiting. Brrrr!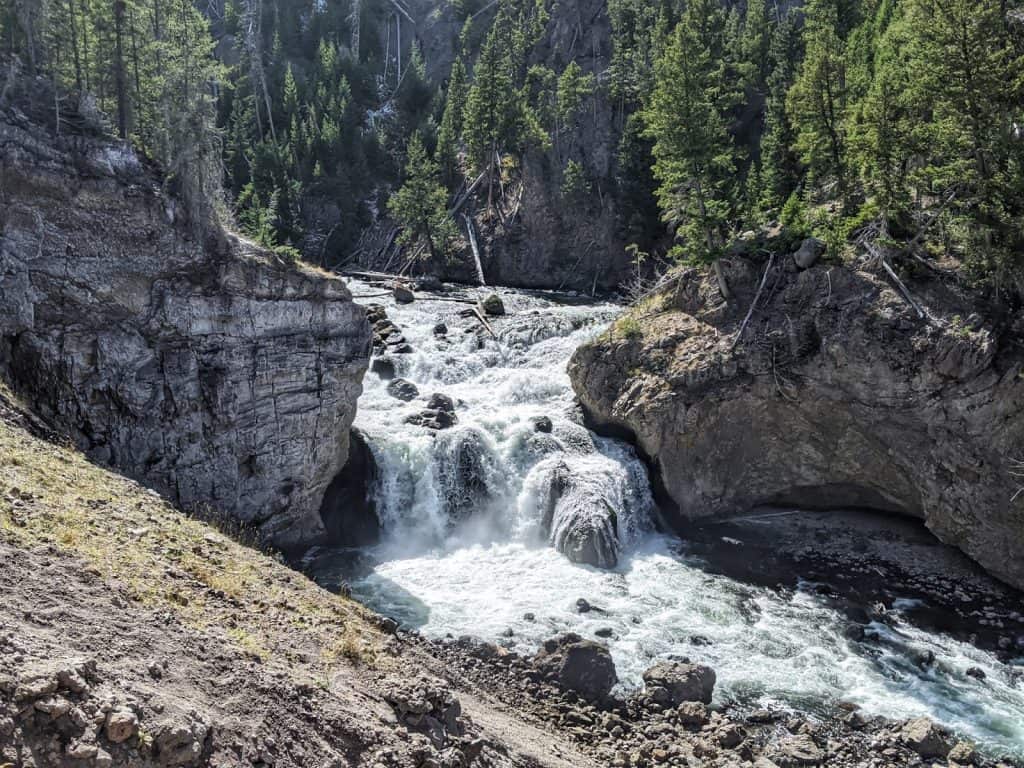 Fountain Painting Pots
These geysers were unlike any others; they resembled bubbling pots of mud! Experiencing them was quite a sight and sound.
I had never witnessed anything similar before. The texture reminded me of royalty mud baths, except these were not the ones you would want to bathe in, of course! 
It is said that the only distinction between these and the geysers is simply the absence of water.
Wildlife Viewing
The park is filled with wildlife, including bears, wolves, bison, coyotes, deer, pronghorn, and various bird species.
For spotting wildlife, both Lamar Valley and Hayden Valley come highly recommended. Perhaps Lamar Valley is even more so than Hayden Valley. I had the opportunity to see the wildlife simply by driving around while on route to the attractions! Be sure to keep your eyes open, as they are not difficult to spot in this area, but can just be tucked behind unexpected places.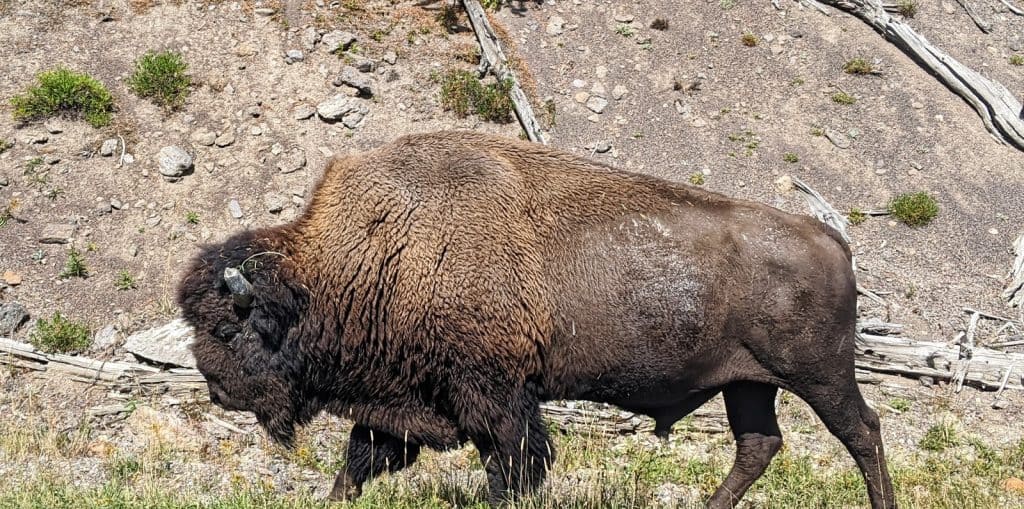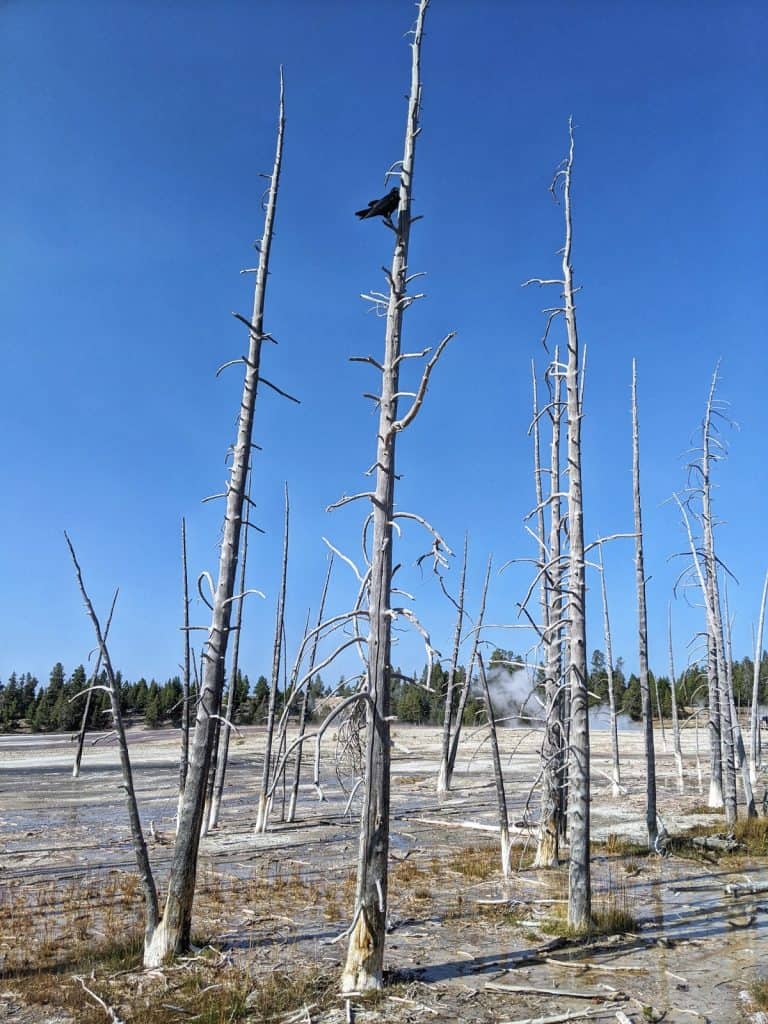 What It Was Like Exploring Yellowstone National Park In One Day
A few places that I was so sad to have missed were the Mammoth Hot Springs, The Boiling River Hot Spring, and the Mud Volcano (located past Hayden Valley, on the drive to the Fishing Bridge). Unfortunately, I didn't have time to see them and this was also around the time the wildfires started to spread East, and it was time for me to head home to safety. So I will explore them again very soon! I recommend exploring those two if you get the chance and let me know what you think!
If you're just exploring, I recommend doing Yellowstone in one day to three days; If you aren't going hiking, backpacking, etc. I've heard from many people that like to do everything, that one day is not enough. Whereas, I've heard from other people that they were pretty well satisfied and just jumped to things pretty quickly. So, just look at your timeline and if you're someone who travels at a fast or slow pace. 
Regardless of whatever timeline you decide to explore, I hope that you enjoy Yellowstone National Park!
Get ready to wander, wonder, and wiggle your toes in these captivating travel articles: