/
A DAY TRIP TO THE JEROME GHOST TOWN
Stepping foot outside the car in front of the famous Jerome ghost town, loud moaning voices sent shivers up our spines as the eerie wind rolled out of the hillside of the town. This was just the beginning. No other ghost town I have been to had given me a chill of curiosity like this one.
Some links in this post may be affiliate links or this article may contain sponsored content, which means if you make a purchase, we receive a small compensation at no added cost to you. As an Amazon Associate I earn from qualifying purchases. Any purchases you make helps to keep this blog going and keeps our content free. I truly appreciate your support! Visit my Privacy Policy & Disclosure Policy for more info!
HISTORY OF JEROME:
Jerome is a historic copper community, that started as a mining camp.

In 1967 Jerome was designated a National Historic District by the federal government.

Jerome resides above what was once the largest copper mine in Arizona which was producing an astonishing 3 million pounds of copper per month.

Todays it's a thriving artist and tourist hu
WHAT TO DO:
EXPLORE SOME ART GALLERIES AND MAYBE EVEN TOUR A LOCAL'S ART STUDIO 
After listening to a friend I had decided to take a last-minute road trip with to the Jerome ghost town, she had a feeling we should go into this hidden art gallery off to the side of the road, maybe a ghost told her?! 
Nestled inside a very worn and old building, we stumbled upon some of the most beautiful artwork I had ever seen. 
The artwork was vibrant with movement, emotion, and color. He had oil paintings, sketches, and even etches laid out around his studio. 
The perspective captured in the photos taken displays the life of an artist. But to truly gather the experience you've got to experience it for yourself. 
Robin John Anderson is a perceptionist painter who left his studio door open and warm-heartedly welcomed my friend and me into his studio and gave us a bit of a private tour, as we spoke about his inspirations. 
Robin will often paint two hours in the morning and two hours in the evening. He concentrates on how he feels and reacts when his five senses are bombarded by the presence of nature.
PS: I showed Robin Anderson the photographs I had taken, that I'm about to show you, he made a joyous laugh and said he loved them. (I hope you do as well!) What a compliment coming from one amazing artist!
VISIT THE WORLD'S LARGEST KALEIDOSCOPE STORE IN THE WORLD 
This Kaleidoscope store is called Nellie Bly, Kaleidoscope, and Art Glass. They house over 90 different artists, mostly residing across the US. 
Walking through the front door, we are greeted and handed a few different styles of kaleidoscopes to try out. 
Fun tip: If you pick up a kaleidoscope with a clear marble on the end of it, and look at a friend or at something particular, it shifts the image. Of course, this is how it works, I know!?! However, you can take a picture through it! WHOA!!!!!!! Talk about a game-changer! They will happily take your picture through the kaleidoscope.
I remember seeing a DVD in the store that mentioned Kaleido Therapy, that's how soothing and fun it is!
Kaleidoscopes took so many forms, some had plastic beads and others looked over crystals. Every slight adjustment gives an entirely new perspective. There was no shortage of experiences or even views in the world's largest kaleidoscope store.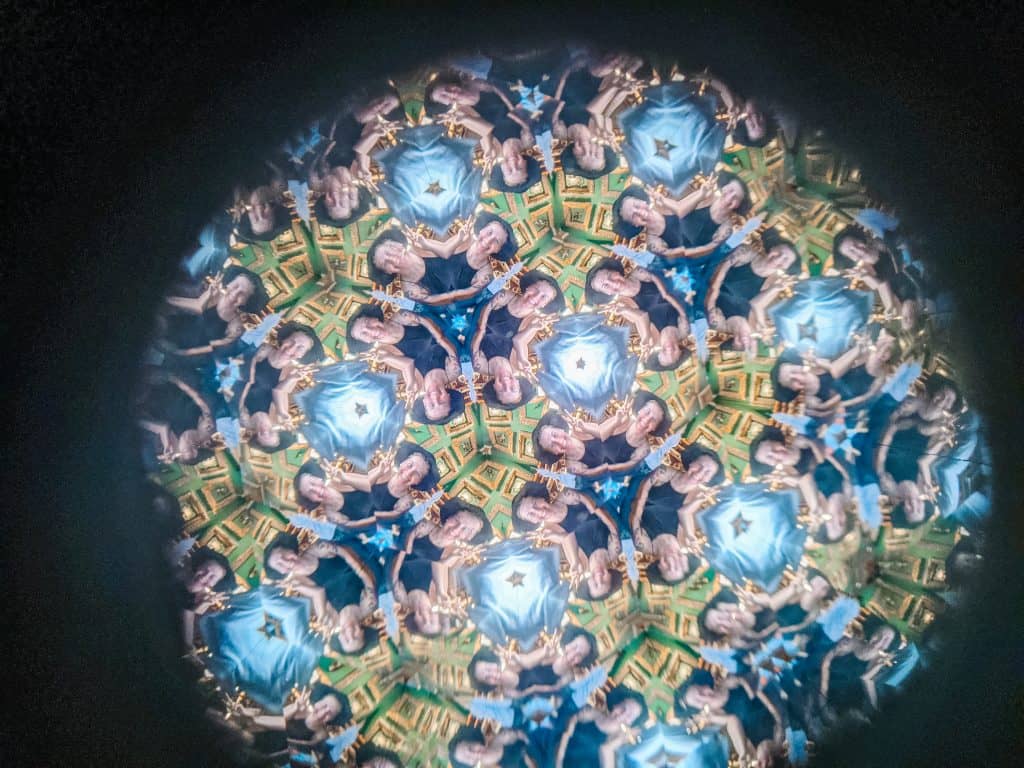 TAKE A GLASS BLOWING CLASS
La Victoria Glass Blowing Studio is the place to go! Though don't be swayed, they have quite the illusive entrance. The entrance is from the side and displays a few projects made in the studio itself. No doubt glass blowing is on almost anyone's to-do list, why miss out?
♻ Sustainable tip: Glass comes from sand originally and even broken pieces can be melted and turned into more glass projects!
EXPLORE THE SALOON
The saloon is one of the first wooden structures built in this Jerome ghost town. Later to have gone through two fires and then finally halfway rebuilt with brick to avoid another rebuild.
STEP BACK IN TIME WITH JEROME'S GHOST TOURS
Jerome Ghost Tours offer ghost walks and history walks. Whether you're up for a scare or just wanting an educational experience they provide both tours through their company. Have fun, maybe get some chills if you're up for it!
WHERE TO EAT
I had chosen to come on a Sunday, Almost every restaurant that offered vegan options was closed on Sunday. Don't go on a Sunday if you plan on eating vegan or vegetarian. 
Even though I wasn't able to go out I still found a few places that offered vegan and vegetarian options. 
Try exploring these and let me know what you thought of them in the comments below!
The Flat Iron

Wholesome fast food (Try to bring to-go containers, it looks like they use plastics quite a bit)
JEROME ARIZONA WEATHER 
The best time to go to Jerome is usually spring and fall, during the wintertime Jerome gets significant snowfall. September, June, and May have a comfortable temperature range of around 70-85 degrees. Exploring in the morning and the evening is the best way to avoid the heat if you prefer cooler weather.
JEROME GHOST TOWN LOCATION
Jerome has nestled away in the hills, but still easily accessible. From Central Phoenix to Jerome around two hours and fifteen minutes there, but still, Sedona to Jerome is around a forty-five-minute drive. Lastly, Prescott to Jerome is only around an hour as well. These are the most well know cities in Arizona and offer a great reference of location.
Although Jerome is well explored, empty and aged buildings remind visitors that this truly is a ghost town.
My personal favorite was the kaleidoscope store, what was your favorite? Comment below and don't forget to share with someone you'd love to go to this Jerome ghost tour with.