/
A WEEKEND GETAWAY IN THE CITY OF BIG BEAR
The city of Big Bear is truly a leisurely town, with a great balance of peace but also plenty of fun for everyone.
The City of Big Bear Fun Facts:
Big Bear was home to Southern California's largest gold rush from 1860 to 1879. 

From that gold rush, there are also many donkeys that were left here and have thrived in this town and can be spotted from time to time.

Approximately 5,100 people live in

the city of Big Bear
I ended up finding this city by looking at the map, seeing a lake and the weather, then decided to pick up my belongings and just go! I'm so happy I did, you will be too!
Some links in this post may be affiliate links or this article may contain sponsored content, which means if you make a purchase, we receive a small compensation at no added cost to you. As an Amazon Associate I earn from qualifying purchases. Any purchases you make helps to keep this blog going and keeps our content free. I truly appreciate your support! Visit my Privacy Policy & Disclosure Policy for more info!
BEST TIME TO GO TO THE CITY OF BIG BEAR
The city of Big bear seems to have fun for all seasons, there is no shortage of activities here! However, the city of Big Bear is most popular in the summer and in the winter alike. 
Summer is most popular between about June 15th till Labor Day weekend. The dates were pretty specific with locals because that's when colleges and kids are out on summer vacation. Plus, the holidays like the 4th of July and Labor Day for families enjoying the holidays. 
Winter is roaring as soon as the snow slopes open up for snowboarding and skiing. Winter for the slopes seems to be between November till April.
Spring and Fall would be the best times to avoid the peak seasons in Big Bear, with lots to do still.
WEATHER IN THE CITY OF BIG BEAR
Throughout Big Bear they have all the seasons, so whichever season you prefer, they've got it! 
Of course, the city of Big Bear is a great place to escape the desert heat or even play in the snow for a while. 
When visiting in the summer, the weather is an average high of 81 degrees and low of 54 degrees. The hottest month in the summer is typically July, but rarely gets above 88 degrees. 
The best time to visit in the summer is from late June until early September.
When visiting in the winter time, the best time to visit is between November to March, alongside the open slopes. The winter time offers an average temperature of highs of 43 degrees and lows of 22 degrees, but rarely below 14 degrees
LOCATION
The city of Big Bear is located North East of Los Angeles, which is 2 hours or 97 miles away. Which makes Big Bear the closest village with a lake and pine trees to Orange County. 
Best of all, it's a great place to get out of the heat or sandstorms in Arizona and head North, West. The drive itself is about a 5.5-hour drive and around 347 miles, from Central Phoenix.
I've got to say, that's what I did, and it was worth it! Going from the arid desert to crisp fresh air and a cooling breeze was so worth the drive!!
WHERE TO STAY
In the city of Big Bear, there seem to be many lodges, hotels, cabins, and lots of cozy Airbnbs. I personally chose an Airbnb to help support local and to get an immersed community experience. 
Thankfully, it just so happens the Modern Farmhouse Airbnb I chose was absolutely stunning. The decor and details were beautiful, I'd even say it was more gorgeous than most of the hotels I've stayed at so far!
Some quaint details were gold accents, historical big bear photos, and live edge wood pieces. Even the bed and sheets were softer than anything I had slept on before. This Airbnb set new standards for decorating!
In addition to the decorating, there were quite a few amenities. Some amenities were having a washer/dryer in the unit, provided coffee & tea, provided popcorn, seasonings, britta water filter, fast reliable internet (Great for working and streaming videos!), and games. 
The best of all was the jacuzzi and swimming pool though. The jacuzzi is even open all year round, how amazing is that?!
Not to mention, the location was absolutely prime and central. If deciding to explore The Village (Where most of the shops are) the drive was merely 3-5 minutes. In the opposite direction, the most popular hike and convention center were merely 10 minutes out. The best part of all was that the Airbnb was a short walking distance to the lake. Plus, the kayak rental, Get Boards, was right next door, how convenient!
Best of all, an early morning walk, sipping a hot beverage of choice, overlooking the sunrise gently kiss the lake was just divine. 
Explore the Airbnb here! If that specific one is not available, the owner has many others posted as well!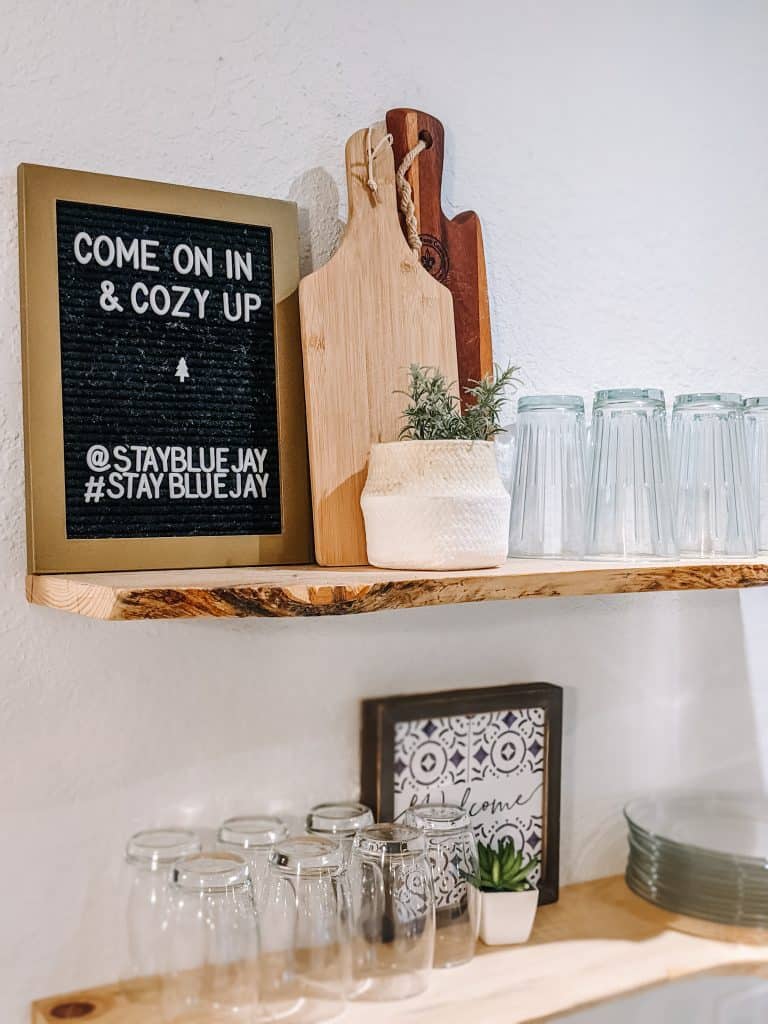 WHERE TO EAT
Check out this article for 6 EASY STEPS TO EATING OUT PLASTIC FREE
CAFE CREPE
Cafe Crepe has both savory and sweet crêpes and delicious coffee! The flavors are satisfying and their coconut whipped cream is heavenly, too bad I couldn't squirt it directly into my mouth!!
Favorites: 
Garlic cream, spinach, house-made plant based cheese, roasted almonds, Maple syrup Gluten free buckwheat batter available
Fireside (Their house special!)
Hot apples, cinnamon, caramel, house made whipped cream
Cold Brew Coffee with extra whipped cream of course!
♻ Sustainability Tip/Highlight:
Cafe Crepes has organic and ethically source coffee

If we bring in our own cup, they give a discount

All produce and produce waste is composted

They originally have plastic containers for their food, I asked for their paper plate and then just composted it, to keep the meal plastic free! (Let's vote for compostable to go ware!)
They also have the option of adding CBD, and they even have dog meals, how quirky is that?!
Address: 41003 Big Bear Blvd, Big Bear Lake, CA 92315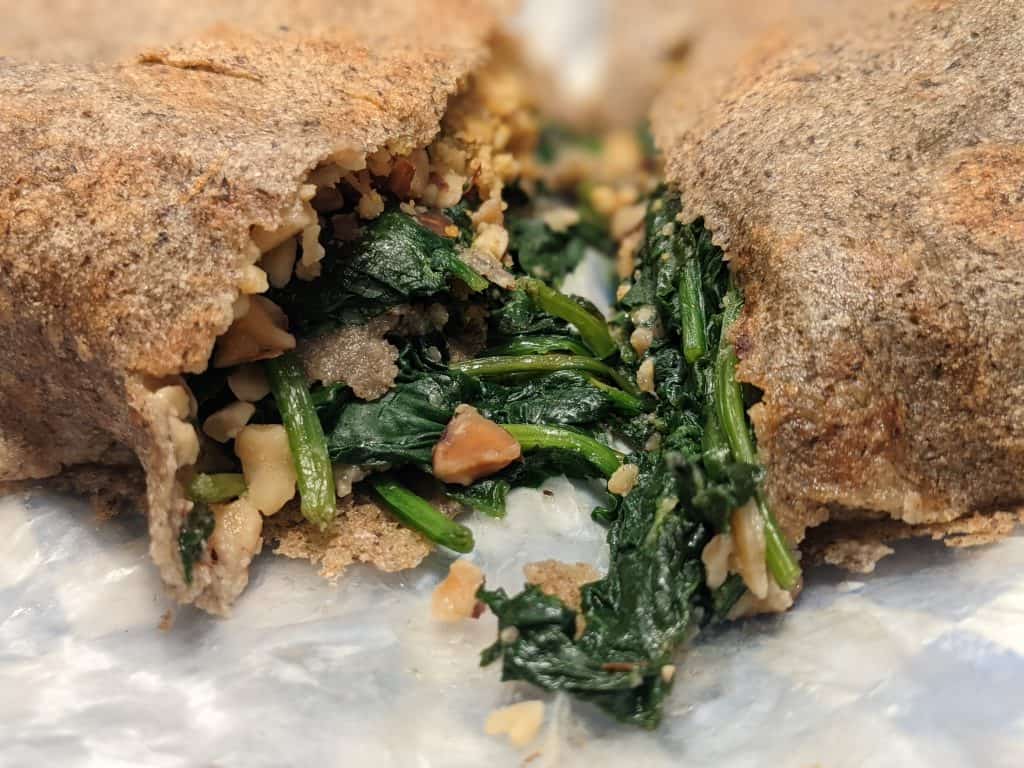 HIMALAYAN RESTAURANT
This restaurant is located in the heart of Big Bear Village, serving menu selections popular in Nepal, Tibet, and in northern India. Which means convenient, and flavorful!
They also have plenty of vegan options, though not clearly marked. Make sure to always double-check with the waiter on which menu items are vegan, they will point them out for you.
Favorites:
Appetizers 
Entrees
Sides
Plain Naan

Plain Basmati Rice or Vegetarian Fried Rice
All of these options were vegan/plant-based and super delicious!
Address: 672 Pine Knot, Suite 2, Big Bear Lake, California
♻ Sustainability Tip/Highlight:
They love when people bring in their own to-go container!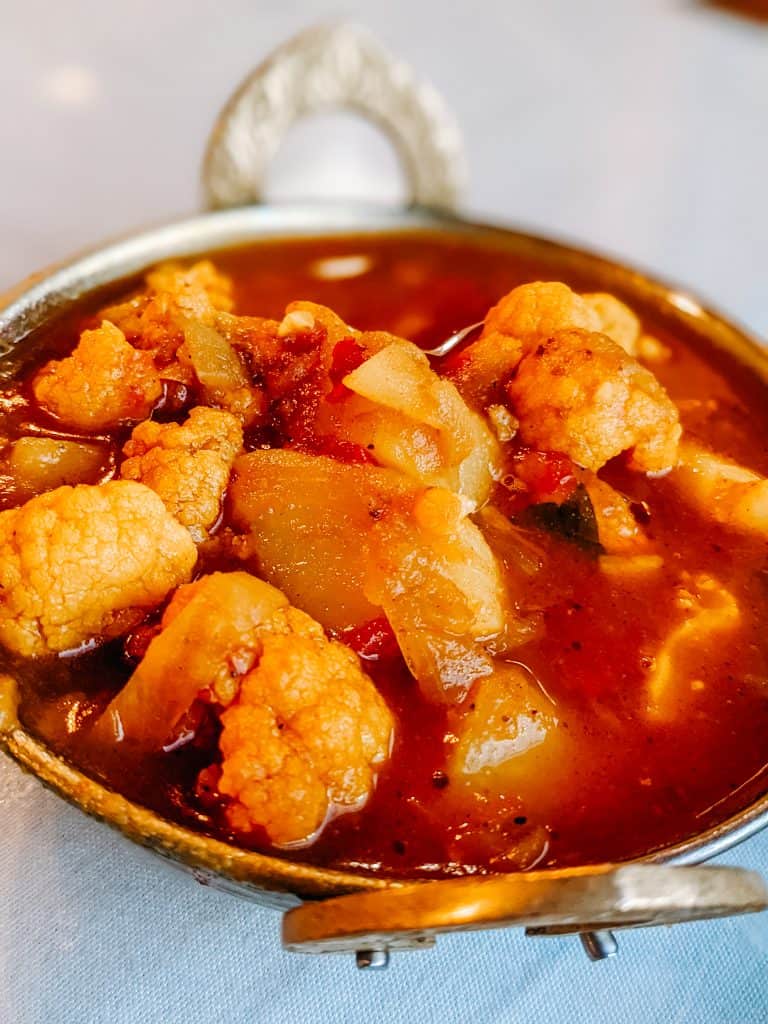 TROPICALI
Tropicali brings a relaxing Hawaiian vibe to the mountains. The best part was the high energy, welcoming atmosphere, customization, and flavors of the food. I really have to give a shout-out to the staff for making that experience fantastic! 
They are actually ranked #1 in California and #15 for the best restaurant in America! WHOA!
Their vegan/plant-based options are not clearly marked, but any of their poke bowls can be made vegan, as well as their sauces, as long as we specify. The pokey is replaced with tofu instead, making the bowl vegan.
Favorites:
Malibu Bowl

Tahiti Bowl

Tropical Gangster + Piña colada smoothies mixed together! (A mix from one of the employees) 

Coffee with macadamia nut milk
They will completely personalize the bowl to be the perfect flavor combination for any palette. 
♻ Sustainability Tip/Highlight: 
When trying to get the bowl plastic-free; ask for no lid and chopsticks! (Or feel free to bring your own utensils)

If you bring your own cup, they will pour it directly into your cup in front of you!

The base of the bowls is made from recycled sugar cane, but let's ask and vote for fully compostable to-go ware! 
Address:40616 Village Drive, Big Bear Lake, CA 92315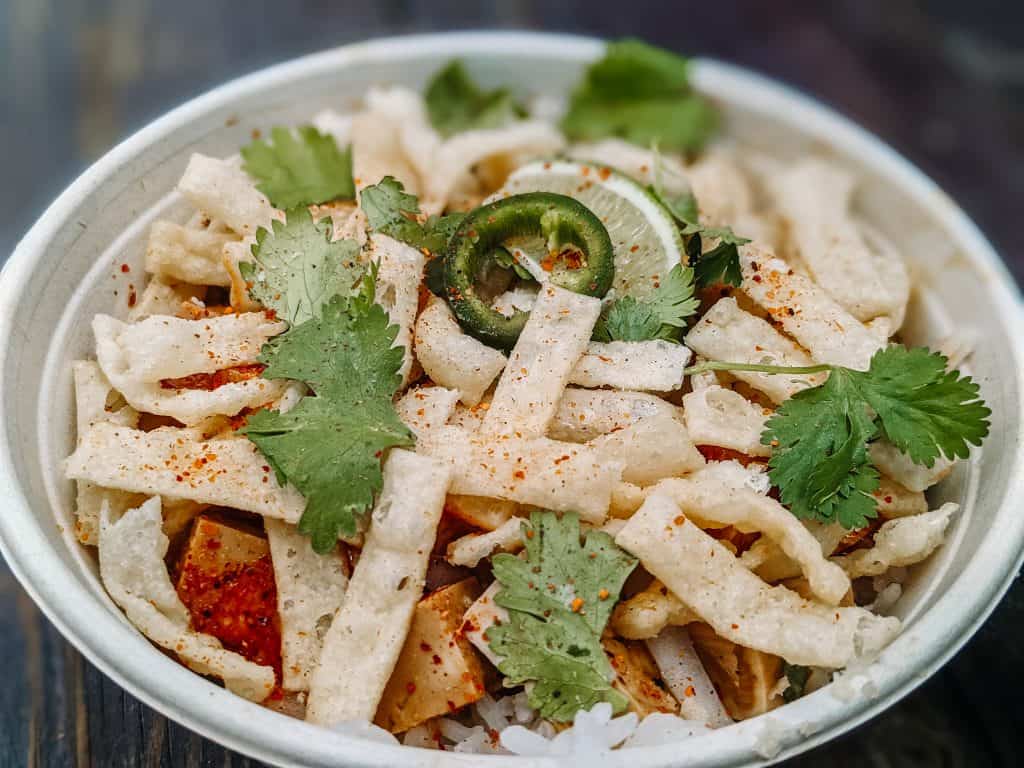 THINGS TO DO
1.CHECK OUT GETBOARD'S RENTALS
Getboards was conveniently located right next to the Airbnb, making it an easy stop to see what they offered. 
Come to find out that they offer:
Kayaks

Paddleboards (SUP)

Mountain, Cruiser, & Electric Bikes 

Ski & Snowboarding Gear

Summer and Winter Apparel
When renting the kayaks or the paddleboards, they have two locations available for getting into the water. The location closest to the Airbnb was called Boulder Bay, this location doesn't actually have a dock though. This location is primarily self-launching, meaning Getboards provides a kayak and a trolley to roll it over to the lake, and then we load it into the water ourselves.
However, a better option for launching is at their private dock, located at Veterans Park. The Getboards team will help with the process of getting into the kayak or on the paddleboard, as well as go over lake rules. Plus, Veterans Park has free parking! Yay, how convenient!! 
Locations: 
Across the street from Veterans Park
40905 Big Bear Blvd., Big Bear Lake
Next to Boulder Bay Park
39168 Big Bear Blvd
Bike Location
40977 Big Bear Blvd
To begin the rental process, go into the shop or even go online and get it delivered to you! They have three locations, two are for kayaks and paddleboards and the third is their bike location. 
The best times to go kayaking are before 11 am when the sun is at it's full peak and before the water starts to get choppy!
Kayaking is a bit easier than paddleboarding and offers a bit more relaxation. I personally like to dip my toes in the water on the sides of the kayak as I paddle. (This is for those that have developed skills in kayaking, it can shift the balance of the kayak.)
I also highly recommend getting the dry box that they offer, it's only $4 and keeps all your belongings from getting wet!
♻ Sustainability Tip/Highlight: Every year for Earth Day (April 22nd) they host free kayaks for those that want to help do a trash clean-up. They give out nets and trash bags alongside the kayak rental. The owner had said they have managed to collect a couple hundred pounds of trash now!! WOW! AMAZING!
PS: The owner is awesome! He is a local who has owned and operated it with his family now for 20 years. The owner Tony used to come up to the mountain to go skiing every year, he loved it so much, he decided to buy property in Big Bear.
Don't forget to tag Getboards in any of your rental adventures!
@getboards
Fb: Getboards.com Ride Shop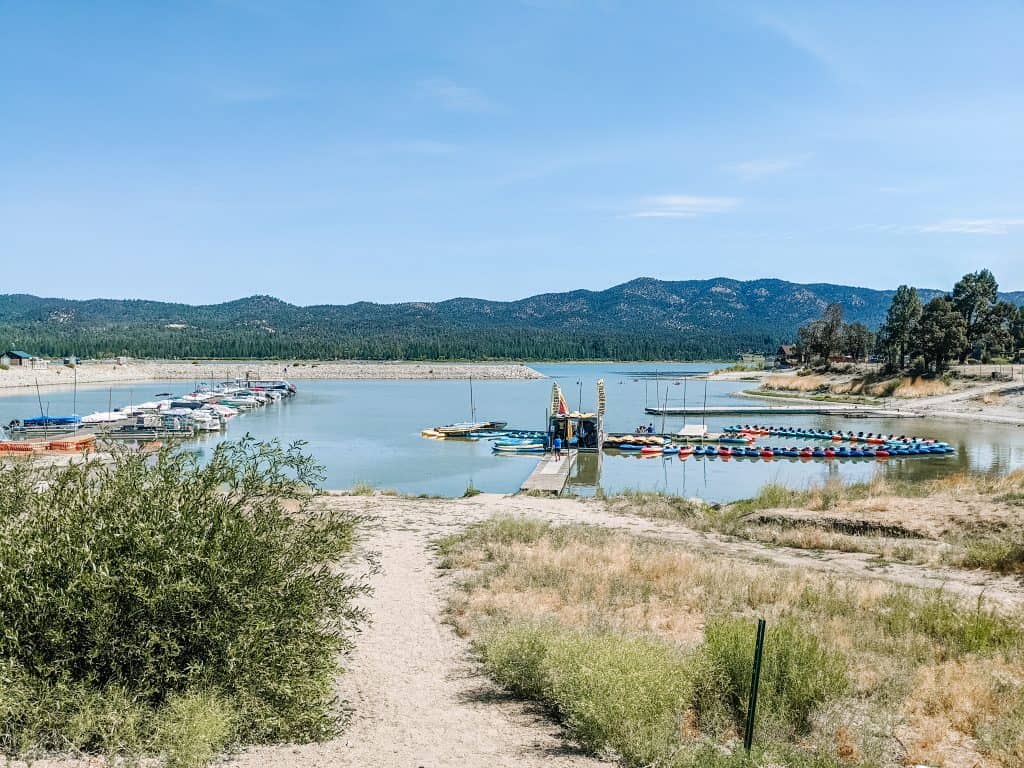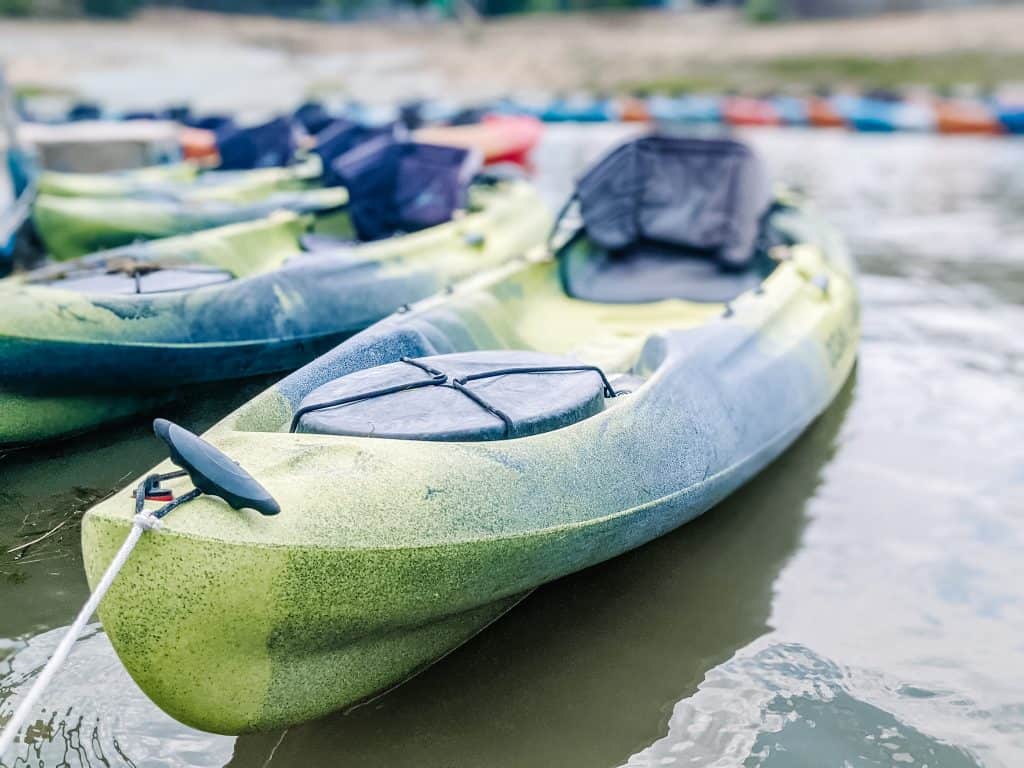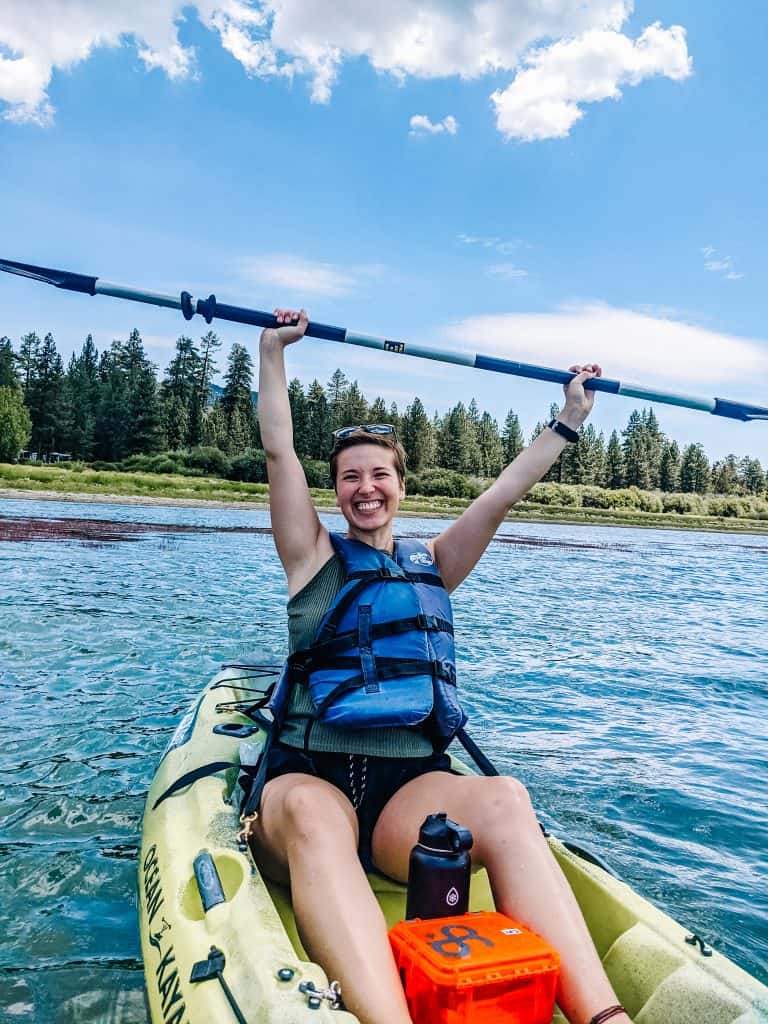 2. HIKE THE TRAILS
The most famous hike in Big Bear is a relatively easy hike called Castle Rock Trail. Castle Rock's mileage was 2.6 miles round trip, 820ft elevation, and rated as moderate. The trail is open and best enjoyed from March until November once the snow has melted. 
Try to show up before 10 am, the parking fills up incredibly fast!
Castle Rock can be a bit steep in the very beginning, but it levels out slowly after the first half mile or so. However, it's totally worth it to see the beautiful views of the lake, nature and fresh air.
Nature was truly blissful; watching critters burrow, lizards crawl alongside our footsteps and listening to the birds chirp in the trees above.
Location: CA-18, Big Bear Lake CA 92315
Another famous hike is the Big Bear's Cougar Crest Trail, which ends at the junction of the world-famous 2,600-mile-long Pacific Crest Trail. It's about 5 miles and rated as moderate to difficult. Although I didn't have the opportunity to get to this one, I still wanted to mention it to you!
TIP: Make sure to purchase an Adventure Pass from the Big Bear Visitor Center if you decide to hike any of these other trails; Woodland Trail, Cougar Crest Trail, Greys Peak Trail and Pineknot Trail. The pass if required for parking at the trail head, not to worry though, it's only $5 for a day pass!
3. BIKE THE ALPINE PEDAL PATH
This pedal path is a 5.1 mile paved path that goes through Big Bear Village and parts of the Lake itself. It's a very easy and simple trail that pretty well marked. It trails along the north shore of Big Bear
It's accessible to bikers, hikers, walkers, joggers, strollers, etc.
Also, the company Getboards rents out their electric bikes and shows parts of this path along their recommended one-hour ride. I highly recommend getting electric bikes, they are so fun!! I officially want one now!
4. STROLL THROUGH BIG BEAR VILLAGE
Big Bear Village is filled with cabin-style features, bear carvings, and all the things that encompass the small mountain town charm. 
The village is primarily made of little boutiques, gift shops, and local eateries. You may even find a hidden comical shop or a bubble blowing machine! Keep your eyes open in all directions!
5. EXPLORE THE LOCAL FARMERS MARKET
Luckily, the city of Big Bear has a Farmers Market on Tuesdays from 8:30 till 1pm, the best way to shop is locally and fresh! Yumm!
The Farmers Market runs on Tuesdays from 8:30 till about 1pm, at the Big Bear Convention Center.
There is a wide array of vendors. Some vendors have local produce, photography on aluminum panels, apothecary goodies, beading, vintage clothing, and so much more!
The town has so many more activities than what I've listed, but that would be more than a weekend trip! 
Love exploring quaint towns? Check out these articles below!
A DAY TRIP TO THE JEROME GHOST TOWN